Commercial dog foods that exclude grains have become increasingly popular in recent years. As we humans have moved away from a carbohydrate-rich diet and have discovered adverse health effects associated with some grains (including gluten) we have been tempted to do the same for our four-legged friends. But do all dogs really need this kind of diet? In fact, the majority of dogs will do very well on a diet that includes grains. Whole grains are better as they have not been so highly refined and retain all of their natural nutrition.
It's no wonder that there is so much confusion about choosing the best diet for your dog! To help you out, we've prepared a no-nonsense guide on how to choose a dog food with grains for your pooch.
The 10 Top-Rated Grain Inclusive Dog Foods
Best Dog Food With Grain: Buying Guide & FAQs
What to Look for in Dog Food With Grain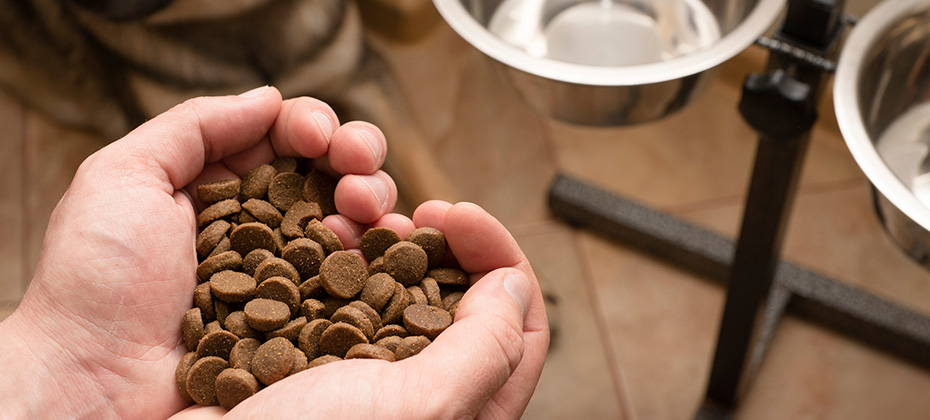 Sometimes it can seem that you need a degree in nutrition or veterinary science to choose the best food for your dog! Whilst it is true that your veterinarian is always the best source of advice, there are some things that you can look out for yourself. Try to find out all about the dog food that you are intending to purchase by looking carefully at the information given on the ingredients list. Here are some essential ingredients that you should look out for.
Protein Content and Source of Protein
Dogs need plenty of protein to build healthy muscle so that they can race around. The requirement for protein varies with the different life stages. Most of this protein needs to come from high-quality protein sources. The best dog foods will therefore have meat and fish amongst the first three ingredients or they may have meat/fish meal such as lamb meal, chicken meal or salmon meal. Protein allergies are fairly common amongst pets and the proteins in poultry by-product meals are a particular problem. This is one dog foods ingredient that it may be best to avoid.
Take a look at our review of the Best Low-Protein Dog Food.
Whole Grains
Dogs can get a lot of their energy from fats in the diet but they do need a small amount of carbohydrate as well. The best source of carbohydrate for your dog is whole grain. These offer superior nutrition to grain that has been processed in some way. Look out for terms such as 'whole oats' or 'whole grain oats' in the ingredients list of dog foods.
Support for a Healthy Gut
If your dog's gut is not functioning properly, it cannot efficiently extract the nutrients in the food. This is true at all life stages. Therefore, it is a good idea to choose dog foods that have probiotics and healthy fiber. Probiotics are cultures of friendly bacteria that help to break down the food. Healthy fiber such as dried beet and dried beet pulp are needed to help these bacteria flourish. They also help to move the food efficiently through the intestines.
Avoid Cheap Fillers
You may see some dog foods brands claim that you should feed your dog on a gluten free diet but very few dogs are actually allergic to gluten. Nevertheless, some dogs do have reactions to carbs such as soy and corn and to artificial additives so these are best avoided.
Labrador retriever puppy with feeding bowls
Benefits of Grain Inclusive Dog Food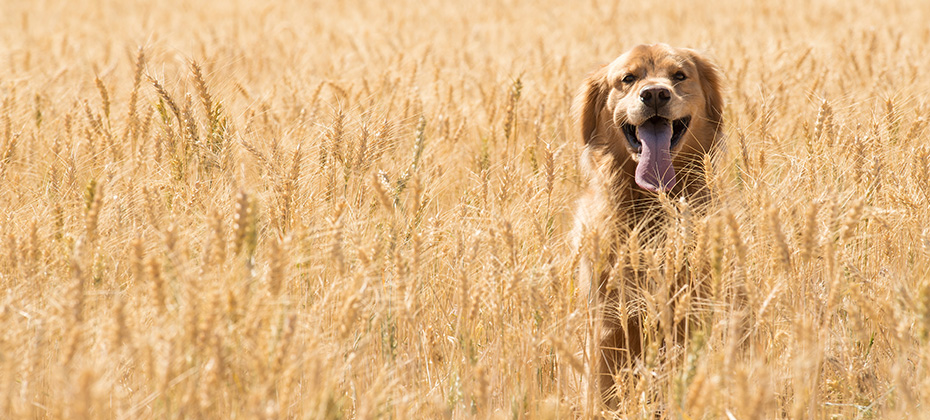 There has been a rise in the popularity of grain-free dog foods but unless your dog has a specific allergy to grains there is actually no need to avoid them. Here are just some of the benefits of whole grains in dog foods.
Grains are Carbohydrates
Grains such as whole rice, oatmeal, and quinoa are excellent sources of carbohydrate. These make a valuable contribution to your dog s diet at all life stages. Carbohydrates are essential for the body to produce energy. They are converted to glucose (a type of sugar) which is used by the body to generate energy for metabolism. Of course, there are many alternative sources of carbohydrates to grains, such as potatoes and peas, but these can lead to unwelcome weight gain. Obesity is a real health issue for many dogs and your vet can recommend dog food for weight loss to avoid it.
Grains are a Great Source of Fiber
Fiber is an essential element of a dog's diet. It is not broken down by the gut but controls the way in which other food passes through. Dogs with enough fiber in their diet have healthy, well-formed stools. Fiber is also needed for friendly gut bacteria to thrive. Grains are an excellent source of fiber in dog good recipes.
Check out our article on High Fiber Dog Food.
Grains are Packed with Vitamins and Minerals
Grains are an excellent source of vitamins and minerals. These are essential micro-nutrients that dogs of all life stages need. Every grain has a different nutritional profile. You may need to experiment a bit to find out which grain will suit you best but whole grains are always better than processed grains. Whole grains contain all parts of the seed and therefore retain a higher concentration of vitamins and minerals.
Grains For Dogs to Avoid
Some grains are not so healthy for dogs. Anything that is more refined is not as good as the wholegrain alternative. For example, brown rice is preferable to white rice.
On the whole, it is best to avoid any foods that have highly refined grain products. Have a look on the pet food label for grain by-products including soybean hulls, corn cobs, rice hulls, and cottonseed hulls. Also avoid foods that contain wheat middlings and soy mill run. These may sound like real grains but they are actually leftovers from the refining process and are not good for dogs.
Our Top Pick
Our top pick has a grain-inclusive recipe to deliver a healthy and balanced diet for adult dogs. It supports a strong immune system and builds strong muscles. The whole grains in this recipe include barley, oatmeal and brown rice.
The primary ingredients are whitefish and Menhaden Fish Meal giving 22 % crude protein. The recipe is packed with healthy vegetables which provide anti oxidants and micro-nutrients. The omega fatty acids will keep your dog's coat looking great and the essential vitamins and minerals support overall health. The recipe includes chicken meal but there are no poultry by-product meals, and no corn, wheat, soy or artificial ingredients that could trigger allergies.
Sources:
8 Things You Need To Know About AAHA's Nutritional Assessment Guidelines, American Animal Hospital Association
Dr. Deb Zoran, Grains or no Grains Addressing Pet Owner Concerns, Veterinary Medicine & Biomedical Sciences
Frequently Asked Questions
Some owners insist that feeding grains to dogs is a bad idea at all life stages. This is because a small number of dogs develop an allergy to certain grains. However, that does not mean that all dogs have to avoid all grains. In the wild, grains would have made up an important part of a dog's diet.
If you suspect that your pooch has a food allergy, you must talk to your vet. They will know all about dogs' food and the effect it can have on the canine body. Grain-free diets are recommended by vets if it can be shown that the grains are causing allergic symptoms. These include dry and itchy skin, gastrointestinal issues and lethargy. Food allergies can also cause ear infections.
Your vet will be able to help you establish if your dog is allergic to grains. They may recommend that you transfer your dog onto a different diet. Limited ingredient diets and grain-free diets can be useful at this stage. Your vet will probably ask you to make the transition gradually as sudden changes in diet can upset your dog's stomach.
If the allergy symptoms resolve after the grain has been eliminated from the diet, it indicates that your dog does indeed have an allergy. The most common allergens are corn, wheat and soy.
Whole grains consist of all parts of the seed including the outer husk. Often, this is where most of the goodness is found. If you remove the husk during processing, you also remove a lot of the nutrients. Therefore, it is best to leave the husk where it is and use the whole seed in the recipe. The unrefined versions of rice, oatmeal and other grains are always the preferable choice.
If your dog is doing well on a food that contains grains, there is no reason to change it. You should never make drastic changes to your dog foods unless you have to.
There is some evidence that a grain-free diet can cause harm to the wellness complete health of some canines. They may gain weight because of the alternative carbohydrates in the recipe. Diets that lack grains can also affect the blood levels of taurine and that can cause serious problems for the heart including cardiomyopathy.