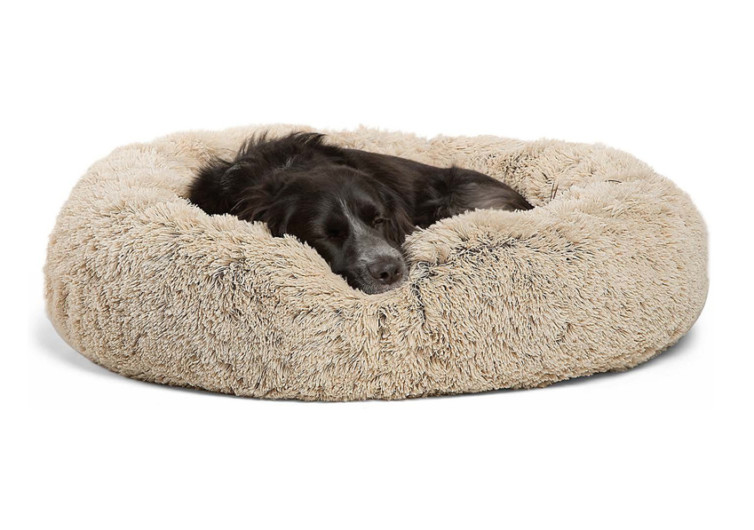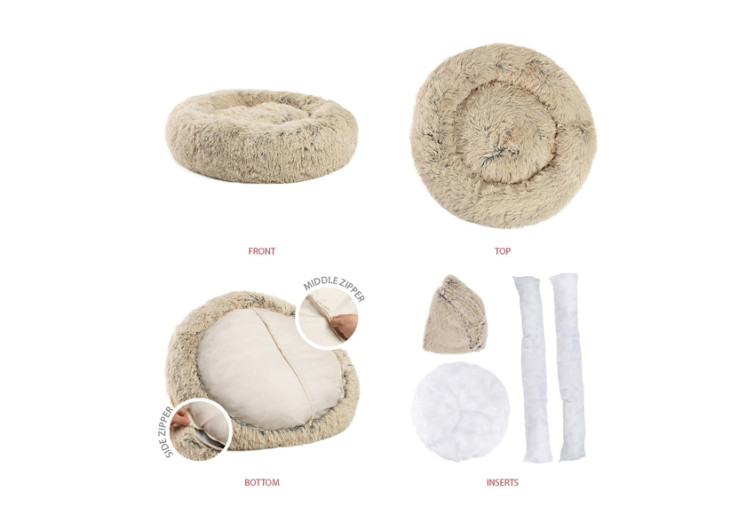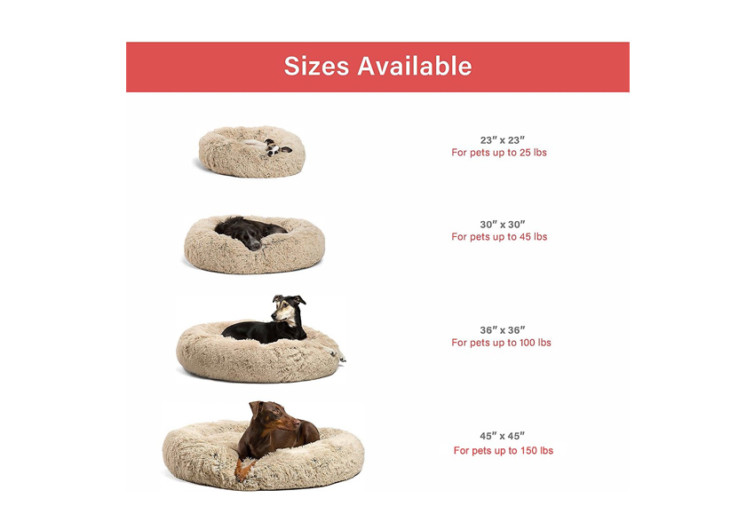 Best Friends by Sheri The Shag Donut Cuddler (2022) Review
The Best Friends by Sheri dog bed has everything you could want for your pup. Their faux fur donut bed provides comfort, warmth, and security for any sized pooch. Dogs love a soft place to lie and to help them feel at home. We've taken a closer look at the Best Friends by Sheri donut bed and all its material components to break down why this bed is the right purchase for you.
What We Like:
The selection of 4 sizes ranging from 23" to 45" is perfect to accommodate dogs up to 150lbs.
This bed has been made with both dogs and cats in mind.
Best Friends by Sheri uses vegan-friendly polyester fur, so no animals were harmed in making this product.
It comes in 4 colors, so you can pick the right one to suit your home and your dog. Practicality meets style.
Your dog is unlikely to fall out and hurt themselves, as the bed is enclosed on all sides.
What We Don't Like:
The faux fur on this bed makes it unsafe near heat sources, such as fires or radiators.
Though you get style, comfort, and support with this bed, it may be too pricey if you're on a budget.
This donut bed is designed to support your pet and keep them warm. Though some pet owners say, the main cushion is too thin and does not match the thick outer ring.
Key Features:
The water-resistant nylon bottom protects your floor from any accidents.
Machine washable and dryer-safe for a convenient and quick wash time.
Deep raised edges around the main cushion provide a perfect place to burrow, to add to the secure feel.
Compactly stuffed donut edging makes an ideal headrest and gives additional orthopedic support.
Available in 4 sizes and 4 colors.
Ideally, puppies that may struggle with separation anxiety or ones that are new to the home and require additional comfort.
Take a look at our Orthopedic Dog Beds Review.
Build Quality and Durability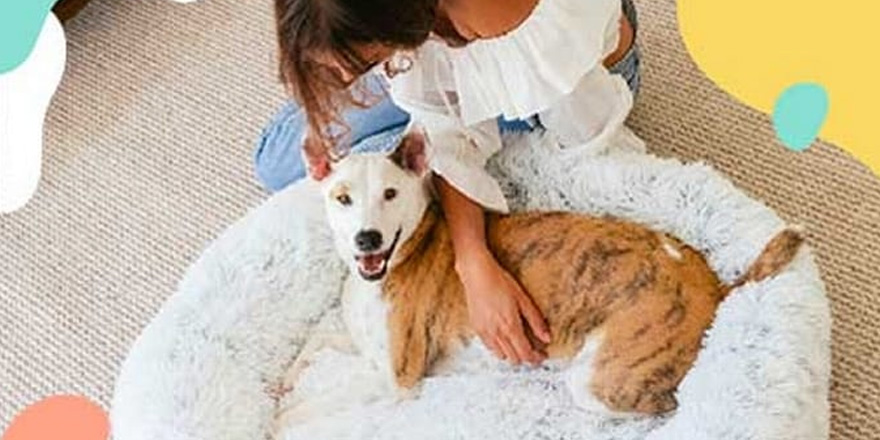 Like every bed, the Best Friends by Sheri donut bed has pros and cons. It is soft, pet-friendly, supportive, and washable but has some drawbacks.
This bed is made from entirely pet-friendly and vegan-friendly materials. It has a dirt-resistant nylon bottom and requires fewer washes. The Best Friends by Sheri donut bed is also packed with AirLOFT fibers for improved support.
Strong heat sources can damage the polyester shag fibers, so it is best not to place it next to a fireplace or radiator. It is not suitable with an electric pet warming blanket. The bed includes self-warming faux fur, so a blanket isn't necessary.
Though durable against everyday use, it is not ideal for destructive pets. Its soft exterior can't easily withstand biting and chewing.
Comfort (Support & Feel)
Many satisfied pet owners noted how much their pooch loves the soft furry exterior. Many of their pets took to the bed as soon as it had arrived. Besides, who can't resist a fluffy blanket? This bed is simply the dog equivalent!
Equally important, its flexible donut edging means your dog can stretch out without hitting hard, restricting sides. Cushioned surroundings mimic the puppy piles they will have been in as babies. Furthermore, the polyester shag gives off a self-warming effect, increasing your pet's body heat by mimicking the puppy pile illusion. Your pup will be thankful for the additional body heat!
Fit and Sizing
The Best Friends by Sheri donut bed also comes in a wide range of sizes to meet the needs of almost any breed!
Available Sizes:
Small – 23" x 23" up to 25 lbs
Medium – 30" by 30" for pets up to 45 lbs
Large – 36" x 36" up to 100 lbs
Extra Large – 45" x 45" up to 150 lbs
Additionally, this bed is seven inches deep, creating a secure and soft surrounding for your pooch. When selecting your size, you'll want to remember that the outer ring measures roughly three inches in width. Consequently, the 23-inch bed's inner cushion would only measure around 17 inches in width.
Weight Recommendations:
Small – up to 25 lbs
Medium – up to 45 lbs
Large – up to 100 lbs
Extra Large – up to 150 lbs
Going under the weight limit isn't an issue, but we recommend that you don't get this bed for a dog heavier than the advised weight limit. A heavy dog is more likely to flatten the bed as a result. This only means more work for you, having to fluff it up and keep it in shape.
Maintenance (Cleaning & Washing)
The ideal dog bed is comfortable and easy to clean. Fortunately, Best Friends by Sheri donut bed is both of those things. There are a couple of things you will need to know before investing in one for yourself:
Faux fur shag covering can be unzipped completely and removed for easy washing.
This bed must be washed on a gentle cycle and thoroughly dried on a cool setting to prevent matting. (Must NOT be air dried, but completely dried in the dryer before being used again).
Nylon bottom prevents accidents from leaking; however, you will want to wash the bed immediately afterward.
In an accident, the inner cushion can be washed on a gentle hand wash setting but is best left to air dry.
The smaller-sized bed does not have a removable cover. It is machine-washable, following the instructions provided.
You may also like: Best Washable Dog Beds
Other Considerations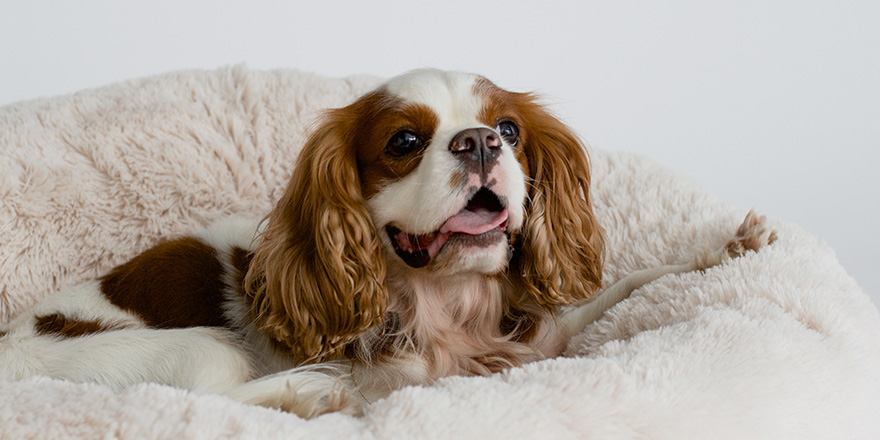 Now that you know all about the manufacturing process, the pros and cons, sizing quality, and everything in between, there are just a few more things you may want to consider before purchasing this divine bed for your four-legged friend.
Is your dog sensitive to dust?
Dust can more easily catch on this bed's fur lining. If your dog is sensitive to dust or fibers, this bed may not be right for them.
How long is your pet?
The measurements provided for the beds are from end to end, not just around the circumference. You may want to remember this when picking a size for your pup.
Do you have room for it?

Best Friends by Sheri donut bed is designed to be larger than most dog beds. It is made this way to accommodate its iconic and padded donut edges. This means that the 3" thick band adds 6″ to the width of the bed. It is perfectly circular and will likely take up a bit more room than your conventional oval pet beds. Be sure you know where you're going to put it before you buy it.
Comparison Table
The Competition
Let's compare it to other brands. The Friends Forever donut bed is expensive, while the Bodiseint Round Pet Bed doesn't have a removable, washable cover. Our choice of donut beds is one of the few styles that seem to have a removable cover and is priced at a better rate for its worth. The removable cover of the Best Friends by Sheri donut bed saves you the hassle of filling your washing machine with the entire bed and spending an eternity drying it.
In addition, the Best Friends by Sheri donut bed has a much higher sale rate when compared to the Majestic Pet Bagel Bed. Moreover, it is consistently high on the customer review scale, with hundreds of customers raving about how happy their pets are with this product. Additionally, the Majestic Pet bed does not provide the full 360-degree space that the Best Friend donut bed offers. It is closer to a rectangle than a circle.
Similarly, the Mixjoy Orthopedic bed appears to be the cheapest, but they do not offer the same level of support. Instead, they have a lower outer ring and a non-removable cover. Even if you save money, you will be getting this bed at the cost of convenience. The Best Friend donut bed is easy and quick to wash in comparison.
How Much Does it Cost?
Moreover, we've added a list of standard prices based on the size options available for the bed. The price can vary slightly, depending on the color and if there is an ongoing sale.
Lastly, if you want to browse the full range of colors and sizes available, they can be found on Amazon and Chewy.
| Size | Price |
| --- | --- |
| Small | $34.95 |
| Medium | $59.95 |
| Large | $109.95 |
| X-Large | $129.95 |
Final Thoughts
We have examined every inch of the Best Friends by Sheri donut dog bed and weighed the pros and cons. We believe this bed would make a fantastic nap place for your pup. This brand has a huge and loyal following that has grown exponentially since its founding in 2006. That kind of growth only comes with quality. Plenty of buyers have chosen this bed for their pets! It was the perfect choice for their fur family, so why not for yours, too? Animals love its puppy pile imitation design and super soft shag feel. Your canine friend will love the comfort this donut bed brings, too.