When it comes to dog breeds, poodles are one of the most popular. Their curly coats and adorable personality make them one of the favorite dog breeds for many dog owners. However, when it comes to feeding poodles, owners must be sure that they provide a balanced diet that will not only keep them satisfied but will also help to ensure that the poodle has good health. So, what is the best dog food for poodles? We have reviewed ten of them in this article, plus what we consider the best pick. Let's begin.
Key Takeaways:
Poodles need high-protein diets to maintain their lean body shape.
Carefully balanced carbohydrates can help fuel an active lifestyle.
Chicken provides fiber and protein and is often a more budget-friendly choice.
Fatty acids are essential for caring for your poodle's dense hypoallergenic coat.
At a Glance: 10 Top Rated Dog Foods for Poodles
Calories
First 5 Ingredients
Dry Matter Basis
Pros
Cons
Bottom Line
Rating
*Ratings are from Amazon, Chewy, and PetSmart at the time of publication and can change.
Best Dog Food for Poodles Buying Guide & FAQs
Ingredients To Look For In A Dog Food For Poodles
No matter how old your poodle is or how much it weighs, there are some important ingredients we would recommend you look for when shopping for poodle dog food. Partially to ensure the food you're thinking of purchasing provides ample nutrition, but also to allow you to spot any potentially problematic ingredients.
Chicken, Turkey, and Other Poultry Ingredients
These are excellent sources of protein that also provide a rich supply of natural fiber for better digestion. However, some dogs can form allergies to poultry over time, which can lead to an upset stomach. Furthermore, poultry by-products are sometimes used as fillers but don't provide as much nutritional value as the rest of the birds.
Fish, Herring, and Other Types of Fish Protein
Fish can certainly provide a good amount of protein, especially when multiple fish are being used in a recipe. However, they're not as dense in protein as other animal proteins such as beef, pork, and chicken. That being said, fish is a rich source of omega fatty acids which are essential to caring for your dog's skin and coat – especially if they frequently experience problems such as hot spots and itching.
Grains
Grains have the capability to provide a fantastic natural source of carbohydrates, which can help to boost your dog's energy levels and keep them fueled for the day. However, grain allergies are some of the most common food allergies in dogs and so many people do opt for grain-free recipes to avoid this problem.
Sweet Potatoes, Fruits, and Vegetables
These ingredients should ideally form around 10% of your dog's diet. They provide carbohydrates, vitamins, minerals, and antioxidants that can help to boost your dog's health including bolstering their immune system, encouraging better digestive health, and ensuring they are able to properly absorb and process the nutrients from their food. However, too many and they will simply act as filler ingredients as there is only so much your dog absorb can make use of. Potatoe in particular has a tendency to be over-used in order to fill out a formula.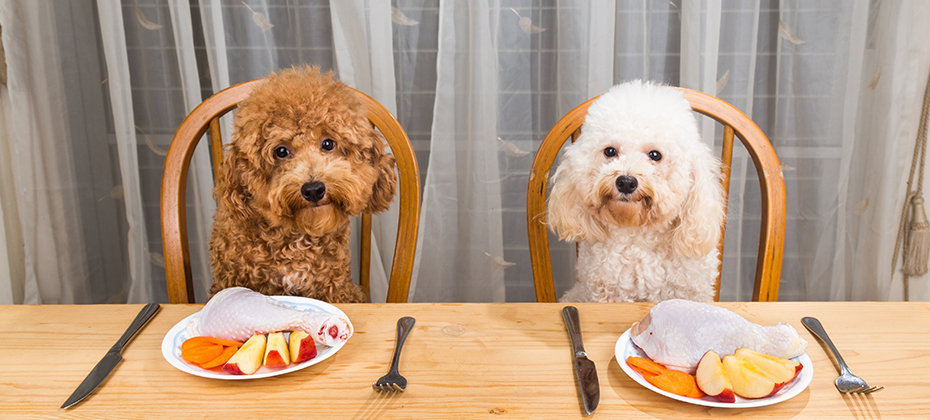 Poodle Diet And Nutrition
Protein: The importance of protein in a dog's diet cannot be overstated. Protein should form around 18-29% of your poodle's food. The majority of protein should come from a meat source, however, there are also multiple additional carbohydrate ingredients that provide protein. This is because protein aids with muscle growth, development, and recovery whilst also supporting their hearts. Protein also helps poodle puppies to grow properly and remain healthy whilst going through the rapid growth phase.
Carbohydrates: Ideally you'll want a dog food that uses as natural a source of carbohydrates as possible seeing as carbs take up to around 50% of the overall recipe. Carbs can be made up of grains, legumes, vegetables, and fruit with each ingredient providing the appropriate sugar to fuel your dog's lifestyle. More active dogs may require additional carbs, but always be sure that the carbs you are using are predominantly from a natural source.
Omega 3 and omega 6 fatty acids: Fatty acids are very important as they help to protect and nurture your poodle's skin and coat. They keep the skin and coat healthy and shiny by nourishing the skin and helping your dog to produce natural oils that in turn condition the coat and reduce itching, hot spots, and hair loss.
Antioxidants and probiotics: Antioxidants greatly support your dog's liver function and immune system. Probiotics on the other hand ensure that your poodle maintains a healthy digestive system by boosting the production of good bacteria and reducing bad bacteria in the gut. Bifidobacterium and Lactobacillus strains in particular encourage optimal absorption of vitamins and minerals from your poodle's food. They also serve to reduce stomach upsets and diarrhea in dogs.
Food To Avoid Feeding Your Poodle
To be safe, a simple rule of thumb to follow is this. Do not feed your poodle with any food that is not mentioned in any of the ingredients in the dog foods we have reviewed in this article. To be more specific, there are some foods you should never feed to your poodle. These include:
Chocolate: As sweet as they are to humans, chocolate is poisonous to poodles. They contain methylxanthines that can lead to vomiting, restlessness, and high temperatures in poodles.
Raisins and grapes: Humans love grapes and raisins. But you should never feed them to your poodle. They are very toxic to dogs, and even a single grape can lead to grape toxicity which can cause kidney failure or even death after a few days.
Macadamia nuts: Although other dog breeds may have systems that can somewhat tolerate macadamia seeds, do not feed them to poodles. They are poisonous to poodles. They can cause up to two days of unrest, tremors, vomiting, and weakness in poodles.
Xylitol and alcohol: You may be wondering what xylitol is. It is an ingredient that is more common around you than you might think. It is used in a lot of food colors and gum. Xylitol and alcohol are very dangerous to poodles.
Garlic, onions, chives: Do not feed them to your poodle under any circumstances as they contain N-propyl disulfide which breaks down red blood cells and causes severe anemia in dogs which can lead to additional health problems.
Coffee: Caffeine is something no animal should be given as it can cause raised blood pressure, heart palpitations, or even heart attacks in severe cases. The fatal nature of caffeine consumption makes it one of the worst possible things to let your dog get hold of. If you think your dog might have consumed caffeine, contact your vet immediately.
Common Health Problems In Poodles – How Diet Can Help Them
A well-balanced diet is one sure way of keeping your poodle safe and healthy. A proper poodle diet can also help to tackle some health problems in poodles.
Toy and Miniature Poodles
Miniature and toy poodles are prone to bladder stones, some skin tumors, and cataracts. Skin tumors are somewhat unavoidable, however, if you are careful to feed your dog a balanced diet including the appropriate amount of omega fatty acids it can help to improve the quality of your dog's skin and reduce skin complications.
In terms of bladder stones and cataracts, you should ensure that your dog is getting plenty of antioxidants in its diet. These are particularly helpful for reducing the possibility of bladder stones, but they can also improve overall eye health and hopefully prolong your dog's eyesight before the onset of cataracts, or even prevent it from forming altogether if you're lucky.
Standard Poodles
All poodles are prone to bloating, hip dysplasia, collapsed trachea, and thyroid issues. A healthy and well-balanced diet is always recommended to maintain good health and can even be used to support proper medical treatment. However, in many cases, a good diet cannot single-handedly prevent some of these health conditions from forming, though in some cases it can massively reduce the possibility.
Bloating is often caused by an incorrect diet to which your dog is reacting badly. This is more likely caused by an allergen such as wheat, soy, corn, or a particular protein. You may need the help of your veterinarian and a dietitian to figure out exactly what the problem is, only then will you be able to properly adjust their diet to compensate and reduce the likelihood of bloat occurring.
Hip dysplasia and a collapsed trachea are both physiological conditions that are often hereditary. But if you're wanting to help reduce the chances of these conditions set in early, then a balanced diet that is designed to maintain a healthy weight will certainly go a long way. This means being especially careful not to overfeed your poodle and trying to aim for food with low-fat content. Additionally, a high-protein diet and routine exercise can help strengthen the muscles around the hips.
Thyroid issues are usually treated via regular checks and medication, though a carefully regimented low-calorie diet might be implemented to help speed the process along in the case of an underactive thyroid causing unwanted weight gain. The same can be said of a high-calorie diet for an overactive thyroid which can cause excessive weight loss.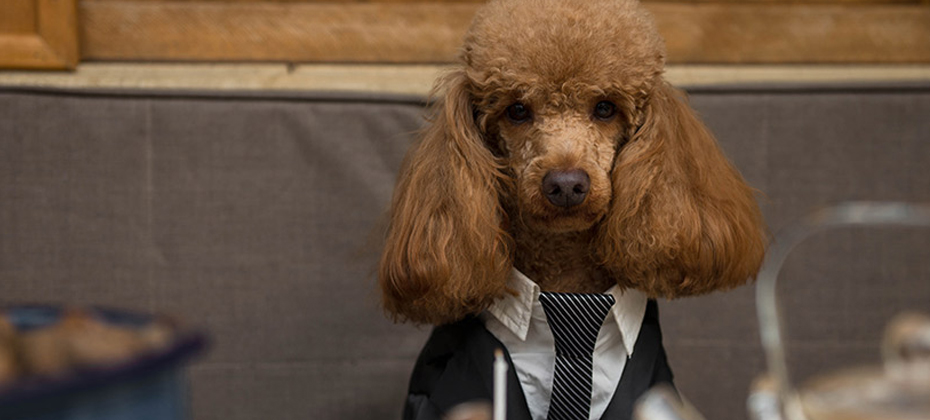 Wet Food Vs Dry Food
Most poodle owners may have realized that their little fur buddies prefer wet food to dry food. Additionally, wet dog food is generally more expensive, though the flavor and texture are certainly more appealing to a hungry pup. Just be mindful that wet dog food, though high in moisture, is also often higher calories meaning you will need to carefully monitor your dog's food intake to ensure they don't gain any excess weight.
Dry food is the most recommended for poodle owners. This is because dry food helps to protect the mouth and gum of poodles. Dry kibble is also often more budget-friendly and more easily processed through the digestive system, as the high moisture content (and sometimes fat content) of wet food is more likely to cause stomach upset.
Take a look at our review of the Best Dog Food for Sensitive Stomachs.
Our Top Pick
After this review of the best dog food for poodles, we have selected what we consider our top pick – the Orijen Six Fish High-Protein Grain-Free Formula Dry Dog Food. This food was chosen above others because it is made using 85% animal protein. It contains meat, organs, bones, and cartilages, as well as six different sources of fish-sourced protein. It contains no grains, no artificial preservatives, no artificial colors, additives, or artificial flavors. An all-around winner for sensitive pups.
Sources:
Dr. Ernie Ward, DVM, 7 Surprising Ways To Help Your Pet Lose Weight, Pet Health Network
Ryan Llera, BSc, DVM, Feeding Times and Frequency for Your Dog, VCA Hospitals
FAQs:
For the most part, no. However, each dog breed does have certain attributes that need to be taken into account when purchasing dog food. Do they gain weight easily? Are they particularly muscular? Poodles are lean, active dogs, so it would be best to go for high-fiber food to assist with muscle growth, development, and recovery after an active day.
This entirely depends on the type of food you choose to feed them. Every dog food brand has its own formula with some containing more fat, some more fiber, and some more carbohydrates. You should always be careful to read the recommended portion sizes provided by the food manufacturer as opposed to using a general rule of thumb if you're wanting to get the most out of each meal.
From 8-weeks-old to 6-months-old a puppy should be fed 3 times a day as they tend to burn off energy more quickly due to rapid growth and development and therefore need a top-up more frequently. Once their growth slows down significantly, you can start feeding them twice a day instead, which is much easier to workaround if you have a job that takes you out of the house for a large portion of the day.
No. Grain-free is not essential for poodles. However, purebred poodle puppies, as well as miniature and toy poodles, are prone to bloat and so you will want to monitor how they get on with the normal food first. Grains have a lot of nutritional benefits and so there is no need to remove them unless it's deemed necessary. That being said, if your pup seems to be struggling with food sensitivities, grain-free would ordinarily be the first port of call.
They can do. Any dog can experience digestive health issues caused by a food sensitivity or allergy. But poodles, in particular, are a breed that tends to have a bit of a reputation for experiencing bloat when food doesn't agree with them. This is something that should be taken very seriously if it happens as bloat can be life-threatening.
If you have a particularly fussy eater, there are a few little tips and tricks you could try to encourage them to eat more readily. First and foremost, try changing the brand or flavor of the food you're using. If they have dry adult food, adding boiled vegetables such as sweet potatoes, peas, and broccoli can give them a refreshing change of texture.
The same can also be achieved by adding pre-made food toppers such as broths, meat chunks, gravy pouches, or even mixing half and half with wet food. Some senior dogs also struggle to chew dry biscuits, in which case you make need to switch to a softer kibble or wet food.
Yes. Raw feeding is actually recommended for most dogs as when it is done properly it's the closest possible diet to what they would have eaten in the wild. Though raw feed does have its risks particularly when it comes to hygiene. If you are sure you would be able to put the time, preparation, and detail into raw feeding your poodle correctly, then it certainly had a lot of perks and can help to reduce the risk of a bad food reaction.
Yes. Chicken is a lean protein that provides a lot of fiber as well as protein in your poodle's diet. A chicken recipe dry dog food is the standard option with most dog food brands owing to its affordability and nutritional benefits. However, some dogs can develop chicken allergies over time – if you believe this to be the case with your poodle, then switching to an alternative protein would be a good idea.
In moderation, yes. Peanuts are highly fibrous with a lot of additional protein which can both be extremely beneficial to a varied and healthy diet. However, peanuts are also naturally high in fat and produce a lot of oil, which means peanut butter can be fattening and potentially cause unwanted weight gain. Additionally, most off-the-shelf peanut butter is high in processed sugar – therefore if you're thinking of giving your poodle peanut butter treats, be sure to stick with organic raw peanut butter for the reduced sugar content.
Yes. Eggs are actually recommended to be included in raw food diets as they are high in protein and can help to care for your dog's coat. However, much like with grains, dogs can develop allergies and sensitivities to eggs meaning you may have to switch to an egg-free diet if they become a problem.
Yes. Bananas are often used in fresh homemade dog treat recipes to provide potassium, fiber, vitamins, and minerals. Though they are best used in moderation as bananas are one of the fruits with the highest natural sugar content, making them fattening and potentially bad for your dog's teeth if eaten too regularly. Therefore, we'd suggest just sticking to bananas as an occasional treat.