Dog gates are important pieces of fixtures that can keep our pets safe by preventing them from accessing certain areas of the house that may be dangerous for them. Many of these contraptions also double as dog playpens which can provide a safer environment for them to play in inside our homes while also protecting some of our precious stuff when play turns rough. The market can be unforgiving, however, since there are tons of products claiming to be the best. Unfortunately, everyone is free to make such claims, but only the trustworthy can back it up with really good products. In this article we'll look at some of the market's best dog gates and take you on a journey about picking the right one for you, your pet, and your home.
Our Top Picks for the Best Dog Gates:
Best Dog Gates Buying Guide and FAQ
There are now more pet parents who truly understand the value of installing or having dog gates in their respective homes. If you realize just now that you also need a dog gate for your house, then you're definitely in the right place. In the following sections we'll help you navigate the process of picking a dog gate for your pet while also shedding light into some of the more common questions that would-be owners of dog gates may have in mind.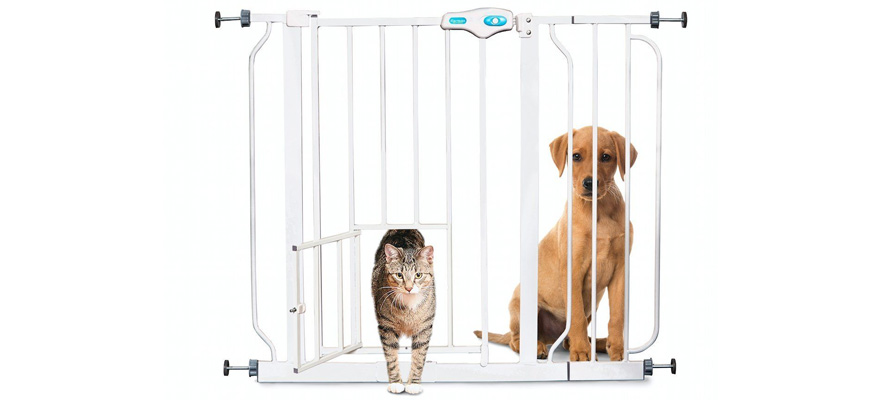 What to Consider When Choosing a Dog Gate
Choosing a dog gate can be especially challenging if you are not sure what you are looking for. To help you zero in on the best type of dog gate to install or use inside your home, you may want to consider the following things.
Simply put, you want a gate that is taller than your pet. This is to discourage any attempts of jumping over or even scaling up and down the gate. There are pets that have the uncanny ability to climb obstacles so the height of the gate should be higher than your dog's height. That being said, if you have multiple dogs at home, you might want to consider the height of the tallest dog as your reference.
Placement of the dog gate
Where do you intend to place the dog gate? Is it in your hallway? At the top of your stairs? At the bottom of the stairs? Around your fireplace? Is it on your patio or perhaps your entrance to the garden? How about the deck or perhaps the kitchen or living room? The thing is that you have to look at the space where you intend to place these contraptions. If it is extra-wide, then you really need a wider gate. If it the fireplace, then you need something that actually works more like a fence that can surround your fireplace.
The purpose for the dog gate
In addition to the placement of the dog gate, you will also need to consider the general purpose of the fixture. Is this going to be a permanent fixture in your house or is it just a temporary solution? Do you want to have a dog gate-only device or one that can offer you versatility such as convertibility to a dog playpen and some other configuration? The thing to understand here is to think about what you want to do with the dog gate.
Material used in the making of the gate
Currently, there are two principal materials used in the manufacture of dog gates: metal and wood. Metal is durable and chew-proof. Wood is always elegant to look at, although it can never withstand the force of a power chewer.
This is perhaps one of the most important considerations you really need to think about. Do you enjoy DIY projects that you don't actually mind drilling holes and mounting fixtures onto your wall? Are you the type of person who prefers the easier way of doing things?
One of the reasons why you want to buy a dog gate is for security. That said, you should always look for a dog gate that has very secure lock mechanisms. It should be fairly easy for you to pass, but impossible for your pet. This also extends well into the material used in the manufacture of the product as well as the type of hardware used.
Types of Dog Gates for the Home
There are many types of dog gates for the modern home, including apartments and other types of domiciles. Once you've given careful consideration to the things we shared above, you can now take a look at the different types of dog gates to have in your home.
As the name implies, these don't require any installation at all. Think of them as the barricades set up in public places. You have a vertically-standing panel supported by perpendicularly-oriented feet. It is the feet extensions that allow the dog gate to stand freely on its own without the need for attachment to another vertical surface such as the wall.
These are the exact opposite of free-standing dog gates. The opposite ends of the gate are mounted onto the wall by a set of hardware that has to be bolted securely in the wall. These offer the best in terms of security since they are virtually immovable. Unfortunately, you'd have to toil to mount them.
Pressure-mounted or tension-adjustable
Pressure-mounted dog gates are just like your wall-mounted systems, except that there is no drilling or actual mounting on the wall that is involved. Instead, rubberized extensions are pressed against the wall to create opposing tension across the entire width of the gate. It is this tension that keeps the gate in place. Technically, it is like having a hydraulic system pushing against the opposing walls.
This type of dog gate is similar to a free-standing fixture, except that it comes with at least 3 panels that can be folded, thanks to the integration of hinges. Some systems come with 8 or more panels, allowing them to be easily turned into dog playpens as well as other configurations. Because they are foldable, they offer temporary and portable containment solutions for your pet. They're easily storable, too.
This is a gate within a gate. You may have a freestanding, wall-mounted, or even a pressure-mounted dog gate that comes with an extra gate that is usually placed in the center of the fixture. This center gate is what you will use to 'walk through' the dog gate; hence, the name.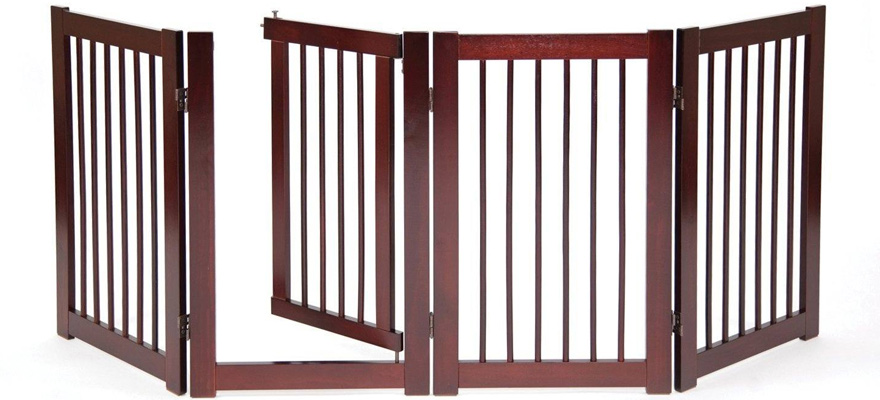 Common Places to Use Dog Gates
One of the principal considerations for choosing the right dog gate is the placement of this fixture. It is important to realize that dog gates are primarily designed to keep our pets safe even though they are right inside our house.
Dog gates are commonly placed at the top and bottom of the stairs. This is to prevent dogs from going up and down the stairs to help avoid injuries related to falls.
Dog gates are also placed in between rooms and hallways. There are certain areas in the house that we don't want our pets to go. While many of these areas may already have doors in them, there will always be instances when these doors have to be kept open. This gives our dogs access to such rooms. Having dog gates in between rooms and hallways can help us open our doors to such rooms without giving access to our dog.
Dog gates can also be used to seal off a certain area that you want to designate as its play area. At the very least, doing so will save you the nightmare of having some of your precious stuff damaged or broken because of your playfully rambunctious hound. Some types of dog gates can also be configured as dog playpens or even standalone indoor or outdoor pet containment systems.
Technically, you can place dog gates anywhere you want your dog to be in a much safer place.
Best Dog Gates FAQ
Q: Why do dog owners need dog gates?
A:  We already mentioned that the very first reason is always about safety. This is especially true if you intend to place the pet gate in your stairs. Every year, thousands of dogs get injured because of falling down the stairs. While they can be trained how to use the stairs safely, accidents do happen. Dog gates can also help in other areas of the house, like fireplaces or decks.
Dog gates are also useful while cleaning your house. You can put them in their kennel or dog crate. But, the relatively larger space afforded by a dog gate is way better than the cramped space of a crate. Portable dog gates allow you to confine your pet in one area while you thoroughly clean the house. Once you're done with one section, you can move your pet and its dog gate to another area as you continue to work on the remaining sections of the house.
Dog gates also serve as excellent dog playpens, especially if you get a really wide, foldable type. You can create an enclosure like the playpen that children are placed in. You can give your dog its favorite toys and let it play to its heart's content. This also helps protect your carpet, beddings, furniture, and other things as your pet will not be playing anywhere near these things.
Related Post: Best Interactive Dog Toys
Dog gates are also useful in housetraining puppies. Dog gates can teach your puppy which parts of the home they can access and which ones they are not supposed to go in. If a puppy, or a dog for that matter, is given free access to the entire house, then it will not be able to differentiate the house from the outside world.
Related Post: Best Dog Crates
Q: What size of a dog gate do I need?
A:  As we have mentioned above, the right size dog gate actually depends on the size of your pet as well as the width of the space that you want to put it in. For starters, you should always consider the adult size of your dog. What this means is that, if you have a puppy, then you need to consider the height of an adult dog of that particular breed. Don't take a smaller dog gate simply because you still have a puppy. When it grows up, you'll be buying another dog gate again.
As for the width of the gate, this actually depends on where you want to put it. That is why it is best to go for dog gates with extendable features as well as those that allow for expansion with the addition of kits.
Q: How do I install a dog gate?
A:  Installing a dog gate actually depends on the type of dog gate you have. Freestanding and folding or hinged dog gates don't actually require any installation. Simply set them standing and you're done. As for pressure-mounted units, you need to prop one end of the gate onto a wall and then adjust the other end so that they push against the opposing wall surfaces. Keep adjusting the tension until the entire gate is fully secure and won't budge when shaken. For wall-mounted units, you may need to drill holes in the wall corresponding to the number of screws on the wall mount. Different manufacturers typically come with their own set of instructions on how to install their product.
Dog gates are important pieces of fixtures that can help keep our pets safe right inside our homes. These also allow us to prevent them from gaining access to certain areas we don't want them to go. There are many types of dog gates to choose from, but your choice ultimately boils down to the size of your pet and where you want to place the dog gate in.
Sources
Dog Gate Selection Guide, OfficialDogHouse
How to Choose a Dog Gate, Room for Improvements
The Best Dog Gates for Your Home, The Puppy Institute