Dog gates provide a level of security and safety for dogs that is essential to their wellbeing. Many can double as dog playpens which can provide a safer environment for them to play in inside of the home, whilst the create barrier to keep them clear of potential hazards. The market can be unforgiving, however, seeing as there are countless pet gates claiming to be the best. In this article, we'll look at some of the best dog gates on the market, whilst also addressing some of the finer details one should consider when purchasing a pet gate.
A Glance at Our Favorites
| Editor's Pick | Product Name | Price | Rating |
| --- | --- | --- | --- |
| Best Overall | Regalo 4-In-1 Play Yard Configurable Gate | Buy on Amazon | 4.5 |
| Extra Wide | Carlson Extra Wide Walk Through Dog Gate | Buy on Amazon | 4.5 |
| Auto-Close Feature | Summer Infant Extra Tall Dog Gate | Buy on Amazon | 4.6 |
| Budget Pick | Evenflo Tall Pressure Mount Wooden Dog Gate | Buy on Amazon | 4.1 |
| Best for Small Dogs | Carlson Pet Products Mini Tuffy Expandable Gate For Dogs | Buy on Amazon | 4.6 |
| Stylish and Dependable | North States Deluxe Décor Dog Gate | Buy on Amazon | 4.7 |
| Easy to Move | Primetime Petz Configurable Dog Gate | Buy on Amazon | 4.5 |
*Ratings are from Amazon, Chewy, and PetSmart at the time of publication and can change
12 Top-Rated Dog Gates to Buy
Best Dog Gates: Buying Guide and FAQs
There is an increasing number of pet parents who truly understand the value of installing or having dog gates in their homes. If you're one of these people then you've come to the right place. In the following sections, we'll help you navigate the process of picking a dog gate for your pet while also shedding light on some of the most common questions that would-be dog gate owners have.
What to Consider When Choosing a Dog Gate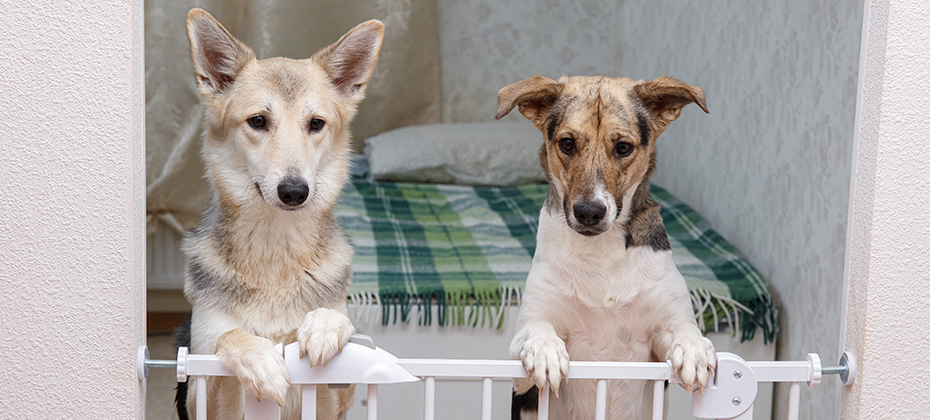 Choosing a dog gate can be especially challenging if you are not sure what you are looking for. To help you zero in on the best type of dog gate to install or use inside your home, you may want to consider the following things.
The Size of Your Dog
You will ideally need a gate that is taller than your pet. This is to discourage any attempts of jumping over the gate when they're feeling impatient. If you have multiple dogs at home, you might want to consider the height of the tallest dog as your reference. Furthermore, always keep the adult size of your dog in mind, don't buy for the puppy – buy for the adult.
Placement of The Pet Gate
Where do you intend to place the dog gate? A folding stairgate may be the best option for the fireplace for example. Where an especially wide space will need something wider than a traditional pet gate. Freestanding pet gates are good for homes where they may need to be moved regularly. The best pet gate for a small household is often the mesh design as a mesh gate takes up minimal space – that is if your dog doesn't try to rip through it.
The Purpose For The Gate
Is this going to be a permanent fixture in your house or is it just a temporary solution? Do you want to have a dog gate-only device or one that can offer you versatility such as one that can be converted to a dog playpen or some other configuration? What is it needed for and which design will suit you best?
What The Gate is Made of
Currently, there are two principal materials used in the manufacture of solid gates: metal and wood. Metal is durable and chew-proof. Wood is always elegant to look at, although it can never withstand the force of a powerful chewer.
Installation
Some dog gates need to be affixed to the wall using screws and brackets for added security. Others simply use a pressure-mounting system. Whereas others don't need to be mounted at all. If you're not wanting to drill holes into your wall or doorframe, then the first option may not be the best. However, if you have a particularly large or powerful dog, this is the most secure option.
Security
One of the reasons why you want to buy a dog gate is for security. That said, you should always look for a dog gate that has very secure lock mechanisms. It should be fairly easy for you to pass, but impossible for your pet. Foldaway gates usually need to be stepped over or moved aside, but mounted gates use a simple handle mechanism that relies on the use of opposable thumbs.
Types of Dog Gates for the Home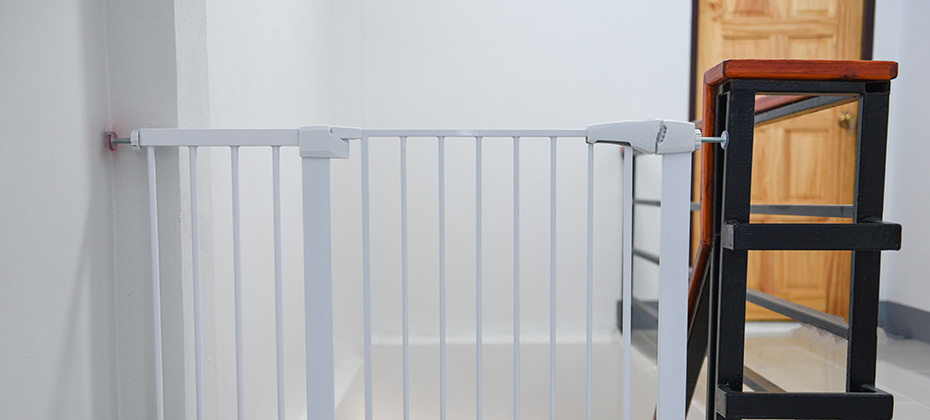 There are many types of dog gates for the modern home, including apartments and other types of domiciles. Once you've given careful consideration to the things we shared above, you can now take a look at the different types of dog gates to have in your home.
Freestanding
As the name implies, these don't require any installation at all. Think of them as the barricades set up in public places. You have a vertically-standing panel supported by perpendicularly oriented feet. It is the feet extensions that allow the dog gate to stand freely on its own without the need for attachment to another vertical surface such as the wall.
Wall-Mounted
These are the exact opposite of free-standing dog gates. The opposite ends of the gate are mounted onto the wall by a set of hardware that has to be bolted securely in the wall. These offer the best in terms of security since they are virtually immovable. Unfortunately, you'd have to toil to mount them.
Pressure-Mounted or Tension-Adjustable
Pressure-mounted dog gates are just like your wall-mounted systems, except that there is no drilling or actual mounting on the wall that is involved. Instead, rubberized extensions are pressed against the wall to create opposing tension across the entire width of the gate. It is this tension that keeps the gate in place. Technically, it is like having a hydraulic system pushing against the opposing walls.
Hinged and Foldable
This type of dog gate is similar to a free-standing fixture, except that it comes with at least 3 panels that can be folded, thanks to the integration of hinges. Some systems come with 8 or more panels, allowing them to be easily turned into dog playpens as well as other configurations. Because they are foldable, they offer temporary and portable containment solutions for your pet. They're easily storable, too.
Walk-Through
This is a gate within a gate. You may have a freestanding, wall-mounted, or even a pressure-mounted dog gate that comes with an extra gate that is usually placed in the center of the fixture. This center gate is what you will use to 'walk through' the dog gate; hence, the name.
Common Places to Use Dog Gates
It is important to realize that dog gates are primarily designed to keep our pets safe even when they're safely within the house. So here are some of the most common areas in which pet gates are most often used:
The Stairs
Some owners prefer to have their pet gates located at the top and bottom of the stairs (this may require an extra-wide dog gate depending on the design). This is to prevent dogs from falling, which can cause severe injury.
In the Living Room Doorway
This can be either to keep your dog in the living room when guests are arriving, to give them some space before the puppy starts demanding attention. Alternatively, it can be used to keep them out either when you're not home or to keep them out of the way of visitors or young children.
In the Kitchen Doorway
Kitchens are known to be a risky place to free-roam both for babies and dogs. There are chemicals and utensils that can be extremely dangerous. And with a curious young puppy wandering around, sometimes it's a good idea for dog parents to stick a pet gate into the door frame until they're trained not to go rooting through the cupboards.
In the Back Doorway
Keeping your dog inside the house, whilst still having the door open with a good quality dog gate for them to look out from, can be a great way to manage dogs with separation anxiety at a time when they need to stay clear. This could be when you're gardening, if you're setting off fireworks, or if you're hosting a BBQ and want to keep your dog from stealing un-watched sausages.
These are just a few examples of ways in which you can utilize a dog gate in your home. But at the end of the day, it's up to you where you feel you need to set boundaries for your dog's safety.