Your dog's crate is like your beloved pet's home. However, there are certain types of dog crates such as wire crates that do not provide ample protection from the elements as well as privacy and security for your pet. If you have one of these kinds of dog crates, then you really need a dog crate cover. These especially-designed dog crate covers come in different materials and features offering different levels of protection, comfort, privacy, and security for your dog.
As much as possible you need to pick the best one for your beloved hound. We're listing some of the best dog crate covers in the market to give you a head start.
The 12 Top-Rated Dog Crate Covers
Best Dog Crate Covers: Buying Guide & FAQs
If you've ever bought a cover for your car, then you know that picking the right cover for your dog crate is not as easy as it looks. There are certain factors that you need to consider, but mostly these are all related to how well you understand the reasons for using a dog crate cover. With that said, here's a little guide to help you gain a better understanding of what dog crate covers really are and what you need to be looking for when picking the right one.
Take a look at our article on the Best Dog Crate End Tables.
What are Dog Crate Covers?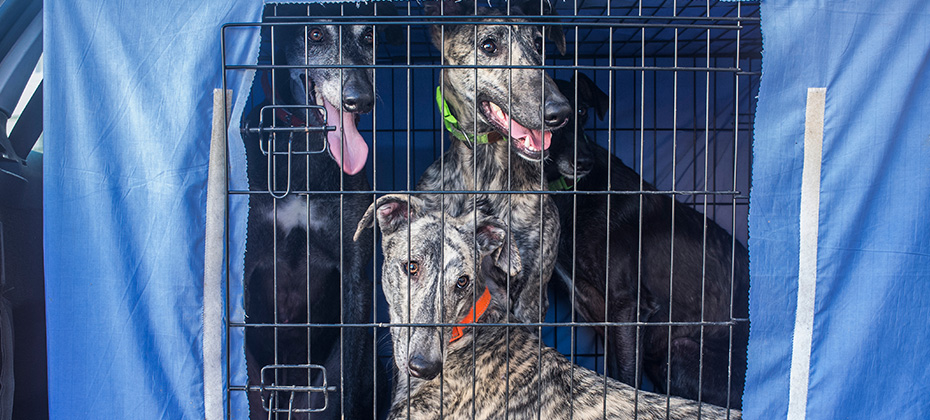 As the name implies, dog crate covers are pieces of fabric that are placed over certain types of dog crates, but most especially wire types since these are your archetypal dog cages. The materials used in the dog crate covers can vary depending on the manufacturer although polyester is a favorite option because of its durability and comfort for your pet dog.
During the summer months, you may also consider investing in a dog crate fan.
Why Use a Dog Crate Cover?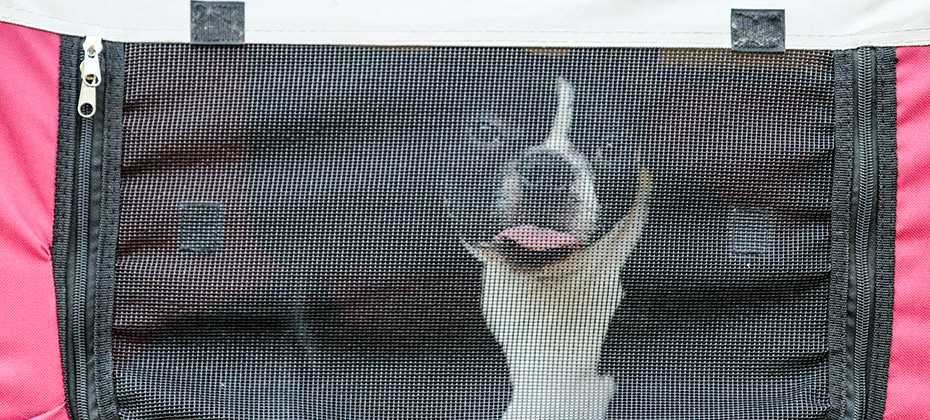 There are several reasons why a dog crate cover may be necessary. First, it simulates a dog den when fully covered. Dogs in the wild, as well as ancestral canines, are known to spend hours inside caves as a means of protection. If they have young puppies, the den also helps protect their young from both the weather and other animals that might prey on their puppies.
Second, and this is directly related to canine den behavior, is associated with canine anxiety. Certain dog behaviors such as chewing and barking are generally associated with canine anxiety. Just like humans, anxiety can come from almost anywhere. When dogs are anxious, they don't know why. They only know that they have to bark, chew, or display other behaviors we may not want them to show. Providing a dog crate cover allows them to feel more secure and less anxious.
Third, dog crate covers can also be used as a means to manage highly reactive dogs. There are dogs that aren't really suited to sudden changes in their surroundings. As such, they may display certain behaviors that we deem unacceptable. Dog crate covers help by reducing their access or view to whatever it is that is that makes them jumpy.
Fourth, if you have a dog that really cannot sleep in full view of others having a dog crate cover usually works. At the very least, you'll be promoting undisturbed sleep for your pet.
Fifth, if the temperature drops you can be sure your dog will not freeze inside its crate with the cover on. It also works to protect your dog against the wind and other natural phenomena that may be thrown your dog's way.
You may also like our guide on Dog Anxiety Vest.
Features to Look for in Dog Crate Covers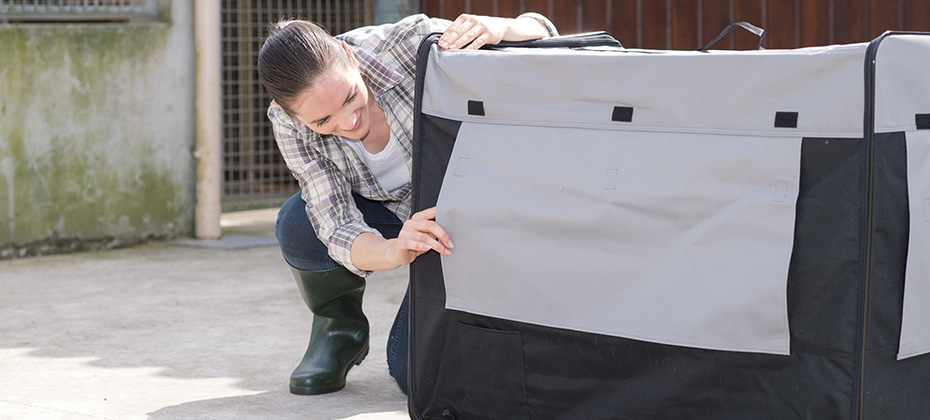 As we have mentioned in the beginning, there are many kinds of dog crate covers. Picking the right one for your pet is like picking the right cover for your bed, to put it simply. However, there are certain features that we believe you should really look for.
It would simply be a waste of money if the dog crate cover suddenly rips apart at the seams the first time you put it on. That is why it is important to look for products with double-stitching. Check the material as well so that you can be sure you're getting a dog crate cover that is going to last many years.
Mesh panels and other mechanisms that improve ventilation
While it is true you want to cover your pet inside its crate, but is your dog comfortable being covered up? Dens always have an opening on one end. If you have to close all sides of the cover, then how will you provide adequate ventilation? The answer is in the presence of mesh windows or other systems that can help provide for ample air circulation inside the dog crate.
Ease of cleaning and maintenance
Some dog crate covers can be thrown right into the washing machine and tumble-dried without having to worry about any loss in fabric integrity. Unfortunately, there are also those that may require washing by hand and with the use of a certain temperature of water. These may also need to be air-dried and should not be placed in your dryer. Technically, it's up to you which one you will prefer: convenience or good 'ol yet tedious washing by hand.
Some pet parents love to adorn their dog crates with lavish and fancy-looking covers. Others would prefer keeping it simple. The choice is actually yours.
Check out our ultimate guide on Dog Crates for Truck Beds.
Dog crate covers are important for all dogs living in wire dog crates as it gives them a sense of security, safety, and comfort. It is, therefore imperative that you know how to pick the right one for your canine friend.
You may also want to check out our review of the Best Dog Crate Beds and Pads.
Sources:
Kathy Blumenstock, How to Make Your Dog's Crate Feel Like Home, PetMD
Frequently Asked Questions
Whether you should cover your dog's crate at night entirely depends on your pet's preferences. Some dogs enjoy the privacy and darkness so would greatly benefit from a covered crate. Others like having a view and may get nervous or afraid if they have to spend a night in a completely covered kennel. That all being said, covering a crate does reduce stimulation and creates a more comfortable, secure place for sleeping. For this reason, it may be a good idea to try covering the kennel for a few hours while your dog is inside so you can see how they react – if they appear comfortable, feel free to cover the crate overnight.
Dog crate covers come in various fabrics and designs – some are made from insulating materials, others are constructed of thin and lightweight fabrics. So, how well a kennel cover will be able to keep your pup warm depends first and foremost on its build materials. Besides this, where you keep the crate also matters – if you're keeping it in the house, the cover will most likely be able to keep your pet warm no matter what it's made from. Where the build materials become very important is in the outside conditions. If you plan to use the cover in cold, rainy environments, a thin and lightweight cover won't do – your pup will need a thick, water-resistant and well-closed cover to keep them warm, possibly an insulated one if the temperature is very low and is snowing.
Most pet crate covers are washing machine safe, so all you have to do is wash them separately on a delicate cycle. Of course, it's always best to follow the instructions on the product itself as some covers need to be hand-washed, while others shouldn't be washed at all (i.e. those with PVC coatings) but brushed with a gentle and dry brush.