Stylish furniture and a private space for your dog to relax in one? Yes, dog furniture such as a nice crate end table is a perfect way to add unique style to your home while providing a comfortable and safe space for your pooch to relax.  Plus, dog kennel end tables are such space savers as well – perfect for busy homes and small apartments!
The only problem? A dizzying array of dog furniture on the market. With so many different items to choose from, it can be hard to pick something that both you and your pet will love. But no worries – we're here to help. We've done our research, taking into consideration both dog comfort and furniture style, and came up with a Top 10 list of what we believe are the best dog crate end tables on the market currently. Take a look at the list, as well as our buying guide and FAQ section, to find the right dog crate table for you and your furry friend.
Our Top Picks for the Best Dog Crate End Tables:
Dog Crate End Table Buying Guide & FAQ
Although prices for dog crate end tables can vary widely, most are around $100 to $300. In other words, buying a dog crate end table is no joke – it's an actual investment. But it's no wonder really, considering the dual purpose of dog kennel tables – they're supposed to look stylish and complement your house decor while keeping your dog safe and sound in his little private area. Make sure you're buying a quality product – something that both you and your pet will love. Additionally, make sure that it is durable and built to last for years.
To help you find such a product, we did two things: we created this buying guide and we also answered some of the FAQ. These two chapters cover everything you need to know about dog crate end tables, as well as what to look for when looking to purchase such pet furniture. So, without further ado, let's get into the important stuff!
Things to Look Out For When Buying a Dog Crate End Table
With so many different dog crate end tables on the market, it can be hard to pick the right product. Some pieces are made of wood entirely, others are made of metal and wood, some come with removable trays, others do not, some are very large and some are tiny… although these details may seem small, they are important, and it's wise to consider them all and then some when purchasing a crate end table, so you can ensure you buy something both you and your pet will like. Pay attention to the following things:
Size of the furniture and size of your dog
The most important thing to consider when buying a crate end table is its size. The product needs to fit appropriately into your living room/bedroom or wherever, and it needs to fit your dog comfortably. So, naturally, you want to take careful measurements of both the space you plan to place the furniture in and your dog. Normally, dog crate end tables come in three different sizes: small, medium and large, so it's easy to see which crate should work best for which dog breed. However, it's always best to measure your dog's height and weight  – just to be sure.
Materials of a dog crate end table
Most crate tables are made of a combination of wood and some other material: the table itself is often made of wood, while the side panels are sometimes made of metal. However, this is not always the case – many pieces are made of wood entirely, and some are made of plastic. Considering that most plastic crate end tables don't look as good or last as long as wooden/wooden and metal ones, we chose not to feature them on our Top 10 list. Generally speaking, whichever wood you choose, it should last a long time, as long as the construction of the piece is good and your dog is not a chewer.
While classic, no-fluff dog kennel furniture works great for most pet owners, some people prefer extra features, such as retracting doors, removable sliding trays, added pillows and configurable crate parts. If that's you, make sure the furniture you're eyeing has those added features. For instance, if your dog is quite messy and sometimes even pees inside his crate, a removable, waterproof sliding tray can be a huge plus as it allows for quick and easy cleaning. But if you have a small, busy apartment, something like the retracting door will probably be the most helpful feature.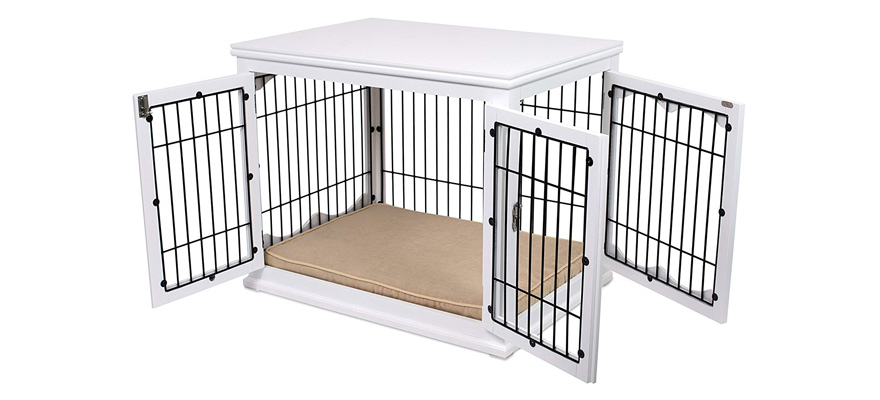 Advantages of a Dog Crate End Table
Dog crate end tables have quite a few advantages, including:
Dog crates that look and function like furniture are such space savers – with just one piece of furniture you get a quality end table that you can use however you like, and a nice, cozy bed for your dog. This is particularly useful for smaller houses and apartments, as you don't have to get two pieces of furniture but one.
They help your dog feel more included
With traditional dog beds and wire crates, a pet can feel somewhat left out and even lonely, as these pet beds are usually placed somewhere in the corner. With a dog crate end table, usually located somewhere in the middle of the room, your dog feels more included and as a part of the family. This is beneficial for all dogs, but especially those who suffer from separation anxiety.
They help your dog feel safer
Have you ever seen a dog hide under a desk or table? That's a canine looking for a sense of security in the form of a confined space. Dog crates such as crate end tables represent safe spaces for most dogs, which is why many will spend hours inside them and even sleep there.
Instead of buying an accent table for your living room and a dog bed or a separate wire crate for your furry friend, you can buy a dog crate end table and kill two birds with one stone. If you choose wisely, you'll have a great-looking end table that doubles as a dog bed for years.
Dog Crate End Table Maintenance
Some people believe that crate end tables require a lot of maintenance to look (and smell) good. In reality, they require no more maintenance than a regular dog bed – in fact, even less than that. If you buy a crate table that comes with a removable slide tray, all you'll have to do regularly is take that tray out and clean it. And if your kennel table doesn't come with a removable tray? No problem, as normally, all you need to clean these crate end tables is a damp cloth – nothing else. Of course, if your crate table doesn't have a waterproof bottom and your pooch pees inside the crate occasionally, you'll have to do much more maintenance than that. That's why we recommend you first train your dog before you buy a crate end table.
But generally speaking, pet crate end tables require minimum maintenance, depending on your dog and her behavior.
You May Also Like Our Review of the Best Dog Crates.
Dog Crate End Table FAQ:
Q: Is a dog crate end table appropriate for a large dog?
A: Although most dog crate furniture is either of small or medium size, it's not hard to find large or even extra large crate end tables, which can be completely appropriate for large dog breeds. Still, no matter what the manufacturer claims, it's always best to measure your dog carefully before buying pet furniture to ensure he can fit comfortably inside.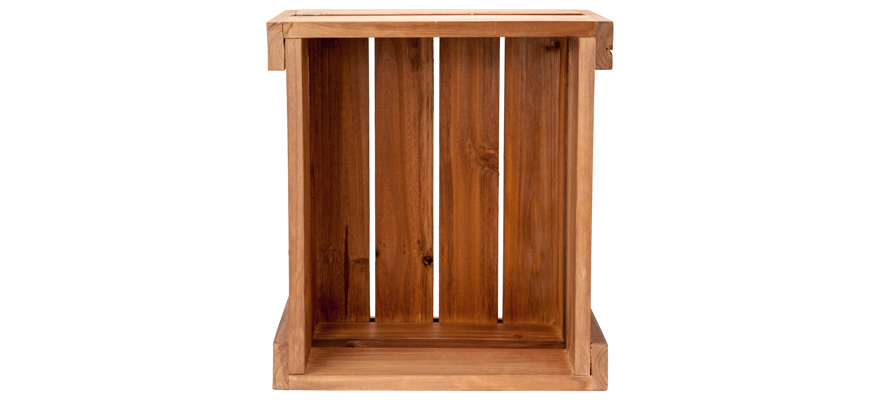 Q: How durable is a dog crate end table?
A: How durable a crate end table will depend on a few things, including:
The material of the furniture: wooden or wooden plus metal crate tables are usually quite sturdy and can last for years before they have to be replaced. Plastic crate end tables, on the other hand, are not particularly long-lasting.
Your pet: if your dog likes to chew the furniture, including his crate, it's not likely your end table is going to last a very long time, no matter how sturdy it is. It's best to train your pet not to chew on things before introducing him to his new crate/end table.
How well you maintain it: like all things, dog crate end tables require regular maintenance. If your dog is messy, sheds a lot, and sometimes even pees inside the crate, you'll need to clean it frequently and thoroughly. If, on the other hand, your pet doesn't shed a lot and is a well-behaved canine, you may need to clean the crate only occasionally. Still, the better both you and your pooch take care of the crate table, the longer it will last.
Q: What is a dog crate end table made out of?
A: Most dog crate end tables are either made out of wood, or wood + some other material such as metal. These crate tables are usually of great quality, although the wood itself plays an important role in how durable the entire piece will be. Besides wooden decorative dog crates, plastic crate tables can also be found, however, since they're not of great quality, you won't find them featured on Our Top Picks.
Q: What if my dog chews up the crate?
A: Since most dog kennel tables are made out of wood, they're not chew-proof at all. This means you should only buy this type of pet furniture if your dog is trained not to chew on things. In fact, even if the crate table is advertised as chew-proof, it's wise to first train your pup not to chomp on things, and then let him use it. Even super-sturdy and durable kennel end tables won't last long if you have a chewer in the family!
Our Top Pick for the Best Dog Crate End Table
Each dog crate end table that made it to our Top 10 list is of good quality, looks fantastic and is super-comfy for your furry companion. We tried to include different styles and designs, as well as price tags as everyone's taste and budget is different. Still, we feel like this buying guide wouldn't be complete if we also didn't include our very own Top Pick – Crown Pet Products Wood Pet Crate End Table. This dog furniture has it all:
Durable hardwood construction (entirely made out of rubberwood)
A swing-through door that is never in the way and a stainless latch that easily secures the door
Waterproof melamine-covered MDF floor that doesn't absorb liquids and odors and is easy to clean
Multiple vents that ensure proper air flow and offer your dog a 360-degree view.
All in all, this is a fantastic wooden dog crate end table that looks like it would complement any home decor. Plus, it's durable, easy to maintain and comfy for pets – pretty much the ideal dog furniture!
Sources: