Your dog's health and welfare are paramount, including keeping him happy, safe, and comfortable whatever the weather. Of course, we all know the dangers of cold weather and low temperatures, but those gorgeous warm summers can also be bad for your pet.
Overheating can be a real issue for canines when the heat is on, and if not appropriately managed can lead to potentially fatal conditions such as heatstroke. So, keeping your pet cool throughout a hot summer is vital, especially in more confined spaces such as their crate or enclosed dog bed.
While the air conditioning in your home can help, you can also add a dog crate fan to keep your pet's sleeping and resting space cool and comfortable when summer temperatures rise. We review some of the best dog crate fans designed to specifically help your pet keep his cool.
Did You Know?
A dog crate is a useful way of keeping your dog safe and giving them their own space.
But during the summer, or if it is kept in a poorly ventilated room, the temperature inside their crate can rise, putting them at risk of heat stroke.
Helping your dog manage his body temperature using a crate fan is one way to stop them from overheating.
Adding a dog crate fan to the side of your dog's crate will ensure the inner temperature remains cool enough for your pet.
You can also take the best dog crate fans with you on vacation, so you can always keep your pup cool.
You should also ensure your dog has plenty of fresh water and their crate is out of direct sunlight.
A Quick Glance at Our Favorites
Power Source
Pros
Cons
Bottom Line
Rating
*Ratings are from Amazon at the time of publication and can change.
6 Top-Rated Crate Fans
How to Choose the Best Dog Cage Fan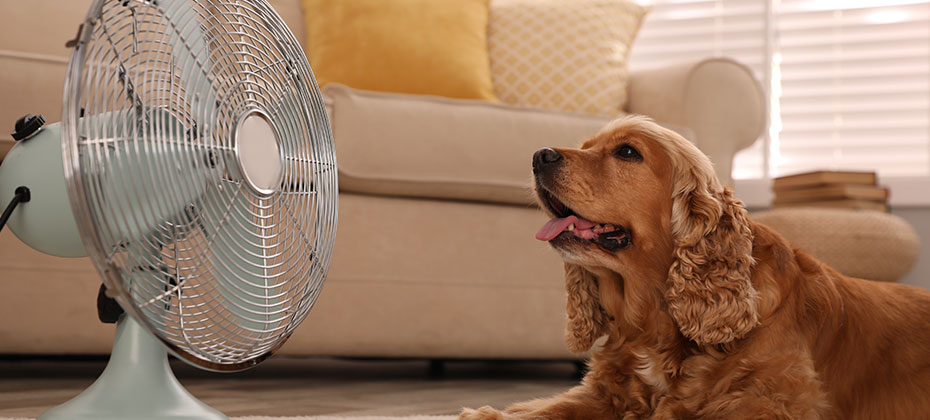 Your dog, their personal space, and your home will all help in choosing the right dog crate fan. However, to make the very best selection, there are other things to consider.
Material
The material used in your new dog crate cooling fan is an essential consideration as you need it to be durable and safe for your pet. A good choice is BPA-free polypropylene plastic, as it's lightweight yet durable. But if you are looking for a crate fan to use outdoors, then ABS plastic, which can stand up to direct sunlight and the elements, is a good idea.
Size
Size also matters when it comes to a crate fan, as the bigger the cage or sleeping space, the larger the fan you need. A good-sized pet fan for most standard crates is between 5 and 5.5 inches tall, although you can get fans of 7 inches and more. What you want is a fan that's big enough to create a cool environment without taking up too much space or getting in the way.
Noise and airflow
You also want a fan that keeps your pup cool without spooking or making him feel uncomfortable. This means choosing a fan with sufficient airflow to make a difference to his environment while offering quiet operation.
The good idea is to look for a dog crate cooling fan with adjustable speeds, ideally at least two, so you can adjust the fresh air flow as you and your pet prefer it.
Safety
Pet safety should also be top of the list. When choosing the best dog crate fan, check that the blades are made from safe materials such as silicone and are encased behind a durable cage to prevent contact with your dog. The pet fan should also have a good method of securing it, so look for high-quality, adjustable mounting hooks or clasps.
Power source
Choose the method of powering your new crate fan that works with how you intend to use it and where you will place it. Batteries are a good option if you need to take your crate fan with you on vacation or road trips. However, you will need to replace them regularly, especially if the fan is left on for longer periods. Crate fans powered by rechargeable batteries are the most versatile, especially if they can be both USB and wall charged.
However, as you are using the fan to keep your pet cool, it's best to avoid fans with a power cord or trailing cables.
Extras
Other useful accessories include built-in thermometers to measure ambient temperature and a cooling pack.
And with all electrical items, a good warranty – ideally one year or more – can be a cost-saver should something go wrong with your new fan.
Should You Worry About Your Dog Getting Heat Stroke?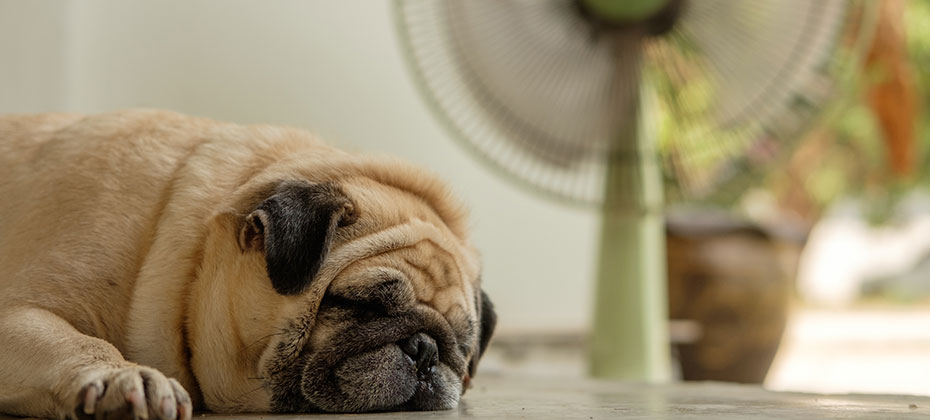 Heat stroke can be life-threatening so keeping your pet cool during hot summer or rising in-house temperatures is essential. And your dog is not only vulnerable to heat stroke during the summer as poorly ventilated rooms, and overly warm crates can also raise the risk of overheating.
Canines can usually regulate their body temperature through panting. But when the external temperatures exceed their body's ability to dissipate the heat, you enter dangerous, over-heating territory. And the result can be a case of heat stroke, which can potentially lead to:
Kidney damage
Liver damage
Central nervous system dysfunction
Severe gastrointestinal issues
Damage to the vascular system
In some cases, heat stroke can prove fatal if not treated in time.
To prevent heat stroke, pet owners should ensure their dog is cool enough during hot periods and that their indoor spaces are well-ventilated all year round. Your dog should always have plenty of fresh, clean water; outdoors, they should always have access to some shade to help your pet stay cool.
You may also find our guide on dog water fountains useful.
How Are Pet Crate Fans Useful?
A pet crate fan is an excellent backup when you need to keep your pup cool and prevent them from over-heating, especially during hot weather.
Using a pet fan will keep their safe space – their crate or cage – cool and create a pleasant place to retreat to when the outdoor heat gets too much. They are also useful for keeping their crate at a comfortable temperature throughout the night.
Dog crate fans are also affordable, and if you choose a portable model, they can take you and your dog from home to camping, traveling in the car, or on vacation.
Source:
How to prevent heat stroke in pets, American Animal Hospitals Association
Frequently Asked Questions (FAQs):
If you buy a quality fan from a reputable seller and have had all the necessary manufacturer testing, then a dog crate cooling fan is safe to use with your pet.
But, as with all other electrical items or devices with moving parts, you should use the cooling fan carefully. And that means putting it in a place that won't endanger your pet or so close that they can tip or knock it over. And never use it near water, which includes their drinking bowl. Finally, always follow the manufacturer's user instructions.
If the hot summer temperature doesn't drop enough by nightfall to make sleeping comfortable for your puppy, it is ok to leave the cooling fan on for him overnight. However, ensure it is not too close to your pet or on a temperature setting too cold. And your pet should be able to move away easily and safely from the fan's airflow should he get too cool or uncomfortable.
As well as using a crate fan, you should take other key steps to keep your dog cool and happy. Our top tips for keeping your dog cool in the summer include :
Adding a thermometer or choose a fan that has a built-in thermometer so you can monitor the internal temperature of their crate
Ensuring their crate is in a cool space and out of direct sunlight
If used outdoors, use a cover or reflective cloth over the top to protect your dog from the sun
Provide your dog with constant access to fresh, clean water to ensure he remains hydrated
Raise the crate slightly off the floor to allow for air to pass under the crate and your dog
Use extra cooling devices such as cooling mats to create a pleasurable sleeping space
Use additional cooling devices such as cooling pads or mats to create an enjoyable sleeping space
Use a crate that has a higher ceiling; lighter colored crates can also deflect heat
Treat your dog to cooling titbits such as frozen watermelon or homemade 'pupsicles'
Getting proactive in ensuring your dog is cool is the best way to prevent heat stroke and keep your precious pet safe and comfortable when the heat is on.