This absolutely precious little Chimera kitten, which goes by the name of Apricot, will be looking for her forever home in just a few short weeks.
Currently being cared for by the Nashville Cat Rescue in Tennessee, Apricot has already stolen the hearts of workers and visitors alike with her strikingly unusual fur pattern. With the look of a ginger cat on one half of her face, and dark brown fury on the other half, she has charmed over 1,000 of her foster mother's followers on Instagram with requests to adopt the two-tones kitten pouring in.
The Nashville Cat Rescue has an Instagram page on which they share photographs and stories of all the cats and kittens that have been rescued over time, keeping supporters and fans informed on the important updates going on throughout the rescue.
"Apricot and her family are NOT currently available for adoption—they need lots of growing, weaning, and veterinary work first." The Nashville Cat Rescue mentioned in the caption of an adorable photograph of Apricot posted to their Instagram account on Tuesday 6th March.
Chimera cats are exactly what they appear to be; they are the product of two different cats that have blended into one in the womb as a result of two embryos merging together during their development. This results in a Chimera – a cat with two sets of DNA, as was explained by Apricot's foster cat mom, Kiki in her introductory Instagram post for Apricot on March 6th.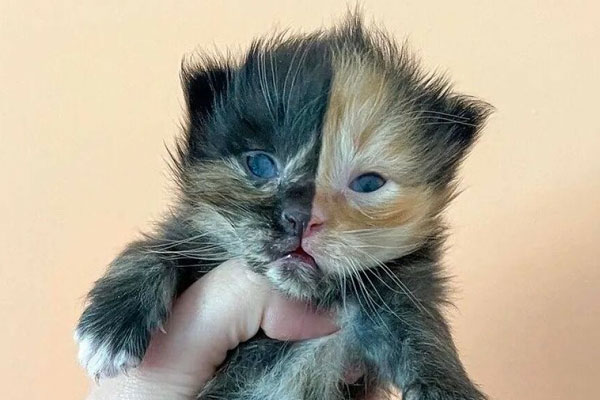 Kiki also added, "Chimeras also have eyes that don't match, called heterochromia. Too tough to tell with this little one as her eyes won't settle into her adult color until she is 7 weeks of age."
Apricot and her brother Pretzel had a difficult start in life after being found inside a wall during a construction project. With very little time to waste with such delicate little newborns, the family that found the lost kittens waited as long as they dared before calling the local rescue to collect them and take them to safety.
Homeless cats are often euthanized, and with euthanasia numbers being tragically high as more and more kitties are left homeless we need to be more vigilant than ever in providing lost cats and kittens with a safe place they can call home.
Wherever possible it is imperative that anyone looking to get a cat tries their best to adopt a new feline friend instead of purchasing one, as kitten farms are a large part of the problem.
If you are unable to adopt a cat, but want to help with the cat rescue efforts to provide lost kitties with a safe space, please consider donating to your local cat rescue; be it food, toys or money to put towards their rescue efforts, every little helps in the fight against cat homelessness.
You can help to save kittens like Apricot and Pretzel from a tragic fate.