On March 10th, 2021, Ethan the dog left the Kentucky Humane Society to be taken to his forever home via an adoption ceremony filled with balloons, treats, and applause; this fantastic event was filmed for all of Ethan's adoring fans to see and celebrate with him!
Ethan, the dog was tragically abandoned in the parking lot of Kentucky Humane Society in late January, emaciated, malnourished, weak, and close to death. Within a matter of weeks, he was able to gain weight, grow in strength, and start walking again! His story captured the hearts of thousands all over the United States, with his own Social Media following and a huge outpour of support, he was guaranteed to have a perfect home waiting for him.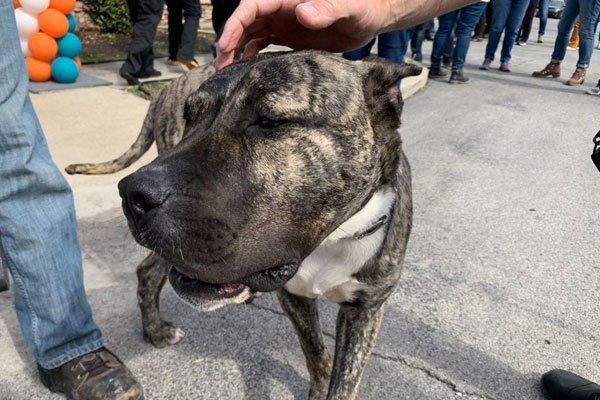 Originally he was believed to be around 3 years old, but during his neutering surgery, he was found to still have a baby tooth, making him just a puppy of around 1 year! And owing to the massive amount of interest in the pup, KHS has a DNA test done to check out if their suspicions of him being a mix of Great Dane, Cane Corso, and Presa Canario were correct, however, they were surprised and thrilled to find that he is a thorough mix of so many more breeds consisting of; Argentine Dogo, Presa Canario, Bull Dog, Mastiff, American Staffordshire Terrier, and Cane Corso.
On the day Ethan was found by the Henderson-Hughes family during one of their donation runs, he had been rushed into the building to be warmed up and treated, followed by spent several weeks in critical care before being transferred to a loving foster home with the KHS staffer Jeff Callaway.
Jeff was able to take care of the pup in a more casual domestic setting, helping him to learn to socialize with his fellow pooches and adjust to domestic life, as well as teaching him tricks, and showing him the care and attention that he deserved from the start.
Ethan's uplifting story, not to mention his winning personality and gentle loving nature, won over the hearts of many, becoming a beacon of hope in a year where hope has been somewhat lacking. Play not only did it win over the hearts of the public but the heart of his foster owner,  Jeff Galloway who has decided that Ethan will become a permanent member of his family.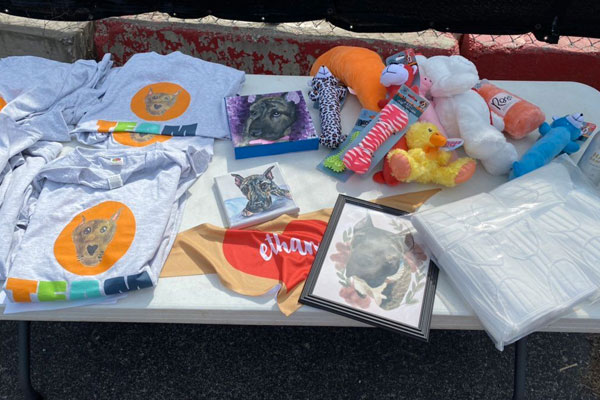 After many weeks of bonding with this lovely pup, Jeff and his family decided they couldn't part with him and the Kentucky Humane Society later announced that the Callaway family would be adopting Ethan on March 10th. The Human Society also released a note from Jeff and his family regarding the adoption:
"I just want to thank everyone so much for their overwhelming support of Ethan, the Kentucky Humane Society, myself, and my family. Words simply cannot describe the kindness shown to us during this time," Callaway said. "We are so, so excited to be able to adopt Ethan! He is already such a huge part of our family. From the very beginning, it's always been about Ethan and what is best for him and his future. I believe with all my heart he is in the right place. There's nothing we wouldn't do for him."
"We love him so very much and are very grateful for all the love of every single person that has followed his story from the beginning," he continued. "Thank you again! We can't wait until the adoption celebration next week! It's important to us that everyone that wants to continue to follow Ethan's journey will still be able to do so through social media. Information coming soon. Much love!"
Officially adopted… ??? @kyhumane @WDRBNews pic.twitter.com/cbDRpE2x1Q

— Gina Glaros (@ginaglaros) March 10, 2021
Ethan is now a much healthier 83 pounds, a long way from the 38 pounds he was when he was found by the Henderson-Hughes family on that fateful January afternoon, and the Kentucky Humane Society believe he could continue to grow anywhere up to 100 pounds with the proper care of his new family.
Ethan's story has had the perfect ending, but there are many more dogs in need of help all across the United States. So if this story has moved you to want to do more for mistreated and abandoned canines, consider donating to your local dog rescue. They don't only need money to fund their rescue efforts, but warm bedding, food, toys, collars, leashes, and many other essentials which are needed for the rehabilitation and future rehoming of the dogs they save. Remember folks, wherever it's possible, adopt don't shop, and give these poor pooches the loving home that they deserve and need.