Comedy super star, Ricky Gervais, famous for his roles in popular sit coms The Office and Extras has spoken out about the increasing trend for cosmetic ear surgery being carried out on man's best friend.
Reports in Berkshire Live, reveal how the actor has joined forces with a leading UK animal charity, the Royal Society for the Prevention of Cruelty to Animals (RSPCA) to campaign against this unnecessary procedure that removes part of the ear flap.
A petition called 'Stop the rising number of ear-cropped dogs in the UK' refers to ear cropping as an 'unnecessary, painful mutilation with no welfare benefit'. It has already attracted over 76,000 signatures and if it attracts more than 100,000 signatures it will be considered for debate in the UK parliament.
Gervais describes his dislike of dog ear cropping in the strongest terms, he says "It's horrific to think that something as barbaric as ear cropping still goes on. It causes these poor dogs so much suffering and it's completely unnecessary. To think anyone would do this to an animal just for the sake of image is disgusting."
In Berkshire alone, which is Gervais' home region, there have been 900 signatures and it is hoped that laws will be passed that closes legal loopholes and ends "the trend in ear-cropped dogs for good". The petition details indicate that more than 140 signatories are from Windsor and over another 140 were obtained from Bracknell.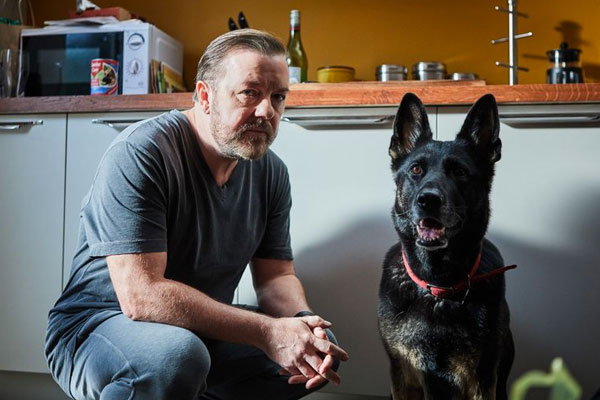 Ear cropping is an increasing and worrying trend – RSPCA data records a 621 percent rise over the last few years. Animal welfare experts are fearful that it may affect a dog's hearing and that this could get in the way of how they communicate with other dogs and with their human companions. It also affects how a dog uses their body language and is an unnecessary procedure that could cause suffering and distress.
Dog welfare experts are clear in their condemnation of the practice. Interviewed for Berkshire Live,  RSPCA representative Dr Samantha Gaines explained,  "Ear cropping is a barbaric practice that is illegal in England and Wales. But, worryingly, we're seeing an upturn in the number of reports being made to our cruelty line about dogs with cropped ears and we're extremely concerned that this trend is becoming increasingly normalized, glamorized and popular."
The RSPCA observes that the practice of ear cropping is illegal in the UK but not in the US or some European countries. It is feared that the 'cropped look' will become normalized and will appear to be glamorous. This is largely down to the increase in celebrities who now own cropped dogs and share their images widely on social media.
As Dr Gaines puts it "We fear that images being shared on social media and used within advertising as well as high-profile sports stars and celebrities buying dogs with cropped ears is making the look more popular and maybe influencing others to do the same."