Pet owners have been put on holiday alert as it was revealed that more cats and dogs go missing around the Fourth of July celebrations than any other time of the year.
Kansas residents were the latest to be warned about keeping an eye on their pets in the run up to the 4th of July, after the Wichita Police Department put out a public service announcement. Writing on their Twitter account at the end of June, the police department highlighted the countdown to July 4 and reminded residents to take care of their pets.
"The booming sounds of fireworks elicit a fear or anxiety response in pets," the department explained. The series of Twitter posts singled out cats and dogs as most at risk of experiencing noise aversion and related anxiety, stating that "their fight-or-flight response puts them at risk of becoming lost."
The Independence Day alert has also been backed up by several animal organizations, with a similar warning issued by US pet finder service, Pet Amber Alert. While it is difficult to quantify the number of pets who go missing each year around the holiday, a previous 2015 Pet Amber Alert report indicated a 30% increase in the number of lost pets between July 4-6 across the US.
And a report published by the American Kennel Club this month confirmed that the noise of the holiday celebrations was continuing to spook the nation's pets. The dog breeds most likely to become July 4 'runaways' were chihuahua, Labrador retrievers, and pit bulls, while Persians, Siamese, and domestic short hairs were the most at risk to run cats.
With July 4 now past, pet owners are being urged to plan ahead to ensure their pets can successfully cope with future holidays.
Speaking to Fox News, co-founder of San Francisco-based pet insurance firm Fursure, Catherine Dennig, offered her four-point plan for keeping pets safe during the holiday fireworks.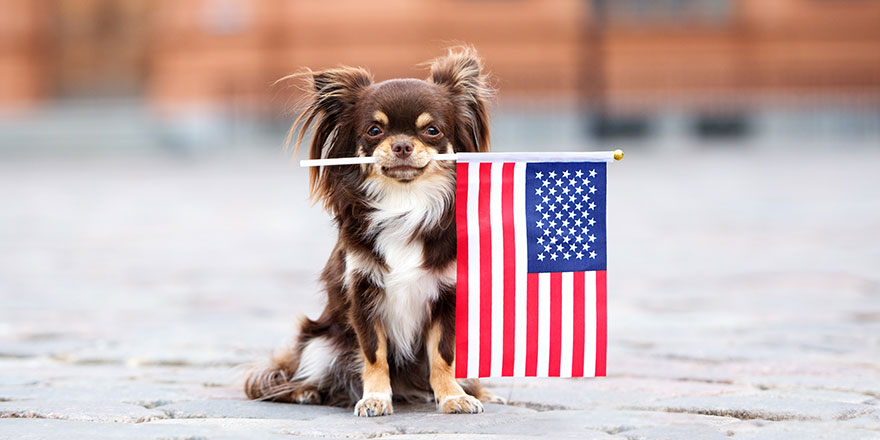 1. Make Sure Your Cat or Dog Has a Pet Tag
Investing in a pet tag and then ensuring all the contacts are always up to date will increase the chance of finding your pet should they run off due to panic. "Whether you are watching the fireworks in a public space or in a fenced-in backyard, better safe than sorry," Dennig said.
2. Ask Your Vet About Medication
Anti-anxiety medications or calming treats may help an anxious pet so before the holidays, chat to your vet to see if they are appropriate. Your pet insurance may also cover the medication fees so do check.
3. Get Ready to Distract
Despite your best efforts, it often can be impossible to avoid the loud noises associated with the July 4 festivities. If this is the case, you need to be prepared and your dog or cat's favorite toys could be the answer. Keeping toys or treats near to hand can be a handy distraction if your pet is starting to show signs of firework anxiety.
4. Keep Your Pet Away from the July 4 Action
Finally, Dennig advised pet owners to leave their dog or cat at home rather than take them to a July 4 gathering.
Pets have a reduced chance of spooking and running away if they are kept safe and secure inside the home. The key is to create a safe space, such as their crate or bed, and surround them with their favorite toys or doggie blanket to calm and soothe them.
"Surrounding your pet with familiar things may be more calming than being by your side among the chaos," Dennig added.