Vehicle owners who happen to love bringing their pooches on their travels can benefit a lot from owning high-quality dog car seat covers. Although simple, covers for dogs can help protect your vehicle upholstery from scratches and stains and trap pet hair and dander, making the whole cleaning-up process a piece of cake. But buying reliable, durable seat covers is no easy task. These car accessories come in various types, sizes, and styles, so picking the best one can be quite challenging. To help you in your selection process, we reviewed dozens of different products, including the waterproof and scratch-resistant types, outlining some of the best ones below.
The 15 Top-Rated Dog Car Seat Covers
Best Car Seat Covers for Dogs: Buying Guide 
Buying a car seat cover can be surprisingly difficult if one doesn't know where to look and what to search for. Thankfully, you're in the right place – in this buyer's guide, we cover everything you need to know about pet seat covers, including how to find the right one for your vehicle, budget, and of course, your pooch.
Things to Consider Before Picking Out Dog Car Seat Covers
Picking out dog car seat covers for dogs is like choosing a protective layer for your most precious piece of furniture, only this time, the pieces are located inside your car. We know how challenging it can be to choose the right one, especially if you're presented with a dizzying array of options. To help you, we highlighted some of the most important things you should consider before picking a particular product for your pooch and car.
Related: Best Car Seats for Dogs
Materials Used in the Construction
There are plenty of options regarding the material used in the construction of the dog car seat cover. The important thing to remember is that it should have the following qualities:
Durable
Waterproof
Scratchproof
Comfortable
It is quite challenging to get a good balance of these qualities since comfort is often equated with a softness that is, in turn, perceived to be less durable and sturdy. So, if you can strike a balance without sacrificing one over the other, that would be perfect.
Many of today's dog seat covers are made of polyester and cotton. This combo provides exceptional comfort because of its smoother finish, but the downside is that, since it is smooth, your pooch might not have a good grip on its surface. It's not a good water-resistant material, either. If it's waterproofing that you want, neoprene materials provide better coverage. However, they are more expensive. For the budget-conscious, ordinary clothes are the go-to.
Weight Capacities
This is one aspect many dogs and car owners simply fail to consider when buying dog seat covers. Efforts must be exercised to ascertain the weight capacities of the product you're entertaining in buying. However, you should also consider the maximum adult weight of your canine breed. For instance, if you have a German shepherd, know that it can grow up to 70 pounds and 88 pounds for females and males, respectively. So, if your pooch is currently 40 pounds because it is still in the juvenile stage, you should not get a product with a weight limit of 40 pounds. Instead, you need a maximum weight limit of at least 90 pounds.
Foam Protection
One issue that makes some people apprehensive about using dog car seat covers is the canine's safety. After all, accidents do occur all the time. Unfortunately, you cannot strap or secure your pooch with your car's seatbelt system, even if you get a bucket seat for pets. As such, dogs suffer injuries in an accident because they are inadvertently thrown off the seat. Some manufacturers of seat protectors for dogs design their products with cocoon-like foam protection. This innovation aims to absorb impact forces so that it doesn't reverberate through your canine friend's body. While these may be more expensive than conventional covers, they provide ample protection for your doggie in the event of a crash (they also make for comfy car dog beds!). Your best bet is to get a cover with at least 2 inches of foam protection.
Method of Attachment and Security
Almost all of the products available in the market today include a variety of secure attachments such as straps, seat harnesses, and the like. Some come with specially designed insertion points where your car's seatbelts can be threaded. This is important since a product, no matter how 'good' its non-slip backing is, can still move from its place in a sudden stop.
Cleaning Options
Dog seat covers help cushion your pup during a ride and also help protect your seats from dirt, hair, dog food, water, pee accidents, and other unpleasant substances. As such, you should get a cover that is easy to clean – ideally, one that you can easily throw in your washing machine. That being said, if a product only requires a few wipes with a moistened cloth, that may even be a better option – it all depends on your needs and preferences.
Availability of Replacement Parts
You might not think about it now, but this is crucial since nothing lasts forever. The product you want to buy should come with replaceable parts, particularly replacement covers. More importantly, however, is the availability and accessibility of these parts. If they are available but will require you to fill out many forms and wait a substantial length of time before they arrive, you might want to reconsider your choice.
What Type of Dog Car Seat Covers to Use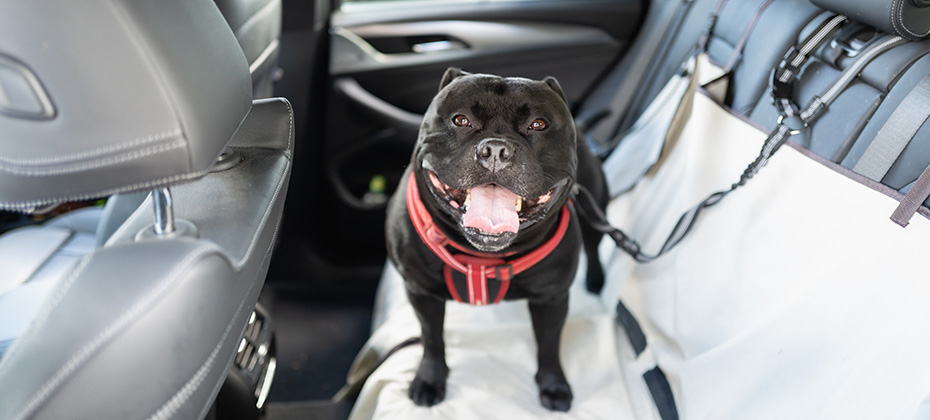 Here are 4 main types of dog car covers you can use depending on where you want your canine friend to stay in your car.
Back Seat Covers
As the name implies, this dog seat cover will be placed over your vehicle's backseat. It is ideal for folks who prefer their pups riding at the back rather than at the front. This contraption typically comes in various models, such as a bench seat cover, short models, extended models, and even hammocks.
Bench seat covers are still very popular, although hammocks are gaining ground as the preferred dog seat cover. Bench seat covers help protect the entire surface of the back seat, including the backrest, whereas hammocks provide an even greater surface area for your canine friend to rest and enjoy the ride, so in that sense, they resemble spacious dog beds.
The biggest difference between bench seat covers and hammocks is that with a bench seat cover, some portions of your vehicle will remain exposed, whereas, with a hammock, the entire back passenger compartment will be covered.
Shorty models are those that are used on backseats that have special features like cup holders and armrests. On the other hand, extended models are generally intended for the larger surface area of SUVs and trucks.
Front Seat Covers
If your doggie doesn't take too well to being at the back of their vehicle, you might want to let them stay in front on the passenger side. This is where the front seat covers come in. They're ideal for small to medium-sized breeds, as getting a large breed upfront can obstruct your view of your side mirror.
Car Door Covers
If you have a doggie who loves standing on your door, you will need a car door cover to help protect your car door sidings. The owners of rambunctious pooches and tenacious chewers will find the door sidings super-useful. Without a door cover, you're bound to see a scratch, bite or chew marks on your door sooner or later.
A car door cover can work on either the back seat or the front seat. The good thing is that certain hammock types of backseat covers have side flaps that can be used as door protectants. Some come with zipper closure to stay connected with the rest of the hammock's panels.
Cargo Liner Covers
Finally, for pet parents who simply don't want their pooches to stay in the passenger compartment of their vehicles, cargo area dog covers are ideal. A cargo liner typically features everything a regular car seat cover offers, only it's specifically designed for the cargo area, so it's extra non-sliding and waterproof. These covers help collect dirt, dust, hair, and other messes, making cleaning much easier.
Benefits of Using Dog Car Seat Covers
By now, you probably know what dog car seat cover to choose. However, if you still have second doubts about whether it is wise to get one for your car, here are some of the benefits you'll reap if you decide to install a car seat cover.
Prevent Nasty Stains and Awful Odors
No matter how well we train our dogs, there will always be instances of 'accidents'. If there is no protective waterproof lining between your dog and your car's upholstery, then there's a great chance that this accident will lead to a lingering stain and a nasty odor inside your vehicle. Waterproof covers collect the liquid and semi-solids from your pooch so that these don't get into your upholstery or your carpet.
Ensure Greater Safety While Traveling
We mentioned foam protection and non-slip backing in many of today's dog car seat covers. These are designed to help protect your dog and increase their safety in cases of sudden stops, accelerations, or even accidents. If the cover is not secured properly and doesn't have non-slide backing, it will move around over the surface of the seat. This can throw your pooch off-balance even when you are driving safely.
Prevent Costly Damage to Your Car
Damaged upholstery can easily run hundreds of dollars to get fixed. You're looking at even greater costs if the damage is extensive enough. The same is true with unmanaged 'accidents' since the urine can get into the carpet fabric, leading to water damage, corrosion, and reduction in the car's structural integrity. And we haven't even mentioned the door panels and sidings that may need to be replaced because of scratch marks or bites!
Reduce Dirt, Hair, and Allergens in Your Car Upholstery
Dirt, dust, hair, pollen, and other particles that your dogs bring with them from the outside and into your car can get trapped between the fibers of your carpet or even car upholstery. Dog car seat covers collect these particles, so all you need to do is to remove and clean them immediately upon returning home. If you have an asthmatic passenger, you'll be doing them a great service.
Provide Better Riding Comfort for Your Pooch
Compared to riding inside a dog crate, lying on a car seat cover provides better comfort for your pup since it has greater freedom of movement when compared to crates, where there isn't any space to move about.
A quality dog car seat can help protect the integrity of your car interior, particularly the upholstery, door sidings, and carpet. In our humble opinion, this is a must-have product for all pet parents who frequently travel with their pets, whether for pleasure, camping trips, or for necessities, such as vet visits.