Although progress is slow, the US is finally starting to embrace public transportation. Although the COVID-19 pandemic has evidently halted the proliferation of passengers on these vital public utilities in 2020, ridership was trending upwards in How to Travel on the Subway with Your Dog, with the Metropolitan Transporation Authority releasing figures that annual ridership hit 1.698 billion.
However, one critical piece of information missing from MTA's annual 2019 figures is how many of these passengers took the subway accompanied by a furry companion. To the delight of dog lovers, subway users have remarked upon how many of our furry friends are now using the subway – probably to keep up with their busy schedule, we're sure. Jokes aside, how can dog owners ensure their furry friends have everything they could possibly need for a subway trip? Stay with us to find out.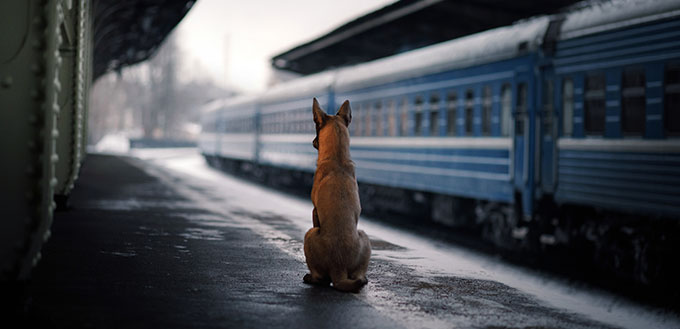 How do I Prepare My Dog For a Subway Trip?
Check the regulations of the public transit in your state: Now this is the point when we ask you to do your own homework. The rules and regulations of states across America completely contrast others, and public transit regulations in relation to dogs aren't any clearer. For example, whereas Washington D. C's metro rules that pets should remain in carriers from which they are unable to escape, San Francisco's Bay Area Rapid Transit (BART) states that these dog carriers must specifically build for public transportation purposes. To this end, it's essential that before you even contemplate bringing your furry friend on the subway, you must find your state's subway transit site to see what you can and cannot do.
Ask yourself whether your dog is up to date with their vaccinations: Ensuring that your dog has received all the correct vaccinations won't just grant you peace of mind when taking them on public transport. Life threatening diseases can be caught anywhere: from your dog's favorite play park to the mall, disease lingers. Don't worry if you find yourself in the position that your pet isn't vaccinated. Simply take them to their vet who will come up with a vaccination plan based on your situation.
Make sure you bring your dog's carrier: Given that dogs must be secured on a bag on the New York subway (which we'll discuss in more detail below), brands have produced some seriously excellent carriers to ease pet parents' worries about taking their dogs on the subway. For owners with small and medium dogs in particular, dog backpacks will even allow them to bring their dog on long runs and hikes that their tiny legs usually wouldn't be able to manage. So, in order to ensure your dog is properly ventilated on the subway in their bag, why not peruse our selection of dog backpack carriers to allow your dog to feel both comfortable and secure when traveling?
Have you packed your dog's leash yet? Although many city-dwellers in places such as Lower Manhattan can't comprehend that owners could ever forget their dog's leashes, many transit users who ride the subway from external locations can quite easily scroll up to their local station without much traffic on their commute. Whether you require a simple dog leash or would feel more comfortable with a retractable dog leash, we've got the perfect selection for your subway trip.
How Should My Dog Behave When on the Subway?
Ensure your dog isn't taking up or blocking a subway seat: We dog lovers automatically assume that everyone in the vicinity of our dog is just as enamored with our dogs as we are. And although this certainly is the case for many subway passengers, others do not share our love. Therefore, it's only fair to keep our dogs from taking up or blocking access to subway seats. Not only would it be impolite for our dogs to sit in a position that blocks off access, it's crucial for disabled and elderly people that these seats are available. More specifically regarding the NYC subway, ensuring that pets don't occupy seats on the subway isn't just polite, but written legislation.
You May Also Like: Dog Carrier Purses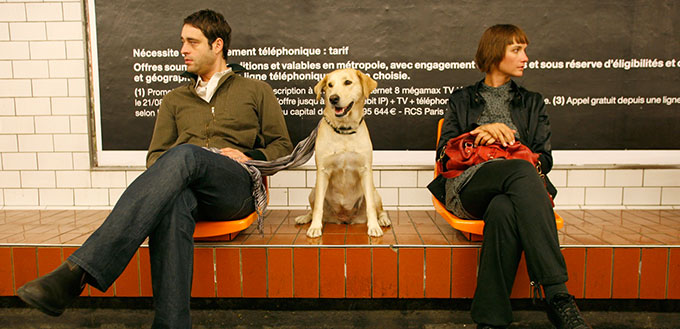 Are Dogs Allowed on the NYC Subway?
Technically, yes; dogs and cats are allowed on New York's subway. However, our canine companions' presence is unfortunately subject to a certain number of rules and regulations.
The Metropolitan Transportation Authority's FAQ section sets forth this advice in a concise manner, stating that although small domestic pets are allowed on the New York subway, they must be, and I quote; "carried in kennels or similar containers that can be accommodated by you on your lap without annoyance to other passengers". The public transport agency goes further by saying that no part of the animal should stick out from the container.
Although we're in no way suggesting that you should bend the MTA's rules, it's hard not to chuckle over the ways in which owners are traveling with their pooches on the subway. Ranging from cutting out holes in IKEA bags for dogs' feet to purchasing the largest bags imaginable for dogs to happily sit inside, you can't fault New Yorkers for their creativity!
Another prerequisite for dogs being allowed on the New York subway is that they must not "annoy" other subway users. Thankfully, it's hard for passengers to feel anything but love for a happy pooch comfortable in an IKEA bag who is simply thrilled to have been taken along by their owner for an adventure.
Final Thoughts
If you've read this article and mentally made a note of everything you must tackle to ensure both you and your dog have a stress-free subway experience, all that's left to do is actually get on the subway! And we promise this won't be as stressful an experience as you think it will be. If anything, your dog will love meeting new friends in an environment complete with new and exciting smells.
Sources:
Jan Reisen, Traveling on the Subway With Your Dog: What You Should Know – American Kennel Club