Having been a passionate and determined advocate for animal rights for many years, Sia has decided to put her money where her heart is and invest in a vegan pet food company.
The 46-year-old Australian-born singer has decided to get her hands into the food-making business whilst still maintaining her integrity as an avid animal-rights advocate. She has done this by deciding to dedicate her energy and money to propelling a pet food brand up in the world that she feels could make a difference.
Bond Pet Foods is a pet food company dedicated to producing vegan/meat-free pet food for the masses. Sia announced her decision in Fortune with the explanation that she has always been a great lover of animals, describing them as "some of the nicest people I've met."
The vegetarian artist went on the explain how in her life she has hugged pigs that have had old souls and shown stories in their eyes. Her connection with animals is a deep and heartfelt one, with her going on to describe how she has sung to camels in the past "who seem to truly understand my greatest fears, and I consider every dog I've ever had to be my very best friend."
She then goes on to say that her decision is very much based on her vegetarian lifestyle and animal-rights activism, with over 200 million animals being slaughtered on an annual basis to be used for consumption.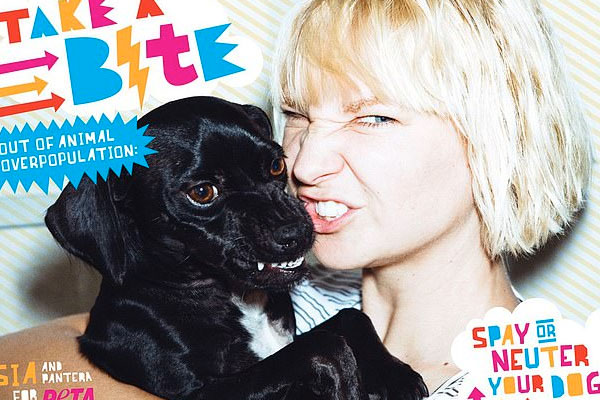 Sia hopes to expand people's understanding of the meat market and how animals do not necessarily require meat in the diet to thrive and enjoy their food. Her investment in Bond Pet Foods, a Colorado-based company, is intended to be the spotlight on this issue that she feels the world needs and proof of how changing an animal's diet can benefit not only the pet itself but the world around them.
Pant-based meat substitutes have been around for decades, with tremendous strides being made in the field every year. And with more and more people turning to veganism, the demand for high-quality vegan food is higher than ever. Sia herself transitioned to a fully vegan diet in 2014, within the same year that she achieved the number 1 spot on the US Billboard chart for her album 1000 Forms of Fear.
Sia, who has described animals as being both like her safety blanket and her light in the storm, has used her status, $30 million worth, and platform to convey the message of animal rights multiple times in the past, with this being the latest in a line of activist movements. Sia strictly uses cruelty-free fashion and advocates for adoption in place of breeding whilst also supporting multiple animal rescue organizations.
The singer told Fortune that animals "have saved my life more times than I can count." It is clear that she is wanting to return the favor. Furthermore, her investment in this breakthrough company looks extremely optimistic, with the fake-meat industry estimated to be worth around $23 billion by the end of 2024 according to recent reports.