Whilst awaiting rescue, a hiker in the Croatian mountains was protected against the elements by an Alaskan Malamute. According to local media. The hiker had a 13-hour wait before a rescue team was able to reach them during which time the dog was crucial to the hiker's survival.
Grga Brkic had been hiking on the Velebit mountain range as part of a weekend hiking trip with friends along the Croatian coastline. He had become significantly injured during the expedition and unable to move. He had fallen out of reach of his fellow hikers, who quickly raised the alarm for rescuers to come out to him as soon as possible.
Whilst awaiting the rescue team the dog, named North, had used his body to keep Brkic warm and help Brkic to preserve his own body heat whilst he waited. According to a Facebook post written by the mountain rescue team, HGSS – Hrvatska Gorska Služba Spašavanja (HGSS), North had "curled up with him and warmed him with his body."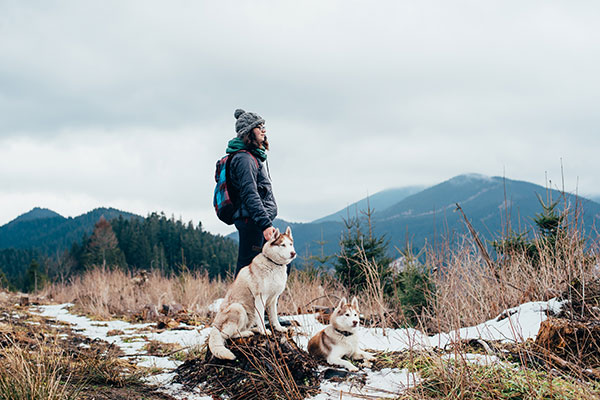 Just shy of 30 responders arrived at the scene (almost 1,800 ft over sea level) to aid Brkic and discovered North protecting his owner. They quickly snapped a photo after performing crucial care to accompany the Facebook post and demonstrate that the "Friendship and love between man and dog know no boundaries."
The first responders were quick to credit North for the safety of Brkic during this crucial, life-threatening time. Brkic himself also spoke with Croatian news outlets describing the ordeal as being "so slow" as the hours, minutes, and seconds ticked by, stranded out in the freezing cold in significant pain.
North's owner told the Jutarnji List daily paper that North faired absolutely fine with the cold weather, and can come away from the ordeal perfectly healthy with no noticeable difference in behavior. "This little dog is a real miracle," he added.
An important note to end this story on. Croatia's mountain rescue services have issued a safety warning and plea to future mountain hikers not to take dogs into the mountains when hiking. Especially in difficult winter conditions and harsh weather where specialist equipment may be needed. This is both to ensure the safety of the dog and the owner.