PetSmart Treats Rewards members can now save 35% off on their first auto-ship order at PetSmart.com. Get Purina's allergen-reducing cat food delivered to your door at a discount as a Rewards member. If you haven't signed up for PetSmart Treats Rewards, now is the perfect time to start earning points and enjoy a discount. Check out the details on Purina Pro Plan LiveClear below to see if it's a match for you and your feline bestie.
Purina has a line of cat food that claims to be the first of its kind. What sets this food apart, you ask? It is designed to reduce the major allergen found in cat hair and dander, making it an interesting option for pet owners who may be extra sensitive to the dander of their beloved fluff balls.
Allergen Reduction
The brand claims that by the third week of feeding Purina Pro Plan LIVECLEAR, the major allergen in cat hair and dander. The brand also claims its decades of research backs this up.
According to Purina, the allergen-reducing effect stems from a protein derived from eggs, which binds to a common allergen Fel d1 in the cat's saliva and neutralizes it. All cats carry the Fel d1 allergen, so this is an option for any and all cats.
Nutrition and Key Benefits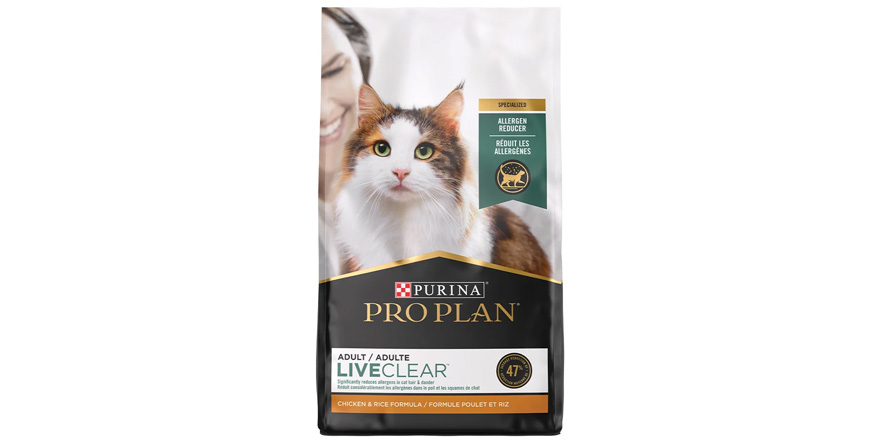 Reduces the major allergen in cat hair and dander by neutralizing Fel D 1, a common allergen in cat saliva, with a key protein from eggs
Discovered through over a decade of research, Purina claims the LIVECLEAR food was shown to reduce the major allergen in cat hair and dander by an average of 47% in the third week of daily feeding.
At the end of the day, the most important aspect of what we feed our pets is nutrition. This food is available in a variety of recipes, including the turkey and rice recipe, chicken, chicken and rice recipe, and salmon and rice recipe. It is fortified with Omega 6 and vitamin A and is available in a formula with added pre and probiotics for digestive health.