K9 Advantix® II Flea and Tick Treatment for dogs is a monthly topical used to help prevent fleas, ticks, mosquitoes and lice.
What sets K9 Advantix II apart from several other flea treatments is that it starts to kill and repel these pests before they bite your pet. Killing adult fleas prevents them from laying eggs which can lead to a re-infestation.
K9 Advantix II is one of the flea and tick prevention treatments available at PetSmart. Below, we'll go over how it works.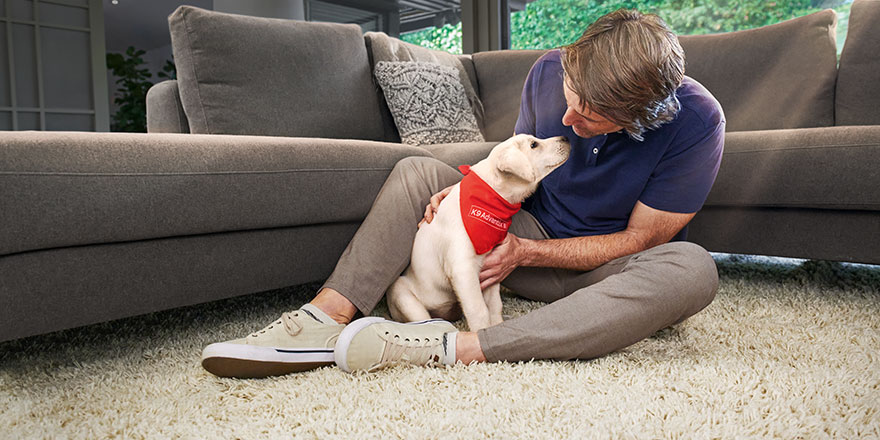 Why Flea & Tick Control
As warmer temperatures settle in, so do two common pet pests: fleas and ticks.
Both are common and persistent parasites that reproduce rapidly and can transmit diseases to your dog as well as more minor health issues. An infestation means your pet will experience discomfort as they scratch and chew at their skin, and you may experience fleas jumping onto you.
The best advice is to prevent such an infestation by beginning a flea and tick treatment in the spring. Most treatments at PetSmart offer protection from both pests, but you can read about the differences between fleas and ticks on our site.
Our editors voted K9 Advantix II as one of the best flea treatments for dogs.
K9 Advantix II
Unlike chewable flea and tick treatments, K9 Advantix II can kill these pests on contact. In fact, it starts to kill fleas within hours and is waterproof within 24 hours of application.
K9 Advantix II offers protection against further infestation for at least 4 weeks.
The brand also says it repels and kills mosquitos for up to four weeks, which means it's less likely for a mosquito to transmit heartworm to your dog.
It is available at Petsmart.com in a variety of dose sizes for dogs and puppies older than 7 weeks. These range from a small dog formula for dogs weighing 4-10 pounds up to a formula for large dogs weighing more than 55 pounds. As the K9 name suggests, this topical flea medicine is for dogs only.
The formula is approved by veterinarians and is available without a prescription.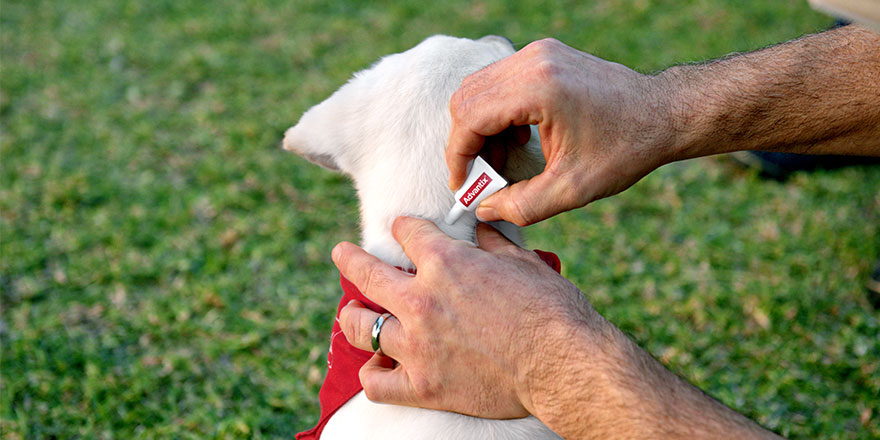 K9 Advantix II Highlights
Kills fleas within 12 hours
Also kills ticks, lice, mosquitoes
For dogs older than 7 weeks
Waterproof after 24 hours
How to Apply It
Advantix II comes in a tube and in four sizes: Small: 4-10 pounds; Medium: 11-20 pounds; Large: dogs 21-55 pounds; and X-Large: for dogs over 55 pounds.
Apply the tube's entire contents along the top of the dog's back, between its shoulders and down to the base of the tail. Try to distribute the tube's content in even spots. At each spot, part hair until the skin is visible.
Small and medium dogs should get 2-3 spots, while large and extra-large dogs should get 4-6 spots.
The brand recommends bathing your dog prior to applying K9 Advantix II and waiting until it is dry to apply the medicine. Your dog is free to be bathed or swim after K9 Advantix II has been on for 24 hours.
What's in Advantix II?
Active ingredients are Imidacloprid, Permethrin, and Pyriproxyfen. These ingredients kill and repel fleas, mosquitoes, and ticks, including Deer ticks, American Dog ticks, Brown dog ticks, and Lone Star ticks.
Advantix II is available in four doses meant to match the size (weight) of your dog.
PetSmart helps you keep your pets happy and healthy with different options of flea and tick prevention and treatment products. Find K9 Advantix II and other flea and tick treatments for pets at PetSmart.