Feeding time is the highlight of any dog's day and it's when pet parents can have the greatest influence on their pet's nutrition and overall health. Instinct® Raw foods provide protein-packed meals without ingredients associated with aggravating digestion.
Instinct Frozen Raw main ingredients are 100% raw, with an emphasis on meat and organs as well as complimentary vegetables and fruits. The recipes are never cooked and minimally processed to keep the ingredients as intact as possible.
The Instinct Frozen Raw and more Instinct Raw dog foods are available at PetSmart.
About Instinct
Instinct has been making pet food for more than 20 years. Over that time, it's been creating raw recipes with a mission to bring less processed foods into more pet bowls.
Each formula emphasizes protein and minimizes the amount of processing, which includes never cooking its foods. We'll explain that process more later, but the brand's philosophy is to create nutrient-dense food without additives that bulk up the food at the expense of your pet's digestion.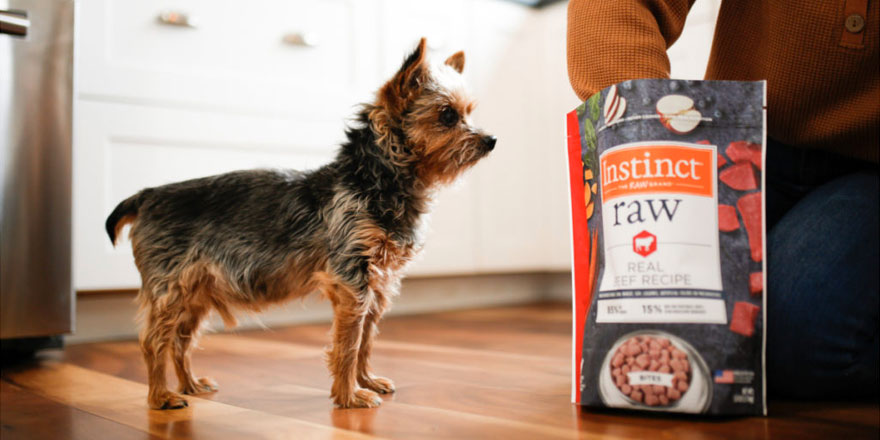 Why Frozen Raw Pet Food?
Each Instinct Raw Frozen dog food recipe consists of 85% meat and organs, 15% non-GMO fruits and vegetables, as well as vitamins and minerals. It uses whole-food ingredients like real beef and cage-free chicken.
Instinct Raw Frozen recipes contain three times more real meat and organs than in its own kibble recipes. Additionally, raw food often includes more animal-based protein than kibble.
The food is stored frozen and can be taken out to thaw five to 15 minutes prior to feeding time. The bites will thaw in minutes, so you can scoop them into a bowl, wait a few minutes and serve.
Instinct Raw Frozen prioritizes recognizable ingredients for its recipes. It omits ingredients like grain, corn, wheat and soy that are associated with digestion issues in some dogs. It also avoids processed byproduct meal, fillers, artificial colors (meant to appeal to your eyes) and preservatives.
Lastly, by not cooking the food, raw food recipes can keep more nutrients intact.
Instinct Frozen Raw Dog Food Key Features
Less processed
Never cooked
Protein-packed with 85% meat or poultry & organs
Thaws in minutes
Supports improved digestion
Supports skin and coat health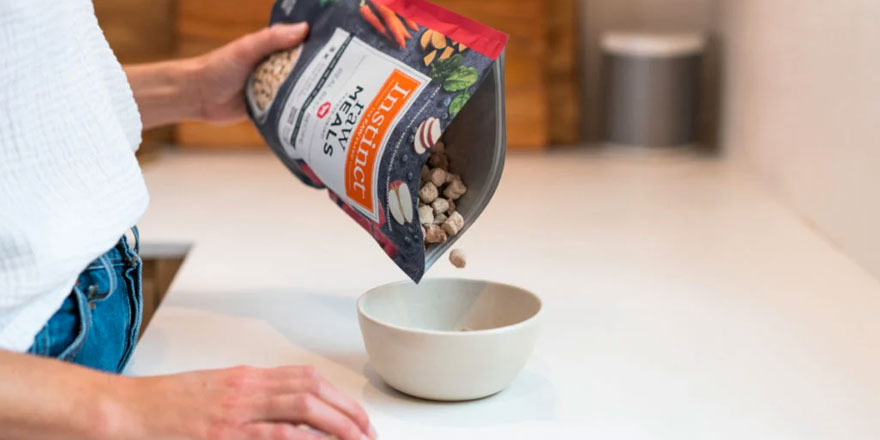 Health Benefits
If your dog seems lethargic, irritated by their diet, or simply has skin and coat problems, you may try resolving those issues through diet.
A raw diet can support your pet's digestion, natural coat growth, as well as natural weight and energy levels.
Studies have found that puppies fed a raw diet have fewer environmental allergies and are less likely to develop Inflammatory Bowel Disease as adults when compared to puppies fed just kibble.
Price
PetSmart sells a 3-pound pouch of Instinct Frozen Raw for $20 and a 6-pound pouch for $35.
Nutritional Information
Here's a closer look at one of Instinct's best-sellers, the Natural Grain-Free Beef recipe:
Crude Protein (min): 12%
Crude Fat (min): 8%
Crude Fiber (max): 3%
Moisture (max): 70%
Caloric Content: 183 kcal/cup
First 5 Ingredients: Beef, beef liver, beef kidney, beef spleen, and carrots
Full ingredient list: Beef, Beef Liver, Beef Kidney, Beef Spleen, Carrots, Apples, Sweet Potatoes, Butternut Squash, Ground Miscanthus Grass, Montmorillonite Clay, Ground Flaxseed, Salmon Oil, Vitamins (Vitamin E Supplement, Thiamine Mononitrate, Vitamin D3 Supplement), Salt, Tricalcium Phosphate, Potassium Chloride, Minerals (Zinc Proteinate, Copper Proteinate, Manganese Proteinate, Calcium Iodate), Blueberries and Spinach.