Planning on getting yourself an adorable Pitbull puppy and are yet to pick the perfect name? Choosing the right name to suit your new puppy can be a task in itself as it's something that will stick with them for the rest of their lives.
So if you're looking for inspiration you've come to the right place. We've composed several lists of names that could effectively narrow down your search, from cute Pitbull names to tough Pitbull names. We've got you covered!
Where To Start – Some Helpful Tips
A lot of dog lovers choose names based on unique traits or markings that their dog has whereas others take names from Greek mythology. Others choose cute names that are commonly associated with that dog breed, such as Rex for a Rottweiller or Bernie for a Saint Bernard.
We have an extensive list of great Pitbull names for you to peruse. Here you can find ideas to suit every type of Pit Bull and some advice on choosing the right name whether you have a Staffordshire Bull Terrier, American Staffordshire Terrier, American Pitbull Terrier, or an American Bully.
Below you can find lists brimming with cute, common, tough, cool, and badass Pitbull names. Take your time combing through the options as some names may suit one type of Pitbull more than another.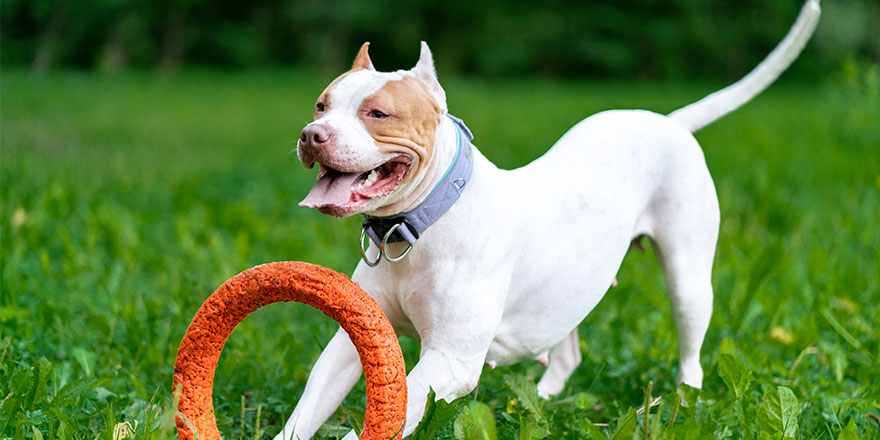 Picking The Perfect Name
With possibly thousands of dog names circulating it can be difficult to land on the perfect name to give your furry friend. The important thing to do is to take your time. Some dog owners land on a name almost instantly but can sometimes come to regret it later down the line after getting to know their canine.
For Training Purposes – Keep It Short
It's recommended that you choose a name that's not too long and therefore too difficult for your dog to pick up, especially when they're puppies. Dog training can be a challenge from the start, so if you've chosen a name that's too long, your puppy will progress slower.
Having said that, if you've got your eye on a name that may be too long, try to think of a shortened version or nickname that they will recognize with ease. This will make issuing commands as well as the training process a lot simpler.
Do Your Research
If you haven't already, why not do some further research into the Pitbull you're getting to see if ideas begin to flow. Of course, every dog's personality is different but there's a lot to be said about Pitbulls in general that might spark some inspiration for the perfect name.
General Pitbull Traits:
There's a lot to say about Pitbulls and their personalities. They are known for having some of the most endearing qualities that any dog owner would be grateful for. These include:
Loyal
Friendly
Playful
Athletic
Muscular
They make great therapy dogs
Intelligent
Affectionate
Social
To top things off, Pitbulls are notoriously underrated as most still believe the harsh rumors that circulate about the breeds and any mixes that are affiliated with them. This factor is upsetting to think about but may spark some ideas or inspiration for picking a unique name.
Picking Something Meaningful
To some, choosing the right names comes naturally. Maybe naming your dog after someone or something special is the right choice to make. Perhaps giving your dog a name that closely resembles the name of a past pet you miss is the answer.
However, if this is something you mull over a lot, don't put too much pressure on yourself to get it right. Even if you choose something not even remotely special, your dog's name will become meaningful over time when you and your pup have formed that close bond.
Making A Name Meaningful
Whatever name you decide to go with is, of course, going to be their name for the rest of their lives. Even if you haven't chosen a name that has sentimental meaning to you, your Pit Bull's name will become special as time goes by because it'll be unique to them.
The Most Popular Pitbull Names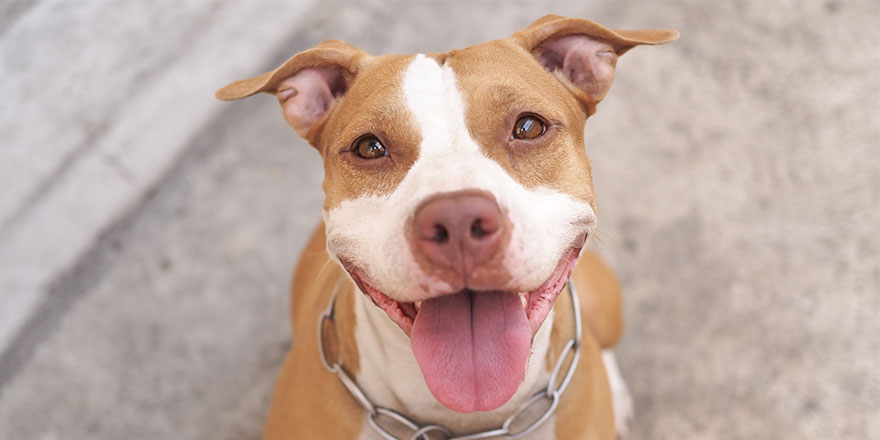 In case you were wondering what names are most commonly used for both male and female dogs we've composed a list of the top ten for each gender. For some, it's not an issue whether their pup has a popular name. However, it's worth considering how many dogs at the park would come running when you call a particular name.
To add, it's not only about a potential stampede heading your way at the dog park, but about how simple it could be for someone to guess the name of your dog. Not everybody is the kind-hearted person we think they are and may take advantage. Of course, this can be easily combated during training in your pup's early years but it's worth keeping in mind.
The Top Ten Female Pitbull Names
Here, we give the top ten list of female Pitbull names:
Bella
Luna
Nala
Sadie
Daisy
Lucy
Nova
Lola
Athena
Stella
The Top Ten Male Pitbull Names
Following the top girl Pitbull names, we've done the research and listed the top names used for male Pitbulls:
Buddy
Zeus
Watson
Rocky
Charlie
Teddy
Oscar
Max
Bear
Cooper
Although it may be off-putting to choose a name that many other dogs will have, any of these will still make good Pitbull dog names. However, it's that little bit more crucial to ensure that you get your dog trained effectively to ensure they don't answer to the wrong person.
Famous Pitbull Names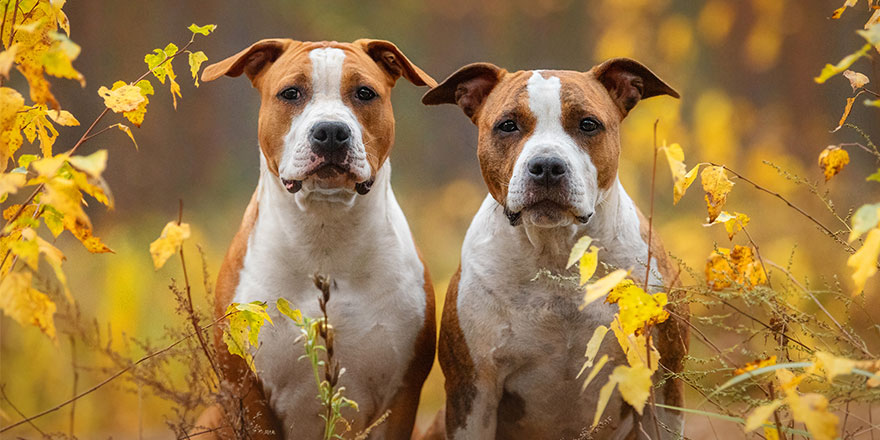 Despite still having a rough reputation, Pitbulls have been present in media for decades. In fact, many famous historical figures and celebrities have proudly owned and loved these incredible dogs. Below you can find some famous Pitbull names if you're looking for inspiration from history.
Bud: The first Pitbull to take a road trip across the US in 1903. From New York City to San Francisco with his incredible owner!
Champion: The three-legged Pitbull adopted by April and Andy in the show Parks and Recreation.
Grunt/Jumbo Red: From the 1983 movie Flashdance
Petey/Pal: Owned and trained by Harry Lucenary and appeared in The Little Rascals
Sergeant Stubby: The most decorated dog of WW1 who captured a German spy until US soldiers could take him prisoner.
Sir Thomas: Hellen Kellers lovely dog and best fur friend.
Unisex Pitbull Names
Some could argue that a lot of the best Pitbull names can be used for both boy and girl dogs so we've compiled list of great options for you to consider:
Arrow
Asterix
Astrid
Biscuit
Boomer
Colt
Dash
Dusty
Echo
Knox
Latte
Micro
Mika
Mocha
Ollie
Oz (or Ozzy)
Peanut
Reggie
Ronnie
Stitch
Taco
Toto
Toro
Zip
White Pitbull Names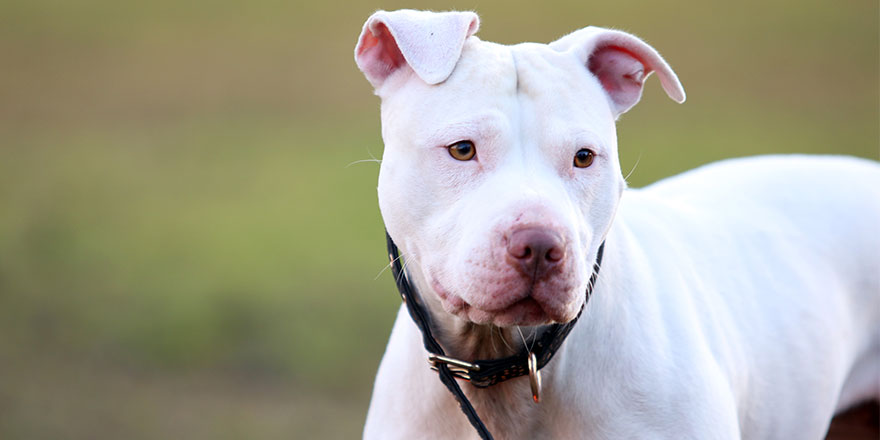 Since the Pitbull comes in a few color ranges we've separated out a few that would be best suited for specific coat colors and markings. To kick start these lists, we've got some of the best Pitbull dog names for those with snowy white coats.
Aspen
Aurora (Rory for short)
Angel
Birch
Blizzard
Casper
Bolt
Cloud
Coco/Coconut
Cotton
Daisy
Elsa (for the Frozen fans)
Frosty
Ivory
Ghost
Jack (Jack Frost)
Marshmellow
Olaf (another for the Frozen fans)
Snow (or Jon Snow – If you're a fan of Game of Thrones)
Spirit
Tofu
Winter
Grey Pitbull Names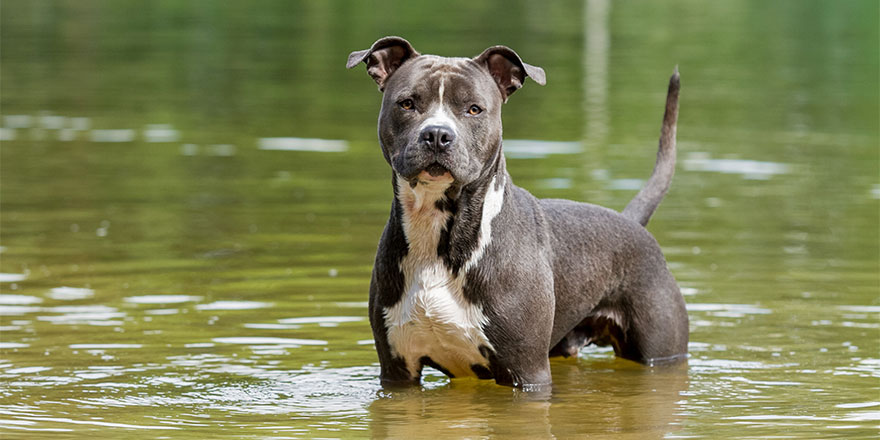 For those furry family members with gorgeous grey coats, you may find the perfect pick from the list below.
Coal (or Cole)
Dusky
Dusty
Eclipse
Flint
Misty
Reign
Shadow
Smokey
Onyx
Red Nose Pitbull Names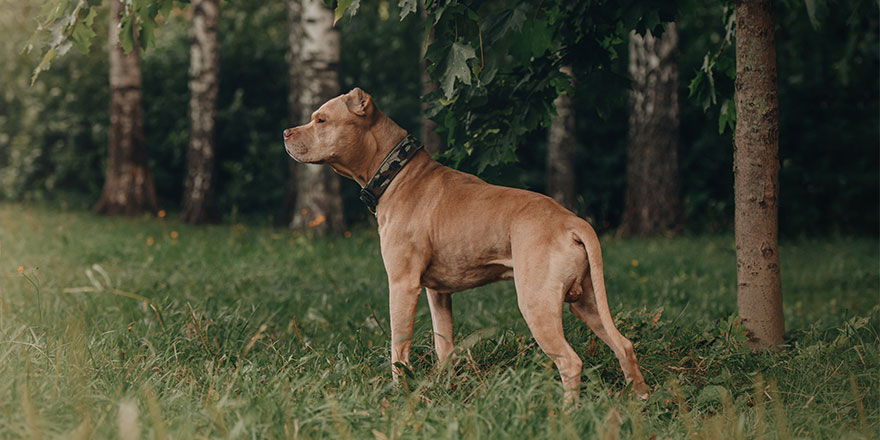 A Red Nose Pitbull is a beautiful variant of the American Pit Bull Terrier. These dogs tend to have a feisty yet lovable nature and come with a stunningly radiant red coat complete with a red nose.
If you're specifically naming a Red Nose Pitbull and are on the lookout for something very fitting, take a look at the options below:
Amber
Autumn
Ember
Honey
Merlot
Pumpkin
Redmond (perhaps Red for short)
Rose
Rudy (Hear me out, it's shortened from Rudolph but we understand that may not be the perfect year-round name)
Ruby
Scarlet
Blue Nose Pitbull Names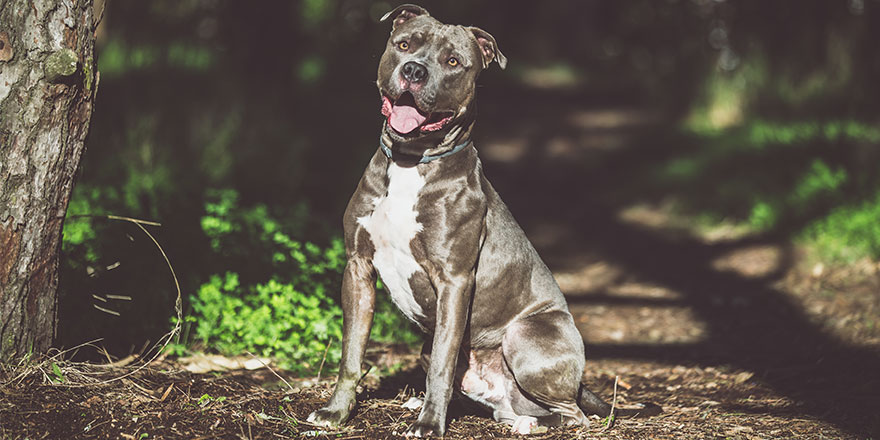 Like the Red Nose Pitbull, the Blue Nose Pitbull is also a stunning variant of the American Pit Bull Terrier. However, these Pit Bulls have a shiny grey/silver coat and grey nose commonly referred to as blue. This is because their coats are diluted black or grey which has undertones of saturated blue. Here are some great names to give Blue Nose Pitbulls:
Atlas
Aqua
Blue
Coal
Cyan
Flint
Gunner
Marine
Misty
Navy
Pebble
Saphire
Silver
Smokey
Soot
Storm
Brindle Pitbull Names
Fortunate enough to get yourself a beautiful brindle Pitbull? Have a read of our recommended list of the best names for your new furry friend. Fortunately, like most coat-related names, a large number of these are perfectly suitable for a female or male Pit Bull.
Brindle Pitbulls can come in an array of color variations. Typically, they will have different shades of brown with white splotches but this can vary from Pitbull to Pitbull. However, there's sure to be a name here that will suit your pretty brown Pitbull:
Camo
Caramel
Cinder
Diesel
Dot
Fawn
Fleck
Marble
Mocha
Mosaic
Sahara
Slate
Streaks
Stripe
Splotch
Speckle
Tiger
Titus
Twix
Paisley
Pepper
Pixel
Cool Pitbull Names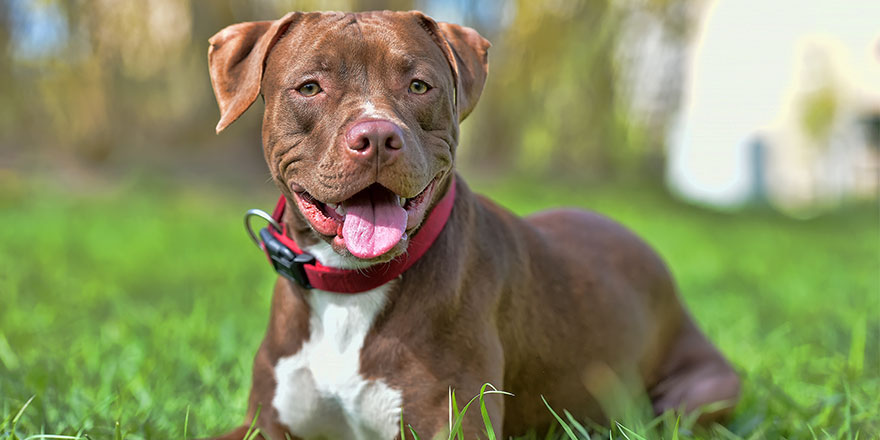 If you're interested in cool Pitbull names this section is for you. You may have the most adorable Pit there is but that doesn't mean they can't have cool or strong names.
Fortunately, most of these options are perfectly suitable for a girl Pitbull and even your male dog. Below you can find a long list of empowering names to give your Pitbull pup.
Tough Female Pitbull Names:
Athena
Akira
Dakota
Jynx
Liberty
Montanna
Nakita
Queenie
Rogue
Raven
Rosa
Roxie
Storm
Valkyrie
Viper
Strong Male Pitbull Names:
Ace
Arnie
Bandit
Bouncer
Boxer
Brawler
Buster
Chopper
Conan
Copper
Crash
Digger
Hulk
Kong
Robber
Sheriff
The only drawback to choosing a tough name for your Pitbull is that it may bring some controversy. Since Pitbull breeds already have somewhat of a bad rap, you may struggle with more judgment than usual. However, it's important to remember that tough names don't define a dog's nature.
Interesting and Cool Mythological Names
Mythological names are a great choice for Pitbulls. Rich in history, there are plenty of options to choose from. Some of these may not be the most unique Pitbull names but we've made sure to extend the list with lovely names that you may not have considered before now.
In addition to each name, you can find a little bit of context to help.
Achilles (Trojan War hero)
Argus (Guardian – Many-eyed giant)
Artemis (Goddess of the hunt, wild animals, and vegetation)
Athena (Goddess of wisdom and war)
Atlas (Leader of the Titans)
Ajax (Trojan War hero)
Cassandra/Cassie (Trojan Priestess)
Evander (Culture hero from Arcadia, Greece)
Fauna (Roman goddess of woodlands, fields, and flocks)
Gaia (Goddess/Mother over Earth)
Hades (God of the underworld)
Hera (The highest goddess)
Juno (Roman goddess – Resembles the Greek Goddess Hera)
Loki (Norse trickster god – An appropriate name for a mischievous new pup)
Melaina/Melinoe (Nymph or goddess representing nightmares/madness)
Neptune (Roman god of the sea)
Nyx (Greek goddess of the night)
Odin (The Highest Norse god)
Odysseus (Protagonist of the 'Odyssey'. Legendary Greek hero)
Pandora (Greek – the first woman)
Penelope (Greek mythology – Queen of Ithaca)
Perseus (The slayer of Medusa)
Persephone – Shortened to Sephy (Quen of the underworld)
Pluto (AKA, Hades, Greek God of the Underworld – Also a great choice if you're a Disney fan)
Thor (Norse god of thunder, the sky, and agriculture)
Zeus (The Greek highest God)
Amusing Dog Names for Pitbulls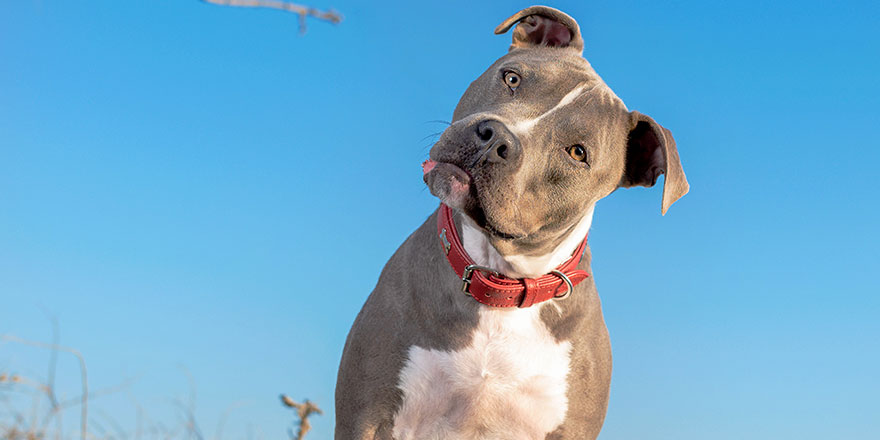 Last but not least we have a list of Pitbull puppy names that might tickle your funny bone. The names listed below are not for everyone, but if you've got a punny or slightly odd sense of humor (like the author writing this piece) these may be for you!
Bark Ruffalo
Bark Twain
Bark Vader (Dark Lord of the Sniff)
Bullwinkle
Catherine Zeta Bones
Chew-Barka
Donnie Barko
Fonzie
Fresh Prints
Homer
Little Bow Wow
Mary Puppins
McGruff
Ozzy Pawsbourne (Prince of Barkness)
Pop Tart/Pup Tart
RuPawl
Sherlock Bones
Spud
Shrimp
Best Pitbull Names Conclusion
The great thing about naming your dog is that a lot of 'boy' Pitbull names can be used more than suitable for female Pitbulls and vice versa. The important thing is you choose a name that both you and your pup are happy with and that your dog can learn and use to respond to training and commands.
Lastly, congratulations on getting yourself a new canine companion! As mentioned previously, these canines have a lot to give including mounds of love and affection. Raised with patience, dedication, and love, Pitbull dogs can be one of the most rewarding breeds to own and will be a valued family member for years to come.