An inspiring former medic is giving dogs from overcrowded shelters a chance of life by flying them to rescue centers that can find them a home.
Dr. Peter Rork, from Jackson, Wyoming, is the founder of "Dog is my Co-Pilot". This pioneering animal rescue charity uses its own Cessna aircraft to fly thousands of unwanted dogs from overcrowded facilities to safety.
Since he launched the charity in 2012, Dr. Rork and his volunteers have saved over 22,000 dogs, more than double his original target. And the retired surgeon shows no sign of stopping.
The latest flight of precious cargo took place at the end of April, with a plane loaded with 23 animals rescued from shelters in west Texas. The aircraft landed at Logan-Cache Airport, where they were met by staff from the "Cache Humane Society". After a full health check, the dogs are now up for adoption.
These dogs says Dr. Rork, "have got the golden ticket. They are safe."
The charity focuses on areas where animals face euthanasia and transport them to locations such as Utah, where they have a better chance of adoption and a second chance at life.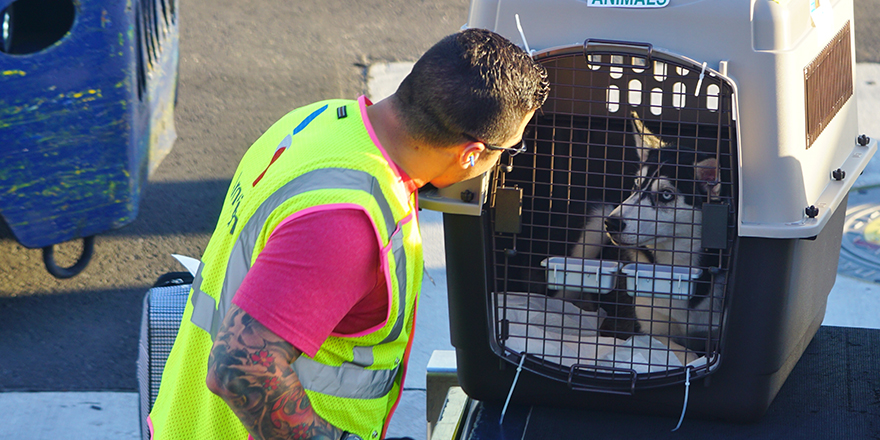 Image credit: Shutterstock
After the latest rescue flight, Dr. Rork told Fox 13 News: "We provide transport for the groups in the south that are completely overrun. They wouldn't have made it to the end of the week."
Thanks to a high rate of spaying and neutering in northern Utah, the "Cache Humane Society" had enough space to take in the dogs.
"We are at a point now where we have more adopters than homeless animals, and we are able to reach out to communities that need our help," said Stacey Frisk, director of "Cache Humane Society". "Most of these dogs will be in their next home in under two weeks."
However, other areas in the US are not so lucky, and for their stray and rescued dogs, it is a very different story.
Figures from the "American Society for the Prevention of Cruelty to Animals" (ASPCA) reveal that around 920,000 cats and dogs are euthanized every year due to a lack of space in many rescue shelters. Texas, New Mexico, and California's central valley are among the areas most badly affected by this lack of shelter space.
But with his "Dog is my Co-Pilot" team, Dr. Rork is trying to help bring down that number by organizing several rescue flights every week. The charity currently has two of its own and plans to obtain a third. All its pilots give their time for free.
Dr. Rork credits his work with the charity and the rescued dogs for rescuing him after the sudden loss of his wife 10 years ago. The surgeon left medicine to set up a charity, which has helped him with his grief.
"The dogs pulled me out of a dark hole; they did me a favor," he explained.
With an original target of saving 10,000 pets, Dr. Rork and the charity team have no plans of stopping.