Dog pajamas or onesies are an excellent range of products that you can find all over Amazon and Chewy. However, in colder climates, a fluffy dog bed might not be enough to keep your furry pal comfortable, particularly if they're a dog who naturally hails from warmer countries.
By purchasing dog pajamas for your canine companion, you can keep them in cute and stylish clothing that they can wear at any time. In this guide, you'll find ten of the best dog pajamas that your can dress your pup up in. Explore your options below!
Skim Through The 10 Top Rated Dog Pajamas
Pros
Cons
Bottom Line
Rating
*Ratings are from Amazon and Chewy at the time of publication and can change.
How to Choose Best Dog Pajamas (With FAQs)
Material
Since the main purpose of purchasing pajamas for your dog is protection and comfort, make sure the material is comfortable enough for them to wear. You don't want any hard seams or scratchy fabric. The pajamas should make your dog feel warm and comfortable at all times, and the product should breathable so that your dog doesn't feel suffocated.
Comfortable Fit
Do take note that your dog feels comfortable wearing their dog pajamas and that they are able to move freely. Before buying, take a rough measurement of your dog and always buy the pajama that is a bit bigger than usual. Read reviews to see whether other dog owners have had to size up or down for the dog and follow suit.
The Right Style
Depending on your dog's breed, dress them accordingly. A high-class breed may be dressed in something very different to that of a simple house dog. On the other hand, if you want to dress your dog based on their personality, you could try finding pajamas that showcase your pup's uniqueness.
Design
We all love fancy clothing for ourselves and our pets. But, in case of your pet, be a little more considerate. Any extra hooks, pieces of unnecessary fabric, or fancy accessories might make them look like the royalty that you want them to be, but pets are usually not very comfortable wearing them. They enjoy the freedom of movement above all else, and they'll be quick to escape their clothing prison if they don't like the pajamas you've pulled over their head.
The Incredible Benefits of Dog Pajamas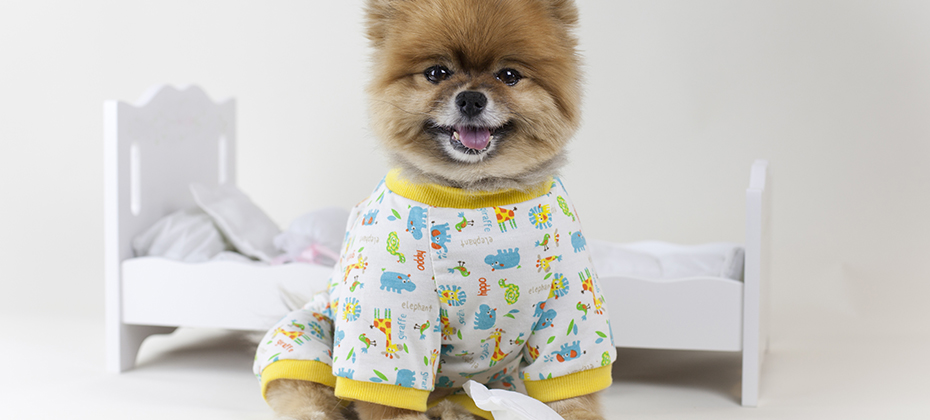 While you may think that dog clothes are trendy and are becoming a fashion statement for pet enthusiasts, there are actually plenty of significant benefits to having your dog wear clothes made for them. If your dog spends most of their time outdoors, it's high time to consider buying a dog pajama set or a onesie. Your dogs need protection against sunburn, rain, and mud, and clothes can also keep them safer on the sidewalk. In addition, you'd be providing your pup with a barrier against insect bites.
Most importantly, dog pajamas and other doggy clothes keep them warm, especially in cold countries where the weather is uncomfortable. Since your dog cannot enjoy under blanket snuggles all the time, the pajamas can act as their dog blanket, keeping them warm at night. Most dogs appreciate clothing once they are used to wearing them. Make your pup into a fashion icon with the pajamas in this guide!
Other than that, if your dog suffers from anxiety, especially in case of rescue dogs with PTSD, these dog pajamas are an excellent form of therapy. They can help them to feel warm and put together, releasing stress from their little bodies.
Maintenance of Your Dog Pajamas
Generally, most pajamas are to be used and washed like human clothes, though you might wish to wash them separately to avoid spreading dog hair onto your own clothing. You can either hand wash these pajamas or throw them in your washing machine for a quick wash. It is recommended to use cold water for both of these options to avoid shrinking the material. If the pajamas are out of use for a long time, store them in a closet or drawer. Always remember that you are to avoid high temperatures, abrasive products and surfaces, and excessive scrubbing and chemicals. Plus, bleaching chemicals are a big no-no for doggy jammies!
Frequently Asked Questions
A dog's clothing size should be measured using a measuring tape. The neck, chest, and back should all be measured one at a time and recorded so that you can check the numbers against the size chart of the pajamas you want to buy. The measurement of the neck is taken from the circumference of the neck and must be taken as correctly as possible.  The widest part of the chest needs to be measured from behind the front legs. In order to measure the back length, the dog must be in a standing position and then measured from its neck to the base of its tail. Make your canine is standing when you are measuring their height.
Maintaining a dog outfit is easy. You can either wash it by hand or wash it in a washing machine. For a hand wash, all you need to do is rinse the clothes in water with conditioner designed for dog clothing. Rinse again, and let it air dry.
For machine washing, make sure to wash dog clothing by itself and with similar colors. Use cold water only and fabric conditioner for dog's clothes.
It totally depends on the type of fabric of the clothing. While dog outfits that are made of 100% cotton have a high chance of shrinking, the polyester ones are less likely to shrink when washed. Choose your material wisely and try hand washing to avoid shrinkage.
This can take a little effort, but it's doable! Before you start, try the pajamas on your dog and make sure your dog is comfortable and relaxed. Use positive reinforcement to keep you pup calm and let them spend just a few minutes in their pajamas the first time they wear them. It takes time to build up the amount of time your pup is happy to wear clothing. Eventually, they become used to the feeling, but it doesn't happen straight away or overnight. Remember that not all dogs will be happy to wear clothes, so don't buy more than one onesie or pajama set at first, or you might be wasting money. in those clothes because not all dogs are happy roaming around wearing doggie outfits. Be kind and patient. Once they get comfortable, they'll certainly love wearing their jammies. Why not try matching their pajamas with a cute pair of socks? That will most certainly keep them warm on cold winter's nights.