An animal lover from the eastern European country of Latvia has made her way to war-torn Ukraine to help rescue the pets of refugees looking to cross the border.
Basing herself in an animal shelter in the Western Ukrainian city of Lviv, Rasma Krecia is now working to take in and care for the pets of Ukrainians fleeing the country's conflict with Russia.
The city of Lviv has so far escaped the worst of the Russian invasion. Rasma, who is volunteering at the Home for Rescued Animals in Lviv, said that she decided to travel to Ukraine after realizing she had to help. "If I have an opportunity, if I have a large van, if I can bring food here and take some animals back to safety, I can't stay at home," she told the news agency, Reuters.
Many Ukrainians have been surrendering their pets to the Lviv sanctuary rather than taking them on the arduous journey across the border into Poland, and beyond.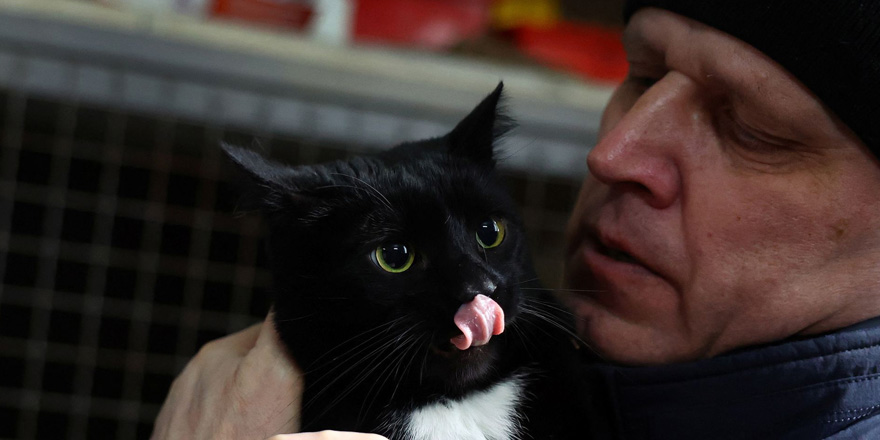 Image credits: REUTERS/Kai Pfaffenbach
One such pet is Charly, the beloved pet cat of the Horobets family, who fled their home in the eastern city of Kramatorsk as the Russians invaded. Following a traumatic 40-hour train journey where Charly narrowly escaped being trampled, Natalie Horobets and her husband Volodymir made the difficult decision to let their pet go. They had realized, they said, that continuing with their cat was not possible, as they were unsure where they would eventually settle.
As they said their farewells to their precious cat, the Horobets said they did not know what their future held but hoped they could be reunited with their pet. "We hope that Ukraine will endure, and we will come home," Volodymir added.
Previously used for stray or wild animals, the Lviv sanctuary has found itself inundated with the pets of Ukrainian refugees trying to escape the escalating violence of the conflict. They included a box of puppies found abandoned at a nearby railway station three days before, where thousands of displaced Ukrainians had passed through every day.
Meanwhile, Rasma hopes to take Charly the cat and dozens of other rescued pets out of the war zone until the conflict was over. As she helped to load up three vans with the first batch of dogs and cats ready for transport across the border, Rasma added: "We're going to try to take as many animals as we can out, back to Latvia, back to Europe, back to safety."
Featured image credits: REUTERS/Kai Pfaffenbach