Following the Russian invasion of Ukraine, hundreds of thousands of people, men, women, and children, are being forced from their homes or fleeing for their own safety and the safety of their families. But no man or animal is being left behind as photos surfacing on social media show evacuation people clinging to their beloved pets.
As countless people take refuge from the Russian bombardment, people have been reluctant to give up their animal companions, risking their own safety to take the time to pack up things for their pets and secure them the best that they can. These pets are not only limited to cats and dogs, with one man seen even carrying his pet fish to safety.
This effort to keep pets safe has been supported around the world, with countries from all around doing what they can to help desperate Ukrainian victims keep their animals safe. Donations are pouring in from all sides and multiple organizations based in various countries are doing what they can to provide the help they need.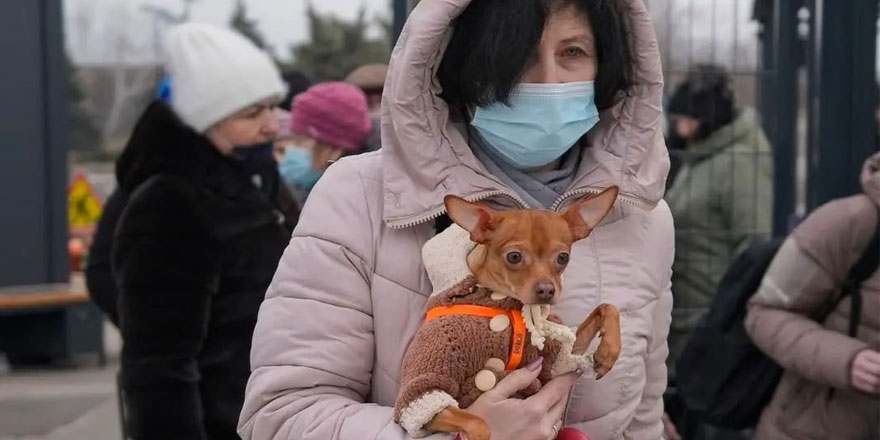 Image credits: MEY_DOG RESCUE Twitter
A Missouri-based organization called Clean Futures Fund has been providing long-term remedial activities and essential international support. However, their operations at the Chernobyl Nuclear Power Plant have been forced into suspension following the recent Russian invasion.
The Clean Futures Fund also has a Dogs of Chernobyl program which actively works to provide essential to dogs and cats in the area including veterinary care, food, water, and spay/neuter procedures. They were successful in reducing the amount of wildlife in the Chernobyl area by as much as 50% with this concentrated effort, however, there's nothing more they can do at this time to help the canine and feline population in the region.
But even with organizations such as the Clean Futures Fund being forced to withdraw from the country, pet parents are not giving up their beloved animals unless they have no other choice, with some people photographed carrying nothing but their pet in their arms or in a carrier.
Surrounding countries are doing everything that they can to help the victims save their fur babies. Romania, Poland, and Slovakia have opened their borders to pets of all kinds without the requirement of veterinary paperwork. By doing this they have potentially saved the lives of hundreds, if not thousands of animals that will have been put at risk during this perilous time.
According to PETA pets crossing the borders would ordinarily require proof of vaccination and a microchip before being allowed into another country. Seeing as this is not always possible, some restrictions have been set in place.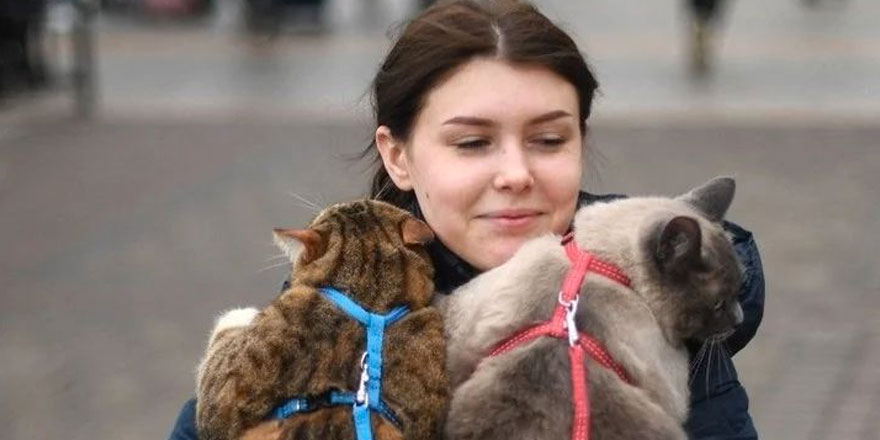 Image credits: MEY_DOG RESCUE Twitter
Romania has provided specific zones along the border where people can fill out the necessary paperwork for their pets in order to get them to safety. In Poland, people are required to take their pets with them to their final destination if they wish to remain within the country. If said people intend to move on to another EU country, the pet will need to be left behind for three weeks as a precautionary quarantine measure.
For any animals that are still reimagining within Ukrainian borders, Germany has reached out and provided almost 20,000kg of pet food as well as pet blankets for any companion animals remaining with their owners.
How to Help Ukraine's Pets
If you want to reach out a helping hand to the Ukrainian pets in need there are several charity organizations within the country that are open to receiving donations and essential supplies. Each one of the organizations listed below works to provide shelter, and care for stray animals:
The International Animal Protection League
Please give anything that you can to help these poor defenseless animals in their time of need. We also ask that you spread the word about these organizations. Not everyone is safe yet, and they need all the help they can get.
*Featured image credits: MEY_DOG RESCUE