American Pit Bull Terriers can sometimes have an image problem but the latest feel-good story from El Paso in Texas shows us that many of these dogs have a heart of gold. The uplifting story was reported by Rochester First News. It documents how Astro became the hero of the hour. This very special pooch has received awards for his heroism from El Paso Fire Department and El Paso Animal Services at a Friday afternoon ceremony. He received some dog cake as well as a reward for his quick thinking.
In this story, first reported by Nexstar's KTSM, a spokesperson for El Paso Fire Department explains how Astro took on the role of medical alert dog, even though he has never had any training or worked in this area.
Astro's owner was having a medical emergency and he alerted a Good Samaritan who came to their aid. The emergency services were called and they arrived soon to help out. Enrique Duenas-Aguilar from the El Paso Fire Department said "We know that the dog was even trying to climb into the ambulance with the owner, firefighters had to lure him into a vehicle for family members to come and pick him up and without his help the patient might never have been found."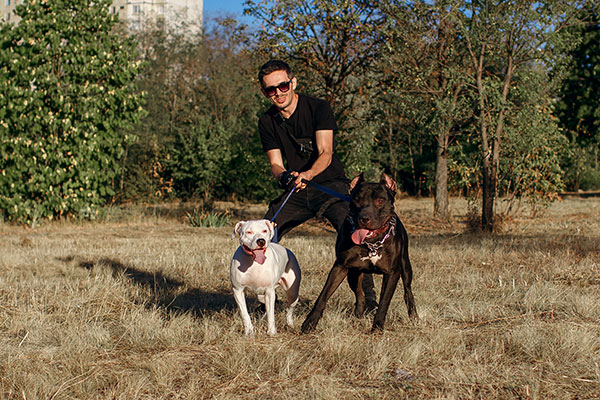 To respect the privacy of the patient, no further medical details have been released about the emergency. However, the family of the patient has confirmed that their condition is stable and that they are recovering. The family is as surprised by Astro's actions as everyone else. Bertha Martinez, who is the mother of the patient said "We never thought in a million years that he'd do something like that."
It was only 12 months ago that Astro had been adopted by the family after they found him wandering the streets alone. At first, the family was not sure that they would keep him because they, like many others, were wary of the Pitbull breed. As Martinez explains "I've always been scared of Pitbulls and when we brought him home I wasn't sure we'd keep him for a long time because he was going to grow up."
Of course, things are very different now that Astro has saved her son's life. Martinez now feels differently towards the breed and said "If you treat him well and don't harm them or anything then they become what he is." And this pooch has become a true hero for the family.
Ramon Herrera is interim director for El Paso Animal Services and explains that it is important not to reach quick judgments on dogs based just on what breed they are and encourages people to adopt dogs from shelters. Herrera says "He really set an example for dogs that look just like him, Astro is definitely a Pitbull and that is one of the main breeds that you find in many shelters."
This story shows what a terrible waste that is.