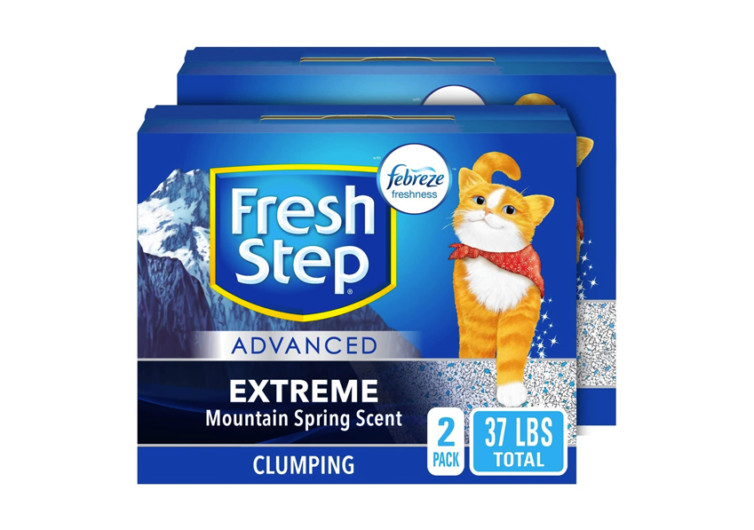 Fresh Step Extreme Clumping Cat Litter (2022) Review
The Fresh Step Extreme Clumping Litter is one of the highest-rated on the market, earning itself the coveted title of being Amazon's Choice and regularly showing up in "top" lists. However, is this Fresh Step kitty litter all it's cracked up to be? We take a deep dive into the product, to find you the best and worst aspects of this cat litter, and whether it's the right kitty litter for your needs.
Why You Should Trust Us
We take the time to thoroughly research each product, including this cat litter. We do this by checking reviews, looking at percentages, really reading into and around the subject – and then crafting quality content that condenses all of these factors. Our articles are then checked by expert editors! All so that you can quickly and easily read the best and worst aspects of a single product at a time.
Company Information
Fresh Step is owned by Clorox Pet Products and have owned, run and marketed Fresh Step products since 1984. As such, they've sold a lot of pet products – and a considerable amount of that comes under the Fresh Step brand. Indeed, the company have even committed to donating 400,000lbs of litter to no-kill shelters. That's a lot of litter!
Indeed, Fresh Step are a supporter of no-kill shelters in general, offering support to over 1,400 shelters, at the time of writing. They're also an official sponsor of the Best Friends Animal Society.
They currently offer a rewards program, which gives pet parents points based on how much they've spent on the brand. The best part about this, is that you don't have to buy from a specific retailer – just upload a receipt and then they will either shell out in donations to animal shelters, or in little gifts to you.
Detailed Overview
Packaging
Each box of this cat litter weighs 18.5 pounds, but comes with a carry handle, to make it easier when you need to grab-and-go. There's a side opening which allows users to more easily pour out the litter at a controlled rate. And, while there are likely still some accessibility issues with this format, it's better than most, for both carrying and pouring. Finally, of course, the box is fully recyclable – so don't forget to keep it with the cardboard, when you're done!
Dustiness
The Fresh Step kitty litter uses clay as it's base ingredient. And, while this is good for some aspects of cat litter clean-up, it fails on one, major component. Sadly, the fresh step clay cat litter can be quite dusty. Reviewers did note that this dust settles quickly, so it may not be an issue for you – after the initial clean-up, of course.
However, if you've got a cat with sensitive eyes, or a brachycephalic cat, then any clay litter can cause irritation. Similarly, cats with longer hair might find that the non-clumped, smaller particles stick between paws, which isn't ideal. As such, these breeds or types of cat should stay away from this type of Fresh Step cat litter – and check out other options, below.
Odor Control
With regards to scent, you'll be pleased to know that Fresh Step have joined forces with Febreze, to help keep odors under control. The brand brags of a 10-day odor control – and customer reviews certainly seem to concur. Indeed, many reviewers who live in apartments or smaller homes note that this is their cat litter of choice, due entirely to its scent and ability to mask foul smells.
Waste Scoopability
Thanks to demonstrations online, we can wholeheartedly vouch for the clumping quality of the Fresh Step Extreme kitty litter. This cat litter does a great job of sticking to your cat's waste and clumping well, so that you can easily use a scoop to dispose of the mess.
This means that it's much quicker to get rid of the mess – but also leaves you with plenty of remaining litter to use. As such, this option is ideal for those who often find themselves frustrated with how much litter needs replacing after their cat has used the litter box. Instead, with this Extreme kitty litter choice, owners will find that a little goes a long way.
Other Considerations
The Fresh Step Advanced Extreme cat litter is a great choice for smaller households. Being easy on the budget, and very effective, it offers fantastic value for money and works tirelessly to keep odor out.
You can use this option on any type of litter tray, including most automatic litter trays. Which makes it one of the most adaptable options on the market, today. This also saves you money, if you've purchased a more expensive litter tray and want to see if there are litter alternatives you can use.
Finally, it's a completely non-toxic option for cats and less likely than most others to stick between the paws of your cat. As such, there's less risk of your feline friend licking between his or her paws and choking/causing a blockage in their digestive tract.
More Litter Options from Fresh Step
If you prefer a non-clumping variety, but still want the benefits of scented cat litter, then Fresh Step Non-Clumping cat litter is the option for you. The benefits of choosing this option over others is simply that it is able to hold a larger amount of urine. This is due to the increased surface area, as opposed to the clumping variety, which creates a larger mass and lower surface area. It still smells great, but is a little messier when it comes to clearing out your litter box.
Then there's the Multi-Cat Febreze Shield, which uses the same Febreze technology but is a little more powerful – focusing on catching odors more than clumping. It's specifically designed for multiple cats, so also works well for cats who use the litter tray more often than most. The best thing about this option is that its antibacterial properties keep it super-safe for your cats. However, it does become rather lacklustre when it comes to dust control, by comparison.
Similar to the above, in terms of being created to meet the needs of multiple cats in one household, the Clean Paws option from Fresh Step is another great choice. The only major difference between this option and the one given above, is that this one uses larger particles – which is perfect for long-haired cats but can be a little harder to work with for smaller cats and kittens.
Take a look at our article on Litter for Kittens.
Super lightweight and without any fragrances, the Lightweight Unscented Clumping option is a great choice for cats with sensitivities or those cats who don't like to use scented litter. Being lightweight, you are more likely to get dust with this option – but that doesn't mean it isn't a great choice for your cats. The same ClumpLock technology allows clean-up to be nice and easy. Plus, the activated charcoal ingredient still does a great job of holding in odors.
Finally, there's the main contender for this item, which is the Fresh Step Advanced Clumping litter option. Not to be confused with this particular Fresh Step Advanced Extreme cat litter! Another great choice, it's effectively a step down from the extreme version, but as such, comes with a lighter price tag, too. It also comes with a lighter, more natural scent.
You can also easily compare and contrast the differences using our brand overview, which provides the key features of each for some easy reading!
What We Like:
First and foremost, it's easy to see that we really love the odor control of this cat litter. Able to cover up smells, even in the tightest spaces, this is a great choice in cat litter for those who are looking for the right litter to use in a small apartment.
It's also incredibly easy to keep your litter box neat and tidy, thanks to the clumping effect of the clay. The smaller particles easily stick to urine and stools, without over-compensating, so it's incredibly easy to scoop and dispose of waste, as and when you need.
You'll also – most importantly – be able to find great value for money, overall. With a 38 pound box coming in a little more expensive than some other, value brand options on the market, it still offers unbeatable odor capture and overall longevity.
What We Don't Like:
This isn't a great option for people whose cats have sensitivities, since the finer particles can still get between paws. The initial dust cloud can also cause some problems for cats who are brachycephalic or have larger eyes. So, if you're planning on changing the litter, make sure your cats are out of the way, before you begin.
The clumping aspect of the litter means that, while your litter tray may be able to last longer overall, it also absorbs less urine. Since there will be a smaller surface area, you may be topping up your litter tray more often as a results. However, it's worth noting that the litter you save from the clumping action does even out the overall value for money.
Key Features
Great value for money
Works in all types of litter boxes
Easy to scoop and dispose of waste
Packaging is made to better suit pouring
Low dust levels (after initial pour)
Scented and provide excellent odor control
The Competition
You'll be hard-pressed to find a decent competition to the Fresh Step Advanced Extreme kitty litter – but Hammer, Purina, Dr Elseys, World's Best and Blue are probably the closest in terms of price and quality. However, each one has their own pros and cons in comparison.
For example, Hammer has a hardcore attitude to odor and provides a great alternative, given that the packaging and price are both very similar. However, many customers note that the dust levels on this option are much higher and therefore brings it much farther down on the comparison scale.
Meanwhile, both Purina's unscented and Blue offer a natural alternative – which admittedly is my preferred type of cat litter. However, Purina is lacking in nearly all the essential departments, except for dust, in which it excels. Especially when compared to Blue, which offers a more attractive price (more than half of what it costs for Fresh Step and Hammer).
Dr Elseys appeared to once be at the top of its game, with plenty of positive reviews from customers. Sadly, however, it seems that they've recently changed their structure and, as such, the quality of the product has dropped considerably.
Overall, if you're looking to find the closest match when Fresh Step sells out, then you should probably opt for Hammer's alternative in clumping cat litter. Of course, if you're a little short this month and want to find a biodegradable alternative, then Blue's offering is going to be much more appealing to you. Do check the comparison table above, however, if you want to make a choice based on your needs and preferences.
How Much Does It Cost?
A bulk pack of Advanced Extreme Fresh Step Cat Litter starts at around $23.99 – although cheaper variations can be bought with smaller purchase sizes and weights. Customers seem more than happy with the overall value-for-money that this provides. Meaning it should definitely be in the running, if you're looking to switch up your cat litter.
Where to Buy it
The easiest and most accessible way to buy the Fresh Step Extreme cat litter is online, via Amazon. You can, however, also purchase this on Chewy. Also, the Fresh Step website itself shows where you can buy this, in person, if you prefer.