We all know those lovely felines love to be spoiled rotten! And by providing your cat with homemade cat treats you can ensure that what they are eating is exactly what they need, providing them with a balance of healthy nutrients and vitamins. So grab your mixing bowl, and let's get to it!
DIY Cat Treats – Where do I Start?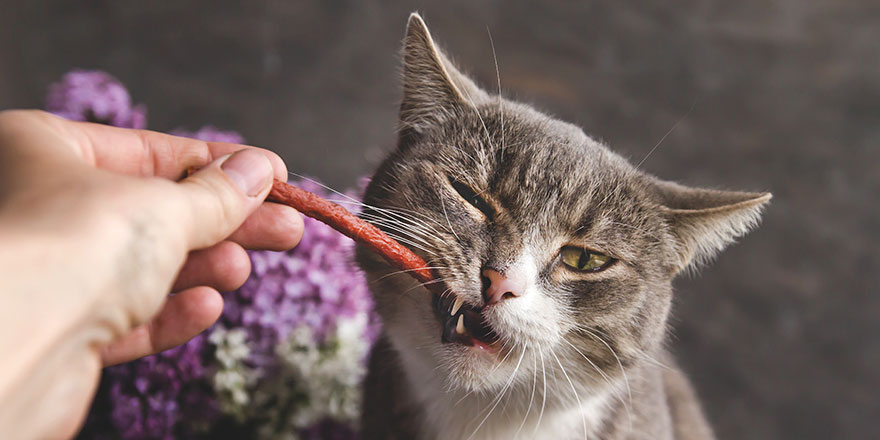 The first thing to consider when looking up cat treat recipes is whether or not your feline friend has got any dietary requirements or limitations such as allergies. This list contains vegan and vegetarian options alongside our meaty homemade cat treats to add some variation.
Now for the Recipes!
Each recipe on this list will bring your cat a little slice of joy with every bite. If you are new and unsure of how to make cat treats, just follow the recipe instructions carefully. Homemade cat treats are quite simple, so great for beginners!
Catnip Cat Treats

Ingredients:
1/2 tablespoon of catnip
2.5oz of drained tuna (in water, not brine)
1/2 cup of cornmeal
1/2 cup of flour
1/2 cup of wheat germ
1 egg
1/4 cup water
Preparation:
Before starting, preheat to 350 degrees.
Line a cookie sheet with parchment paper, to prevent sticking.
Grab a mixing bowl and combine all ingredients thoroughly.
Form the mix into a sticky dough.
Place the dough onto a pre-floured surface.
Break away small chunks of dough to be rolled into small balls.
Using your thumb, press each cat treat into disks and place them on the cookie sheet.
Bake at 350 for 20 to 25 minutes.
Remove from the oven and let them cool.
Tuna Cat Snacks

Ingredients:
1 whole drained can of tuna
1 tablespoon of catnip
1 medium egg
1 tablespoon of fish oil OR olive oil
3/4 cup of whole wheat flour
1/4 cup cornmeal
Preparation:
Take a big bowl and mix the tuna, egg, and oil together thoroughly until combined.
Incorporate the catnip and then add the flour and cornmeal little by little.
knead it together and then let stand for a few minutes, preheat to 330 Fahrenheit whilst you wait.
Once mixed, spread out and use a cookie cutter to get small snack-sized cat treats.
Place the cut-out cat cookies onto a lined baking sheet and bake for 15-20 minutes.
Let your tuna cat snacks cool before serving them the treat.
The Veggie Option

Ingredients:
1 peeled and grated carrot
1 chopped and peeled pear
1 cup of whole wheat flour
2 tablespoons of olive virgin oil
1 egg
Water (if needed)
Preparation:
Peel both the carrot and the pear, and then grate the carrot and chop the pear ready.
preheat to 350 degrees.
Then mix in the egg and oil.
Gradually add the flour bit by bit, mixing all the while.
If needed, add a little water to bind it together.
Roll the dough with a rolling pin, cut out each treat with a small cookie cutter.
Place them on a tray lined with parchment paper and bake for about 10 minutes.
Remove, and let cool on a wire rack.
Spinach and Chicken Snack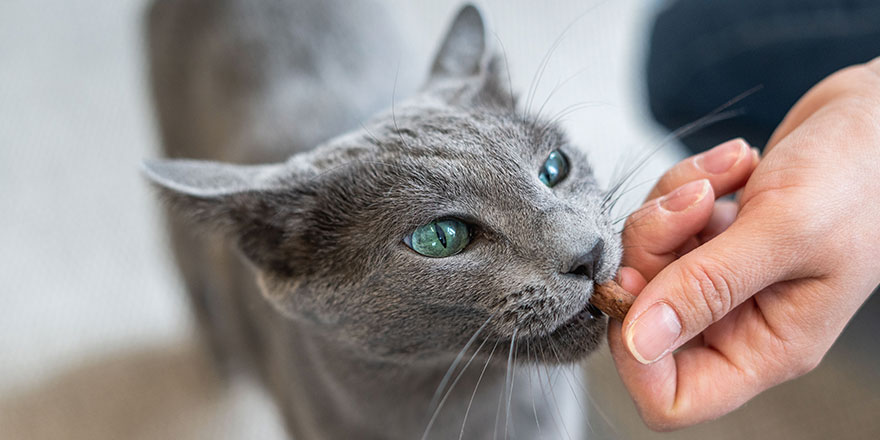 This cat treats recipe can also be made into a tuna cat treat.
Ingredients:
Approximately 200g of chicken breasts
1 cup of fresh spinach leaves
1 tablespoon of catnip
1 large egg
1 cup of quick-cooking oats
1/4 cup of flour
Preparation:
Preheat the oven to 350 degrees.
Cook the chicken fully with steam.
Break down the chicken and spinach in a food processor, then add the remaining ingredients.
Once mostly combined, place it into a bowl and knead the dough thoroughly before placing it on a floured work surface.
Roll out the dough to about 1/2 an inch thick and then cut with a small cookie cutter.
Place the prepared treats on a lined baking tray and bake for around 20 minutes.
Remove the treats, and allow them to cool.
Kitty Croutons

Ingredients:
425g drained can of tuna (in water)
1 cup of coconut flour
1 tablespoon of dried catnip
1-2 tablespoons water (as needed)
1 tablespoon vegetable oil
1 medium egg
Preparation:
Preheat oven to 350 Fahrenheit.
Combine all of the ingredients in a food processor.
Take small amounts and pinch into small crouton shapes.
Place each one onto a tray lined with baking paper.
Bake the croutons for approximately 12-15 minutes until they have browned.
Allow them to cool completely before feeding them to your feline.
Super Simple Frozen Fishy Treats

Ingredients:
1 undrained tin of salmon or tuna (in water)
1/2 a cup of water
Equipment:
An ice cube tray
A zip lock bag
Preparation:
Blend together the undrained fish and water.
Fill the zip lock bag with the mix, and cut a small hole in the corner.
Fill the ice cube trays using the cut ziplock bag.
Freeze until solid, perfect for a hot day!
Tuna Ball Cat Treats (No Baking Required)

Ingredients:
1/2 cup of drained tinned tuna
1/3 cup of peas (frozen or tinned)
1 tablespoon of parmesan cheese
1/4 cup of oats
Vegetable oil (as needed)
Preparation:
Blend all but the oil together and then slowly add oil until a dough forms.
Roll out a tablespoon of the mix at a time into small balls.
Keep in an airtight container in the fridge for no longer than 10 days.
Catnip Cocktail

Ingredients:
1/4 teaspoon of chicken stock powder
3 tablespoons of catnip
A cup of warm water
Preparation:
Add the catnip and stock powder to the warm water.
Mix thoroughly until the stock is fully dissolved.
Pour into a bowl and serve.
Salmon and Carrot Snacks

Ingredients:
 1 drained can of salmon
1/2 cup carrot slices
flour (if needed)
Preparation:
Steam the carrots until they become mushy.
Combine the salmon and carrots (add flour if needed)
Roll into kitty-sized balls and place them on a baking sheet.
Freeze until firm, and then keep in an airtight container.
Go Vegan

Ingredients:
1 1/4-oz. can of wet vegan cat food
2 teaspoons of olive virgin oil
1 1/2 teaspoons of Egg Replacer (with 2 tablespoons of water)
2 tablespoons of water
1/2 cup of cooked brown rice
1 tablespoon of catnip (optional)
1 cup of sprouted brown rice flour
Preparation:
Preheat to 325°F. and line a baking sheet ready with parchment paper.
Cook the rice and then combine all ingredients in a mixing bowl.
Spread the mixture out onto the prepared baking sheet to about 1/3 inch thick.
Bake for 12 to 15 minutes, and remove from the oven.
Let the tray cool and then slice bite-sized piece patters into it. Return to the oven and bake for a further 8 minutes.
Remove the treats and allow them to cool completely.
Wondering what the perfect nutrition for your cat is? Check out our article on: Can Cats Be Vegan?
How Long Should I Keep Homemade Cat Treats For?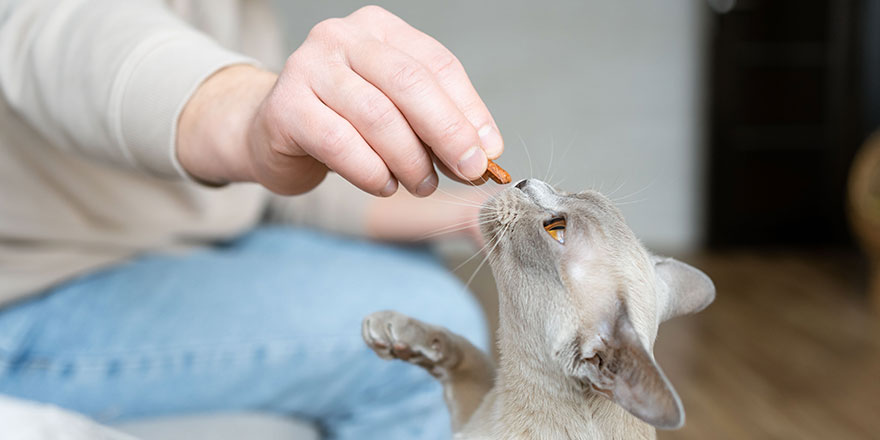 As a general rule of thumb, it is best to keep the standard recipe treats for no longer than 7 days. Consider it like you would any other thing you were baking, even with human foods we don't keep freshly baked goods for longer than a week. so don't do it with your cat food.
Frozen recipes will be good to keep for around 6 months, so long as you are not repeated defrosting and refreezing the entire batch.
Is it Worth The Effort?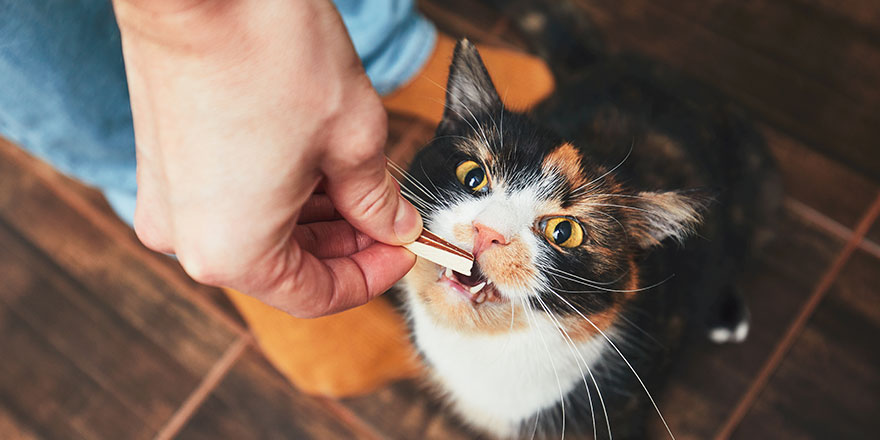 That is entirely up to you to decide! objectively speaking, the pros of controlling what your cat is consuming in their homemade cat treats seem to outweigh the cons of buying unhealthy cat treats that entice you to order them with the offer of free shipping. If you follow a simple recipe it would only take minutes to create enough treats for a week. Cat treats are a hard enough thing to get right at the best of times, but when you know how to make kitty treats for yourself, it takes away all the stress of uncertainty. So try it for yourself and see if this is the way for you.
Sources:
Amy Quinton, Homemade Cat Food Diets Could Be Risky – UC Davis