The whole world can be divided into two major categories – dog people and cat people. While both the groups can present strong arguments as to why their choice is superior, we can all agree both of these cuties are experts in bringing all the dirt from the outdoors indoors. Dogs are especially prone to such tendencies since they often go for long walks at the park.
No matter how much we love them, cleaning the mess made by them every now and then becomes tiring. We can keep all the dirt at bay by choosing to implant a nice doormat of high quality at the entrance and training the dogs to use it. While you take care of the training part all by yourself, let us bring you some of the best doormats for dogs, as listed below.
The Best Doormats for Dogs
Best Dog Doormats: Buyer's Guide & FAQs
What to Consider When Buying Doormat for Dogs

Absorption Power
Since the main purpose of bringing a doormat for your dog is to absorb the dirt and prevent it from spreading around the area, its absorption power is the most vital factor when deciding which one to settle for. So look for their absorption rate which should be 1500 GSM at a minimum.
Material
When it comes to material, the chenille microfibers exhibit the best performance by soaking in the undesirable matters every time like a pro. However, washing them in the machine can leave some fiber traces in the water supply.
Non-slip Bottom
The last thing you would expect a doormat to do is to slip out from under your dog's paws every time it tries to shed the dirt. So a non-slip or non-skid bottom surface is necessary to keep the mat stable in its position.
Convenient and Durable
In this busy life, you would need a mat that can be easily washed in a machine or with a vacuum. The structure should support long durability to survive wear and tear efficiently.
Check out our articles on Vacuum for Pet Hair and Dyson Pet Vacuums.
Indoor and Outdoor
Depending on where you plan to put the mat, you should determine if it should be an indoor mat, outdoor mat, or both! All of these varieties are available on the market so you can choose any for your patio or front door.
Size
Doormats for dogs usually come in three main sizes which are medium, large, and extra-large. There are also some smaller ones that are meant for compact spaces.
Design
Although most pet doormats feature a low-key pattern on a basic color palette of black, brown, beige, and oatmeal, some doormats go that extra mile by portraying cute designs of bones or paws.
Benefits of Using Dog Doormats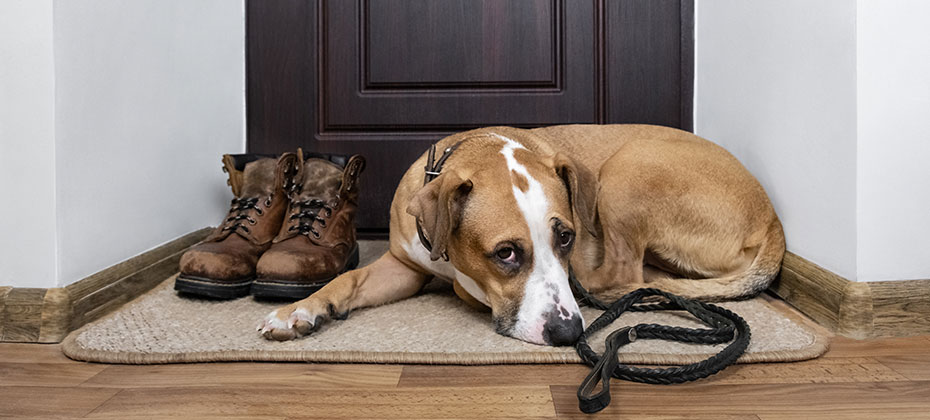 As much as we love dogs, they tend to unintentionally litter everywhere with their dirty little paws. Doormats can help us by taking up all the dirt by themselves from these pets whenever they enter or leave the house. Besides, it also soaks in all the unwanted particles from the shoes of your family members, keeping the house floor shiny.
It also helps the floor to last a long time by keeping it safe from any possible contaminants. Lastly, these doormats come in many colors and designs raising the style quotient of your abode.
Take a look at our guide on the Best Pet-Safe Floor Cleaners.
How to Clean a Doormat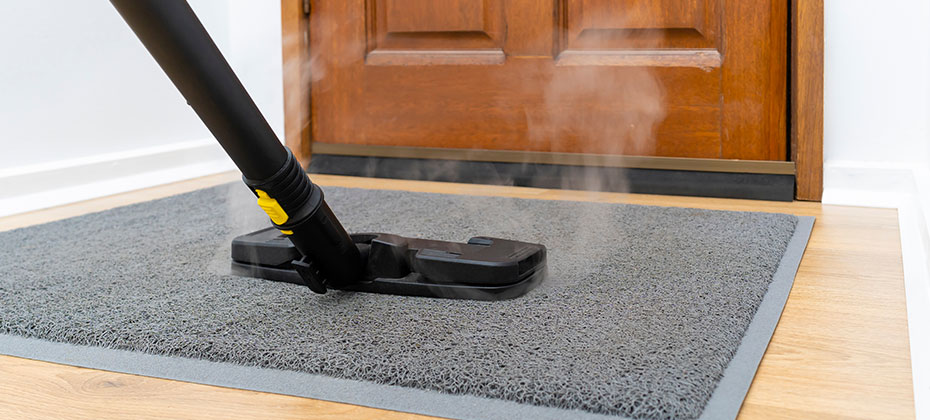 For weekly cleaning, you can shake the doormats outside while sweeping the lawn or porch. After that, vacuum it to get rid of any residue. Every month, check the mat for any suspicious smell. If you detect any, put some baking soda on and let it sit for a few minutes. Seasonally, give it a rigorous wash with mild dish soap.
Our Top Pick
Dog Gone Smart Dirty Dog Doormat is the best doormat for dogs' use since it offers premium quality and service at an affordable cost. It has a high GSM absorption rate of 3000 and can cover a large area with any of its stylish colors. Your precious pet can take advantage of its advanced microfiber technology which soaks up moisture seven times its weight. Besides, the double basting and gripper non-skid backing make it super long-lasting as well!
Sources:
How to Train Your Dog to Wipe Paws, Wag Walking
Haim Shemesh, How to Protect Floors from Dirty Dog Paws, WikiHow
Best Doormat for Dogs FAQs:
Your dog can sleep on the doormat as long as it is made of a comfortable material. The mats should have thick padding or be built of fabrics like polyester.
It is ideal to keep the doormats for dogs away from kids since they generally contain a lot of germs and dirt particles. Your kid should be under supervision to not pay with it too elaborate otherwise he or she might grow a disease. Even if you wash and clean the mat regularly, keep the area outside the doormat inaccessible to the kids to ensure their good health.
If your doormat is meant to be used outdoor, of course, you can put it outside. Usually, such front door mats are made of materials like rubber which can easily rub off the mud and dust.
Vacuuming the doormat every single day can damage its texture and absorption power. Instead, maintain a healthy interval of 3 days to a week between two consecutive vacuums.
GSM stands for grams per square meter. It is a metric unit for measuring the weight of a fabric. A fabric or mat with higher GSM would mean that it is thick enough to absorb a high amount of water or moisture.