If you're a single guy looking for a bit of love and companionship in your life there's no better way to get some affection than to get a furry friend to share your home. There are tons of dog breeds out there, but some are a better choice for guys on their own than others.
When you're thinking about the right dog for you, some of the things you need to consider include:
Size: You need a dog who'll fit into your home without making you feel crowded out
Personality: Make sure you enjoy a similar lifestyle to your chosen pet – if you're the athletic type you're probably going to be frustrated by a dog who just wants to head home after a 5 minute jog
Ease of care: Unless you really want to spend all night after work grooming your pet, a low maintenance dog is probably the best choice
If you're ready to find a pooch to be your lifelong companion, here is your guide to the five best dog breeds for single men.
Labrador Retriever
One of the most popular breeds of dog around the world, Labrador Retrievers are a joy to own. Keen to please their owners and simple to train, they're an ideal choice for guys who are looking for a pet who will play with them endlessly. Originally bred to retrieve fish, they love to play fetch with their owner and will be the perfect companion for a day at the beach thanks to their love of water. There's a bunch of other benefits too including the fact that they're really easy to groom and they're generally pretty healthy with few known medical problem tendencies. Friendly, adorable and loyal, a Labrador retriever could be the ideal choice for you.
Related Post: Best Dog Food for Labs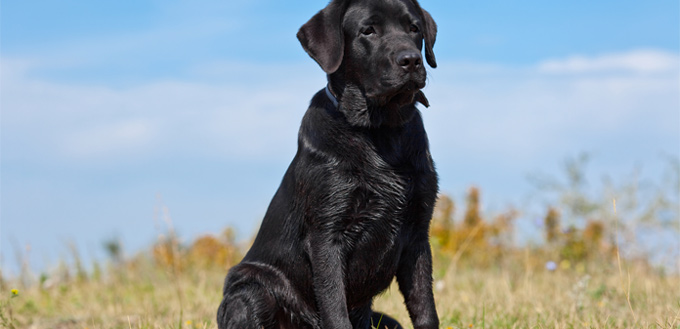 Related Post: Automatic Fetch Machine
Staffordshire Bull Terrier
Although "Staffies" might have a bad reputation due to their visual similarity to the often aggressive "bully breeds", Staffordshire Bull Terriers are actually mild and friendly and generally have a very sweet temperament. With their muscular build and high energy levels, they are a great companion for any guy who loves to exercise, and you'll have a jogging companion for life. Even better, Staffies aren't too big, so you won't have any trouble fitting one on your sofa as you snuggle up with your furry friend to watch TV in the evening. Staffies are one of the most masculine looking pets out there, so if you want a dog that definitely looks like a man's best friend, the Staffordshire Bull Terrier could well be ideal for you.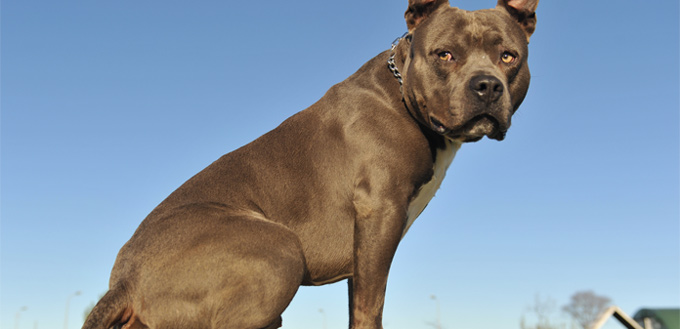 British Bulldog
Docile, loyal and with that distinctively flat face, a British Bulldog has a really amazing personality. If you're a guy who's looking for a dog that they can really have fun with and who'll supply them with a lifetime of laughter, a Bulldog is the pet for you. This breed may be best known for its wrinkly body and grunting noises, but these dogs are certain to make you smile every day. They're also a great choice if you prefer a night in front of the TV to going out for long hikes – Bulldogs aren't too keen on excessive exercise and definitely prefer to walk rather than run. They're a great choice for people who live in cooler climates too, since they don't cope well in the heat due to their flat muzzles causing respiratory problems which make them easily overheat. If you're a snorer, you'll be in good company with your pooch since bulldogs can make some serious noise when they sleep!
Great Dane
If you're hoping that by getting a dog you'll be able to get out there and meet more people, this is definitely true if you own a Great Dane. These huge dogs always attract a lot of attention, and no matter where you are, you'll find that strangers often stop to comment on your enormous pet! Yet, despite their huge size, Great Danes are very gentle, calm and loving, and even better if you're not too keen on exercise yourself, they don't need anywhere near as much exercise as you might imagine. If you're looking for a suitably manly lap dog, a Great Dane is ideal for you – they are very people-orientated and will love to snuggle up with you on your couch, as long as you have enough room! You might think that this breed is out of the question for you if you live in an apartment, but there's no need to worry as Great Danes are equally at home there as in a mansion thanks to their low energy personality and mellow attitude.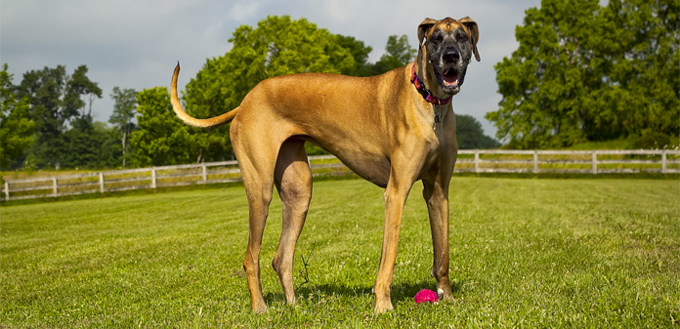 Border Collie
Are you the ultra athletic, competitive type? Do you need a pet who can keep up with you no matter what physical challenge you face? If you're looking for a dog who is more than happy to be out in the fresh air with you all day long – running, climbing, or hiking – a Border Collie is the breed for you. It can be hard work to own a Border Collie – they need all your energy and time and they have astounding stamina meaning that they need a whole lot of exercise. But if you have the same kind of get up and go personality, you'll get along together brilliantly. Border Collies are incredibly smart breeds – there have even been reports of one called "Rico" who is able to recognise over 200 different words, so they're a great choice if you're interested in pursuing activities like herding, flyball or agility with your furry friend.
Related Post: Dog Food for Border Collies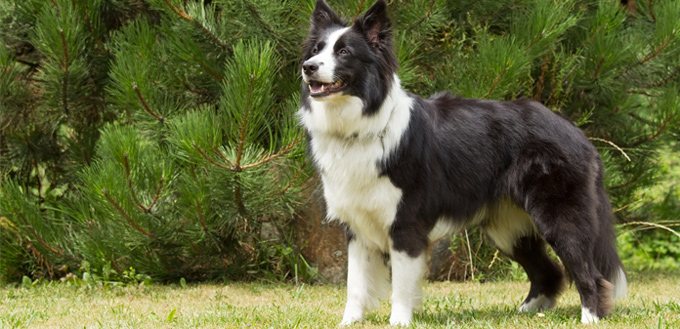 These five breeds are just some of the top choices for single guys who are looking for a four legged companion. However, there are many types of dog out there, from the tiny teacup chihuahua to the gigantic mastiff, and only you know which one is the best one to suit your lifestyle. Do your research and think hard about what you're looking for in your ideal pooch before you choose the pet with whom you're going to share your life.
Check out our breed guide on the Pitbull Mastiff Mix.
Sources:
Sherry Woodard, Choosing a Dog: Find Your Perfect Dog, Best Friends Animal Society
Liz Donovan, What Dog Is Right For Me? How to Choose The Perfect Breed, The American Kennel Club
Laurel Wamsley, The Most Popular Dog Breeds, NPR