Congratulations! Your
pup is pregnant
, and soon you and she will welcome her puppies into your home. Of course, we all want to do the best for our pets, so this article looks at her special needs during pregnancy.
A dog's pregnancy lasts for around 63 days. You might think she needs feeding up from the outset, but the puppies don't gain much in size and weight during the first stages of gestation. So from mating to about day 35, the ideal goal is to maintain your dog's regular weight. It's not considered healthy for her to pile on the pounds at this stage. However, throughout the whole period, from mating to giving birth and subsequent nursing, good nutrition is of the utmost importance to support her changing body and the health of her pups.
Many owners, therefore, choose to supplement their pregnant dog's diet with vitamins, minerals, and other nutrients to boost her and add specific benefits, both in terms of handling her increased metabolism during this special time and for the puppies' health and wellbeing. Here, we offer a round-up of the best and most popular on the market.
Key Takeaways:
Folic acid is recommended much for pregnant dogs as it is for humans.
Calcium supplements support strong bones, which helps a dog to carry their litter with less strain on the skeleton and joints.
Pregnancy supplements come in several forms (tablets, powder, chews) to suit all dogs.
Supplements should always be taken alongside a healthy diet for maximum benefit.
Dog owners should prioritize the mother's health to ensure the healthy growth of the litter in the womb.
There are vitamins for nursing dogs, prenatal dogs, and pregnant dogs to suit their needs at the time.
A Quick Overview of Our Favorites
Pros
Cons
Bottom Line
Rating
10 Top-Rated Supplements for Pregnant Dogs
Best Supplements for Pregnant Dogs: Buying Guide & FAQs
Supplements such as those above can perfectly complement a diet of high-quality dog food in pregnant and nursing females, as well as assist in addressing specific requirements such as a loss of appetite or an existing medical condition.
Which you choose to give your dog will very much depend on her own individual needs. It's always worth seeking your veterinarian's advice when you first find out your dog is expecting, and of course at regular intervals throughout the pregnancy, especially if you notice anything out of the ordinary.
Below, we answer some of the more frequently asked questions about dogs in pregnancy.
What Are the Early Signs and Symptoms of Pregnancy in Dogs?
As noted, female dogs do not really gain much weight in the first half of their pregnancies, so this may not provide the visual clue you need! However, if you're aware your dog has mated and are alert to possible signs, you may notice some or all of the following:
Behavioral changes, such as increased territorialism, 'nesting', lethargy, and above-average sleepiness;
A larger appetite than usual;
Enlarged nipples and/ or a firm abdomen;
Clear discharge from the vagina and/ or more frequent urination.
Like humans, some dogs also suffer from morning sickness, which is caused by the changes in the hormones and hormone levels in their bodies. Unlike many humans, though, this morning sickness doesn't last long – only a few days! Look for it around the third or fourth week, when she may vomit, act tired and listless and lose her appetite for a day or two. If this persists for longer than a week, though, it's important to seek your vet's advice.
Does My Pregnant Dog Need Supplements?
Unsurprisingly, a pregnancy places increased demands on a dog's nutritional needs. Many of these can be ordinarily addressed through feeding her the usual high-quality food, but especially from around day 35, her calorific intake and weight gain will increase.
Towards the end of your pet's pregnancy, the puppies will have grown to such an extent that she will have little space left in her abdomen to take in her usual quantities of food. It's advisable to feed her little and often during this late stage, so she can consume sufficient to keep her going without becoming uncomfortable. While she's nursing her pups after the birth, huge demands are placed on the body by lactation.
Many owners, therefore, choose to fortify pregnant dogs' diets with supplements to address these increased needs. And of course, young puppies, older dogs, and any canines with pre-existing medical conditions will also benefit from the boost offered by such formulas.
Check out our article on dog food for pregnant dogs and learn what to feed your pup.
Benefits of Supplements in Dog Pregnancy
Supplement fill the gaps in your pregnant dog's nutritional requirements to help keep them at peak health until the litter arrives. Depending on the supplements you go with, there are various benefits your dog could receive from having them added to their diet, such as:
Better milk production
Stronger bones and joints
A healthier coat to reduce the risk of itching and discomfort
Better cognitive function
Stronger muscles
Stronger, healthier puppies
Healthy development of the neural tube
Bolstered nervous system
Better overall puppy development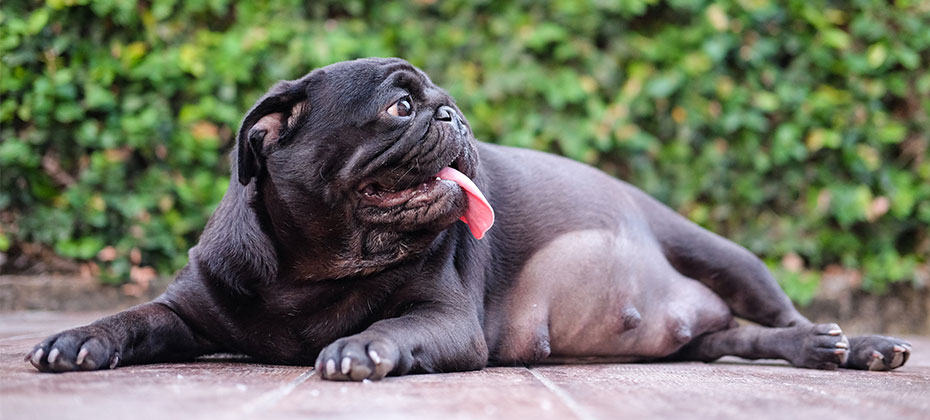 What Supplements Should I Be Giving My Pregnant Dog?
There are quite a few vitamins and minerals a pregnant dog should receive in order for them to receive all of the benefits listed above. Each vitamin and mineral provides different health benefits that will assist various areas of development. The ideal supplements you should look to give your pregnant dog include:
Folic acid
The importance of Folic Acid at the beginning of the pregnancy cannot be overstated. Folic acid can help the puppies to avoid severe birth defects that typically form at the beginning of their development. The defects include Spina Bifida and neural tube defects that could lead to complications later in the pregnancy.
Essential fatty acids
If you want your mama dog to remain comfortable throughout her pregnancy, you should first look at her skin and coat. A bad diet can result in unhealthy skin, which can, in turn, cause them to have a coarse and brittle coat, resulting in excessive itching and discomfort. Omega fatty acids also help with the development of the fetus' brain and retina, improving cognitive function and vision.
Magnesium
Magnesium is highly recommended during pregnancy as it provided key support for several systems in your dog's body, including the immune system, nervous system, cognitive function, blood pressure regulation, and muscle function. Magnesium is also important for proper fetal development with particular emphasis on the development of their bones.
Vitamin D
Vitamin D is an all-around helpful vitamin for your dog to consume throughout its pregnancy. It can help with bone growth, fetal growth, enamel formation, and calcium balance.
What Should I Avoid Feeding My Pregnant Dog?
While there are no specific foods that should be avoided by pregnant dogs, there are some forbidden foods that should never be given to canines. These include:
Avocados
Alcohol
Caffeine, coffee, and chocolate
Milk
Persimmons
Chives, garlic, and onions
Macadamia nuts, peaches, plums, and apricots, grapes, and raisins
Gum
Sugar, salt
Raw eggs
Frequently Asked Questions (FAQs):
Immediately. Once you know that your dog is pregnant, they should start on their new supplements straight away. The sooner they start on the supplements the sooner the vitamins and minerals can begin to soak into her system and she can start to feel the benefit of them.
Yes. Though we would always suggest contacting your vet for advice before using supplements. As we have listed above, there is a great range of over-the-counter supplements available for pregnant dogs. If your bitch has particularly special requirements there is a chance you may need to have prescription supplements for her. But generally speaking, over-the-counter supplements will do just fine.
Yes. Folic acid supports protein absorption, strengthens the nervous system, and helps the body to create red blood cells more easily. These are all essential components during pregnancy, and so pregnant dogs benefit greatly from taking folic acid.
Yes. Fish oil provides your dog with omega-fatty acids that can help to maintain a healthy coat and healthy joints. It is recommended that pregnant dogs be given a measured amount of fish oil with their meals for them to receive these benefits.