Great Danes are gentle giants. A confident, loving, and highly devoted hound is underneath its majestic posture, making it one of the best dogs to have around kids. Nutrition is such an essential aspect of caring for a Great Dane. For this giant breed, growing slower than other breeds is the key.
As such, it's crucial to carefully consider the food you're going to give them. So, we've done the leg work and identified 10 of the best dog food brands for Great Danes for pet parents to consider. In addition, we've made sure to explain why each option may be the best dog food for your canine companion.
The 10 Top-Rated Foods for Great Danes
Best Dog Foods For Great Danes: Buying Guide & FAQs
If you have a Great Dane or are seriously considering getting one, you must research and choose the best available in canine nutrition. Below is a thorough buying guide, including some notable frequently asked questions, that should help you find the right dog food.
How Much Food Do I Feed My Great Dane?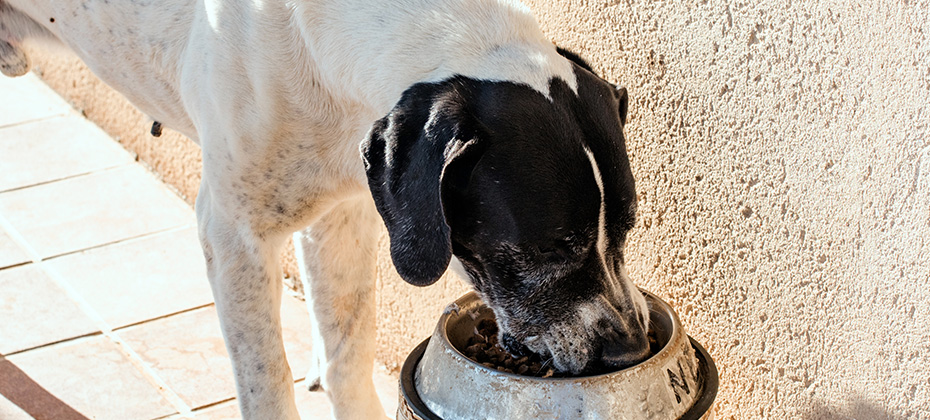 Great Danes are considered giant breeds. They are known to have one of the fastest growth rates among dogs. They can reach their full adult weight of between 110-175 pounds and full height of between 30 – 32 inches from 18 months. When compared to other breeds, this is exceptionally fast from puppyhood.
The key here is to help your Great Dane develop slowly. Allowing it to grow too fast can lead to a host of problems. For example, their bones and joints should grow together with their muscle mass. Additionally, Great Danes are known for bloating, so you have to be cautious about how you feed them.
So how much should you feed your Great Dane? Here's a rundown of how much you can give your dog. Keep in mind to give your dog the lower limit of the range if it is female; the middle-high range if you have a male.
8 to 11 weeks old – 2 to 4 cups daily, divided into 3 meals
12 to 15 weeks old – 3 to 5 cups daily, divided into 2 meals
16 to 19 weeks old – 4 to 6 cups daily, divided into 2 meals
20 to 23 weeks old – 5 to 7 cups daily, divided into 2 meals
24 to 27 weeks old – 6 to 8 cups daily, divided into 2 meals
28 to 35 weeks old – 6 to 9 cups daily, divided into 2 meals
9 months to 1 year old – 7 to 10 cups daily, divided into 2 meals
Adults – 8 to 14 cups daily for males and 6 to 9 cups daily for females, divided into 2 meals
What are the Nutritional Needs of Great Danes?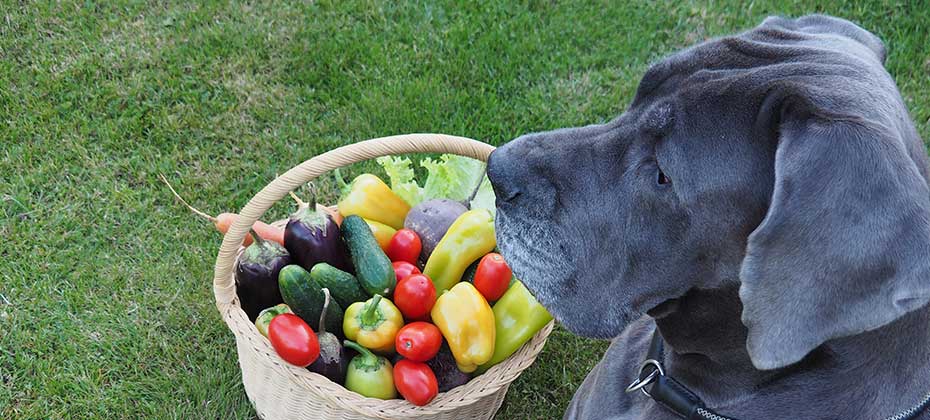 It is easy to think that Great Danes will have the same nutrient needs as any other dog breed, except they will need sufficiently larger dog food per serving. On the contrary, while other breeds will require high protein diets, this and a few other 'unusual' nutrient requirements are specific to Great Danes. Here are the nutrients your gentle giant needs.
Moderate to Low Protein
Great Danes should not receive more than 24% proteins in their diet. Although we did find some research speculating that these dogs should get at least 23% of proteins, the reason for a low to moderately low protein diet is quite understandable.
Since protein is used for building tissues, especially the muscles, beefing up your Great Dane with substantially more proteins, especially in its first 18 months, can lead to significant weight issues, not because of the fat or excess carbs in its diet, but rather because of an increase in lean muscle mass. While this can be greatly beneficial, muscles typically weigh more than fats. As you can already imagine, the gigantic size of your Great Dane doesn't favor having extra weight, although they do weigh up to 175 pounds for males.
Too much weight can strain your dog's still-developing bones and joints. It is also one of the most common causes of hip dysplasia in these dogs. That is why experts recommend going slow on the proteins. Keep in mind that the Great Danes will need to grow slowly but surely so that their bodies can accommodate the growing strain and stress exerted by their developing and growing organs.
Low Fat
The ideal fat percentage for a Great Dane diet is between 12% and 20%, although some would recommend that it should not exceed 14%.
Moderate Calories
Great Danes are originally bred to hunt wild boars and act as guardians of their respective families. While the AKC classifies it as a working dog, the UKC categorizes it as a guardian dog. The important thing to understand is that the Great Danes don't have high energy levels. They won't mind lying on their doggie beds all day long, making them perfect for apartment-dwellers. It would help if you were cautious about the number of calories, as giving it too much can lead to hyperglycemia and diabetes.
Best Food Ingredients for Great Danes
Great Danes are extra-large breeds, requiring certain nutrients more than others.
Digestible Proteins
Great Danes are very prone to bloating. That is why they need easily digestible proteins to help minimize the incidence of bloating. In addition, if the dog food contains carbs, it is also crucial that it is easily digestible.
Joint-friendly Nutraceuticals and Minerals
We cannot help but emphasize the importance of calcium and phosphorus, glucosamine, and chondroitin to ensure healthier and stronger bones and joints.
Antioxidants
One of the major issues facing the Great Danes is a specific type of cardiomyopathy. Feeding them antioxidants can help minimize this concern while also aiding in healthier digestion and reducing inflammatory processes.
Probiotics
Dog probiotics are essential in helping prevent bloating by improving the digestion of food molecules present in your dog's gut. These also help improve immune system functioning, considering that this dog breed is prone to a certain type of cancer.
What to Avoid Feeding Great Danes
Since Great Danes require a special kind of diet appropriate for their size, you should also avoid giving them any of the following foods. This is because these can adversely affect their health.
Table scraps, especially those that are heavily seasoned and very fatty
Garlic and onions in various forms
Liquor, wine, beer, or any dish that is cooked with alcohol
Chocolates, cocoas, coffee, tea, and other stimulants
Milk as well as other dairy products
Bubble or chewing gum and candies
Macadamia nuts
Raisins and grapes
Persimmons, plums, and peaches
Salt, salty and sugary drinks and foods. Note: Some of the Great Dane dog food listed above will contain salt in its ingredients. These will be controlled levels that won't threaten your pooch. However, if your dog is prone to food sensitivities or digestive struggles, it can sometimes act as an irritant.
Issues to Watch Out For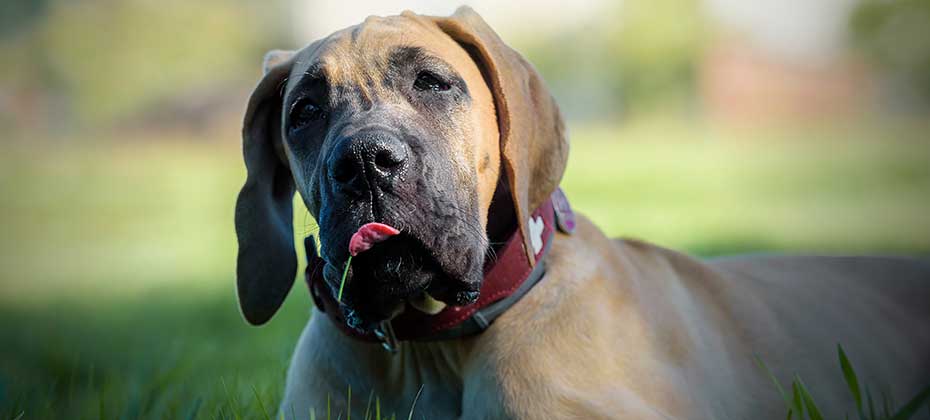 They may be giants in the dog world, but Great Danes are not immune to health problems. Here are some of the health problems you really need to watch out for.
Gastric Torsion
This is the natural consequence of frequent bloating. It is considered a veterinary emergency as the stomach abnormally twists onto itself, severely cutting off circulation. There are no medications for gastric torsion. Only prompt and definitive surgery can help save your Great Dane. It is known as the number 1 killer of these gentle giants.
Hip Dysplasia
This is one of the reasons why Great Dane puppies need to grow at a much slower rate. This is to help prevent unnecessary strain on the hip joint.
Dilated Cardiomyopathy
In dilated cardiomyopathy, the size of the heart grows, but the relative thickness of the muscles of the heart grows thinner. This leads to insufficient pumping capacity of the heart, causing oxygenation problems in the rest of the body.
Hypertrophic Osteodystrophy
The bones of the Great Dane puppy grow at an unusually faster rate than normal, leading to painful bones because of the pressure exerted on the surrounding tissues. But, again, the culprit is giving the dog more nutrients, especially proteins, than what is necessary.
Osteosarcoma
Osteosarcoma is cancer of the bones, although Great Danes are also known to develop cancer in other body parts. Osteosarcoma is very common, though.
Other Problems
Great Danes also have a propensity for Wobbler syndrome, hypothyroidism, arthritis, elbow dysplasia, and a handful of other problems seen in giant dogs.
A Final Note – The Importance Of Buying The Best Great Dane Dog & Puppy Food
One of the most common mistakes of newbie Great Dane pet parents is that they tend to overfeed their dogs, thinking they need to grow as big as possible. Sadly, this exposes the Great Dane to a host of problems. With these ten best dog foods for Great Danes, helping your pet achieve its optimum is now infinitely easier.
Frequently Asked Questions:
Grains can offer incredible benefits to a dog's diet as they can be a source of energy. However, grain-free diets can be a good alternative if your dog has food intolerances or digestive issues. Make sure you speak to a veterinarian when considering changing to grain-free dog food to find out whether the switch will be beneficial.
It is incredibly common for a lot of Great Danes to have or develop a sensitive stomach. In which case, you will have to pay close attention to what they're eating. Typically, you will have to switch their food for a limited ingredient diet to try and pin down what particular ingredients are the most harmful.
Flatulence is completely common but you should always see a professional if you find the frequency increases. If your dog does this a lot it could be a sign of food intolerance.
Your Great Dane puppy can move onto adult dog foods when they reach 15 months of age as this is when they are considered to have transitioned into adulthood.
Eggs are perfectly safe and even beneficial for Great Danes but they should not be a substitute source of protein. They should also only be given in moderation as they are high in fat. Generally, your Great Dane can eat one cooked egg a day.