Any good owner wants the best for their pup. Whether it's occasional pet treats, toys, beds, blankets, or bling, we all like to treat our canine companions once in a while. And what better place to start than to opt for a delicious and healthy food option to encourage healthy development and support an active lifestyle. It can be hard to pinpoint the ideal food for a Golden Retriever as there are just so many choices on the market. Fortunately, you have us to narrow down those choices for you to this list of the top 9 best dog foods for golden retrievers (in our humble opinion).
A Quick Overview of Our Favorites
| Editor's Pick | Product Name | Price | Rating |
| --- | --- | --- | --- |
| Best Overall | Blue Buffalo Life Protection Formula | Buy on Amazon | 4.6 |
| Best for Large Breeds | Wellness Complete Health Large Breed Dry Dog Food | Buy on Amazon | 4.6 |
| Premium Pick | Royal Canin Golden Retriever Adult Dry Dog Food | Buy on Amazon | 4.8 |
| Best Probiotic | Solid Gold Hund-N-Flocken With Real Lamb | Buy on Amazon | 4.6 |
| Best for Adult Dogs | Hill's Science Diet Dry Dog Food Adult | Buy on Amazon | 4.6 |
| Budget Pick | Nutro Ultra Large Breed Adult Dry Dog Food | Buy on Amazon | 4.7 |
| Best Natural | Blue Buffalo Wilderness Rocky Mountain Recipe High Protein | Buy on Amazon | 4.7 |
| Veterinarians Recommend | Iams Adult Large Breed High Protein Dry Dog Food | Buy on Amazon | 4.8 |
| High Protein | Purina Pro Plan With Probiotics Shredded Blend High Protein | Buy on Amazon | 4.6 |
*Ratings are from Amazon, Chewy, and PetSmart at the time of publication and can change
The 9 Top-Rated Foods for Golden Retrievers
Best Dog Food for Golden Retrievers: Buying Guide & FAQs
Every dog has its own unique requirement when it comes to arranging the best possible diet for them – some have allergies, some are hyper-sensitive, and some are just plain fussy. This means there is no be-all and end-all guide to Golden Retriever nutrition. However, we can offer some helpful general advice on how best to prepare your Golden Retriever's diet using what we know of the breed as a whole to help you select what you feel is right for your pup.
Are There Any Ingredients To Avoid?
This depends on the dog. Each dog has its not individual capabilities when it comes to digesting its food. Some have severe sensitivities or even allergies that need to be avoided, whilst others could eat pretty much anything and be absolutely fine.
If you're wanting to take the allergen-free, grain-free, gluten-free, approach then there are certain ingredients that have been known to cause similar reactions in dogs with allergies and sensitivities to these particular elements:
There are also certain proteins that are considered to be potential triggers for some allergies, and unfortunately, they're some of the most commonly found proteins in dog food:
Chicken
Pork
Beef
Fish
Egg
It is also worth keeping in mind that just like humans dogs can develop unusual allergies and sensitivities to ingredients and foods that are not on this list. So we would highly advise researching how to recognize a food allergy in pets so as to know what to look out for.
How Much to Feed a Golden Retriever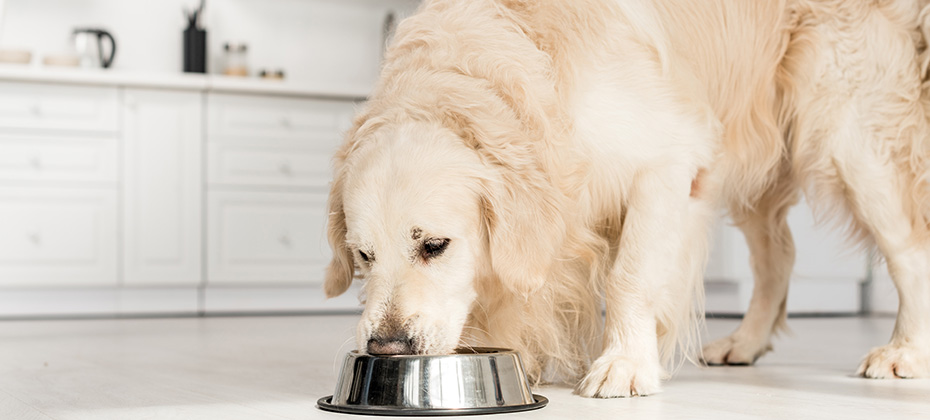 Generally speaking, the average guide to feeding a golden retriever is around 2-3.5 cups of dry food a day. Though figuring out exactly how much to feed your golden retriever depends entirely on their body weight initially. Any dog food brand should offer a helpful feeding guide that provides recommended amounts for every dog depending on the weight bracket they fall onto. This way you can ensure your golden retriever's diet is exactly as it should be.
With canned dog food, you're usually looking at around 3-4 x 13oz cans a day, though this is also entirely dependent on the dog food formula and the brand you have chosen. Each has its own recommendations based on weight (assuming your dog is completely healthy). For example, Purina recommends 3oz of wet dog food for every 3.5lbs of weight – you would then need to calculate what this translated to in full can amounts.
What Can Affect My Golden Retriever's Diet?
Furthermore, as they grow there are additional elements that could come into play that may affect how much they need to eat including:
Age
Activity level
Health problems
Food quality
Physical condition
Whether they're neutered or spayed
Whether they're nursing
Golden retriever puppies obviously consume significantly less than adult golden retrievers, and generally speaking, require food specifically catered to their puppy needs. Additionally, younger Goldies are generally quite a bit more active in their youth, whereas adult and senior golden retrievers are known to be a bit slower of the mark and more laid back.
Also, the physical condition of your dog can impact their diet. If they are ill or impaired they may not want to eat as much and so a high-calorie diet is required, if they're struggling to keep their weight down then a low-calorie reduced diet is needed. Nursing and pregnant bitches need more calories to produce milk and grow their puppies, whereas neutered and spayed dogs can gain weight quite easily and might need a more monitored diet.
What Regular Foods Can Golden Retrievers Eat?
There is a wide variety of things a golden retriever can eat outside of its standard diet. So if you're thinking of putting a little something extra into your golden retriever's food, it helps to know what's considered suitable. Equally, there are also foods, including fruits and vegetables, that should be avoided at all costs.
Many dog owners chose to top their dog's meal with a little something extra for the sake of their dog's health and ensuring they're getting absolutely everything they need on a daily basis. These fresh vegetable toppers are a great idea for anyone looking to mix it up a bit – maybe to add some additional nutrition, or simply to entice a fussy pup to eat properly:
Carrots: Cooked and chopped as a topper or raw as a snack
Broccoli: Cooked thoroughly, chopped, and mixed in
Green Beans: Cooked and sprinkled on top
Bell Pepper: Chopped finely as a topper or into strips as a snack
Sweet Potato: Often used as an ingredient in food, it also makes a good topper cooked and chopped
Brussel Sprouts: Fully cooked these are great for nutrition, bad for gas. Use as your own risk
Peas: Frozen for some crunch, or cooked for some flavor and texture
Sweetcorn: Sprinkled onto your dog's food (never on the cob)
You can also cook and mix several of the food listed above to create a nice varied meal for your dog if you're wanting to add a change of pace to their usual feeding routine.
NEVER feed your dog grapes, onions, chives, garlic, macadamia nuts, almonds, nutmeg, or raisins.
In terms of general human foods, it's best to avoid giving your dog food meant for humans (such as cake and pizza) as they are not built to easily digest these types of processed foods. However, there are a few yummy tidbits you can give your pooch if you just can't resist those puppy-dog eyes.
Peanut butter: A delicious treat to smear on a carrot or mix into their food
Cashews: Make sure it is ONLY cashew nuts you're giving to your dog
Cheese: If your dog is fine with dairy, cheese can be a tasty snack
Honey: A sweet kick to coat their food, just be mindful of the sugar content
Popcorn: Your dog can join in with movie night with plain, unsalted popcorn
Source:
Golden Retrievers And Obesity Issues, Pets4Homes
Frequently Asked Questions
Grain-free dog food is not necessarily better not is it worse for your golden retriever. There is a misnomer that all dog foods should be grain-free to be healthy, however, grain-free, like lactose-free with humans, is meant for those dogs that already have a grain intolerance.
When the grains are removed, alternative ingredients are put in place to reduce the risk of triggering a sensitive stomach, but this does not necessarily make it a better option. It's the ingredients in the food that make it good or bad for your dog. The main benefit of buying grain-free for a new dog is that it avoids the potential issue of having to deal with a stomach sensitivity in the first place.
The earliest possible time for switching a golden retriever over from puppy to adult food is six months. Though this entirely depends on the individual puppy and its capability to handle the food it is being given. Therefore the general rule of thumb is between 6-12 months. When you make the transition be sure to initially introduce the adult food in with their puppy food and see how they take it. If they adapt well to the change then you shouldn't have a problem making the full transition.
Golden retrievers typically weigh between 55-75 pounds. All dog food brands should provide a guide as to how much food your dog should be given based on their weight. However, if you're unable to find a guide them the National Research Council of the National Academies recommends you feed them between 989-1,272 calories every day if they're not overly active. If they are a working dog that is up and about at all times, then between 1,353-1,740 calories would be better.
With human food, there are a wide array of things your dog should never eat, chief among them being grapes, raisins, onions, and chocolate – though that is just the tip of the iceberg. In terms of dog food, you want to avoid feeding your golden retriever overly fatty foods, as they are known for being a breed that can gain unnecessary weight quite quickly, especially in old age. Stick with high-quality dog food for large breed dogs as it offers a better caloric density as well as being a lean food packed with protein for better recovery and growth.