A growing number of research studies now show that cannabidiol, or simply CBD, can also benefit our beloved canine pets that may be suffering from moderate to severe pain, chronic inflammation, stress and anxiety, and even seizures. It is the latter two that special formulations of the extract are now available to help our dogs to better cope with these health problems. Cannabidiol differs from tetrahydrocannabinol in that CBD doesn't have psychoactive effects, although both come from the same genus of cannabis.
This is not to say that all CBD oil products in the market are safe to give to your pet, as some may be tainted with something else or don't contain CBD. That is why we've consulted with our vets, asked the opinion of our editors and staff, and sought the views of pet parents to come up with the best CBD oil for dogs for seizures and anxiety. Here is the result of that endeavor.
The 5 Top-Rated CBD Oils for Dogs
Best CBD Oil for Dogs: Buying Guide
CBD and hemp oils for pets have countless health benefits, including better joint, digestive, cardiovascular, and mental health.
These oils are natural, safe, and easy to administer, as most can be mixed with regular dog foods and sometimes water. The only problem? CBD and hemp oils seem to be everywhere at the moment; in fact, the market is packed with cannabis oils for pets, which can make the selection process quite confusing for many pet parents.
To help you pick the right hemp oil for your pup, we've put together this buying guide to cover everything you need to know about CBD oils. This includes the main health benefits, how the supplement works, how to properly dose it, possible side effects, and many other things.
Hemp Oil vs. CBD Oil for Dogs
You may have noticed that we're using the terms 'hemp oil' and 'CBD oil' interchangeably in this article. However, there is a difference between the two. While both oils are made from the same plant – hemp plant – they're made from different parts of that plant. Let's look at how these oils are made and the main differences (hint: there are that many!).
Hemp Oil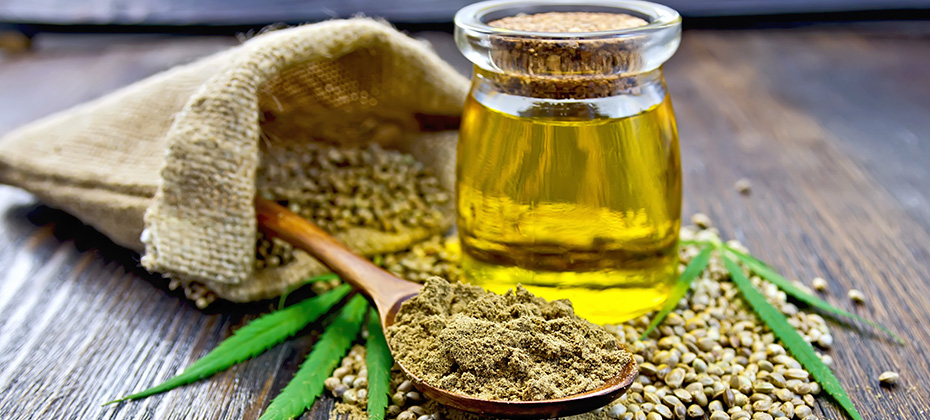 Hemp oil is made by extracting or pressing the seeds of the hemp plant. These seeds are rich in omega-3, omega-6, omega-9 fatty acids and GLA. A combination of these compounds and various antioxidants helps make this oil somewhat of a superfood – it has a high nutritional profile and can help improve skin and coat health specifically, but also reduce overall inflammation and, as a result, relieve arthritis and joint pain. It can also boost the immune system, decreasing some symptoms of various allergies.
This oil doesn't contain cannabidiol or CBD for short and is completely THC free. This is what makes hemp seed oil perfectly legal everywhere. Hemp oil is typically listed as cannabis Sativa or hemp seed oil.
Take a look at our latest guide on Dog Joint Supplements.
CBD Oil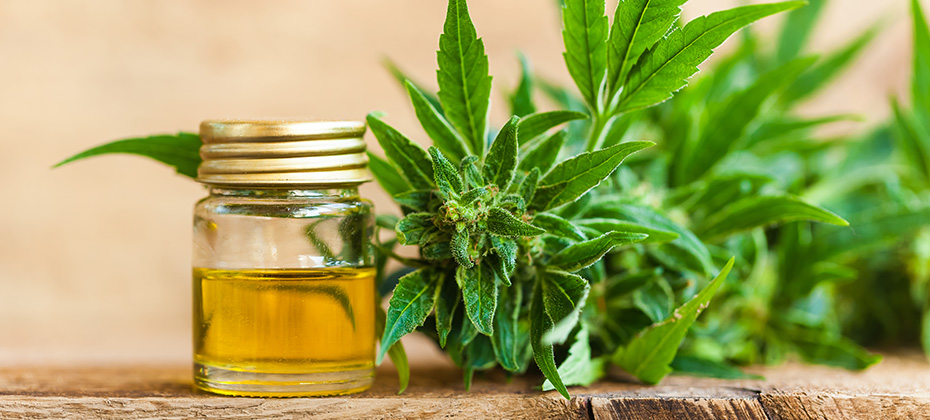 Like hemp oil, CBD oil is also made from the hemp plant. However, this oil is not made from hemp seeds but from the plant's leaves, flowers, and stalks. It contains cannabidiol, a highly anti-inflammatory antioxidant, which can greatly help reduce overall body inflammation. CBD oil is also excellent for reducing anxiety, and like hemp oil, can also help with joint pain, arthritis, skin conditions, etc.
Like hemp oil, CBD oil is also THC-free, so it doesn't cause any psychoactive side effects. However, this type is typically more expensive than hemp seed oil because it's more powerful. CBD oil should be listed as full-spectrum hemp oil, cannabidiol, or PCR hemp extract. It should be noted that CBD oil can also be called hemp oil because it is made from the plant hemp (while the hemp oil we talked about first should be called hemp seed oil).
Picking the right CBD for dogs for seizures and anxiety can be especially tricky. We'll try to explain this before we help you gain a better understanding of cannabidiol or CBD, what canine health conditions it can help with, its benefits and potential side effects, its recommended dose and method of administration, and the things you need to watch out for when purchasing a product such as cannabidiol for dogs.
Maybe you have already noticed that the title of this article is "Best CBD Oil for Dogs for Seizure and Anxiety". However, if you also noticed in the products we shared with you, none have the label "CBD Oils for Dogs". What we did present, however, are products that contain hemp oil.
This is not to say that this article is misleading. Unfortunately, the current norms in product branding make it that way. This is why we're here to clarify things. Many companies try to mislabel hemp oil products as CBD oil products and vice versa. This is completely understandable, albeit grossly misleading.
The Hemp Industries Association assailed in July 2014 the highly-prevalent misbranding of cannabidiol oil as hemp oil. The respectable organization clarified that hemp oil should never be confused with cannabidiol or CBD oil. While it is true that both oils are extracted from the same plant, Cannabis sativa L, they differ in the part of the plant which the oils are generally extracted from.
HIA argues that hemp oil is extracted from the seeds of Cannabis sativa L, hence giving it the official name of hemp seed oil. On the other hand, CBD oil or cannabidiol oil is extracted from the flowers of the same plant. However, this is not the only plant part where cannabidiol is extracted. In some cases, CBD oil is extracted from the combination of Cannabis sativa flowers, stalks, and leaves while processing industrial hemp fiber.
So why does this matter?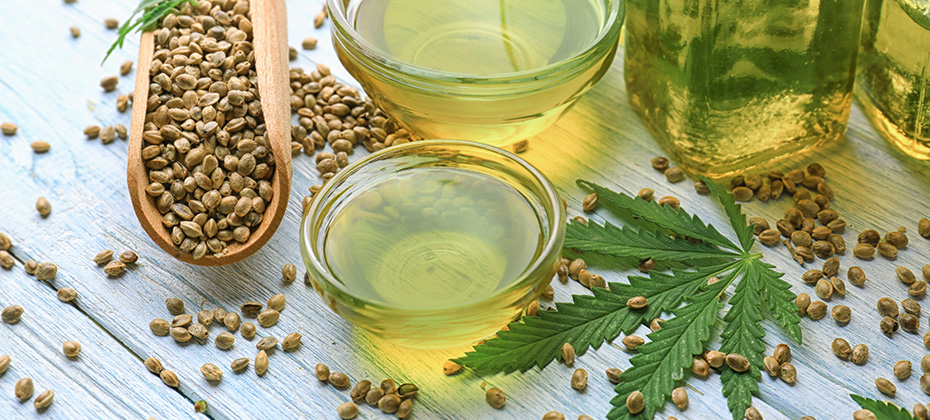 The principal ingredient that we would like to obtain here is cannabidiol. Unfortunately, different parts of the Cannabis sativa L plant come with varying concentrations of cannabidiol. For example, seeds from which hemp oil is derived only contain at most 25 parts per million. On the other hand, CBD extracts or pure CBD oil processed from flowers contain up to 150,000 parts per million.
In other words, CBD oil contains more than 6,000 times the cannabidiol contained in hemp seed oil.
But this is not to say that hemp oil doesn't contain cannabidiol. It still does, although not as concentrated as pure CBD oil.
However, returning to our list of the best CBD oils for dogs, you may have noticed several things.
The use of full-spectrum hemp extract
The use of phytochemical-rich hemp extract
The listing of hemp oil, in addition to hemp seed oil
Full-spectrum hemp extract and phytochemical-rich hemp extract signify that most plant parts – the stalks, leaves, and flowers – have been used in the extraction process.
The Hemp Industries Association already clarified that CBD oil refers to the product of the extraction process utilizing the different parts of the Cannabis sativa L plant except for the seeds. Full spectrum hemp extract and phytochemical-rich hemp extract means CBD oil. Sadly, this is also where the misbranding issue cited by HIA comes in. The manufacturers of these products should have just written on their labels or ingredient list CBD oil instead of hemp oil.
Speaking of the ingredient list, why would a manufacturer include hemp seed oil and hemp oil as separate entities when the HIA already clarified that hemp oil is hemp seed oil and vice versa? This supports the notion that what manufacturers call hemp oil is CBD oil. That is why they also listed hemp seed oil in their ingredient list.
In short, the hemp oil used by the manufacturers of products we've featured in this article simply refers to CBD oil.
Another concern we have encountered is the relationship between cannabidiol and tetrahydrocannabinol, the active ingredient in marijuana that is more known for its psychoactive effects. The good news is that cannabidiol has been proven to lack the psychoactive effects of THC. While both molecules come from cannabigerol acid, the main difference is in the enzyme that acts on this precursor molecule. For THC, it is the THCA synthase. For CBD, it is CBDA synthase. The difference in enzyme systems differentiates the cannabinoid that causes addiction from the cannabinoid that provides various health benefits.
How Does CBD for Dogs Work?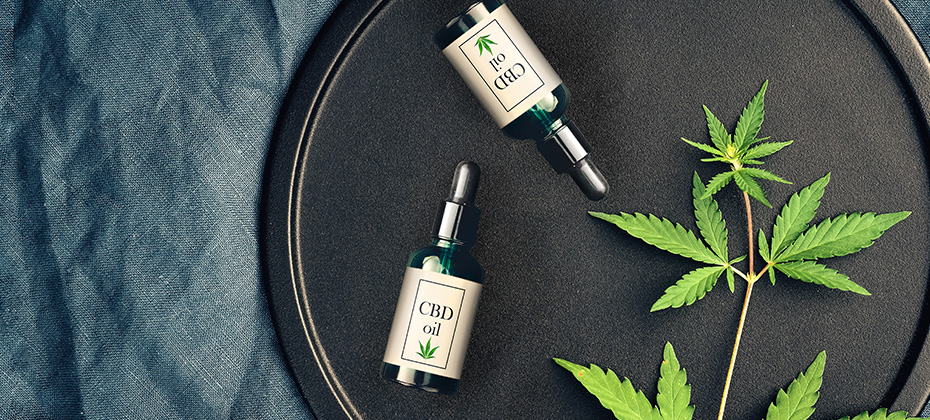 Tetrahydrocannabinol, or THC, is one of the most-studied cannabidiol on the planet. On the other hand, not much is known about cannabidiol or CBD. Well, until recently.
So how does CBD for dogs work? To understand this, it is important to understand a few things.
First, all cannabinoids, including THC and CBD, work by interacting with cannabinoid receptors in the dog's body. These receptors are labeled CB1 and CB2 by scientists.
CB1 Receptors
Cannabinoid type 1 (CB1) receptors are mostly found in the central and peripheral nervous systems. When these receptors are stimulated, they cause a reduction in intracellular cAMP by inhibiting the production of adenylate cyclase. In other words, CB1 receptors reduce nerve impulse transmission since cAMP is a nervous system messenger. It is important to note that the nervous system includes the brain, spinal cord, and all other organs throughout the dog's body since everything is connected to the central nervous system through nerves. Even the skin has nerves in its structure. Otherwise, there won't be pain felt.
CB2 Receptors
Cannabinoid type 2 (CB2) receptors are mostly found in the immune system, the gastrointestinal system, and the peripheral nervous system. However, recent studies say that CB2 receptors are also found in the brain, albeit substantially less than CB1 receptors. In the immune system, these receptors have been isolated in the thymus, tonsils, and spleen, where they are observed responsible for releasing cytokines. Cannabinoid type 2 receptors are mostly found in macrophages, T-lymphocytes, B-lymphocytes, and monocytes of the immune system.
In the gut, CB2 receptors have been shown to play a role in reducing inflammation, typically observed in chronic inflammatory bowel diseases like ulcerative colitis and Crohn's disease. Specifically, these receptors help prevent the inactivation of normal gut flora. Cannabinoid type 2 receptors also play a role in alleviating pain originating from peripheral tissues, although not from nociceptive neurons.
Why is it important to learn the two cannabinoid receptors?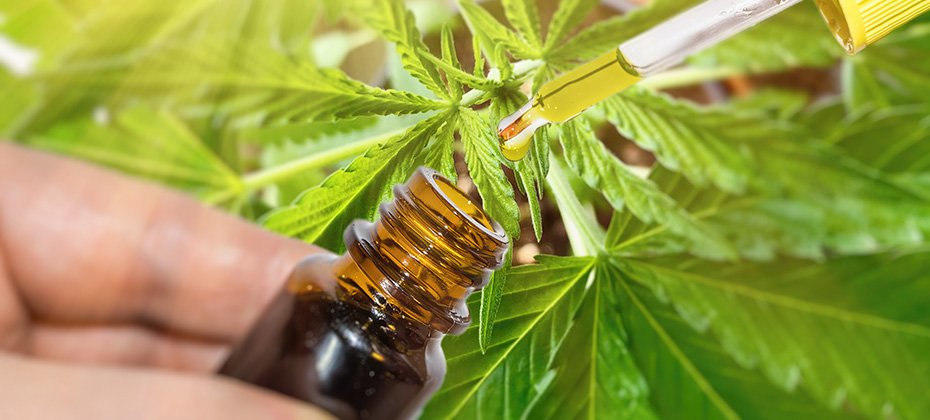 As we have already mentioned, cannabidiol or CBD, exerts its effects primarily by interacting with these receptors. As such, you can say that learning the activities of these receptors can also pave the way toward a greater understanding of the action of CBD.
But there is a catch. Isn't it that tetrahydrocannabinol or THC works the same way? It also interacts with both CB1 and CB2. Technically, CBD is not that different from THC and may cause psychoactive effects.
Not necessarily. While THC and CBD interact with CB1 and CB2 receptors, there are a few differences.
THC is more specific to CB1 receptors and has more psychoactive effects than CBD.
THC binds directly to the CB1 receptor, making the effects readily apparent.
CBD has shown a very low affinity for both CB1 and CB2 receptors.
CBD still interacts with CB1 and CB2 receptors but does not directly bind to the receptors.
CBD attaches itself to the receptors indirectly in a process many scientists call modulation.
The last statement is that we will look into the second most important element to understanding how cannabidiol or CBD works.
Since CBD inherently modulates the activities of cannabinoid receptors, what this essentially means is that it stimulates the dog's body into producing and releasing its cannabinoids. As such, if tetrahydrocannabinol provides the dog's body with readily-available cannabinoids, CBD doesn't.
Instead, CBD stimulates the dog's body to produce its cannabinoids. That is why it doesn't produce the psychoactive or addicting effects since the cannabinoids produced are naturally occurring and not exogenous. This is also why these naturally-occurring cannabinoids make up what is now known as the endocannabinoid system or ECS.
Here is a list of the different functions for which the endocannabinoid system is known.
Enhances the proliferation and differentiation of neural progenitors, especially in the hippocampus of the brain
Inhibits the release of certain neurotransmitters to help temper neuronal excitability
Increases appetite by acting on the hypothalamic nuclei
Plays a huge role in maintaining balance in terms of nutrient transport and energy storage by acting on the cells of the gut, fat cells, liver cells, endocrine tissues of the pancreas, and skeletal muscle cells
Inhibits excessive arousal, which can play a role in toning down anxiety and seizure in dogs
Improves the functionality of immune system cells, particularly B- and T- lymphocytes, macrophages, and monocytes
Serves as a neuromodulator for ameliorating inflammation and skeletal muscle spasms
Aids in signaling the correct timing of implantation of the fertilized ovum in the uterus
Down-regulates intestinal motility as well as the nerve impulse transmission to the smooth muscles of the reproductive, urinary, and digestive systems
Suppresses the noxious sensory neuronal responses in the spinal column to reduce the pain sensation
Regulates body temperature
Promotes sleep by decreasing wakefulness and increasing REM sleep and slow-wave sleep
Elevates exercise-associated mood by acting on the central nervous system
Since cannabidiol or CBD stimulates the production of endogenous cannabinoids in the dog's body, it is now very clear how this particular substance can bring about the much-talked-about health benefits not only to humans but to dogs as well.
Cannabidiol (CBD) does not only exert its effects on the endocannabinoid system. It also acts on the serotonin receptor known as 5-HT1A. This receptor also plays a role in inhibitory neurotransmission. CBD has been known to exhibit an agonistic activity to this serotonin receptor which can help further explain its use in both seizure and anxiety control in dogs. This action on the receptor is also what gives CBD its neuroprotective properties.
So, how does CBD work?
It modulates the activities of cannabinoid receptor types 1 and 2.
It stimulates the production of endogenous cannabinoids through endocannabinoid system activation.
It stimulates a certain type of serotonin receptor.
What Medical Conditions CBD for Dogs Help With
The mechanisms of action we discussed in the preceding section are what give cannabidiol (CBD) oil its exceptional properties in managing various health conditions in dogs. Here is a list of the medical conditions CBD for dogs can help with.
Canine Anxiety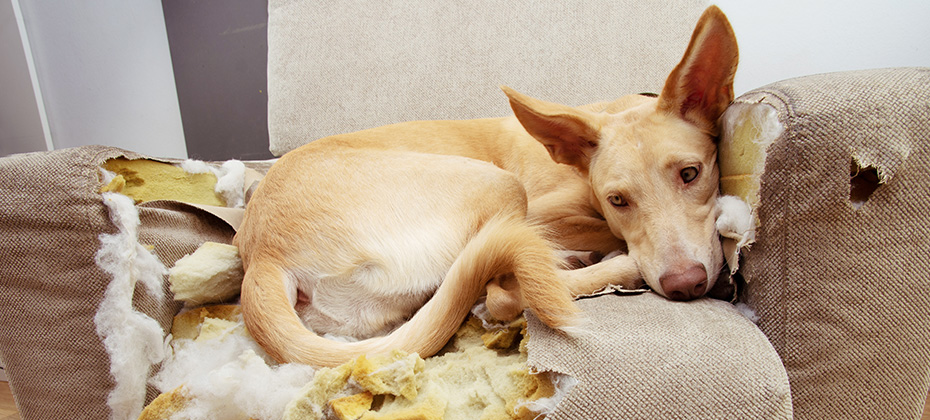 The double action of CBD acting on the endocannabinoids' inhibitory neurotransmission mechanism and the serotonin receptors' natural inhibitory effect help provide a calmer and less anxious dog.
We already know that the principal effect of cannabinoids in the central nervous system is the tempering of excitatory impulses, generally inhibiting the release of cyclic-AMP. This means nerve impulses are not sent from one neuron to another. This causes a generalized reduction in brain electrical activity. In short, the brain can become more relaxed and calmer, something you would want to happen in an anxious dog.
The effects of cannabidiol on the 5-HT1A receptor can be likened to the action of commercially-available anti-anxiety drugs. Many of these medications act by stimulating serotonin receptors which, in turn, increases the amount of the inhibitory neurotransmitter in the brain. While one of the effects of serotonin is an elevation of mood, it also has a more pronounced effect on reducing anxiety or even fear symptoms.
Given that dogs also experience fear or anxiety and that this can be demonstrated in various dog behaviors such as accidents, howling, barking, aggression, chewing, and even muscle tremors, providing them with CBD oil should help ensure a calmer, more peaceful dog.
You may also like our guide on Calming Chews for Dogs.
Seizure Disorders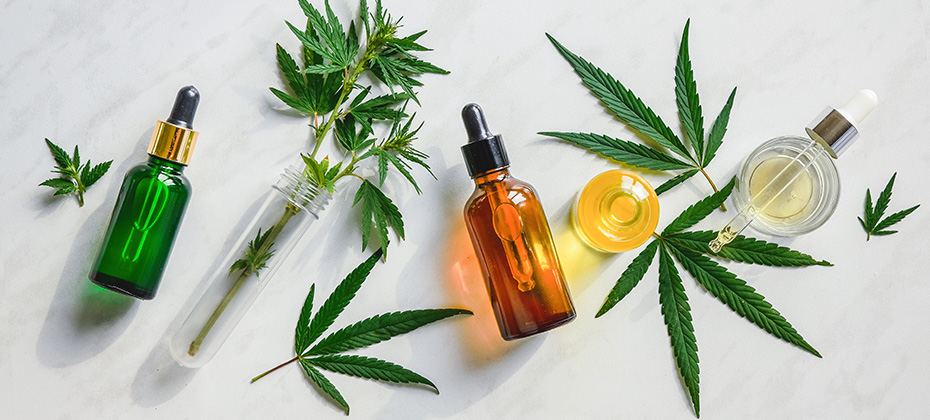 One of the most sought-after effects of CBD oil is the management of seizures and seizure-like manifestations such as muscle spasms, tremors, and even tics. Seizures or convulsions are typically described as involuntary and uncontrollable contractions of the muscles. These are brought about by the brain's abnormally erratic firing of electrical nerve impulses. Instead of synchronized discharge of nerve impulses, what happens is that there is asynchronicity.
Neurotransmitters are sent out from one neuron to the next, typically in rapid succession but, more importantly, disorganized. Since the peripheral nervous system innervates the skeletal muscles, they receive these asynchronous, erratic neural messages such that they contract uncontrollably. Furthermore, the contractions are sustained and more forceful because of the flooding of electrical nerve impulses at the motor endplates of muscles.
The problem here is not really in the muscle itself but rather in the brain. Erratic electrical discharge from the brain doesn't allow the efficient distribution of oxygen and glucose to the brain's cells. If the seizure takes an unusually long time to subside, there is a possibility that the area upon which these abnormal neuronal discharges occur will be greatly deprived of glucose and oxygen. This can substantially reduce brain tissue oxygenation, a condition medical and veterinary professionals call cerebral hypoxia.
Cerebral hypoxia, if not treated immediately, can lead to irreversible death in the cells of that part of the brain. Stroke may ensue, or, in most cases, cerebral hypoperfusion injuries can occur. These can send your dog into a coma, if not death.
Cannabidiol can help reduce the severity of convulsions or seizures by preventing the likelihood of hyper-excitable neurons. This helps prevent abnormal erratic discharges from the brain itself.
Pain Syndromes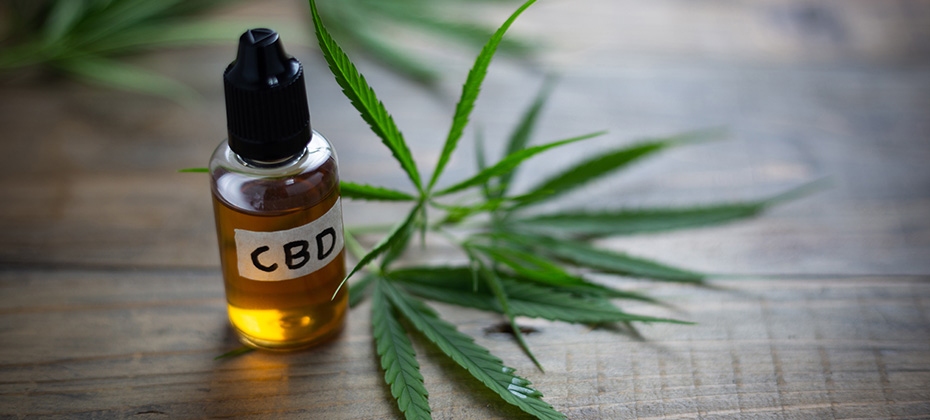 There are many theories about pain. However, when it comes to the use of cannabinoids in the management of pain, it is a widely-held observation that its analgesic effects are closely related to the modulation of noradrenaline coming from the brainstem and descending towards the dorsal horn of the spinal cord.
What happens is that these nerve fibers are known to possess GABAergic activity or one that is fully capable of suppressing nerve excitation. When endocannabinoids such as palmitoylethanolamide and anandamide bind to certain receptors in the descending tract of the spinal column, they increase the release of noradrenaline which help attenuate the pain impulses being processed by the noxious sensory neurons found in the dorsal horn. In other words, they block the processing of these pain impulses by flooding them with noradrenaline while also increasing the inhibitory properties of GABAergic fibers.
This can have significant implications for the management of pain in dogs. When taken together with CBD's anti-inflammatory properties, one can see that its use in certain chronic canine pain syndromes such as arthritis and other types of pain is a welcome relief for our beloved canine friends.
Inflammatory Disorders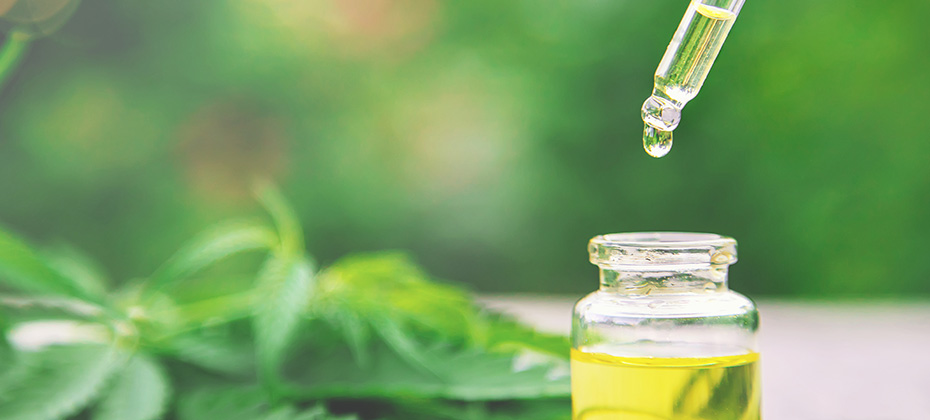 We mentioned above that cannabidiol has an excellent anti-inflammatory effect. This was highlighted in a 2012 research that showed CBD to be especially effective in reducing the symptoms of inflammation in acute lung injury. Another study in the same year also established CBD's crucial anti-inflammatory activities in managing acute pancreatitis. These 2 studies supported the earlier 2006 investigation that suggested CBD as an important adjunct in managing neuropathic pain and chronic inflammation. While it is easy to say that these studies were never performed using dogs as test subjects, using laboratory mice instead, the results underscore the increasing importance of cannabidiol in managing chronic inflammatory disorders.
The ability of cannabidiol as a powerful anti-inflammatory is strongly associated with the location of the cannabinoid type 2 (CB2) receptors, which are mostly found in immune system cells such as monocytes, macrophages, and T- and B- lymphocytes. Its activity on cytokines helps improve the anti-inflammatory action of these immune system cells so that they become very efficient in the management of chronic inflammatory disorders in dogs such as arthritis, inflammatory bowel disorder, canine encephalitis, canine chronic bronchitis, masticatory muscle myositis, acquired myasthenia gravis, and even demodectic mange.
Since one of the cardinal signs of inflammatory processes is the occurrence of pain, the action of cannabidiol on immune system cells can help target two principal problems: pain and inflammation.
Nausea and Vomiting in Dogs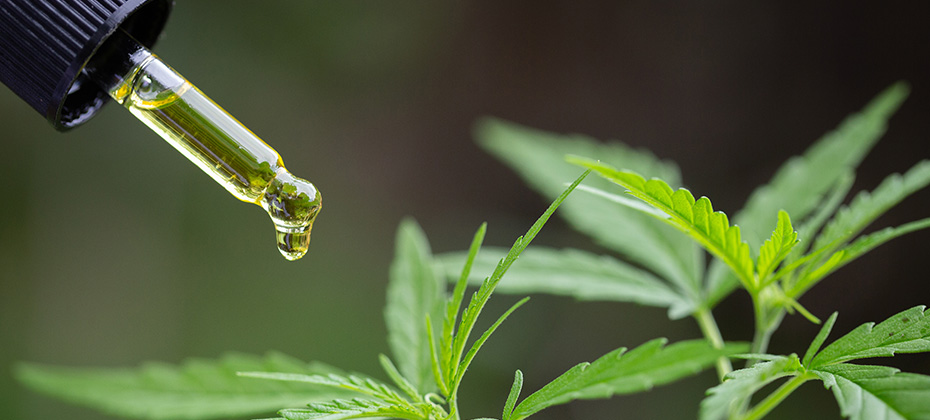 There are many reasons dogs can get nausea or exhibit vomiting. In most cases, it is often related to a change in the dog's usual dietary patterns. However, it can also be brought about by other reasons such as bacterial infections, foreign body ingestion, acute liver failure, intestinal parasitism, pancreatitis, viral infections, inflammation of the gallbladder, and even the effects of undergoing surgery. Whatever the case, nausea, and vomiting in dogs are almost always characterized by abnormal gastric and intestinal motility.
There are three ways in which cannabidiol can help dogs with nausea and vomiting. First, by interacting with CB1 receptors, the endogenous cannabinoids released will help inhibit the firing of cAMP into succeeding neurons. This helps reduce the number of electrical impulses traveling toward the gut, reducing gastric and intestinal motility.
Second, since CB2 receptors are also abundant in the gastrointestinal system, their stimulation can help prevent the activity of the immune system on normal gut flora, allowing for the more efficient digestion and absorption of food molecules, which can help minimize nausea and vomiting.
Third, the activity of CBD on 5-HT1A can also help minimize nausea and vomiting in dogs. Stimulation of the serotonin receptor has been proven to reduce the sensation of nausea while also suppressing the vomiting reflex.
Certain Types of Cancer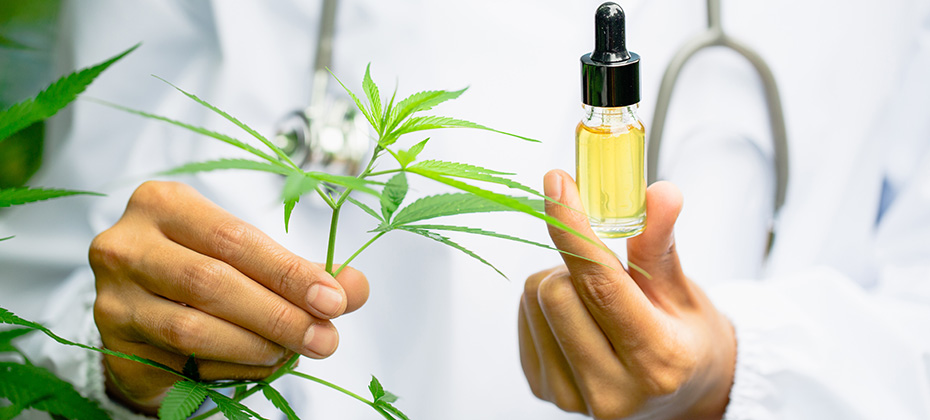 One of the most remarkable areas where cannabidiol preparations are now being used on dogs is managing certain types of cancers. The area received widespread attention when several promising studies showed the potentially beneficial effects of CBD on cancer treatment.
For example, the Boston-based Beth Israel Deaconess Medical Center showed in 2011 that cannabidiol has the potential to cause apoptosis or programmed cell death in the neoplastic cells of breast cancer. The Naples, Italy-based University of Naples Federico II published a report indicating that CBD may help prevent the growth, development, and spread of colon cancer tumor cells.
Madrid-based Complutense University went another avenue to study the synergistic qualities of cannabidiol in enhancing the cancer cell-killing effects of onco-chemotherapeutic agents. The study underscored the activity of CBD in hastening the rate at which the active ingredients of chemotherapeutic agents are absorbed by cancer cells. At the same time, the study observed healthy, normal cells were substantially protected because of their reduced exposure to the chemotherapeutic agents.
Again, while these studies have been performed in test subjects other than dogs, the implications are nevertheless promising. Since certain breeds of dogs are also more prone to developing certain types of cancer, adding CBD oil to their diet or even as regular supplementation should protect them against these cancers.
What are the Benefits of CBD Oil for Dogs?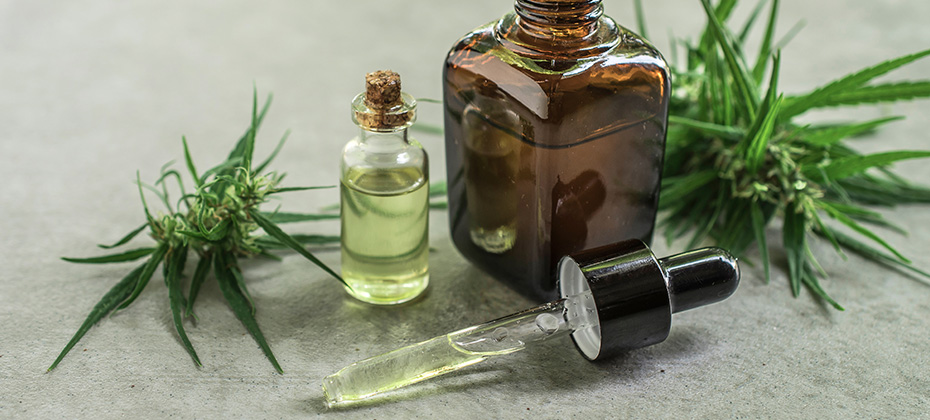 The benefits of CBD oil for dogs should be readily apparent. These can be gleaned on how they work and the different health conditions upon which these supplements can be used. Generally, these benefits are as follows.
Alleviates Canine Anxiety
The inhibitory effect of cannabidiol is one of the most sought-after properties of CBD oil for dogs. Reducing canine anxiety can translate to various benefits for pet parents, too. It allows them to train their dogs properly without causing hyper-excitability or extreme eagerness. Stress- and anxiety-related canine behavioral problems can also be addressed more efficiently.
This means your dog will no longer be tearing apart your furniture, upholstery, bedding, carpet, and anything that it can get its jaws on whenever it feels anxious. You need not worry about going after urinary and fecal accidents anymore, saving you the hassle of messy cleanups while keeping the integrity of your belongings. More importantly, your dog will be calmer, more relaxed, and better equipped to handle frustrations, boredom, and other potential sources of canine anxiety.
Manages Seizure Disorders in Dogs
As described in the preceding section, the main issue in canine seizure disorders is not so much in the sustained, forceful contractions of your pet's skeletal muscles but rather in ensuring the reduction of oxygenation to its brain, depending on the length of each seizure episode. With CBD, you can help minimize the ill effects of reduced oxygen supply to the brain by helping normalize the firing of nerve impulses from the brain.
Do note that cannabidiol is not a treatment for seizures, as this condition can have a variety of causes. Nevertheless, you'll feel more secure knowing that your dog will have reduced incidence and severity of seizures, tremors, and spasms. This alone is a benefit that other supplements and medications cannot provide.
Inhibits the Growth of Certain Types of Cancer Cells
While it is true that cannabidiol can provide exceptional control of the growth of cancer cells, its cancer-fighting ability is limited only to those types of neoplastic conditions that have already been proven in laboratory settings. Unfortunately, the list is still short considering that hundreds of potential cancers can hit any breed of dog.
Knowing that CBD oil can induce cell death in neoplastic cells while speeding up the rate of uptake of chemotherapeutic agents by cancer cells should provide hope for those pet parents who may have pooches that have certain types of cancers. It is not a cure for all cancers known to affect dogs. But the mere fact that it can play a role in the more effective management of cancers is a welcome relief.
Alleviates Pain
Alleviating pain in your dog should help it with its mobility and enjoy its existence to the fullest. Dogs in pain don't want to move because movement only exacerbates the sensation of pain. If they don't move, they will not be able to get the exercise that they need. They will not be able to tone and strengthen their muscles. In short, their muscles will atrophy or shrink in size and lose their tone. This can lead to other problems.
A dog in pain will also not want to eat, which robs it of invaluable nutrients necessary for continued development. It also robs your dog of the much-needed nutrients that can play a role in reducing pain sensation. With CBD oil, you can help your dog move as freely as possible by reducing, if not eliminating, pain sensation.
Reduces Inflammation
Inflammatory disorders are a very common occurrence in dogs. From the gastrointestinal tract to the cardiovascular system to the skin and the respiratory system and many more, these conditions can also bring discomfort to your beloved pet. And since inflammation is almost always accompanied by pain or discomfort, addressing inflammatory conditions means improving the performance of daily activities of your dog.
If the inflammatory disorder happens to be limited to the GIT, then your dog will not be able to receive all the essential nutrients that it needs. If there is inflammation of the skin, your dog will be exposed to secondary bacterial, fungal, or even viral infections because of breaks in the skin secondary to incessant scratching. If the inflammation occurs in the lungs or cardiovascular system, the issues will be related to oxygenation.
Cannabidiol can help reduce inflammation and free your dog from these nuisances.
Supports the Immune System
This is one of the most profound benefits of using CBD oil for dogs. As already explained, since cannabinoid type 2 receptors are also found abundantly in immune system peripheral tissues like the spleen, thymus, and tonsils as well as in cytokines that mediate the immune system response, one can expect greater immune system functionality in dogs receiving CBD oil.
In addition to improving the overall immunologic activity of macrophages, B-lymphocytes, and neutrophils, CBD oil also benefits T-lymphocytes, especially immunoglobulin-M levels. This type of immunoglobulin is an unusually large immune system cell that is the first to respond to antigenic exposure. This enhances the immunologic activity of the complement system, which further aids in managing antigen-antibody interactions.
This simply means your dog will be more than ready to face any kind of infection. In hindsight, improving immunologic marking can also play an important role in identifying hyperplastic cells that tend to mutate and become neoplastic cancer cells.
Protects the Nervous System
The neuroprotective capability of CBD oil is directly related to its inhibitory effects on nerve impulse transmission. The generation and propagation of electrical nerve impulses require energy. This can seriously deplete brain cells of glucose and oxygen necessary for other metabolic and physiologic processes. CBD oil can make the brain and its related structures go into preservation mode by limiting the firing or discharge of nerve impulses. This helps relax the brain and its many neurons, allowing them to operate at a more normal pace.
The nervous system is an integrative system. All organisms rely on a fully functioning nervous system to coordinate and integrate all other processes in the body so that everything is synchronized. It is the job of the nervous system that the different functions of the different organs work synergistically together to advance the optimum health and wellness of the entire organism, in this case, your dog.
Promotes Well-balanced Metabolism
One of the lesser-known benefits of CBD oil is the promotion of a well-balanced metabolism, especially in terms of the more efficient transport of nutrient molecules and the judicious and sensible storage of energy molecules. Cannabinoid type 2 receptors are known to be present in the gastrointestinal system, and this is where energy and metabolic homeostasis or balance begins.
Endocannabinoids have been established to act on certain tissues that play a role in nutrient transport, metabolism, and energy storage. As such, you can expect these endogenous cannabinoids to be present in the pancreatic islet of Langerhans, the skeletal muscles, the tissues lining the gut, fat cells, and liver cells. Of particular importance is the ability of endocannabinoids to help modulate insulin sensitivity which, everyone now knows, can play an important role in the development of canine obesity, atherosclerosis, and even diabetes in dogs.
How Do You Administer CBD Oil for Dogs?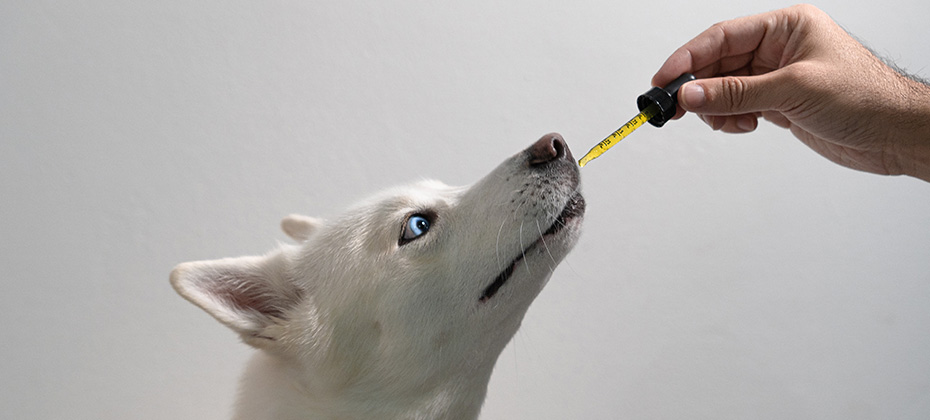 Cannabidiol products come in various formulations. Many come as drop formulations, in tablet or capsule forms, as well as sprays and treats. It is important to read the manufacturer's instructions on the label or the package insert.
CBD drops can be administered directly into your dog's mouth, or you can mix it with your pet's food. The problem with mixing with your dog's food is that if your pet doesn't have an appetite, you won't be able to give your pet the full dose of CBD oil.
CBD treats and tablets are sometimes easier to administer, especially if formulated to be as palatable as your dog's regular treats. Unfortunately, adding synthetic chemicals may adversely affect the product's safety.
CBD sprays can also be sprayed directly into your pet's mouth or onto their dog food.
Key Things to Watch Out for When Purchasing CBD Oil for Your Pet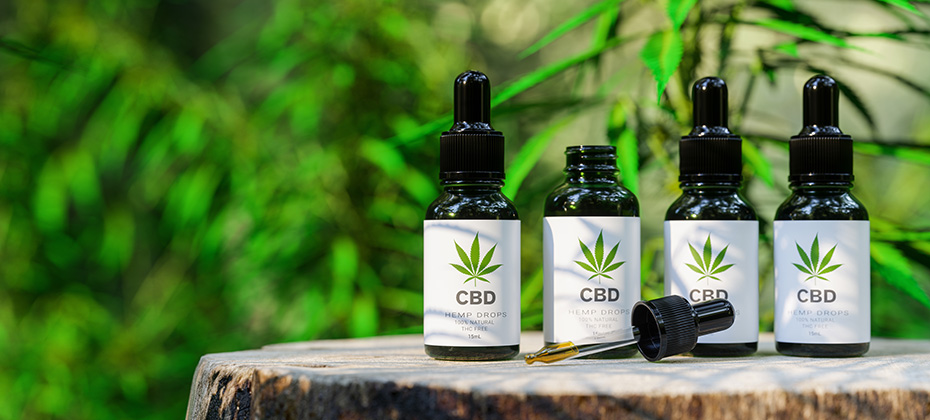 We mentioned above that choosing the right CBD oil for your pet can be tricky. Here are some things you must watch out for when purchasing CBD oil for your canine friend.
As we have explained above, you must be careful when reading the label. It is very rare to read "CBD Oil" on product labels. Instead, you will read "hemp oil". You should read more and look for other terms like "phytochemical-rich" or PCR and "full spectrum hemp extract," as these will indicate that the extracts are derived from whole Cannabis sativa L plants. You may also need to check the ingredient list. If it has both hemp seed oil and hemp oil, do note the 'hemp oil' part, as this is the CBD oil in that particular product.
The source of the hemp extracts should always be indicated in the product you're buying. Certain parts of the US are well-regarded as hemp havens. For example, Colorado is well-known for its extensive hemp farms. Some countries have been growing premium-quality hemp products through the years.
Non-GMO, All-natural Ingredients
You don't want the CBD oil you'll give your dog to be laced with harmful chemicals and other substances that may undermine the effectiveness of cannabidiol. As such, you should always look for guarantees that the product doesn't use GMOs and is made of only natural ingredients. It should be a good sign if there are certifications from the USDA or even the FDA.
The preferred CBD oil extraction methods are super-critical CO2 extraction and cold press. These two extraction methods are considered the most appropriate and the safest when retaining as much cannabidiol from the Cannabis sativa L plant.
CBD Oil for Dogs Dosage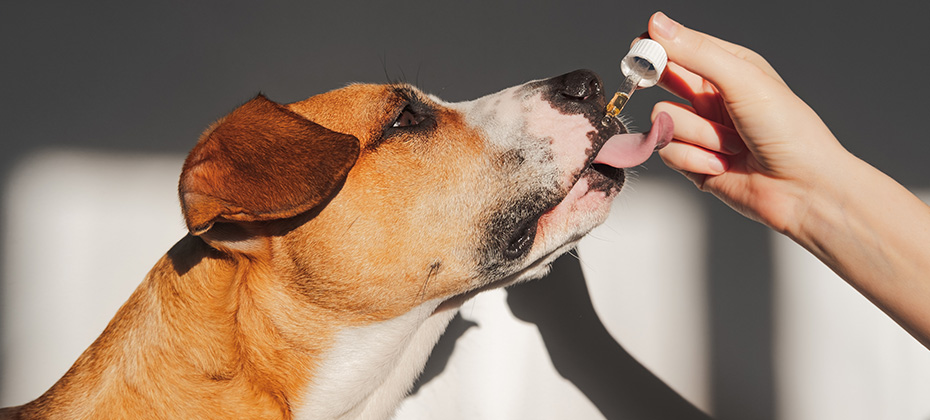 As you may have noticed from our list of the best CBD oil for dogs, each product may come with an entirely different dose recommendation. For starters, the dose of CBD oil is quite dependent on the type of formulation available. In our list, we presented mostly in oil forms as drops, although one is in the form of a spray. Do take note that CBD is also formulated as treats and as capsules.
For example, CBD oil drops can be as low as 2 to 4 drops or as high as 20 drops daily. Capsule preparations typically come with 150 to 200 milligrams of CBD oil from hemp extracts, so your dog can take a capsule once or twice a day.
Another consideration is your dog's size. Smaller dogs will require smaller doses of CBD oil. Likewise, larger dogs will require substantially larger amounts of CBD oil.
However, some veterinarians recommend giving an initial dose of 0.05 milligrams of CBD daily for every kilogram of your pet's body weight. This can be increased, of course, but should not exceed 1 mg per kilogram daily.
The current recommendation is to approach the dosing of CBD oil in a three-tiered method. The idea is to gradually increase the amount of CBD oil consumed by your dog over several weeks until the maximum desired levels have been reached.
Here's an example of what a 3-tiered CBD dosing plan looks like.
Tier 1 – 0.05 milligrams for every pound of weight to be given two times a day
Tier 2 – 0.125 milligrams for every pound of weight to be given two times a day
Tier 3 – 0.25 milligrams for every pound of weight to be given two times a day
Putting your dog on CBD oil supplementation can be tricky. That is why we strongly recommend chatting with your veterinarian about it so you can be guided accordingly. The trick is for you to always start with the lowest possible dosage that can guarantee a response from your dog. Give this over a week, especially noting any side effects or untoward reactions. You can increase the dose to the next level if none develops, again watching out for side effects. Do this until you've reached the desired levels.
What are the Side Effects of CBD Oil for Dogs?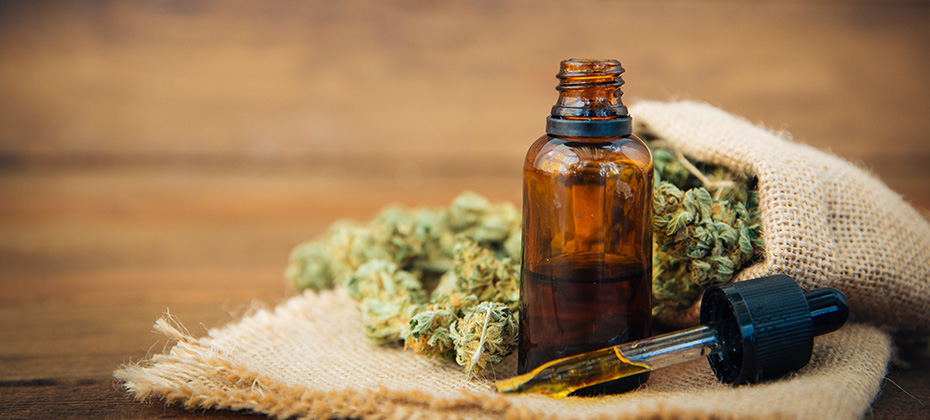 We now know that the main action of CBD is to activate the endocannabinoid system and stimulate the serotonergic mechanism. Since these two pathways generally have other physiologic effects, it is possible that CBD oil for dogs can also produce unwanted yet generally tolerable side effects. Here are some more common side effects of CBD oil for dogs.
Drowsiness or increased tendency to sleep
Dry mouth, as can be evidenced by increased thirst
Muscle tremors
Disorientation or light-headedness
Low blood pressure
On the plus side of things, CBD oil for dogs is generally regarded as safe and well-tolerated. This is welcome news considering that it belongs to the same plant family as the highly addictive marijuana. On that note, one of the most positive things about cannabidiol is that it will never get your dog high.
Cannabidiol, or CBD oil for dogs, is gaining popularity because of its tremendous benefits to the health of our favorite pets. Not only is it effective in helping our canine friends alleviate their anxieties and help minimize the effects and severity of seizures, CBD oil for dogs can also boost the immune system, reduce pain and inflammation, protect your dog against certain types of cancer, and protect the nervous system among other things. However, choosing the right CBD oil to give your dog is critical, so you'll be giving it these benefits and more. You'll find our list of the best CBD oil for dogs to be exceptionally valuable in providing you with insight on what to choose.
Our Top Pick
After researching the topic of CBD hemp oils for dogs for more than 35 hours, we came to the conclusion that Kinpur Organic Hemp Oil offers the best value for money. This oil is our Top Pick because it contains a whopping 500,000 mg of hemp oil and is organic and made by a certified hemp manufacturer in the USA. In other words, this is one of the most potent pet hemp oils, plus one of the purest and safest ones. Thanks to its high content of essential fatty acids and antioxidants, it helps with various health problems, including anxiety, joint pain, low energy, digestive issues, skin conditions like eczema, etc. All in all, the best CBD hemp oil for dogs is in our book.
Sources: