Cats are fastidious animals, and as pet owners, it can be frustrating to give them their meals only to watch them look at them judgmentally, walk away, come back, look some more, to walk away again. It can be even more exasperating when your cat has dietary requirements, ultimately limiting what you can feed them. Luckily, we have researched and composed a handy guide detailing everything you need to know about the top items available from Pure Balance Cat Foods.
Pure Balance products are especially popular for their natural ingredients, flavors, and recipes that are especially effective in aiding your pet's health. Some of these cat food products avoid certain ingredients for allergy reasons, whereas others may contain them for those pets who would benefit. Unfortunately, you can't avoid every allergen. However, our article will break down ingredients and potential allergens and irritants so you won't have to spend too long reading extensive ingredient lists when trying to find the right cat food.
*Ratings are from Amazon at the time of publication and can change
The 5 Top-Rated Pure Balance Cat Food Recipes
Is Pure Balance a Good Cat Food?
Any cat food brand worth knowing about will produce natural, healthy food of all varieties containing other helpful ingredients that will maintain good skin, coats, and overall health. Pure balance cat food has all of these qualities and even develops recipes that leave out some of those ingredients that may cause stomach upset in some cats.
Pure Balance promises high-quality ingredients in all food options. These options include both wet and dry cat food variants as well as their wet pouch treats. Read on to find out more interesting and valuable information about what Pure Balances products have to offer customers.
A Short History of the Pure Balance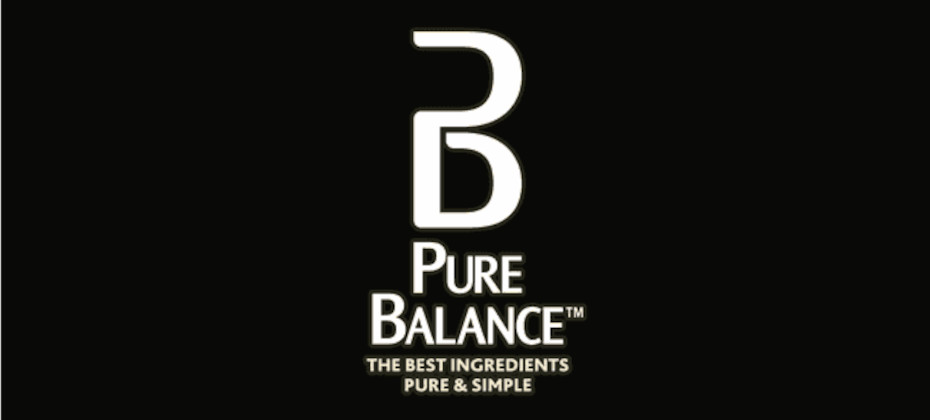 Pure Balance is a pet food brand that was developed in 2012 by Walmart with the assistance of Ainsworth Pet Nutrition. This was provoked when regular customers of Walmart expressed that they and their pets would benefit from high-quality natural pet food that was significantly less expensive than other premium brands. Previously, Walmart had worked with Ainsworth to produce other items and brands that are still frequently stocked on Walmart shelves.
After Walmart stores entered the pet food industry they sold Pure Balance pet food at an incredible rate. This was because Walmart offered customers natural dog food that ticked all the right boxes without the use of harsh ingredients. Since then, a cat food line was manufactured and reviewers have continuously commented on its high quality and benefits without having to pay high prices. This also meant that pet owners didn't have to travel to a specific pet store in order to get the food they needed.
Where is Pure Balance Cat Food Made?
Pure Balance cat food, and other pet foods, are made by Ainsworth which is localized in Meadville in the United States. A fact worth knowing about Ainsworth is that it is a family-owned company so you can be certain that this company is dedicated to its product and your pet.
Where Do They Source Their Ingredients From?
It is said that Ainsworth source its ingredients from local and domestic suppliers which have been scouted by experts. The company has a reputation for having a solid food safety program that monitors, checks, and tests its ingredients to ensure that they are safe and suitable for the final product.
Suppliers also undergo onsite audits facilitated by Ainsworth to make certain that the correct processes are being followed. These rigorous precautions and processes are followed year-in-year-out and are conducted by trained professionals so you can be sure that they are providing the best product for your pet.
Product Lines – Differences and Which One You Should Choose
There are a number of products by Pure Balance that you can choose from but rest assured; this cat food brand will all be made primarily of natural ingredients to assist your feline's health. All recipes will also be soy, corn, grain-free and free from artificial colors to avoid upset stomachs and other allergy-related reactions.
Wild and Free/ Original Pure Balance – Dry Cat Food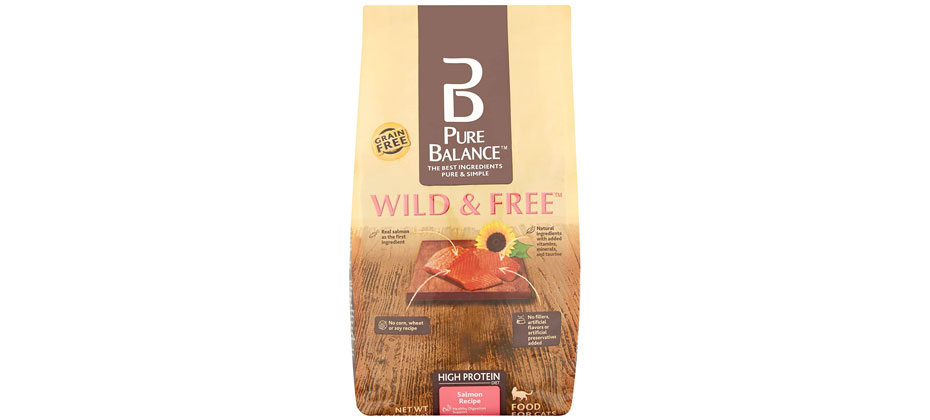 The first two products on the list above contain dry food which is an excellent source of nutrients. This type has many of the same benefits as wet cat food, although some owners prefer it as it is an easier alternative as their cats are known to graze rather than scoff whole meals in one sitting. Some are reluctant to introduce their felines to dry food as it can be known to cause dehydration however, Pure Balance has cat treat pouches, also detailed above, that can be used to smother meals.
Classic Gourmet Cat Treat Starters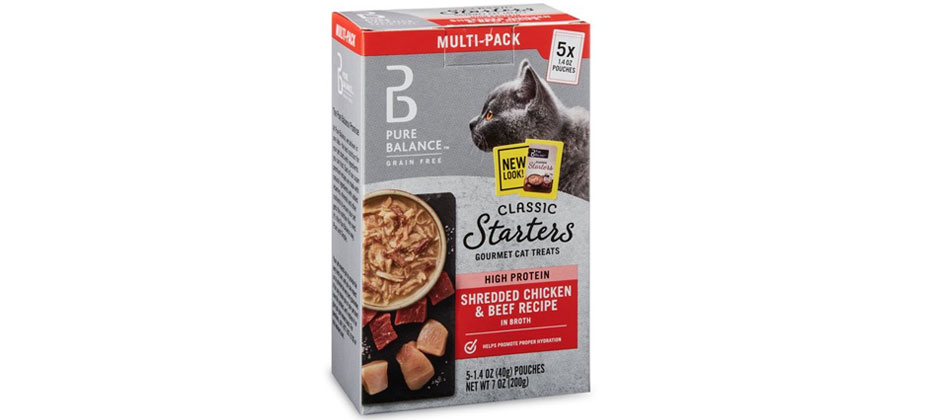 These classic recipes often come in pouches and contain high protein content in seafood and chicken and beef flavors. The protein asserted in these pouches is often flaked or shredded and can be used in conjunction with your cat's primary meal.
The purpose of these pouches is to encourage your cat to eat by enticing them with delicious natural flavors. If your cat is used to eating dry food it may be worth incorporating these pouches as a way of hydrating them and adding extra nutrients if they are deficient.
Pure Balance Canned Food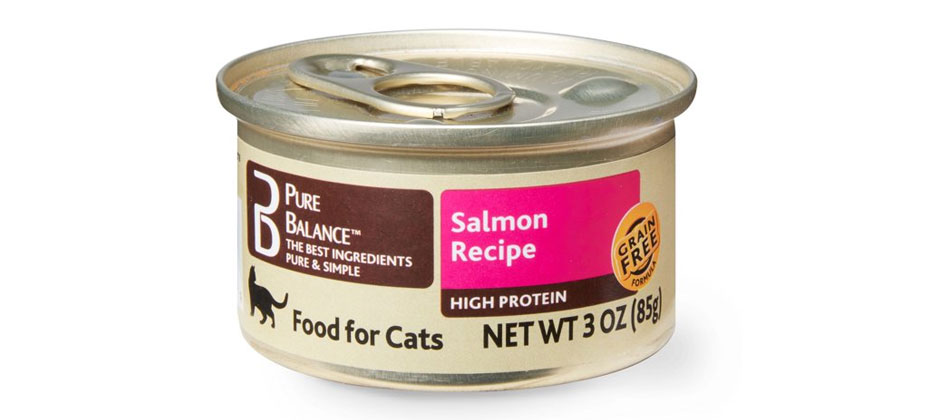 Although not listed above, Pure Balance offers cat food in canned form. These recipes will resemble those listed above with a similar primary protein source such as chicken, beef, salmon, and turkey.
To keep your cat hydrated, you can also check out our guide on cat water fountains.
Let's Take a Closer Look at the Ingredients
So far we've established throughout our Pure Balance cat food review that Ainsworth and Walmart have provided high-quality pet food with natural ingredients that don't skimp on vitamins and minerals. Although the emphasis is often on the fact that these foods leave out harmful ingredients, there are some listed on their packaging that is useful to note for the benefit of your feline friend.
Some of these ingredients include dried sweet potato, pea protein, poultry liver, rendered chicken meal, fish meal, turkey meal, and dried ground peas.
Meat Sources: All pet food manufacturers will include a primary meat source to provide your kitty with valuable protein to nurture their muscles and well-being. Animal fat is common in pet foods to add extra support in relation to the animal protein included. Rest assured these products are made with care and reliable meat sources such as real turkey, fresh chicken, fresh salmon, etc.
Vitamins: A lot of formulas will contain some important and diverse vitamins to protect all areas of anatomy. A vitamin E supplement is often present, which will maintain a healthy coat and skin. Vitamin A is also a key ingredient responsible for vision health, reproduction, and growth. As well as vitamin B12, which will fiercely protect a cat's immune system.
Other vitamins may be present in your pet's food but they all have promising effects that will allow them to grow up happy, healthy, and strong. The important thing to remember is to not overindulge in any ingredient as too much of something can have negative results.
Crude Inclusions: Don't let the word "crude" mislead you, these features are listed for you to be able to balance your pet's meals healthily. Generally, the packaging will display the percentage of these components as they are important factors in your cat's diet. For example, Pure Balance Salmon Cat Food contains 40% crude protein, 18% crude fat, and 6% crude fiber which will assist your cat's muscles, energy levels, and digestive health.
Menadione Sodium Bisulfite Complex (Vitamin K): Some resources will suggest that this component is unnecessary to include in Pure Balance's recipe. Your pet will naturally produce this factor, otherwise known as vitamin K, however, it is not uncommon for animals to develop deficiencies. In some cases, pets have been known to lack vitamin K and have needed the extra little boost.
Pure Balance Cat Food Recall History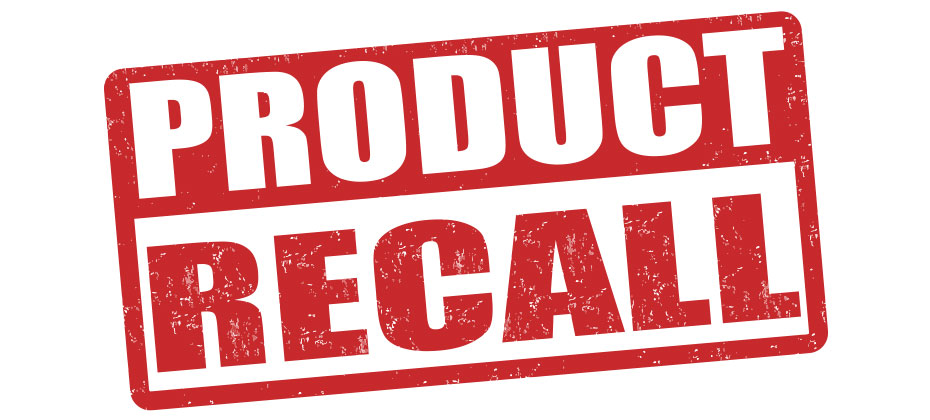 There are many great cat food brands on the market but owners will often extend their research into the reliability of the brand overall especially if they develop food for other household pets. One great thing to learn about Pure Balance is that no recalls have been recorded in the 12 years since they have been established. So far, Pure Balance has been providing customers with a reliable and trustworthy range.
How Much Does Pure Balance Caty Food Cost?
Looking at the price of a product can heavily influence your decision to buy something but always remember that quality is important for your cat's health. The prices of Pure Balance products can vary however, we have included the prices of all those listed above from their Amazon source links:
| Pure Balance Salmon Dry Cat Food | Pure Balance Chicken and Brown Rice Recipe Cat Food | Pure Balance Gourmet Cat Variety Pack | Pure Balance Classic Starts Gourmet Cat Treats | Pure Balance Classic Starters Flaked Tuna and Shrimp |
| --- | --- | --- | --- | --- |
| from $21.79 | from $20.50 | from $12.60 | from $9.85 | from $10.74 |
Where Can I Buy Pure Balance Cat Food?
Fortunately, it's easy enough to purchase Pure Balance cat food on the internet by clicking the links above. By exploring the Amazon links provided you may be able to find good deals for each product and be sure to keep an eye out for any future deals or multibuy options.
In a Nutshell, is Pure Balance Cat Food a Good Choice?
Pure Balance cat food is an excellent choice for cat owners. Given all of the information above we understand that the food is reliable and rich in all of the important ingredients that your cat needs to stay healthy. What's more, is that it is developed by a company that expresses a genuine care for people's pets. In fact, check their packaging! Pure Balance offers a guarantee that if you're not happy you can have your item replaced and your money back although the brand, so far, has seen a very large number of positive reviews.