With summer on the horizon, keeping your feline friend hydrated is of the utmost importance. If you've noticed that your cat prefers to lap up water from a running tap, then it's worth investing in a cat fountain to keep your kitty hydrated.
So, if getting a water dispenser for cats is a top priority, you've come to the right place! Below, we have researched and listed some of the most popular options on the market. To round off our guide, we've also included a helpful buying guide along with some frequently asked questions to help you decide. So, read on to learn more about cat water fountains and what makes them a worthwhile purchase.
A Quick Overview of Our Favorites
Pros
Cons
Bottom Line
Rating
*Ratings are from Amazon at the time of publication and can change
Key Takeaways:
Many cats prefer drinking from running water instead of still water from a dish.
Water fountains provide cats with a source of running water and are also very hygienic.
Some cats are attracted to the sounds of flowing water, so quiet operation fountains may not be the best option in some instances.
Fountains featuring filters (including ion exchange resin and an activated carbon filter) will remove foul tastes and bad odors, which is perfect for fussy felines.
Indoor cats may not drink as much as their outdoor counterparts as they don't burn as much energy.
Multitiered fountains are great for senior or arthritic pets that struggle when leaning in to drink.
Some fountains are great for multiple cats and even small to medium-sized dogs.
What is a Cat Water Fountain, and How does it Work?
A cat fountain is a fantastic invention made for cats that prefer to drink from a running water source. These fountains use a pump to encourage water flows that entice your cat into drinking. These will also take advantage of filters to ensure the water stays fresh and clean to avoid health problems.
What are the Benefits of Water Fountains for Cats?
As mentioned previously, the sound and sight of running water can encourage most cats to drink more. Typically, cats don't drink nearly as much as they should, which can lead to kidney issues and other serious health problems. You can avoid dehydration-related health concerns by enticing them with a running water source.
Cat Fountain vs. Cat Water Bowl
Over time, a generic bowl of stagnant water can gather hair and other debris that can harm your cat's system. On the other hand, most fountains will have a built-in filter system that removes any invading dirt before your cat can gulp it down. Furthermore, fountains with multiple filters will also remove any bad odors or tastes that can deter your cat from drinking.
15 Best Cat Water Fountains
Best Cat Water Fountains: Buying Guide & FAQs
How to Choose the Best Cat Water Fountain
There are several things to consider when looking for a cat fountain. Of course, some of these things are down to the individual's preferences, but it's still necessary to ensure that you buy a product that meets certain criteria. Below is a list of things to look out for when browsing cat fountains.
Energy consumption
Understandably, you may be concerned about how much energy a corded electric water fountain uses. Since you should keep it plugged in throughout the day, you may worry that a fountain will cost you more. Admittedly, most fountains won't use much energy, but some use less than others and have power-saving options such as the PETKIT cat fountain.
Durability
To save yourself a lot of time and money, look around for durable options that will stand the test of time. However, you must never forget that these products will always last longer if you clean and maintain them regularly.
Material
Generally, pet parents can get their hands on plastic, ceramic/porcelain, and stainless steel fountains. All of which is perfectly fine as long as all components are made with non-toxic materials. Additionally, although plastic fountains tend to be cheaper, always make sure they are made with BPA-free plastic.
Note: If your kitty has reacted badly to plastic in the past, you'll be pleased to know that there are plenty of porcelain and stainless steel fountains on the market that won't put your feline at risk of 'cat acne'.
Easy to clean
Some will argue that the best cat fountain will be easy to clean, whether by hand or dishwasher. Most cat water fountains here are dishwasher safe (as stated in the descriptions), but others must be hand-washed to fend off bacteria build-up. The good news is that many designs don't take up too much time to clean by hand and lack hard-to-reach areas.
Note: Consider the bowl's material also, as some may be harder to clean than others or require more than just soap. For example, some stainless steel water fountains may hold onto watermarks or even begin to rust over time.
Easy to use
Typically, a standard water fountain for cats is easy to set up. However, you may need to consider how simple it is to disassemble to change the filters or other interior components. In addition, some models will have multiple filters, so it's worth checking how often you will have to replace them.
In addition to this, consider how easy it is to change any settings on a cat water dispenser. Unfortunately, some options can come with over-complicated instructions if it includes water flow or LED settings. Fortunately, the options above are all known to be straightforward, so you won't have to spend time checking out settings.
Noise
For those that are easily distracted, a whisper-quiet water dispenser is the best option. Nowadays, many designs feature quiet operation but will often start to make noise when the water level is low, so be sure to check the product description or even customer reviews before purchase.
Several water fountains feature a handy LED light to indicate low water levels. In addition, others will have a transparent or translucent design that allows you to see the water levels rather than alerting you with noise or lights.
Size
The bigger the water storage, the larger the cat fountain. If you need an alternative that won't take up too much room, always check the dimensions and water storage before buying. In cases where you have more than one cat, a larger fountain may be necessary, but you can easily get hold of one that can be adjusted or even has varying levels/tiers to save space.
Attractiveness
Yes, it's important to purchase a pet fountain that matches well with your home decor, but it's even more crucial that your cat takes a liking to the product. It may take some time for your cat to become accustomed to the fountain, so you will undoubtedly have to allow a little time. However, if you have a fussy kitty, it may be worth investing in an alternative with a few water flow options. Also, the difference and change in options may pique your cat's curiosity speeding up the process.
Additional items (optional)
This isn't necessarily something you have to look out for when browsing cat fountains, but it's worth looking for options that may include something extra. For example, some fountains come with additional replacement filters to save you money in the long run. Additionally, others may come with a silicone mat to prevent your floor from becoming damp.
Tips to Get Your Cat Drinking More Water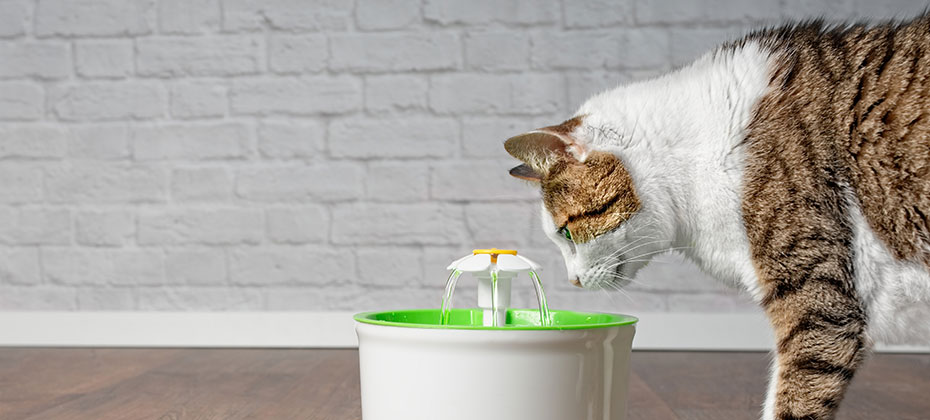 It's no secret that most cats can be fussy, so how can you help your cat stay hydrated? As you may have guessed, a water fountain is one of the best solutions as many cats don't like still water. You may also be surprised to learn that some felines are particularly fastidious regarding the placement of their water source, so putting it in the best area can often do the trick.
Alternatively, offering multiple water sources can be a great way to encourage/remind them to drink more. In addition to this, always make sure that their bowl is clean and that the water is fresh, as often cats are repelled by water they deem too dirty to drink from.
If you are looking for more options, check out our guide on water bowls for cats.
How to Maintain Your Cat Water Fountain
First of all, make sure you clean your fountain regularly. Cleaning will prevent the build-up of limescale and other bacteria that could damage the parts and even harm your kitty.
Make sure to get yourself replacement filters and switch them out every two-three weeks. Doing this ensures that the water will be healthy and safe for your cat to drink. Moreover, ensure you refill the fountain whenever necessary to prevent damage to the pump. A lot of designs will feature a transparent tank or indicator sensor/light so that you can keep an eye on the water levels.
Source:
Jennifer Coates, DVM, How to Get Cats to Drink More Water, PetMD
Frequently Asked Questions
Absolutely! There's a reason why there are so many on the market as the best cat fountains are known to improve your cat's health and quality of life by offering safe, filtered water.
Generally, cats can drink tap water without issue, but it is recommended for them to drink filtered water. This is why many recommend water fountains, as they remove any impurities and bad tastes or odors that might repel a feline away from their water bowl.
You can place your cat's water fountain anywhere you may see fit as long as it's not a tripping hazard. Generally, it's recommended that you put your cat's water bowl somewhere quiet.
Most fountains will offer guidance on the best time to change your cat's water, so always read the instructions. As a basic reference, you should change the water every three to four days whenever the tank needs refilling.
Stainless steel or porcelain is generally recommended if your cat suffers from chin acne due to a plastic allergy. However, plastic is perfectly suitable if your cat has no known allergies.
Typically, cat drinking fountains don't use much electricity, but some are more energy-efficient than others. Some options may include a power-saving mode that can help you reduce your energy bill.
Like humans, cats can become seriously unwell if they don't drink enough water. Cats can become at risk of dehydration, leading to concerning health problems such as kidney failure. Cats can also be at risk of heatstroke in warmer months when they don't drink enough.
How much cats drink depends on their circumstances. How much they should drink depends on their age, size, weight, diet, and health concerns. For example, a cat will need to increase their water intake if fed a dry kibble diet instead of wet food as it lacks moisture content.