Do you know what goes into your cat's food? As a cat owner, it is not only your duty to feed your cat, but it is also your responsibility to know exactly what they're putting into their system. Your ideal type of cat food should be able to fuel your cat for an active day without clogging its arteries or causing later health problems. When it comes to cat food, there are so many brands available to choose from; that's why we've put together this Nulo cat food review.
Designed to provide your kitty with balanced, low-carb, high-meat, delicious meals to support healthy development, we will be examining Nulo Pet Food's cat food range, and taking a closer look at the brand as a whole to help you decide if this is the right choice for you and your feline friend.
A Quick Overview of 7 Nulo Cat Food Formulas
Calories
First 5 Ingredients
Dry Matter Basis
Pros
Cons
Bottom Line
Rating
*Ratings are from Chewy at the time of publication and can change.
Is Nulo a Good Cat Food?
Let's take a closer look at Nulo Pet Food – where they started, the reasons for the brand's creation, their ethos, their food quality, and everything in between. Only by taking a look at the company as a whole can you see whether or not this is a brand to your liking. It's all well and good knowing what's in the food, but why do they make it the way they do?
The Short History of Nulo Company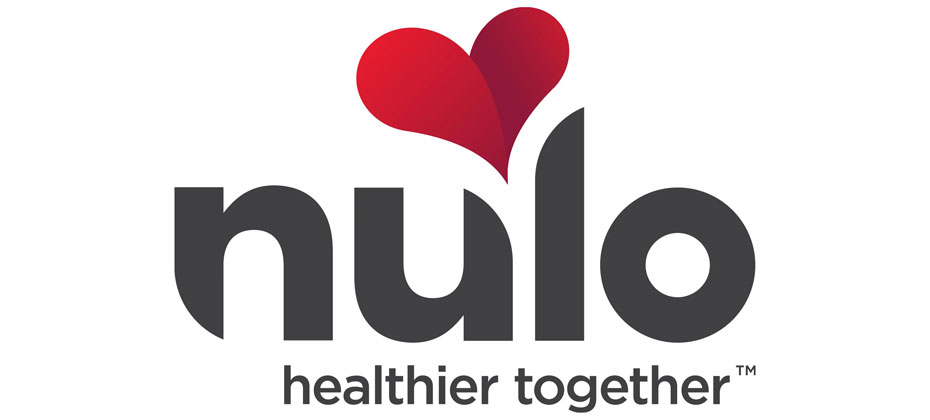 Nulo was founded by Brett Montana and Michael Landa. As dog sitters, both of them had realized that most of the dogs they cared for usually required insulin injections, were obese, or both. Their desire to provide a permanent solution to this problem took them on a mission that resulted in the forming of Nulo Pet Food, Inc. in 2009.
Their main aim was to develop and provide pet food that is low in glycerol content in an attempt to lower the likelihood of a dog becoming obese. Nulo is located in Austin, Texas.
The company was founded with the simple aim of providing pet food that is free from any artificial ingredients, additives, preservatives, flavors, or colors. Their cat food aims to be free from any ingredients that are considered alien to a cat's natural diet. These include grains, soy, and tapioca.
Because the company appreciates the high protein requirements of carnivores, Nulo foods have a high animal-based protein content that is essential for healthy feline development and growth.
Nulo was bought out by Apex Partners in May 2021, however, they do continue to operate under the name Nulo with the same ethos in mind.
Where is Nulo Cat Food Made?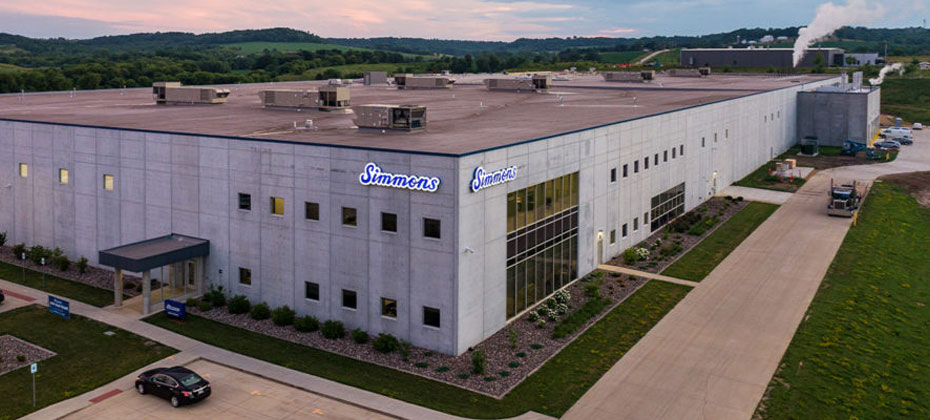 Because the company does not have its own plants, its pet food is manufactured by partnering companies. Nulo's canned food, for example, is manufactured by Simmons Pet Food, while its dry pet foods are made by CJ Foods.
Every facility used has duly undergone the necessary safety inspections and has been certified by the FDA, USDA, and AAFCO approved facilities in Nebraska, Kansas, and North Dakota.
Where Do They Source Their Ingredients From?
Nulo Pet Food is a United States-based company. As a result, they typically source their primary ingredients from within the US. However, they do not state clearly on their website where each of their ingredients is sourced from.
Furthermore, the description for their Challenger range described their ingredient sourcing process as "ethically sourcing the best ingredients from around the world". Sadly we're unable to provide further information on this.
Product Lines – Differences and Which One You Should Choose
Nulo'scat food range doesn't contain multiple product lines under various sub-names, but rather a single range is known as Nula Freestyle. The cat foods found in the Freestyle range are then formulated to fit the needs of the cat you're buying for.
Nulo Grain-Free Dy Cat Food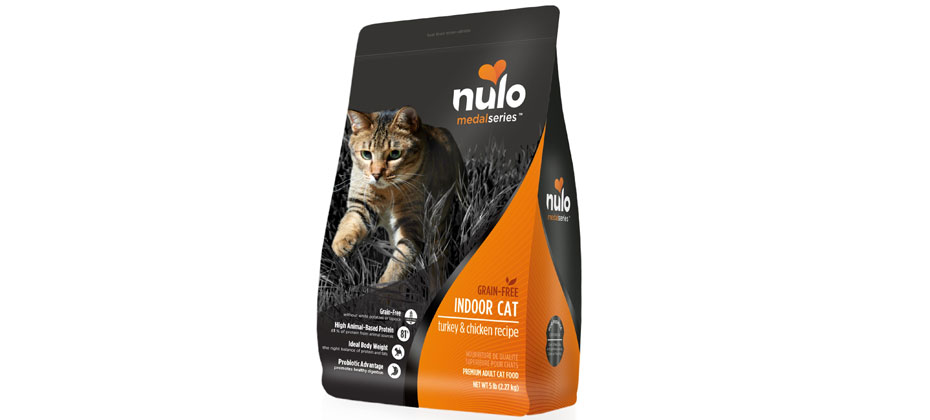 Nulo's grain-free dry cat food has a heavy focus on protein. With the first 3 to 4 ingredients of every ingredient list being animal protein, they have tried their best to prioritize high-quality protein-rich formulas to encourage better muscle development and recovery.
This food also contains their patented GanedenBC³⁰ probiotic to aid digestion and improve gut health – something that can be problematic for cats on dry food diets if they don't stay hydrated enough. Furthermore, their dry food range contains several foods specifically designed for certain needs such as senior food, hairball reduction, indoor cat food, and weight loss cat food.
Nulo Grain-Free Freeze-Dried Raw Food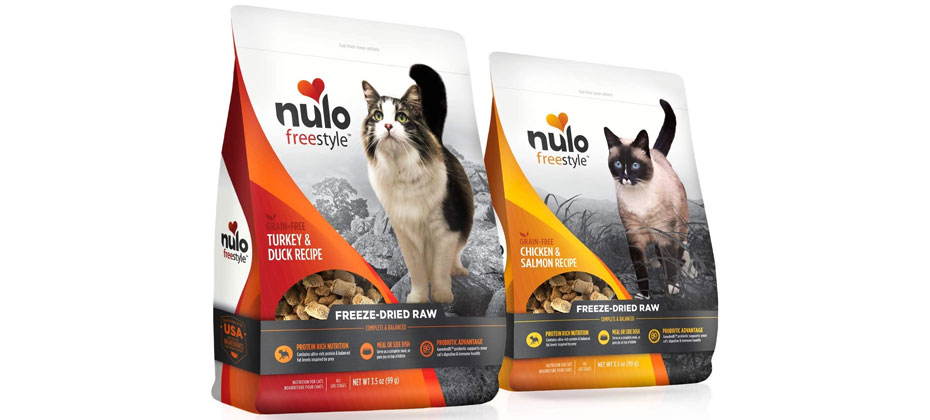 Formulated as a safer alternative to raw feeding your cat. Nulo's freeze-dried cat food can be eaten either wet or cold and has an extremely minimalist recipe, closely mimicking the type of nutrition a cat would get in the wild. It can be used as a stand-alone meal (though this could get expensive), or as an enhancement to a bowl of kibble.
Nulo Paté Recipe Food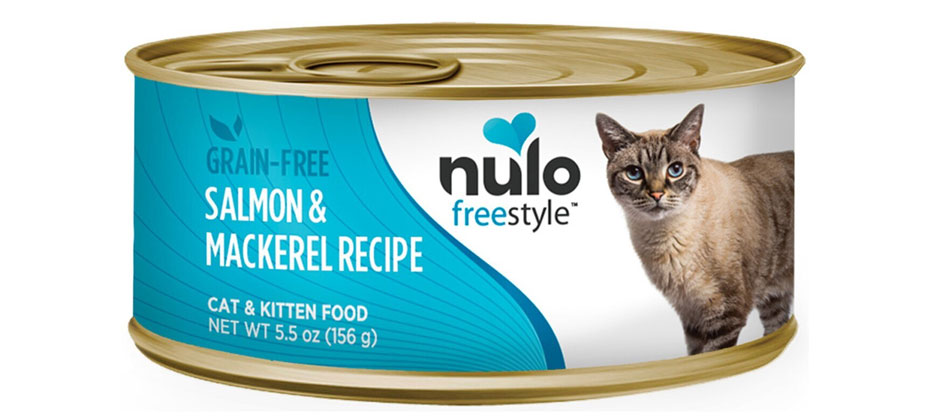 One of Nulo's two top canned food recipes. This pate is formulated to be a satisfying and enjoyable texture for your kitty (ideal for kittens). It's a high-protein cat food with very low carbohydrates for leaner muscle mass. It's also free of any artificial flavors, colors, or preservatives.
Nulo Shredded & Minced Canned Cat Food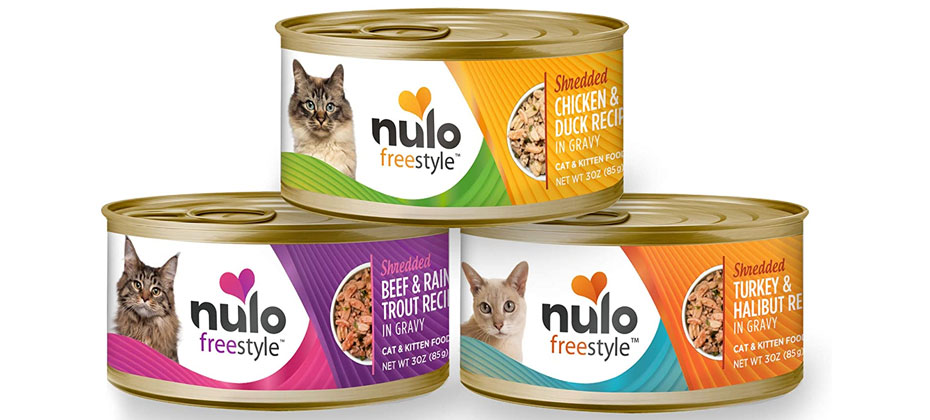 Providing the delicious, irresistible flavor of wet food with a little added texture for some variation. The decision to have this as a meat and gravy combination means the Shredded range is ideal for boosting hydration and is especially digestible. This makes an excellent meal on its own or mixed with biscuits to add some richness
Nulo Bone Broth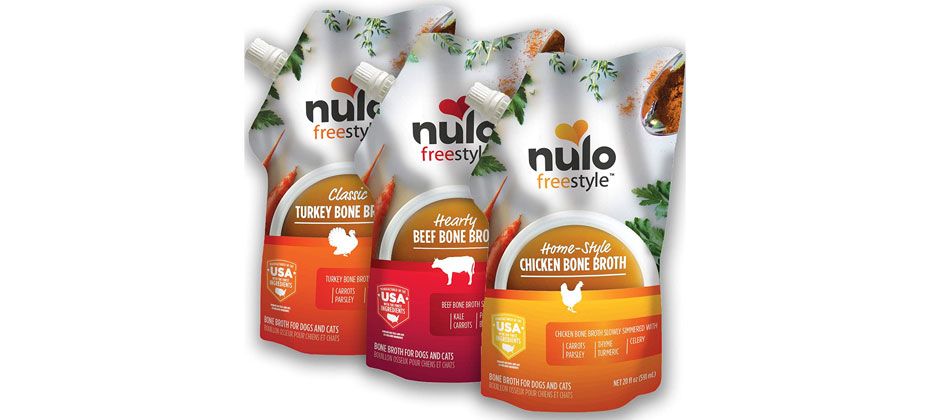 Simmer for up to 48 hours to concentrate as much flavor as possible, this is a nourishing broth rich in protein and infused with superfoods and natural herbs. It's the ideal mixer for kibble if you have yourself a fussy kitty, or even just to give them a treat.
Nulo Meaty Toppers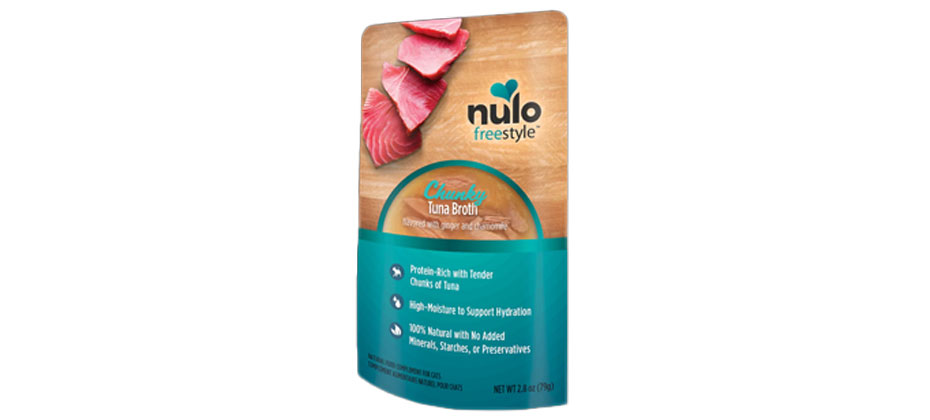 More toppers to enhance your cat's dining experience. The meat toppers are purely made up of meat with broth as a moisture enhancer. They don't contain any additives or preservatives and make excellent mixers for food as well as making delicious snacks or side dishes.
Nulo Silky Mousse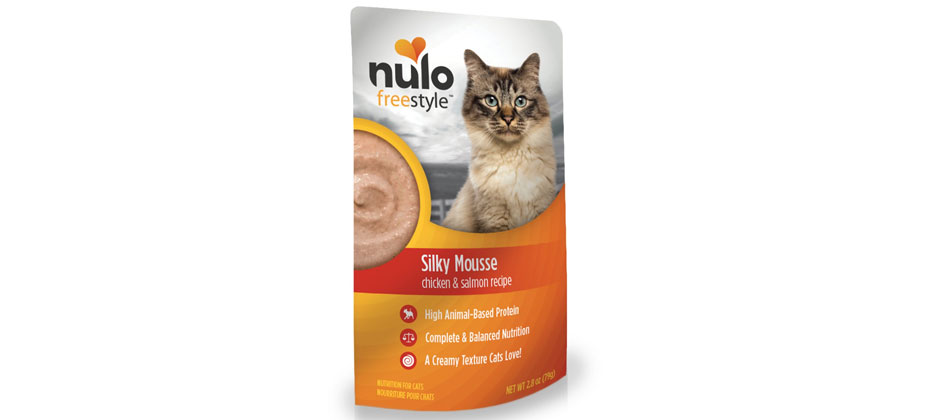 A smooth, light, protein-rich recipe designed to be irresistible to your feline friend. Stick a pouch of silk mousse in with any of your cat's meals and they will certainly thank you for it.
Nulo Hydrate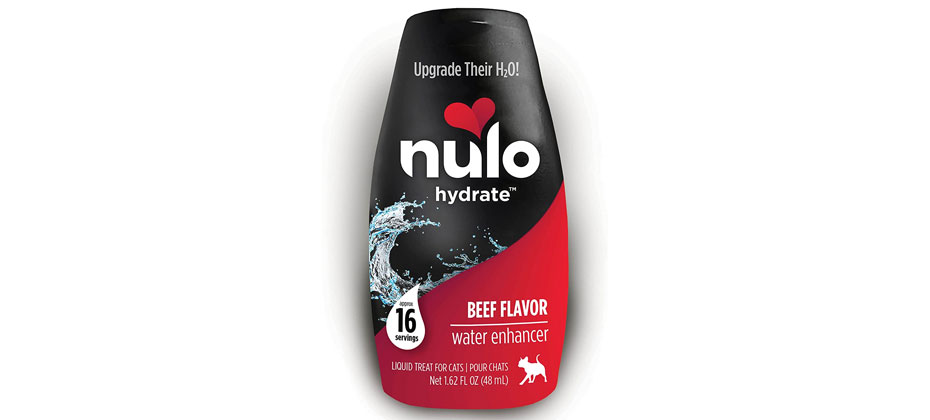 This is something that we feel the need to mention, as it's a rather genius product that can help cat owners get their little furry friends to drink more – which can sometimes be difficult with kitties that have certain health conditions or are in their senior years. The Nulo Hydrate enhancers contain amino acids, electrolytes, and vitamins to give your cat a little extra health kick. Simply add it to their water and watch them enjoy it.
Let's Take a Closer Look at Ingredients
We'll do a breakdown of one of Nulo's standard dry food recipes as they tend to be the top sellers and will give you a more accurate idea of what to expect should you opt for dry food as your cat's primary diet. listed below are the ingredients for Nulo's Freestyle Chicken & Cod recipe.
Full Ingredients:
Deboned Chicken, Chicken Meal, Turkey Meal, Deboned Cod, Whole Peas, Lentils, Chicken Fat (Preserved with Mixed Tocopherols & Citric Acid), Natural Flavor, Pea Fiber, Ground Flaxseed, Dried Chicory Root, Dried Kelp, Dried Sweet Potato, Dried Cranberries, Calcium Carbonate, Dl-Methionine, Taurine, Zinc Proteinate, Choline Chloride, Vitamin E Supplement, L-Ascorbyl-2-Polyphosphate (Source of Vitamin C), Iron Proteinate, Niacin Supplement, Copper Proteinate, Thiamine Mononitrate, Calcium Pantothenate, Vitamin A Supplement, Manganese Proteinate, Pyridoxidine Hydrochloride, Sodium Selenite, Riboflavin Supplement, Dried Bacillus Coagulans Fermentation Product, Yucca Schidigera Extract, Vitamin B12 Supplement, Calcium Iodate, Folic Acid, Rosemary Extract.
First 5 Ingredients:
Deboned Chicken, Chicken Meal, Turkey Meal, Deboned Cod, Whole Peas
By looking at the first five ingredients of this food we can see that protein has been put at the top of the priority list. The first 4 ingredients are animal protein and chicken and turkey are both lean meats that are high in fiber, which makes them easy to digest.
Cod is rich in omega 3 and omega 6 fatty acids, which both help to take care of your cat's skin and coat. This is especially helpful with growing cats as the coat can suffer when a kitten is in its curious exploration phase. Cod also contains phosphorus, potassium, selenium, as well as vitamins B12 and B6, E, A, and C.
Lentils, flaxseed, dried sweet potato, cranberries, peas, and kelp are all various sources of natural carbohydrates that can be easily broken down by your cat's immune system. These types of carbs also contain a wealth of minerals and vitamins such as fiber, calcium, potassium, magnesium, iron, vitamins A, K1, C, B5, B6, E, and many more, as well as chicory root introducing probiotics to your cat's system which encourages weight loss and support gut health.
The benefit of so many nutrients is the positive impact they have on your cat's immune system, cognitive function, digestion, sight, hearing, cardiovascular system, skeleton, muscle development, and skin.
Last Notes:
We have noticed that cod is a named protein on the bag, but 4th on the list behind turkey. Though this is likely because the turkey meal is essential to provide additional protein and does not alter the flavor, whereas cod does provide a rich fishy taste – hence this being a chicken and cod flavored food.
Either way, we would advise owners of cats with severe poultry allergies to double-check the ingredients list before purchasing to ensure that the poultry meal hasn't been used as a complementary protein.
Nulo Cat Food Recall History
Unlike other pet food companies, since starting in 2009 Nulo has not had a single product recalled due to safety concerns or dangerous ingredients. That's 13 years so far that have been recall-free.
How Much Does Nulo Cat Food Cost?
Nulo is not a particularly cheap brand when all is said and done. But they are an excellent example of paying for quality. They are quite specific about the fact that all of the ingredients they use are carefully selected, and the formulas themselves show that you're paying for simple, nutritious meals filled with great-quality protein, superfoods, nutrients, minerals, vitamins, and antioxidants.
To give an idea of price, we will provide you with a couple of Nulo's most popular cat dry and wet foods with the price for each one and the recommended feeding amounts to show you the average price per day:
Average Price
Feeding Guide (6 lb Adult)
Average Price Per Day
*A cat's requirement may vary from the guidelines below due to age, breed, environment, and activity level. Adjust food as required to maintain optimal body weight. Always provide plenty of clean, fresh water and hugs.
Prices are from Chewy at the time of publication and can change.
Where Can I Buy Nulo Cat Food?
Fortunately, Nulo cat food is available in quite a few places! If you're thinking of ordering your cat's food online, then it is available for you to purchase from either Amazon, Chewy, or PetSmart.
In a Nutshell, Is Nulo a Good Choice?
All in all, we believe that Nulo is great cat food, should you decide to go for it. With such a range of flavors and products available with Nulo, you would be hard-pressed to find food or combination that your cat doesn't enjoy. We appreciate the focus they have put on producing food that prioritizes high protein and better weight management.
We also love that their recipes are not over complicated, meaning your cat should be able to digest it with ease. So if you're willing to give this food a chance, we would say it's absolutely worth a go.