Not all of us are gifted with the skills of famous 'dog whisperers' who can somehow magically transform even the most vicious pooch into an obedient, peace-loving, and highly well-balanced canine. Because we want our dogs to behave in certain ways that will also not embarrass us in our respective neighborhoods while also earning the respect of our peers, training our pooches to become responsible and sociable members of our own families have become an important aspect of being a pet parent. Unfortunately, hiring the services of so-called dog behaviorists, canine handlers, or dog trainers can be expensive. This is where dog training books can help. For just a few dollars we'll gain a much-better understanding of how to become better pet parents for our dogs. Best of all, we can read and reread this literature throughout our lifetime. It is, thus crucial to choose the best dog training books that will help us achieve our goals. Here are our picks.
The 10 Top-Rated Dog Training Books
A Guide to Finding the Best Dog Training Book
You have to understand two things before you start picking that dog training book to help you become a better pet parent. First, you must appreciate how reading books can help you train your pup. Second, you must keep a few things in mind before deciding on a particular title.
How a Book Can Help You Train Your Dog

You gain insights about the best practices in dog training from many experts.
Whether teaching your dog a trick or two, following your simple command, or even managing behavior that you think is growing out of control, dog training books can provide you with many wonderful insights on accomplishing all these things. The beauty of it is that you can gain insight into a particular issue from the perspective of not one, not two, but a multitude of dog training experts.
While you may not have the luxury of working personally with these renowned trainers and experts in dog training, you will still be able to understand each expert's take on a particular training methodology. Here, you can compare different methods employed by various experts on any given canine issue. You will also be able to identify recurring themes in their training philosophies, principles, and methodologies. In a way, reading various dog training books can help you create your own perspective on what you can do with your pooch.
Many authors will also provide you with tricks and tips, things that only they know about. A word of caution, though; these are highly relative. It doesn't mean that since it worked for them, it should also work for you. But it's always best to try.
More importantly, you will be able to identify which methods work and which ones don't. The thing is that, while the methods described and explained in these pieces of literature have been tested on many dogs, there isn't any guarantee that your pooch will react the same way or that you will obtain the exact same result. Having books on dog training helps you narrow down the various techniques and methodologies to create a program specifically intended for your pet.
You can master one specific training aspect at a time.
Training is all about patience and perseverance. Our pet canines, sociable and intelligent as they may be, operate on a different cognitive level than humans. Our memory recall is so great that we can somehow remember things we did in the distant past.
Dogs, unfortunately, are not gifted with such a skill since a great number of them operate on a here-and-now principle. They learn the things that are pointed to them at that exact moment. That is why timing is crucial in canine training since you don't want your pooch to associate the behavior with something else.
The point is that you can focus on a single aspect of your pet's training one at a time until mastery has been achieved. Now, if you were to perform this under the supervision of a dog trainer or even as part of a large class, you will have to consider them, too.
You study and learn at your own pace.
While your dog may be expected to accomplish the different tasks you want it to learn, you'd have to remember that you will be in command of the training sessions. Having a dog training book allows you to read and reread every principle, every theory, and trick written and illustrated in these books.
Compare that to hiring a dog trainer; you will most likely forget whatever he taught you within a few hours. Unfortunately, asking the trainer to repeat what he has already taught you would be unforgivable. Books will not complain. So you can read everything back again until such time that you have already memorized every word on every line in the book.
It's more practical, which can help ease stress off budgetary concerns.
Don't get us wrong; getting the services of a canine behaviorist or a dog expert to help you address some of the issues of your dog is highly recommended. Unfortunately, it is not for everyone since it entails a handsome price. So, instead of using the money to pay for their services, better invest in several good dog training books, read and understand these very well, and be on your way to implementing whatever it is you've learned from the books.
Things to Consider When Buying a Dog Training Book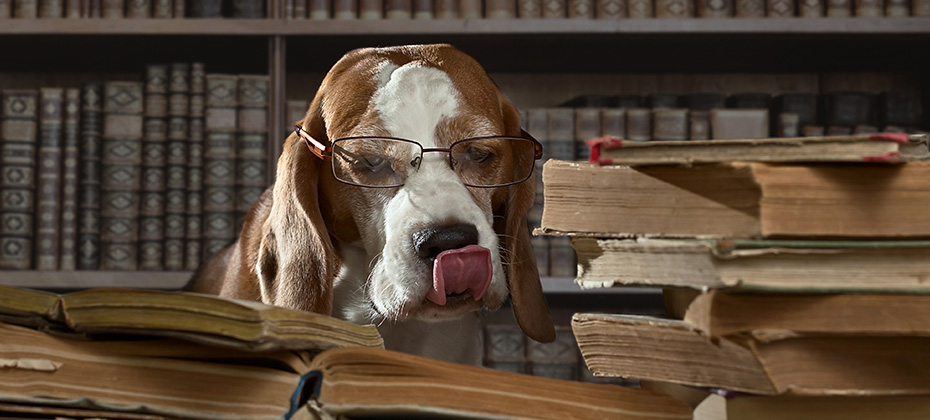 Picking the right dog training book can be easier than picking a novel from your favorite bookstore. The reason is quite simple: you are already in a highly specific genre, plus there aren't that many authors who write about hound training compared to those who pen novels. Nevertheless, here are some things you need to consider when buying a dog training book.
Author's reputation and credibility
Revered dog trainers are a class of their own. Many do not write, preferring to provide personal dog training services rather than writing it down and publishing it. But this doesn't mean they cannot publish. They can still ask someone to write for them and have it published. Of course, there are also reputable dog trainers who write as well. You don't want to buy a book penned by an author not known for being a dog trainer. Credibility is crucial as the information you read in the book should be based on facts and not mere fiction.
Purpose
Different books cater to different pet parents. Some talk only about a particular training methodology, while others are more general. This means that you have to get your priorities straight. Are you buying a dog training book to learn everything possible about caring for pooches, or are you planning to read a book because of one particular need? You need to clarify your purpose for buying such a book as much as possible.
Ease of reading
Not everyone can understand certain terms that only veterinarians or dog experts understand. While we recommend going for highly informative and educational dog training books, they should also be entertaining and fun to read. More importantly, it should be very easy to understand. As much as possible, illustrations, pictures, and images can help drive home the point and make learning and training execution much easier.
Dog training books are invaluable resources in our pursuit of becoming better parents for our pets. With these best dog training books we've listed, we're confident you will be more empowered than ever to assume your role as the pet parent of your beloved pooch. Aside from books, there are also some great online training courses for dogs you may wish to check out!