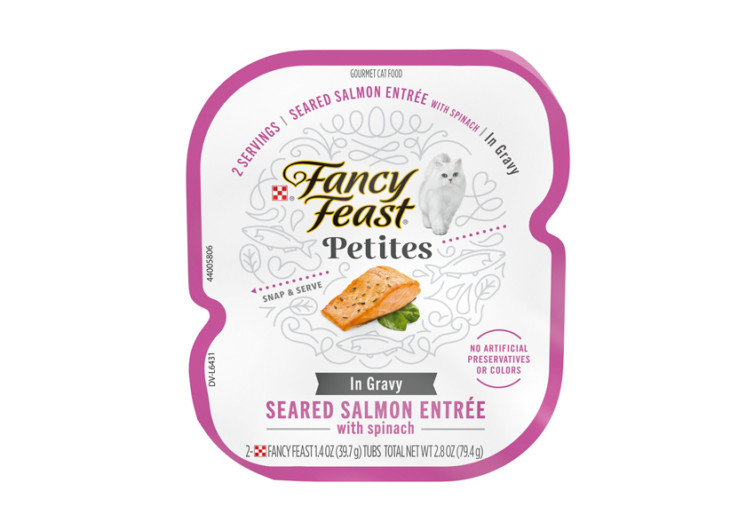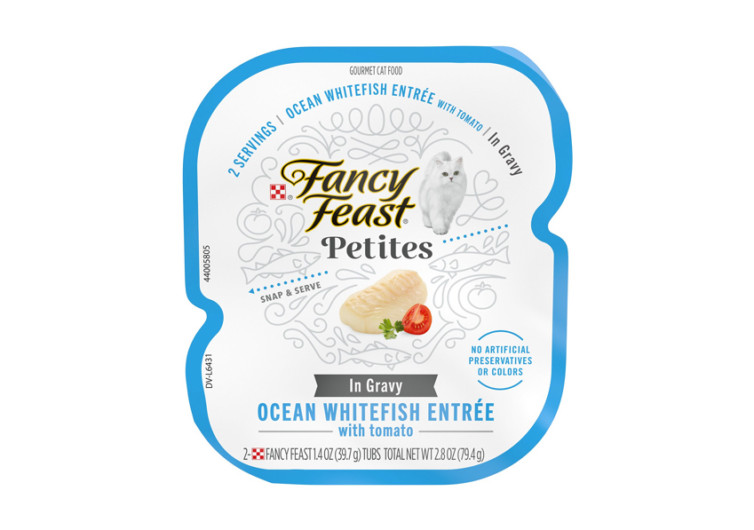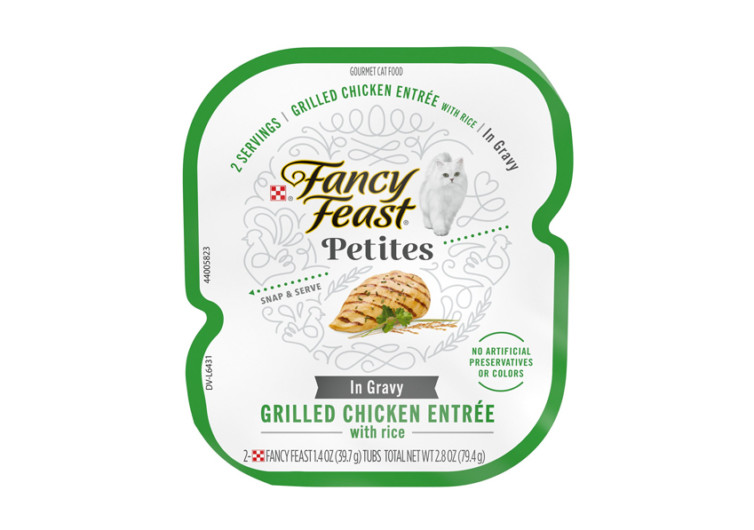 Overview of Nestle Fancy Feast Petites
Purina's Fancy Feast® cat food line has been wildly popular throughout the United States for many years. More and more cat parents discover a newfound love for the delicious brand every day. The Fancy Feast line includes decadent wet cat food choices for your precious pet, as well as fresh treats packed with protein to keep your cat fueled for a long active day.
Company Information
Nestle Purina is a well-established, and much loved pet food brand that focuses on the belief that all pets deserve the best nutrition. Purina provides a wide range of foods and treats to suit almost every dog and cat – and caters to a variety of dietary needs. Purina has also conducted extensive long-term studies to understand the benefits of a proper diet and the effect of various nutrient combinations on a cat's lifespan.
Purina has also taken steps to improve its carbon footprint by developing recyclable packaging. Currently, 80% of the company's packaging in the U.S. is recyclable, with the aim to make 100% of its packaging reusable or recyclable by 2025. Furthermore, Purina strives to create the ideal food-testing environment within its Pet Care Center, which aims to mimic the same care and attention pets would receive at home, to obtain the best and most accurate results.
Purina is also constantly developing its food formulas to further reduce the chance of triggering a sensitivity as well as fine-tuning its recipes to better the health benefits for the pets eating it. Its various food lines include meals specifically designed for senior pets, active pets that require extra fuel, and pets with food sensitivities.
Plus, right now, you can get the Purina line shipped directly to your house using PetSmart's Autoship Service and you'll save 35% off your first order.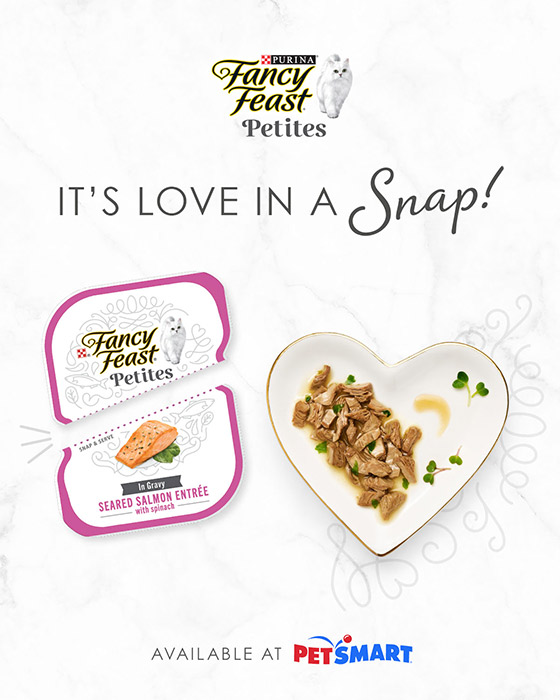 What Are Fancy Feast Petites?
"Love in a single-serve snap!"
Purina has recently announced that its Fancy Feast range will include a brand new line of gravy-soaked goodness called Fancy Feast Petites. The Fancy Feast Petites collection of cat food includes single-serve meals with just the right portion size to give your feline friend a delicious dinner whilst maintaining the optimal weight to keep them active. The individual portions can be fed at intervals throughout the day to provide your cat with a constant source of energy. Or, they can be combined for two healthy meals at the start and end of the day. Each pack of food contains two servings, and the suggested feeding pattern would be to give your kitty one portion for every pound of body weight. (This would mean four portions a day for a four-pound cat, for example.)
The Petites range is also available both topped with gravy or as a pate for fussy kitties that need a little more consistency in their meal texture.
What Flavors Are Available?
The gravy Petites collection offers three flavors; grilled chicken, ocean whitefish, and salmon.
The pate Petites collection also offers three flavors; braised chicken, wild Alaskan salmon, and ocean whitefish and tuna.
The fantastic thing about the Fancy Feast Petites collections is that you don't have to stick to either gravy or pate — you can easily mix and match! By purchasing both types, you allow your feline friend the choice of six delicious flavors to enjoy daily. You could even mix one of each type if you're feeling adventurous.
Fancy Feast Petites Key Features:
Each package contains two perfectly sized portions

A wet food line with irresistible flavors and varieties

There are no artificial preservatives or colors used

Specially formulated to be appealing to cats

An extension on an already wildly popular range

A free

12-recipe PDF Purina companion cookbook

based on every Petites flavor choice
Where is Fancy Feast Petites Food Made?
Purina's headquarters is based in St Louis, Missouri. Purina's pet food is manufactured in one of the 20 United States-based manufacturing plants owned by Nestle Purina. 
Where Does Nestle Purina Source Its Ingredients From?
Purina is extremely open about its ingredients. The brand even goes as far as to provide a map for each of their ingredients to give each customer a fully comprehensive view of their sources. Below is a list of key ingredients and the areas from which they have been sourced. You can find a more detailed list on the Purina website:
| Ingredient | Location |
| --- | --- |
| Beef | Nebraska, Illinois, Connecticut, Texas |
| Chicken | California, Minnesota, Illinois, Nebraska, Iowa, Missouri, Arkansas, Texas, Alabama, Kentucky, Delaware, Virginia, Pennsylvania |
| Lamb | Australia, New Zealand |
| Liver | Texas, Kansas, Iowa, North Carolina, Virginia |
| Ocean Whitefish | Iceland, Alaska, Washington, Oregon, Massachusetts |
| Rice | California, Texas, Louisiana, Missouri, Arkansas |
| Salmon | Australia, Alaska, Washington, New York, Massachusetts, Iceland, Denmark, France |
| Turkey | Arkansas, Minnesota, Iowa, Nebraska, Missouri, Kentucky, Georgia, Pennsylvania, Deleware |
| Whole Grain Wheat | Canada, Minnesota, New York, Colorado, Nebraska, Kansas, Missouri, Indiana, Pennsylvania, South Carolina, Georgia |
| Whole Grain Corn | North Dakota, Minnesota, Colorado, Iowa, Nebraska, Kansas, Missouri, Illinois, Indiana, Kentucky, Ohio, Georgia, North Carolina |
| Whole Barley | Canada, North Dakota, Colorado, Missouri, Minnesota, Ohio |
More Products from Fancy Feast Product Line
Fancy Feast is a delicious range of cat food and treats produced by Nestle Purina. The focus lies in letting cats get the best out of every meal and enticing them to get excited every time they hear the snap or pull of a Fancy Feast dinner. The fun doesn't just stop with the Petites collection, there are many other options to choose from:
Wet Foods:
The original wet cat food produced for the Fancy Feast collection. Classics consist of flavorful, smooth pate, providing a completely balanced meal your cat would thoroughly enjoy. And from this original recipe, multiple delicious offerings were inspired.
Contains accents of real vegetables, cheese and garden greens as well as a dense supply of rich high-quality protein chunks. Each Medleys meal is slathered in a complementary broth or gravy for the best taste sensation for your kitty.
The Savory Centers collection has been cleverly designed to combine the straightforward texture of a pate meal, with an irresistible gravy center. It's perfect for adding a bit of extra moisture to your cat's meals and can entice fussy cats to dive in when they know what's waiting for them. You can either mix the food once it's in the bowl or let your feline friend chew their way through the pate to the gravy center.
The Gourmet Naturals collection makes a point of avoiding artificial flavors, colors and preservatives. It is available in four flavors; white meat chicken, beef, trout and tuna, and wild Alaskan salmon.
The Creamy Delights collection is infused with real milk AND cooked in a creamy sauce to add an unmatched creaminess that is smooth and easily digestible. This collection is available in four flavors: chicken feast, salmon feast, tuna feast, and chicken feast with both real milk and a creamy sauce.
Dry Food:
The only dry food collection in the Fancy Feast range is made using top-quality ingredients. This dry food collection is every bit as delicious as the wet foods offered by Fancy Feast. However, if your kitty still shows reluctance or is especially fussy, Fancy Feast also offers toppers that you can mix into your kitty's dry food to pique their interest.
Made For Kittens:
Fancy Feast Gourmet Kitten & Classic Pate Kitten
Fancy Feast's other kitten collections are also infused with real milk, are the perfect portion size for growing kittens and are designed with a delicate pate texture that is just right for kittens' small mouths and teeth to manage.
Toppers and Treats:
The Filet toppers by Fancy Feast make the perfect addition to any meal, wet or dry. Each Filet topper's primary ingredient is a 100% natural protein — either white meat chicken, tuna or wild Alaskan Salmon. And it's ideal for any picky kitties that just need that extra nudge to finish their dinner. 
With four available flavors; oceanfish, chicken, salmon, Skipjack tuna and tuna. These super tasty appetizers are another perfect addition to any meal for some added flavor.
If you're not wanting to purchase additional solid food but want to ramp up the taste experience for your cat, the Fancy Feast Broths can be poured over any meal to add some extra hydration and protein as well as encourage your kitty to eat. This is especially helpful for cat parents who need to monitor their cat's hydration more carefully.
For those lucky cats who can enjoy the occasional treats between meals, the Savory Cravings collection is available in salmon, beef and crab, and beef flavors. Each savory morsel is cooked to a perfectly tender texture, then hand-flaked into flavorful little bites cats adore.
Price
On average, a packet of Fancy Feast Petite food (containing two portions) costs $0.99. The fact that the Petites range is available as individual packets make it ideal for a trial period. You can simply purchase many as you feel you need for a taster session before committing to a bulk purchase.
Fortunately, if your cat continues to show interest in their Fancy Feast Petites food after a couple of trial meals, you can look to purchase one of the bulk packs, which contains all three flavors of the given collection. A pack of 12 Petites is typically around $13. And if you want to purchase a larger bulk package to reduce the need for multiple orders, you can purchase a pack of 24 Petites for around $25.
Current Promos
Save $0.01 per tub when you buy 24+ & save $0.02 per tub when you buy 48+ Fancy Feats Products at PetSmart.com!
Save 35% on your first Autoship order and 5% on all future Autoship orders at PetSmart.com! Valid through 10/31.
Enjoy Free Same Day Delivery at PetSmart.com! Valid through 10/31.
Where Can I Buy Fancy Feast Petites?
Purina's Fancy Feast Petites can be purchased from PetSmart, along with a variety of other Fancy Feast food options. Fortunately, PetSmart offers all of the bulk-pack options as well as the individuals to give you adequate choice. Additionally, PetSmart often offers deals on the various pet foods it sells, so there's a good chance you may come across an offer you can't refuse.
You can purchase the Fancy Feast Petites food either as an individual dual-portion pack or as a multipack containing every available flavor to ensure your cat is given a good variety for each meal.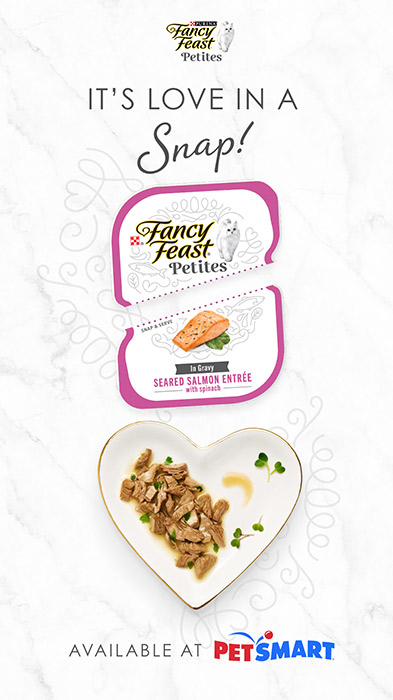 Why Use an Autoship Service?
When you use an autoship service, like the one offered by PetSmart, you pass over a couple of details to the company. If everything lines up and everyone is happy to proceed, the food is then shipped out to you, regularly.
Let's Take a Closer Look at The Ingredients
Let's use the Fancy Feast Petites Seared Salmon Entrée with spinach cat food as our example for looking closer at the ingredients. First, we'll look at the facts and figures, then break down the benefits of the formula they have chosen:
Nutritional Information:
Crude Protein

(min): 10.0%

Crude Fat

(min):

2.0%

Crude Fiber

(max): 1.5%

Moisture

(max):

82.0%

Ash

(max):

2.75%

Taurine

(min):

0.05%

First 5 Ingredients:

Salmon broth, salmon, wheat gluten, liver
Minerals Used: Potassium Chloride, Mono And Dicalcium Phosphate, Magnesium Sulfate, Zinc Sulfate, Ferrous Sulfate, Copper Sulfate, Manganese Sulfate, Potassium Iodide, Taurine, Choline Chloride
Vitamins Used: Thiamine Mononitrate, Vitamin E Supplement, Niacin, Calcium Pantothenate, Vitamin A Supplement, Menadione Sodium Bisulfite Complex, Pyridoxine Hydrochloride, Riboflavin Supplement, Vitamin B-12 Supplement, Biotin, Folic Acid, Vitamin D-3 Supplement.
Full Ingredients List: Salmon Broth, Salmon, Wheat Gluten, Liver, Meat ByProducts, Chicken, Corn Starch-Modified, Spinach, Artificial And Natural Flavors, Salt, Soy Protein Concentrate, Tricalcium Phosphate, MINERALS: [Potassium Chloride, Mono And Dicalcium Phosphate, Magnesium Sulfate, Zinc Sulfate, Ferrous Sulfate, Copper Sulfate, Manganese Sulfate, Potassium Iodide], Taurine, Choline Chloride, VITAMINS: [Thiamine Mononitrate, Vitamin E Supplement, Niacin, Calcium Pantothenate, Vitamin A Supplement, Menadione Sodium Bisulfite Complex, Pyridoxine Hydrochloride, Riboflavin Supplement, Vitamin B-12 Supplement, Biotin, Folic Acid, Vitamin D-3 Supplement]
Analysis
The fact that they have started the ingredient list with 2 sources of salmon protein is an extremely good sign, as it shows that they haven't selected a cheaper alternative to fill their food before adding a small amount of salmon in at the end.
In a Nutshell, Is Fancy Feast Petites a Good Choice?
Yes. Given Purina's commitment to providing top-quality nutrition for all cats and dogs, you can rest assured that the Petites collection is a great choice. As you can see from the above ingredient analysis, the brand has been careful to select vitamins and minerals that support complete and balanced nutrition for the maintenance of adult cats.
FAQs:
Purina prides itself on developing delicious recipes that your cat can both thoroughly enjoy and benefit from. The Petites collection is the perfect combination of portion control, gravy-soaked or pate goodness, and vitamin-rich content.
The advice provided by Purina is to feed your cat one serving for every one pound of body weight - per day. So if your cat weighs 5lbs, you could ideally want to feed them five portions of Petites daily. That's two and a half packs.