Igloo doghouses are the perfect pick for pups who spend some of their time outdoors. Thanks to their ergonomic design, igloo-style houses work to retain heat and keep out other elements like the rain and the wind. Thanks to their shape, they are also usually spacious, and thus boast a unique offering. They can keep the cold out, without compromising your dog's need for space. Igloo houses are a great pick for anyone living in an area that reaches low temperatures and can offer your pup the comfort and warmth that is so important to their wellbeing. While bigger dogs who have long hair usually do okay in the cold, it's important that all dogs have adequate warmth and shelter. Dogs who are continually exposed to very cold conditions can face a number of health problems and if they do not have sufficient warm shelter could develop serious conditions like hyperthermia, or frostbite.
Dog igloos offer warmth, comfort, and style for your four-legged best friend. Like all our buying guides, our list contains an array of products that will suit all budgets and all style preferences. Our top 9 best igloo doghouses boast amazing designs, gorgeous quality, fantastic comfort levels, and, of course, some serious style!
At a Glance: The 9 Top Rated Igloo Dog Houses
Pros
Cons
Bottom Line
Rating
*Ratings are from Amazon at the time of publication and can change.
What to Consider When Buying an Igloo Dog House
When you're buying an igloo doghouse you need to consider a few things. Firstly, whether your doghouse will be for indoor or outdoor use. This will determine what materials are used to construct your doghouse. Outdoor models need to be more durable as they will need to withstand the harsh elements. Indoor models can be made with softer fabrics as they won't be exposed to harsh winds, snow, and rain. If you opt for an indoor model (which is more of a dog bed) it is worthwhile opting for a machine washable option to make cleaning easier. Many of the indoor models are lightweight and thus perfect for transporting.
You will also need to think about what size doghouse you want. Ideally, your dog should be able to lie down, sit, and stand in their doghouse, and be able to move around a bit so that they can get into a comfortable position.  This is especially important if your dog will be spending a lot of time outdoors in very harsh weather conditions. Their igloo house needs to be their haven and they need to be able to stretch their legs whilst inside so that they don't have to go outside into the extreme cold. Always opt for a slightly bigger model to ensure that they are always comfortable and not constricted. When it comes to choosing your dog Igloo, sizing is super important.
Benefits of Igloo Dog Houses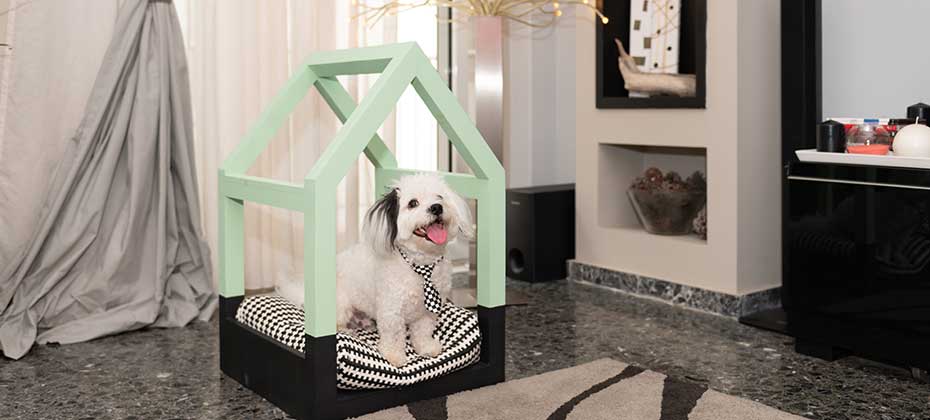 There is a myriad of benefits when it comes to igloo doghouses. These include:
Keeping your pup protected from extremely cold or extremely hot temperatures.
Helping them to feel safe and secure if they are prone to anxiety and stress.
Keeps the rain and wind out.
Protects against the outdoor elements.
Provides stylish dog house options.
Gives greater insulation and protection than wooden doghouses.
Igloo vs. Wood Doghouse
Wooden doghouses work well in moderate conditions if your dog also has access to an inside space. If you live in an area with extremely cold temperatures, or lots of rain, an igloo might be a better bet. Igloo style doghouses that are created for outdoor use are better insulated. This means they are better suited to protect your pup against the rain, wind, snow, and other elements.
Some igloos are also able to insulate against hot temperatures. When it comes to extreme weather conditions, an insulated doghouse is a much better bet. You can of course opt to insulate your wooden doghouse, but plastic structures created with Microban might be better suited for rainy or snowy conditions.  The rounded igloo shape is also able to prevent the build up of rain and snow on the roof and allows these elements to simply slide off it.
Our Top Pick 
While we adore all the igloo doghouses on our list, we have opted for the Indigo model by Petmate as our top pick. This gorgeous model mimics a real Igloo design and is a cute addition for any dog lover.  This doghouse comes in medium, large, or extra-large, and is available in a color choice of taupe, or black. The sturdy construction means that it can insulate against extreme heat and cold, and the raised doorway is able to keep out rain splatters. The raised floors help to keep the cold out and a specialized ventilation system in the roof ensures that fresh air is always circulating in their little home. Thanks to antimicrobial protection, this model boasts ultimate hygiene and prevents the overgrowth of bacteria that causes odor and stains. Users can also purchase a comfy pet pad or door in addition to the Igloo. Users have praised this fantastic product for its 'safe-haven' like qualities, revealing that it is a great choice for summer or winter months. This product boasts amazing quality, great value,  and is a fabulous igloo style dog house.  For these reasons, we have chosen it as our best pick and believe it will bring hours of endless snuggles and comfort to your four-legged best friend's life.
Sources:
Diana Bocco, Does My Dog Need a Dog House?, PetMD
Frequently Asked Questions
Many doghouses are constructed with specialized materials and plastics that insulate them from super cold and super hot temperatures.  Some come with the option of adding a door (which does wonders to keep out the cold and rain) and others have a raised front door to ensure that rain splatters do not enter them. Others also include specialized air vents that ensure a constant influx of fresh air.
The size of your dog igloo house will depend on the size of your pup. If you have a larger dog breed opt for an extra large model that will allow them to move around. This is especially important if they spend a lot of time outside and will ensure that they have a comfortable spot where they can always keep snuggly and warm. Each brand will usually have a sizing guide and you can see if your dog's breed, or a similar sized breed is on their charts. As a rule of thumb, always opt for a slightly bigger model as it's far better to have a bigger doghouse, than one that is too small. It is important that your pup can move around easily, stretch, lie down, and stand up. This is particularly important if they spend a lot of time outside.
Cleaning your dog igloo house will depend on the materials that it's made of. If you have a model with a plastic exterior you can clean it will soap and water. You might even be able to use household cleaners, but always check the user manual to ensure that you won't be using products that could erode the materials. Some other igloo style dog beds are machine washable and thus super easy to look after and maintain. Always read the instructions carefully before popping the igloo bed in the machine. Some models specify a cool and gentle wash and others will need to be hand washed.