The Yorkshire Terrier is a tiny breed with a big personality that likes to live life in the fast lane! Full of energy, the breed is known for its playful, loving nature. So, getting their nutrition just right is essential if you are to support their happy and healthy lifestyle.
A general dog food won't necessarily give the Yorkie all the nutrition they require as they need a balance of calories, protein, and carbs specifically tailored to a smaller breed. So, if you are unsure what you should be feeding your mini pooch then read on, as we bring you a selection of the best dog food for Yorkies.
A Glance at Our Favorites
Calories
First 5 Ingredients
Dry Matter Basis
Pros
Cons
Bottom Line
Rating
*Ratings are from Amazon at the time of publication and can change
Key Takeaways:
As a toy breed, the Yorkshire Terrier has specific nutritional requirements to support their high energy levels
They need a higher calorie diet with a balance of quality animal protein, carbs, fiber, and good fats
Yorkies can be food sensitive, so a limited ingredient diet is a good consideration
The best dog food for Yorkies needs to cater to their small mouth and teeth, so look for either wet dog food or small dry kibble that they can easily chew and digest
Small breed puppies need more calories than senior dogs, who may need a higher amount of protein
To help sustain their energy levels, Yorkies often do better on several small meals a day
10 Best Dog Foods for Yorkies
How to Choose the Best Food for Yorkies?
Here are the main things to look for when choosing a healthy diet for your little pet.
Appropriately Sized
The Yorkie is a toy breed and so they have small mouths and tiny teeth. So, the ideal nutrition will be in small enough pieces for your pooch to safely eat and digest. The softer consistency of wet dog food works the best, but if your dog prefers a crunch, then choose kibble that's smaller sized or created for toy breeds.
Easily Digestible
As well as mini mouths and teeth, the Yorkie also has a pint-sized tum and digestive system. This is why they can be a little sensitive when it comes to what they eat. You can support your dog's health and well-being by choosing a dog food that is easily digestible and free from any irritating ingredients.
Higher Levels of Calories, Proteins, and Fats
Yorkies are also little dynamos and need a nutrient-rich diet to sustain their energy and metabolism. This means dog food that has higher levels of calories and fats, as well as quality protein for strong muscle tissues to keep them healthy and happy all day long.
The calorie levels need to be appropriate to their life stage and activity levels, while at least 21% crude protein is ideal to meet all their energy and health requirements.
What to Consider When Buying a Food for Yorkies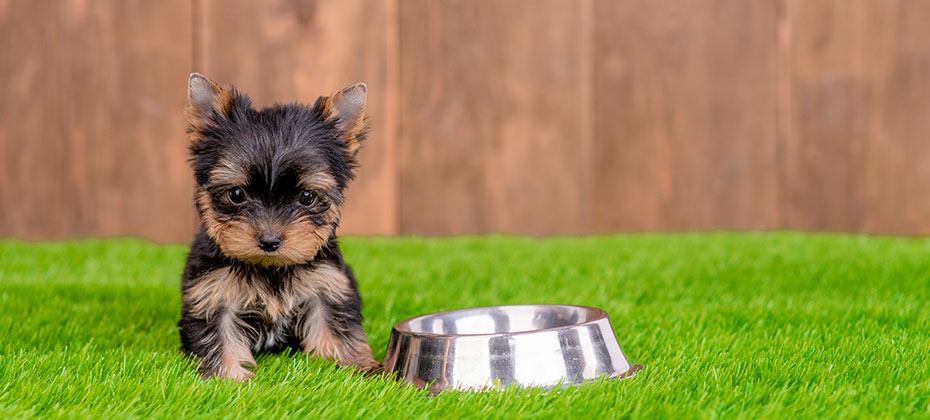 So, now we know what the essentials are when it comes to feeding your Yorkie a nutritious diet, here's what to look for in their dog food.
Age-Appropriate Formula
As with all dog breeds, one type of dog food doesn't fit all, especially when it comes to the various life stages. A Yorkie puppy will need more calories than a senior pooch so make sure you are choosing an age-appropriate formula.
Limited Ingredients
A limited ingredient recipe can be a good idea if your Yorkie is on the sensitive side when it comes to their food. With fewer ingredients and no artificial additives, a quality limited ingredient dog food will still provide all the essential nutrients, calories, and protein they need.
Proteins
A decent level of high-quality protein is also essential in the best dog food for Yorkies as they need it for muscle and energy support. Look for between 21% and 34% protein sourced from a named animal to ensure nutritional quality.
Healthy Fats
Yorkies are renowned for their silky coat, and so sufficient good fats, including omega fatty acids, are needed for a healthy coat and skin. Healthy fats also support your Yorkie's eyes, heart, and brain as well as their joint health.
Carbs
As your little pooch needs sufficient calories to support their busy Yorkie lifestyle, slow-releasing carbohydrates in their food will help to sustain their energy levels. Look for fruits, vegetables, and whole grains but be mindful of certain grain ingredients if your dog has allergies.
Fiber and Probiotics
Your Yorkie needs fiber in their diet for healthy digestion. An added probiotic in their diet can also be beneficial to support the absorption of the nutrients their body needs.
Vitamins and Minerals
And finally, always read the label on any dog food you are choosing to ensure it is providing your little Yorkie with all the essential vitamins, minerals, and antioxidants they need for a happy and healthy life. 
What are Common Yorkie Health Issues and How Diet Can Help?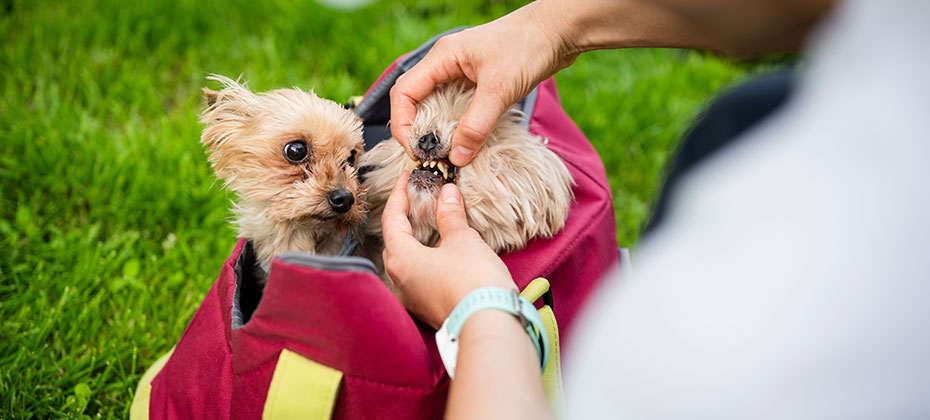 Although the Yorkie is an energetic little chap with a zest for life, his diminutive size can also mean he is prone to a few health issues:
Sensitive Stomach
Yorkies are known to suffer from sensitive stomachs, which can lead to unpleasant digestive upsets. And their sensitive tums can often be caused by food allergies or intolerances which is where their diet can significantly help. Limited ingredient diets to remove the most common food triggers are a good idea as well as dog foods that include more fiber and probiotics.
Hypoglycemia
A common condition caused by unusually low levels of blood sugar, Yorkies can be prone to hypoglycemia due to their small body size. This means that their body cannot always store sufficient levels of sugar (converted to glycogen) as well as it should. Low blood sugar levels can cause numerous symptoms, including shaking, weakness, and seizures.
Your Yorkie's diet can help to level out their blood sugars and prevent those hazardous glucose 'crashes'. To prevent or manage hypoglycemia, ensure your pooch eats sufficient calories each day and that their dog food is balanced to ensure he is getting all those blood normalizing macronutrients.
Tracheal Collapse
This condition is a result of a weakening of the trachea (windpipe) or when the cartilage that creates the rings of the trachea is incomplete. It's a genetic condition that appears to impact the Yorkshire terrier more than most other breeds and can cause the trachea to collapse and block the dog's airway.
Dog foods that are not appropriate for toy breeds – e.g., too large, or too hard to eat correctly – can provoke the condition. However, their diet, especially food that contains chondroitin, MSM, and glucosamine, can help to improve the function of the cartilage cells in the trachea.
Floating Knee Cap
Also known as a luxating patella, this condition is where your pooch's kneecap floats away from its normal position. Yorkies and other small breeds have a predisposition for the disease.
Fortunately, their diet can help limit the inflammation and damage linked to the condition. Look for dog foods that have high-quality protein and sufficient antioxidants as well as added supplements such as glucosamine which can help with stiffness, swelling, and pain.  
Source:
Niki Parker, DVM, What Is the Best Dog Food?, PetMD
Frequently Asked Questions
Yorkshire terriers do have a reputation for being picky eaters, but that doesn't mean all Yorkies are the same. If your Yorkie is choosy around their food bowl, then the best type of meal to choose is wet food. Many Yorkie dogs prefer wet food formulas, as they are easier for little dogs to chew and digest. For variety, you could also opt to give your little picky eater a wet food with some dry kibble mixed in for extra texture.
The Yorkshire terrier is one of the most common dog breeds to suffer from sensitive tums. If your pup has stomach issues or overactive digestion, then choosing appropriate dog foods can help. This can include wet dog food that's easier to digest and kinder on sensitive stomachs. Formulas specifically for allergies and sensitivities can also help, as can recipes with extra fiber and added probiotics to keep everything working as it should.
This depends on your dog, his health, and his preferences. Wet dog food is a good choice if palatability is a priority, especially if they are older or picky eaters. However, moisture-rich food can cause looser stools.
If your dog prefers dry food, then make sure the kibble pieces are not too large, as you want their food to be safe and easy for them to eat. Or you could feed them the best of both worlds – a wet food with a handful of kibbles as a crunchy topper!
The best food to give your Yorkie pal will have sufficient calories for their small dog's energy as well as all the essential nutrients to support their good health. That means a quality protein with balanced amounts of carbohydrates and healthy fats. It's also important to ensure that the dog food you choose is suitable for their life stage, whether they are a Yorkie puppy, adult, or a senior mini dog.
Yorkshire terriers need to have sufficient nutrients and calories to sustain their health and energy each day, without leading to unwanted weight gain or loss.
As a rough guide, your dog needs a daily diet that will provide them with approximately 30 calories per pound of body weight.  As Yorkies are small breed dogs with a faster metabolism than the average-sized pooch, their calorie intake should be a little higher, especially Yorkie puppies.
If we take the average body weight of a Yorkie – which is between four and seven pounds – then your pet should consume between 120 and 200 calories a day.
Due to the Yorkie's mini size and high energy levels, it is also a good idea to spread their daily intake over three-four small meals during the day, rather than one or two larger meals.
As with all dogs, there are certain human foods you should avoid giving your Yorkshire terrier as they can be harmful, even fatal if eaten in sufficient quantities. Many can also exacerbate existing sensitive stomachs and allergies.
Top of the danger list is chocolate, grapes, raisins, sugar substitutes, onions, garlic, and most nuts. You should also keep sugar and salt to a minimum. The American Kennel Club has a guide to human foods which your Yorkie and other dogs should avoid. Or seek veterinary guidance.
Young toy breeds require a high-calorie diet that is also protein-rich and nutrient-dense to support their growth. For Yorkshire terrier puppies and young dogs (under the age of 12 months), they will also need more of certain nutrients such as calcium and DHA to support healthy development. If you are feeding them puppy-appropriate dry dog food, then ensure the kibble pieces are small enough for them to safely chew and digest.
Yorkshire terriers reach their senior years from around the ages of 8-10. While they are most likely to still be active, their overall activity levels and appetite will start to slow down.
As they age, a more appropriate diet to sustain their health and nutritional needs may be required. And this typically includes a senior dog food formulated to include more protein and fewer calories.
Senior formulas can also contain supplements to help with age-related conditions such as joint stiffness or eye and heart health. If you are in any doubt as to what is the best food to give to your senior Yorkie, always get the right veterinary advice.