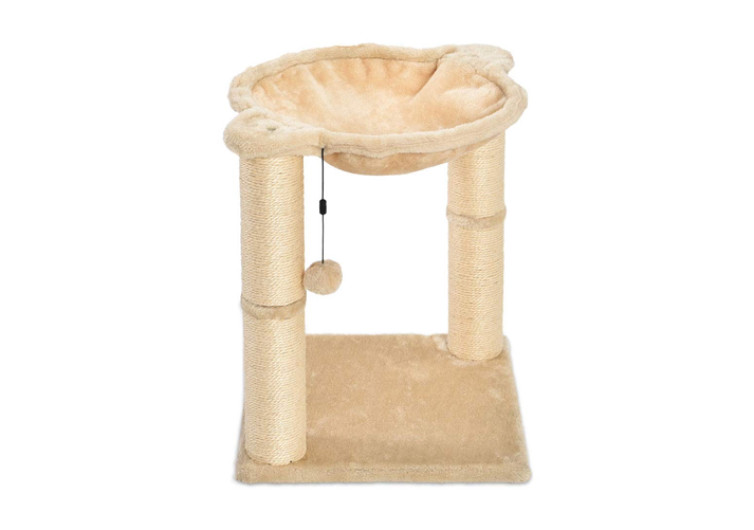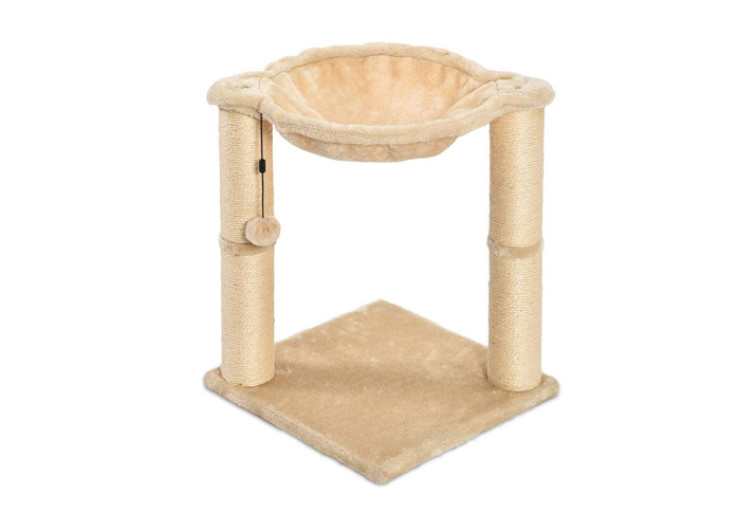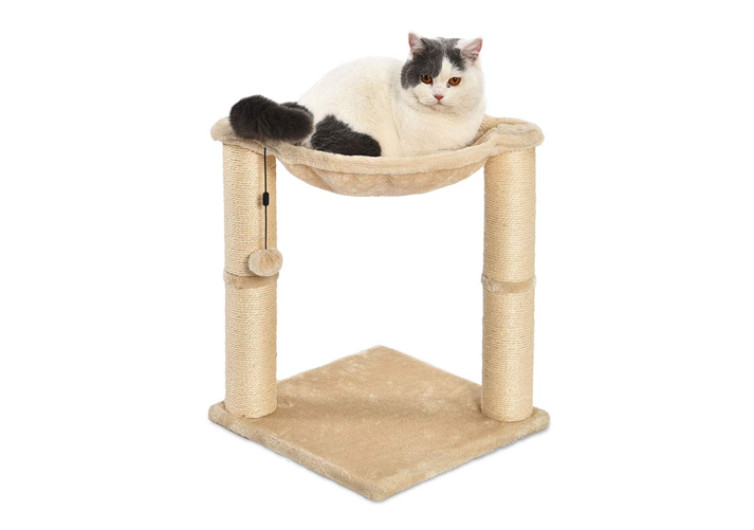 AmazonBasics Cat Scratching Post and Hammock
With so many pet accessories on the market, it can be very difficult to choose one that can provide great value. This is where a brand's reputation can matter a lot. AmazonBasics is one of those brands that people trust to give them pet accessories that are affordable and of good quality. The AmazonBasics Cat Scratching Post and Hammock is one of them.
The AmazonBasics Cat Scratching Post and Hammock provides three different elements that can help guarantee a cat's health and happiness. The two legs come wrapped in natural jute fiber, serving as a cat scratching post. The circular hammock features a soft and plush material that nestles a cat's body to keep it from falling.
The hammock is about 15 inches in diameter. The only issue here is that its shape does not allow for cats to lay down sprawled; they can only use it curled. Regardless, the softness of the fabric can still make for a wonderful resting experience for the cat.
Near one of the two legs is a dangling snap-on clip that attaches to a dangle toy. AmazonBasics designed it in such a way that one can replace the toy with other dangle toys. This can provide entertainment and exercise for the cat.
You May Also Like: Best Cat Hammocks
7-inch wide, square base
9-inch tall cat hammock
Hammock made of plush materials
Integrated natural jute dual scratching posts
Integrated removable and replaceable dangle toy
How Does This Product Work?
The AmazonBasics Cat Scratching Post and Hammock is a three-in-one cat hammock. If the cat wants to rest, all it needs is to jump onto the soft, circular hammock. Since the hammock is about 20 inches from the floor surface, it also gives the cat a chance to observe its surroundings like it is on a perch. The two legs of this cat accessory comes with natural jute fibers. They serve as scratching posts to help maintain the health of the cat's claws.
The dangling toy is ideal for encouraging cats to play with it. What makes the AmazonBasics quite unique in this aspect is that one can replace the dangle toy. It comes with a snap-release mechanism so one can always attach a new kind of toy for the cat to play with.
Check our article on the best cat scratching tower.