A small, unknown breed of dog reportedly named Holly, decided she wanted to join in on the fun at a Utah high school track meet on April 18th, 2021. Upon entering the track, Holly then proceeded to run straight past all of the runners competing, including the winner!
This hysterical incident, which has taken place at the Logan High School track, had been recorded by an audience member and uploaded to the MileSplit youtube channel. The adorable pup had managed to escape with her leash still attached, and join in with the race as it passed the point where she and her owner had been spectating.
The crowd, upon seeing the runaway pooch, began cheering Holly on as she quickly advanced on the race lead, Gracie Laney, a senior at the high school. After running as quickly as her legs would carry her, Gracie still ended up being second to cross the finish line, less than a second behind the superspeed pup.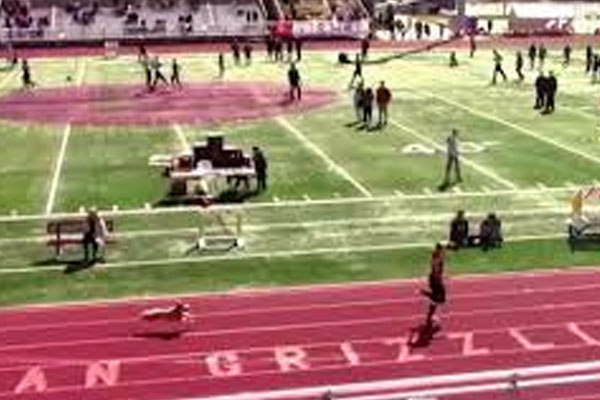 Laney had been a decent stretch ahead of her fellow competitors in the 4×200 meter relay when she heard the thumping of feet approaching her.
Speaking with KSL, Laney explained how she has originally thought the sound she was hearing was one of her competitors gaining on her as she reached the finish line. This has surprised her, as she had gained a good lead and wasn't expecting to be overtaken.
It didn't take long, however, for Laney to realize that the footsteps she was earning were to a much smaller creature with more than two legs. As she was approaching the final few meters before the finish line, Laney looked to her left to see Holly, leash and all, joyfully overtaking her.
Laney's feeling of humor at the sight of the pooch quickly turned to concern, as Holly started to drift closer and closer to her feet. Wearing spiked running shoes and traveling at top speed, Laney started to worry for the dog's wellbeing.
Laney had explained to KSL that her biggest worry had initially been that she may trip over Holly as she passed her line. That worry rapidly became a fear that she would hit the tiny canine with the spikes of her shoes if she were to trip over her.
Holly had missed Laney's foot by inches as they crossed the finish line, causing Laney to have to jump over her in an effort not to hit her. Laney had somehow managed to keep her footing after narrowing avoiding the hyperactive pup. But before she could stop to greet her lighting quick running companion, Holly had disappeared off into the crowd.
So after obliterating the competition over at least 30 meters in 17 seconds, Holly was gone as quickly as she had appeared. We can only assume her owners were able to catch up with her once she had come down from her winner's high. And after an eventful ending to the race, everyone who had attended that day was left with a fun memory to look back on.