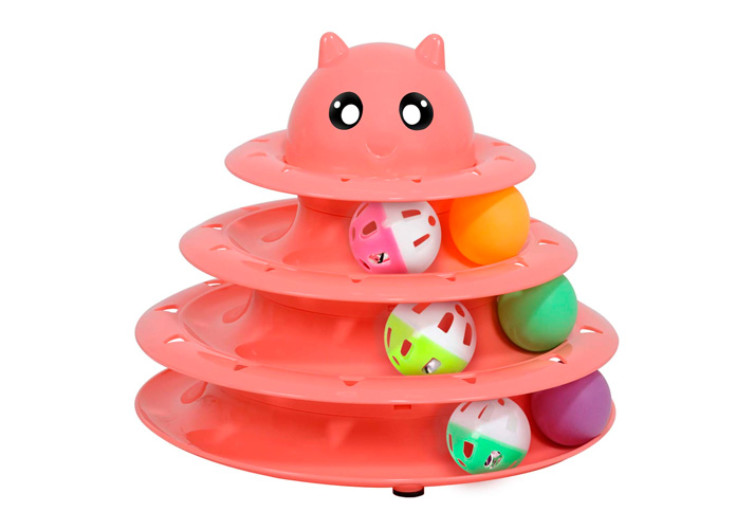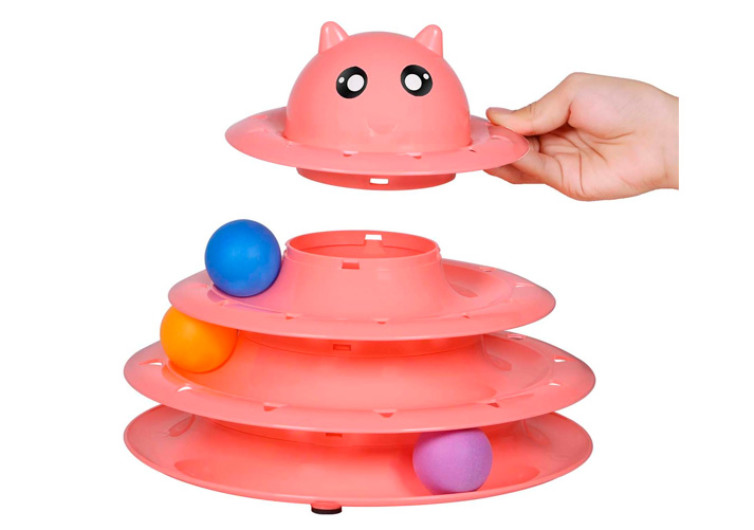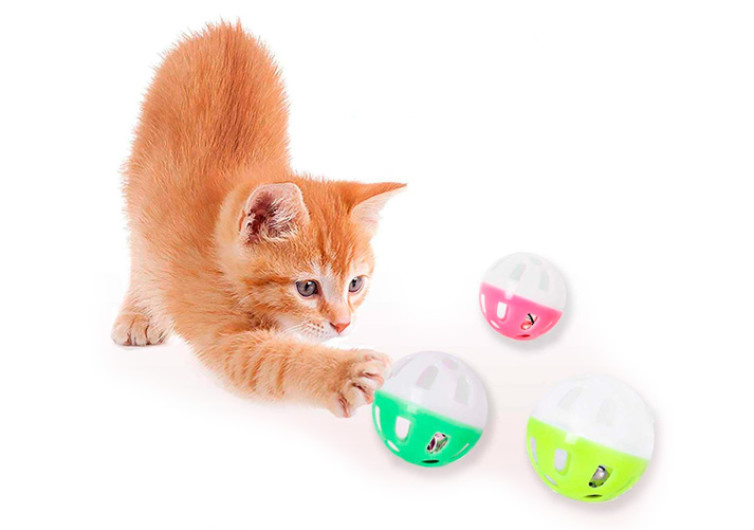 UPSKY Cat Toy Roller
Toys are not only for kids. They are for pets, too. Interactive pet toys can provide cats with the mental stimulation they need. It can also serve as a tool for exercise. In many ways, interactive cat toys can also help address feline boredom, while allowing them to socialize with other cats. There are many interactive cat toys on the market. One of them is the UPSKY Cat Toy Roller.
The UPSKY Cat Toy Roller is a 4-level Tower of Tracks that provides three tiers of grooves for balls to roll around. The cat toy takes on a whimsical alien character design that adds to the fun nature of the toy. The different pieces stack onto each other to create a pyramid-like circular structure. The grooves created by two adjacent sections is where a colored ball will roll.
The bottom of the polypropylene-constructed cat toy comes with four antiskid rubber pads. They are smaller than the pads that we see in other products. However, they do a decent job of securing the plaything on the floor.
The Cat Toy Roller measures 9 inches in diameter at the largest section. It also stands about 7 inches when assembled. The best part of the UPSKY is that it also includes three additional balls that have jingling mechanisms inside. These are perfect for standalone play.
The UPSKY is large enough to accommodate up to three cats playing together. While there have been issues with the security of the different sized discs, most pet parents consider the design of the interactive cat toy to be spot on. This is an item that cats will love to play with for countless hours.
Tear-resistant, durable polypropylene construction
Stackable design with 3 sections for ball rolling
3 colorful balls plus 3 extra jingly balls
4 small, nonslip rubber pads on the base
How Does This Product Work?
The UPSKY Cat Toy Roller is an interactive cat toy that can provide feline pets endless hours of fun. It works to exercise cats by allowing them to bat the balls on the 3 different grooves. It also stimulates the cat's curiosity, capitalizing on their natural hunting instincts. They will try to stop the balls on their tracks. Every time they do so, however, the balls will only keep on rolling.
This makes the UPSKY a good tool for exercising cats. It can also provide mental stimulation to feline pets. They will have to think of ways to stop the balls from rolling. UPSKY also designed the Cat Toy Roller balls for standalone play. Pet parents can roll the balls on the floor and watch their cats try to catch them. It is a good way to strengthen one's relationship with his or her feline friend.
You may also like our articles on the best cat toys and best kitten toys.