Serious owners always take care of the health of their beloved pet dogs. This usually means giving them the right food they deserve, sufficient water for hydration, ample time for play and exercise, regular visits to the vet, and protection against some of the most common ectoparasites we have in the world. Giving our dogs protection against fleas, ticks, and other external parasites is thus, a must. Unfortunately, there are plenty of ectoparasite medicines in the market that many are simply not sure if these are effective for their dogs or not. That's why we've come up with a list of the 8 best flea treatments for dogs in 2017.
8 Best Flea Treatments For Dogs
[toc]
Frontline Plus Flea and Tick Control by Merial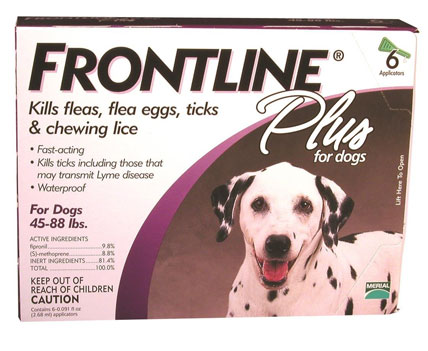 One of the most trusted names in tick and flea control both for cats and dogs is Frontline. In fact, it's one of the most recommended by veterinarians the world over. Unfortunately, there have been many instances wherein the Frontline has been tampered with and then sold at a much lower price. The recommendation from Merial is to purchase this dog flea treatment directly from your vet and to be very cautious about online retailers. There have been instances where unscrupulous suppliers sold items that have been tampered with. Amazon and other big-name e-commerce sites are not immune to these tricks so consumers are forewarned. Frontline Plus is an excellent preventative medication against fleas and ticks by killing adult fleas within the first 18 hours. Complete tick extermination is accomplished with 48 hours of Frontline Plus application. In addition to its effects on adult fleas, its active ingredient, S-methoprene, is also effective against the eggs and larvae of fleas which effectively halt the life cycle of these ectoparasites. As for ticks, Frontline Plus is effective against the various life stages of a variety of tick species including the deer tick, American dog tick, lone star tick, and brown dog tick. It is crucial to understand that while Frontline Plus can kill these parasites, if no environmental control is instituted, then ticks and fleas will always find their way into your pet. 
What We Like about It – Frontline Plus has a well-proven track record for flea and tick management in dogs. It continues to lead the way in flea and tick management in dogs.
K9 Advantix II Flea and Tick Control Treatment by Bayer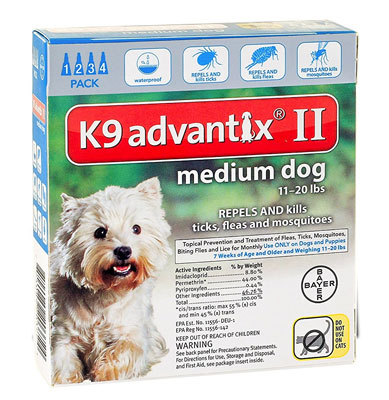 One of the major advantages of the K9 Advantix II Flea and Tick Control Treatment is that it does not only kill fleas and ticks that are present on the animal's body but also helps repel these critters as they attempt to approach your pet. Compared to Frontline, K9 Advantix flea treatment has the added advantage of exerting its effects within the first 12 hours upon topical application. What's more, K9 Advantix II kills all reinfesting fleas in under 2 hours. Like Frontline Plus you will have to apply Advantix every month. The greatest advantage of K9 Advantix, as we have already pointed out, is that it repels these pesky bugs and critters including other vectors of diseases. This is certainly a welcome development if you live in heavily infested areas. You can integrate K9 Advantix II in your comprehensive environmental control program of eliminating the nests of these pests in your backyard and property. So, if you like the idea of repelling critters so your canine friend will be able to roam freely in the open, then K9 Advantix II is an excellent choice. It kills all fleas and ticks in all of their life stages. When it comes to its repellant action, it's even effective against biting flies, mosquitoes, and lice, all of which carry potentially lethal microorganisms for our pets.
What We Like about It – K9 Advantix II is a great option if you want faster and more comprehensive parasite control. Its repellant action is what's making more than 4,000 individuals very happy dog owners.
Seresto Flea and Tick Collar for Dogs by Bayer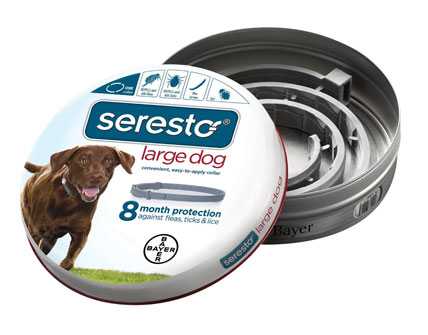 From the company that makes the K9 Advantix II flea medicine for dogs, Bayer, now comes the Seresto Flea and Tick Collar for Dogs. This is not something that you'd apply on your pet's skin. It's something that it will wear for as long as 8 months because this is the known period of time that Seresto is able to provide its preventative effectiveness. The Seresto can be used in conjunction with other Bayer products such as the K9 Advantix II or the Advantage II. Or, it can also be used as a standalone preventative especially if parasite infestation is not really a problem in your area. The Seresto provides excellent protection against the common external parasites that infest animals by repelling and killing them. If these organisms are repelled, then they will not have the opportunity to transmit the different harmful microorganisms they carry. The Seresto is also waterproof. However, if your dog swims or takes a bath more than once every month, the preventative effectiveness of the Seresto is reduced to only 5 months, not 8 months as we have previously stated. So, this should always be kept in mind. As for its effectiveness, we honestly believe that close to 7,500 pet owners will not be posting their positive experiences about this unique dog collar if it was not effective.
What We Like about It – The Seresto is a wearable flea and tick repellant and exterminator that provides long lasting effects via a sustained release mechanism. It's a hassle-free way to keep your pets free from these nasty little critters and the deadly diseases that they carry.
Capstar Flea Tablets for Dogs and Cats by Novartis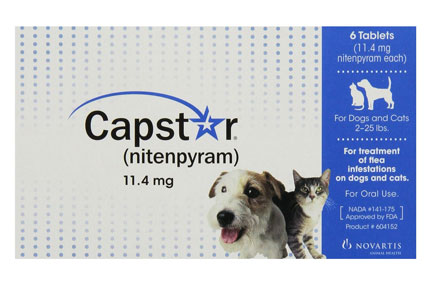 One of the concerns of pet owners about the use of topical dog flea treatment is that some of the medication may not be absorbed by the pet's skin. This is particularly a concern for dog breeds that have thick coat as the liquid solution will only run-off on the pet's fur. As such, some pet owners prefer to give their dogs an oral preparation in the form of a tablet. And when it comes to oral flea treatment, the Capstar Flea Tablets for Dogs and Cats is considered as the best flea medicine for dogs. Made by renowned Swiss pharmaceutical company Novartis, which is technically the result of the Ciba-Geigy and Sandoz merger in 1996, Capstar is not your usual anti-canine parasite medication. Let's just say it is almost equivalent to your morning-after-pill which ladies take after a night of unprotected sex. The reason for this is that Capstar is designed to kill all parasites within 4 hours in dogs but with a very limited therapeutic effectiveness of just 24 hours. So, here's how it's supposed to be used. If you have a parasite-free home – no ticks, fleas, lice, or whatever ectoparasites – you don't need Capstar if and only if you're able to keep your dog within your home. However, if you are going to go out for a walk to a place that's known to be infested with these canine ectoparasites, you need to give Capstar to your dog so that any parasite that it may have inadvertently carried and brought back to your home will be killed even before they have the chance to replicate and damage the parasite-free environment of your home. This should be made clear. If you do have a pest infestation at home, then Capstar is definitely not for you because you'll be forced to give your pet Capstar every day. If money is not a problem, then it will be great. However, you do have to consider the long term effects of nitenpyram on your pet's liver as well. There have been quite a number of negative comments saying Capstar is not protecting their pets that long. It's just that they failed to understand that Capstar is a one-day flea treatment, not the 30 days of Frontline or K9 Advantix II. Obviously, it works as close to 4,500 pet owners simply won't leave happy responses for the product.
What We Like about It – Capstar is a very effective emergency pill that you give to your pet so that parasites will not wreak havoc in your parasite-free home.
VetGuard Plus Flea and Tick Treatment for Dogs by VetIQ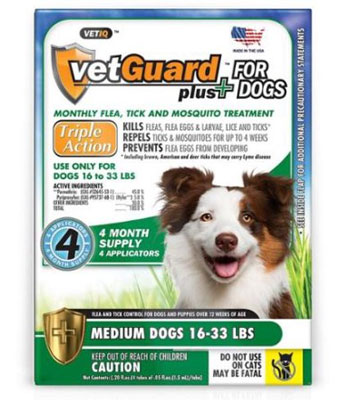 If you're looking for a more inexpensive yet equally effective flea medication for your pets, then the VetGuardPlus Flea and Tick Treatment for Dogs is a great buy. For under $15, you already get 4 months of protection for your pet by preventing the development of flea eggs into adult forms. However, its repellant and killing action for adult parasites is only limited to one month or 4 weeks. Let's just say, then, that the VetGuard Plus is VetIQ's answer to Bayer's K9 Advantix II. Both work to kill and repel adult forms of ectoparasites including lice and mosquitoes in one month. Both have to be applied topically as a spot-on treatment as well. The only difference is the price. For pet owners who are looking for an effective parasite repelling action but at a cost that is significantly lower than K9 Advantix II, VetGuard Plus is a superb choice. At least, even if you have to apply the medication on a monthly basis, the overall annual cost will still be many times lower than that of Bayer's Advantix II. Perhaps, it will be quite similar to the cost of an annual treatment using Frontline Plus. We are not sure if this matters to you, but the VetGuard Plus has been shown to control fleas by as much as 92 percent with the first 24 hours after application. The remaining 8 percent of parasites should be cleared within the succeeding days.
What We Like about It – VetGuard Plus is K9 Advantix II but cheaper. It's also Frontline Plus but with the added benefit of repelling bugs and other nasty critters.
Natural Formula Flea and Tick Home Spray by Vet's Best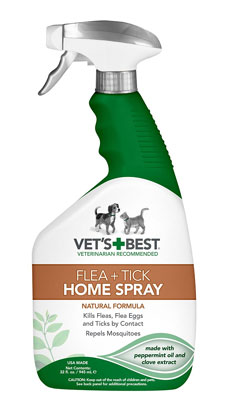 If you don't like spot-on treatments, tablets, or even dog flea treatment collars, maybe a flea spray for dogs will capture your interest. Vet's Best Natural Formula Home Spray is formulated with clove and peppermint essential oil extracts that have been shown to be quite effective as antiparasitic substances. This should appeal more to individuals who don't like to use synthetic or artificial substances for fear of its harmful effects on the health of pets. Unfortunately, unlike synthetic ingredients like those found in Frontline, Advantix, Seresto, and others, Vet's Best will not really be effective against severe flea and tick infestation as the mild to moderate action of natural ingredients may not be sufficient to kill the parasites. The idea is to kill these organisms faster than they could replicate. Nevertheless, it is a great choice, as proven by more than 4,000 satisfied dog owners, for individuals who dislike the idea of putting potentially harmful substances or chemicals in our dogs. Vet's Best's natural ingredients allow it to be used even when there are kids around the house. It also doesn't stain the different surfaces in your house and will definitely not be harmful to plant life. Application is also made easy with its trigger spray mechanism providing an even mist. It also has a mosquito-repellant action in addition to the usual extermination of common canine ectoparasites.
What We Like about It – Vet's Best has all-natural ingredients so it is generally safe not only for your pet but also the other life forms around it. With thousands of positive reviews, we'd say it's worth trying.
Advecta II Flea Treatment by Advecta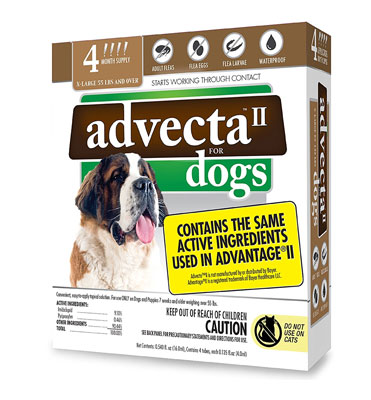 Bayer's flea treatment products are some of the best in the world. Unfortunately, because of the research put into these products, they do come at a hefty price tag. It's similar to your branded and unbranded human medicines, often called the generics. The thing is, once a proprietary substance has lost its patent protection, it is now open to other industry players to use the same ingredient to come up with a much more inexpensive product that still carries the same active ingredient. This happens a lot in the pharmaceutical industry. Let's just look at Advecta II as the generic equivalent of Bayer's Advantage II. It technically has the same active ingredients, pyriproxyfen and imidacloprid, that Advantage II has. It also kills all adult fleas including their larvae and eggs within the first 12 hours. The preventative effect is also similar which often takes up to 4 months. Aside from the fact that Advantage II is made by a reputable company that has been in existence since 1863, the only other difference is that Advecta II is more than twice less expensive than Bayers Advantage II. Obviously, this appeals to those who are against big multinational corporations perhaps for the belief that consumers do have a choice. If price is a major consideration, then Advecta II is an excellent alternative. Otherwise, go for the Advantage II.
What We Like about It – Advecta II is Advantage II with its price slashed in half. With the same benefits, it is a very convenient option for those who want to save some dough.
FiproGuard Topical Flea and Tick for Dogs by Sentry Industries, Inc.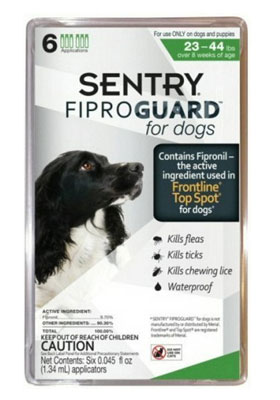 We all know that Frontline has been in existence for so many years. Like Advantage II, it has mostly lost the patent protection for its active ingredients, fipronil and s-methoprene, leaving other veterinary medicine players open access to these ingredients. Sentry Industries, Inc. is one of them. Sentry produces FiproGuard which is essentially Frontline but at less than a third of the price of Frontline Top Spot. Just like our review for Advecta II, FiproGuard is primarily geared for believers of Frontline but who may not really have the budget to purchase the Merial product. This is perfectly fine. As always, we always point out that if price is not an issue, we'd strongly recommend getting the more popular one. However, the number of positive reviews for FiproGuard is actually not that far from the ones obtained by Frontline Plus. It would thus, seem that FiproGuard has a lot of very satisfied customers as well.
What We Like about It – FiproGuard is Frontline Plus but priced three times lower. With the price advantage plus similar effects and not-far-off positive reviews, FiproGuard is a good alternative for those on a tight budget.
How We Chose the Best Dog Flea Treatments in Our List
Medications are some of the most challenging products to evaluate. While the presence of clinical studies that will support the claim of therapeutic or preventative effectiveness of these substances can point to their overall value, unfortunately there are still other factors that need to be considered. For instance, while a known flea treatment may be effective on your dog, it may not work on the dog of your neighbor. The characteristics of individual patients – in this case, dogs – can play a major role in the therapeutic effectiveness of these preparations. In the same manner as human medications have their varying effects on different individuals, the same can be said of our canine friends.
So how did we approach the selection? First we had to consider the experiences of dog owners who have already tried the product on their pets. We believe that the true measure of a treatment's effectiveness is in the real-world outcomes and not in a highly controlled laboratory setting. If ordinary, everyday life factors truly have an impact on the effectiveness of these treatments, then it would show on the experiences of respective pet owners. That's why we had to read the different comments as well as reviews of owners of lovable canines.
Of particular importance was the safety profile of the treatment. Foreign substances have a very nasty reputation of affecting other cells and tissues aside from the organism that it intends to destroy. Since all medications are metabolized by the liver prior to elimination from the body, it is important to determine whether these substances will affect the overall integrity of canine liver.
We also took note of the manufacturer as there are some that are very well-known for formulating and producing high quality, therapeutically effective, and safe dog treatments. We correlated this with the product reviews to get a fair idea of the strength of the company's reputation.
Managing Flea and Tick Infestation at Home
It is very important for us to learn the different strategies on how to control fleas and ticks on our pets. While the products we have shared with you are effective in killing and repelling nasty critters that bring disease to our beloved pets, a more important action is to manage the environment upon which these pests are found. This helps ensure that we protect our pets from fleas and ticks in a more effective manner. Here are some tips for your consideration.
Clean your house. Vacuum all surfaces especially in high traffic areas as parasites can cling onto articles of people and are inadvertently carried inside the home. Studies show that thorough vacuuming can remove as much as 50 percent of all flea eggs.
Clean and wash your dog's bedding as well as other items that it may have come in contact with. Make sure to apply the correct product that contains insect growth regulator and adultecide ingredients.
Thoroughly clean areas in your house that your dog frequents in. Treat these areas also with a suitable product that contains the same active ingredients that you've used in treating your dog's beddings.
Clean your backyard. Fleas have a very peculiar behavior for staying and thriving in warm, shady, and moist environments. The presence of organic debris, such as decaying leaves, is also favorable to parasite development. Keep your property clean and dry and free from clutter and unnecessary dampness.
Keep out other animals, especially wild ones, from your backyard as these often carry parasites themselves. Raccoons, small rodents, and opossums are known to harbor fleas. So, keep them out.
The Bottom Line
There's just so much that anti-parasitic medications can do for our pets. For these flea treatments for dogs to really work, we must incorporate them in a comprehensive plan of destroying and eliminating the habitat of these parasites in our home.
You May Also Like
7 Best DNA Tests For Dogs
10 Best Flea Collars For Dogs
10 Best Joint Supplements For Dogs
Like What You Read? Please Rate This Article And Let Us Know What Your Thoughts!