When it comes to feeding, all dogs are different, not only in their preferred foods but also in how they eat. Some dogs struggle when their food bowls are on the floor, and many more can benefit from having their bowls raised. Many raised dog bowls on the market offer different heights and types of stands, so how do you know which is best for your beloved pet? Our panel of pet experts and dog lovers has put together this list of the best raised dog bowls to help you make the right choice for your dog.
14 Top-Rated Raised Dog Bowls
Best Raised Dog Bowls: Buying Guide & FAQs
Our list shows a wide array of raised dog bowls, all with their own specific features and benefits. However, there are some key elements that are present in all the best raised dog bowls, and in this part of our buying guide, we explore these elements in more detail. We also explore some of the questions that elevated dog bowls may raise and provide answers that hopefully help you in your decision-making process.
Read here our guide on the Best Dog Bowls.
What to Look for in an Elevated Dog Bowl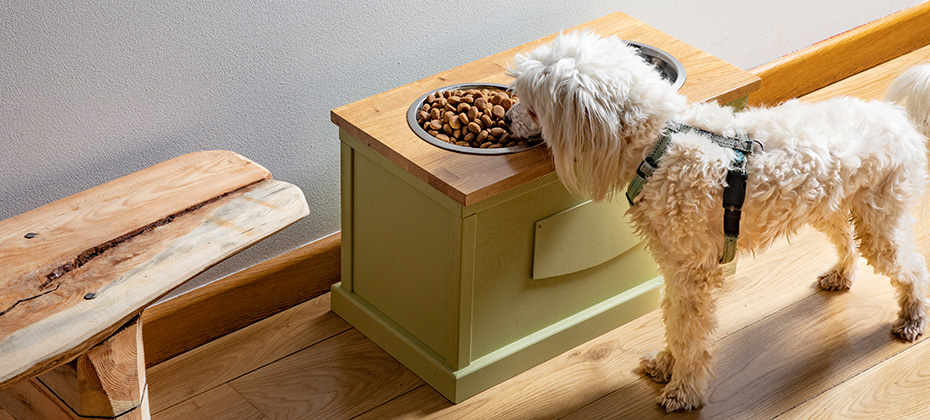 Elevated dog bowls differ in many aspects and there are some key features that you need to consider before you make your final decision on the right one for your pet. The main things to look for in such feeding stations include:
Height
Elevated dog bowls are available in a range of heights and it is important to get one that is the right height for your dog. If it is too low then they will not gain any benefit from it, if it is too tall then it may add to, rather than reduce, the stain on their neck and joints. To ensure the bowl is the right height get your dog to stand upright and measure their height from the floor to the front of their shoulders. Experts such that you should then subtract seven inches from this measurement to get the height of the feeder you need.
Stability
The raised dog bowl that you choose needs to be stable and durable. If it is easily knocked over or moves while your dog is eating, then it will reduce the effectiveness of the feeding system and cause a lot of mess. Choosing a raised dog bowl that has non-slip feet helps to keep the system still while your dog is eating and helps to prevent scuffing and scratching on your floors.
You may also like our ultimate guide on Dog Food Mat.
Cleanliness
Removable and washable feeding bowls are a must. The best raised dog bowls include stainless steel feeding bowls that are dishwasher safe and reduce the risk of bacteria growth over time. The material that the stand is made from is also important durable molded plastic is easy to wipe clean as are metal stands. If you choose a wooden stand then ensure that it is sealed with a waterproof sealant to make cleaning easier and eliminate the risk of liquid and particles of food being absorbed into the wood.
Number of Bowls
Dogs need a source of freshwater available at all times. This is even more important if you feed them dry food. Most raised dog bowls to contain two bowls allowing for food and water to be available at the right height. If you choose a one bowl system, then you need to consider where you are going to place their water.
Bowl Size and Shape
The size of the bowl you need depends greatly on your dog's eating habits, as well as their face shape. If you feed your dog smaller regular meals, then you can use a smaller bowl. However, deeper bowls are recommended for larger dogs and those with long snouts. For snub nose dogs a shallow bowl may be more appropriate.
Why You Should Use an Elevated Dog Bowl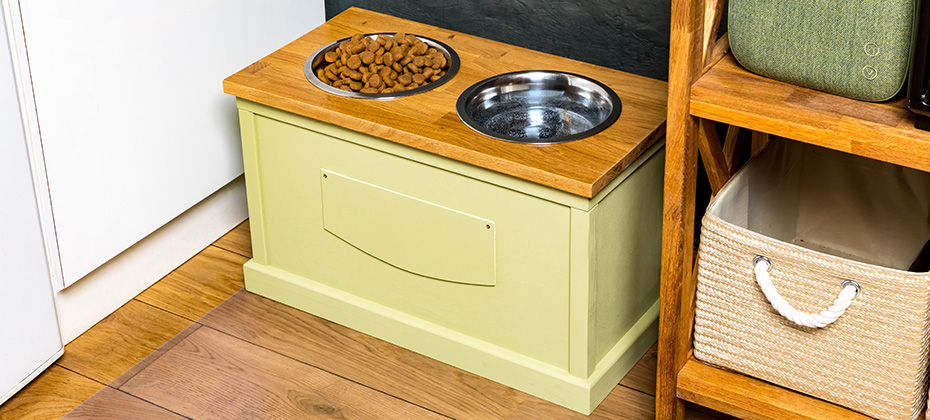 Many pet owners wonder how relevant elevated dog bowls are. These products, however, feature a construction that offers many benefits to both dogs and their owners, some of which have been provided below. If you're second-guessing the purchase of an elevated dog bowl, be sure to keep reading.
Stability
As compared to elevated dog bowls, non-elevated bowls for feeding are more prone to skidding and spillages. Most elevated bowls are constructed with balance in mind; thus, their design includes non-slip inserts that keep the dishes in position while your pet feeds. What was once a noisy and messy eating space will be transformed almost immediately into a quiet and clean eating environment.
Accessibility
If you want to provide your pet with easy access to its food and water, getting a raised dog bowl is the best option. Not only are these models easy to access for feeding, but their position also helps facilitate easy and quick digestion, as the transition of food from the mouth to the stomach is made more accessible. If your dog experiences health issues with its esophagus having raised feeding bowls will also help them feed easily. Having a weak or enlarged esophagus often leads to the accumulation of food in an abnormal manner, preventing it from moving down to their stomach.
Improved Posture
Non-elevated bowls are tough to use mainly because they cause your pet to stand and bend their necks in an uncomfortable position, for long periods. Eating requires the maintenance of a proper posture, which often works wonders for large dogs. Having elevated dog bowls makes your dog's eating times comfortable and more enjoyable, and thus, they are recommended for dogs suffering from medical conditions such as arthritis. Elevated dog bowls are excellent also for older dogs who due to their aging bodies, find it difficult to feed on non-elevated containers.
Elevated Feeders and Bloat in Dogs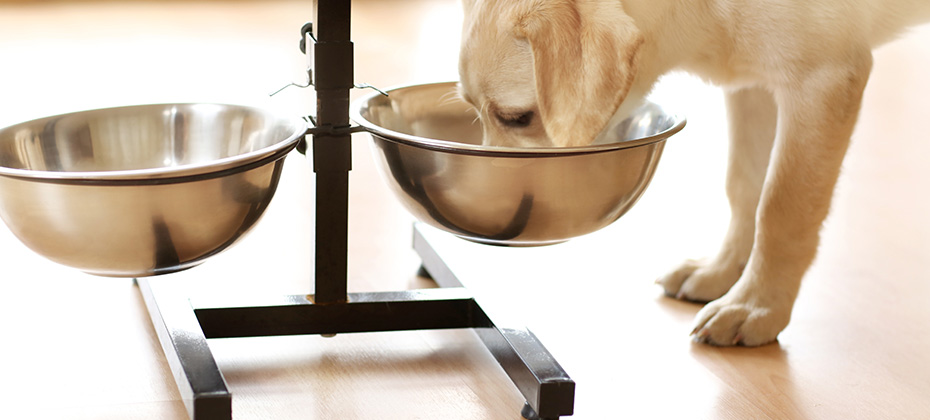 One of the life-threatening conditions experienced by large dogs is bloat, which is also referred to as GDV. This is a medical condition in which veins in the abdomen are blocked due to bloating of the stomach. Such bloat often leads to a drop in the blood pressure of your dog, which ultimately affects the operations of other internal organs. Bloat is caused by drinking too much water before or after a meal or gobbling food. Some symptoms of bloat include a swollen or hard stomach, labored breathing, and vomiting.
Some studies have proven that using elevated dog bowls increases a dog's risk of bloat, but other studies conducted have found no direct correlation between the two. With the right answer still a mystery, dog owners are encouraged to find the best ways of preventing bloat in their dogs, such as delaying any physical activity until 30 minutes after meals, scheduling meals, and training fast eaters to munch on their food at a reduced pace.
Check out our article on the Best Slow Feeder Dog Bowls.
Sources:
Pippa Elliott, How to Choose Dog Food Bowls, wikiHow
Patty Khuly, DVM, Raised Bowls And Bloat: Ratcheting Up The Controversy On The Risk Of GDV In Dogs, PetMD
Frequently Asked Questions
Most elevated dog bowls are constructed from high-grade stainless steel. This material is chosen because of its high resistance to rust and its durability. The stand for the feeders is made from hard plastics with others being made from hardwood.
The top of your elevated dog bowl must be at the same level as your dog's lower chest, to prevent them from lowering their necks or stretching upwards. Before you purchase a raised bowl, the first thing to do is measure your dog. Be sure to have him standing, and measure from the floor beneath its front paws, up to the top of your dog's shoulders. After measuring, subtract 6 inches from the measurement.
The find out the ideal bowl size for your dog, you need to fill its current feeding bowl with water and match its capacity to that of your preferred elevated bowl.
Keep all feeding apparatus of your pet clean always by using a damp sponge and warm water. After wiping down the elevated feeder with this, you can dry it with a clean towel. Avoid using abrasive cleaners and scouring powders as these tend to scratch the surface of your feeder.