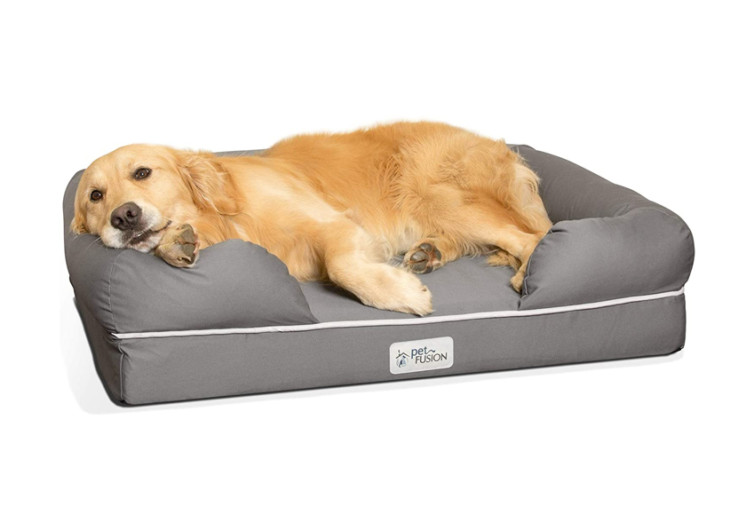 PetFusion Ultimate Dog Bed (2022) Review
When looking for a dog bed that can provide your pup with both support and comfort, it can be tricky to separate the many, many styles you have to choose from. First, you want to think about how big you'll need the bed to be. Does your dog have any mobility issues that need to be addressed? Do they have frequent accidents? Are they naturally anxious, or more laid back? Each of these questions will help you draw a conclusion for the type of bed your dog might need. Fortunately, the PetFusion Ultimate dog bed is capable of meeting most of these requirements.
Why You Should Trust Us
This review is based on a combination of previous customer reviews and hands-on experience from myself. I personally own a PetFusion Ultimate pet bed for my 4-year-old Malamute x Akita and have been extremely pleased with the result. I have also included a comprehensive overview of every detail of this bed so that you can make up your own mind.
We at My Pet Needs That are also a dedicated team that consists of animal experts and trainers, veterinarians, animal handlers, and full-time researchers. We put 110% into ensuring all of the information we provide to you is accurate and can help you to provide the best possible care for your pet.
Our aim is to make pet care as hassle-free as possible by providing in-depth, comprehensive guides to all parts of pet-owning life. Utilizing customer reviews, expert advice, reliable resources, and comparative analysis to come to strong conclusions and present you with the best advice. We also make a point of highlighting both the good and bad of every product we review to help you make an informed decision.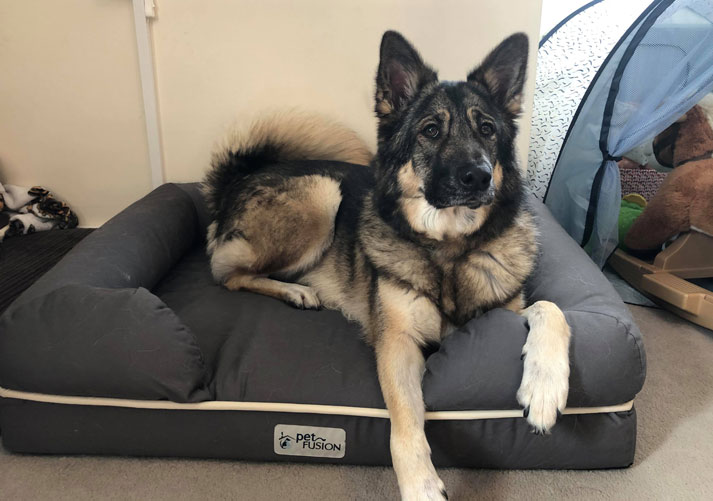 Company Information
PetFusion was founded in 2010, with three key goals in mind. They aim to provide uncompromisingly seamless pet care product designs that would suit most homes. They seek to provide top-quality products using premium materials as well as high-quality construction methods. And above all else, they intend to keep their products at an affordable price whilst still maintaining their quality, style, and functionality.
PetFusion received NCW's Eco Excellence Award in 2015, whilst also being featured in House Panther's Gear Guide, Modern Cat's 2015 Fave Finds, and Cat Fancy's 2015 editor's choice list. They actively contribute to various animal welfare charities and have established a global presence with numerous best-selling products.
Key Features:
The dense solid memory foam base provides joint support for the perfect dog bed lounge experience.
The removable cover is easy to remove and machine washable for quick care.
The cover is also water-resistant to make it simple to spot-clean, as well as being durable and tear-resistant.
The "green" support bolster provides additional support to the neck and head and is filled using recycled polyfill.
Has a non-skid bottom to reduce movement whilst your dog is getting in and out of bed.
Available in three colors and four sizes to help you find the perfect fit for your dog and home.
Mattress Advisor's top-rated dog bed for 2019.
What We Like:
The use of recycled polyfill shows that PetFusion is an environmentally conscious company.
The dense memory foam dog bed is perfect for dogs that struggle with joint pain.
The side opening in the bolster provides easy access for dogs with mobility issues.
The water-resistant, removable, machine washable cover is great for incontinent pets as it can be easily cleaned.
We like that PetFusion offers a 12-month warranty if the bed shows a manufacturer defect.
The bolster works great for supporting a dog's neck and head whilst they rest as well as imitating the puppy-pile- feel, which can help to soothe anxiety.
What We Don't Like:
Though it does say tear-resistant, it is not tear-proof and can still be damaged by over-zealous puppies and heavy chewers.
The material used for the cover can have a habit of catching pet hair which can be difficult to remove completely.
The size difference between the small/medium and large dog beds is quite substantial.
PetFusion Dog Bed Build Quality and Durability
The PetFusion Ultimate pet bed has everything your dog should need to keep it comfortable and supported at all life stages, however, like anything, it had its pros and cons. we're going to take a closer look at the different aspects of this bed to get a real in-depth feel for what you should expect.
The material used for this bed is of good quality. It's water-resistant, which should help with any accidents or excessive drooling as it's less likely to stain. The bed cover used consists of 65% polyester & 35% cotton twill and can be thrown into the washing machine on a warm wash if needs be. However, it may be resistant to damage, but it is not impervious, and it is not recommended for particularly destructive or if your dog loves to chew its dog bed, as they can relatively easily tear through the fabric cover. There are replacement covers available to purchase, however, which can be found on Amazon or through their website.
They have taken the precaution of adding a fully waterproof inner lining in order to protect the memory foam mattress. This is ideal for any dogs that may be prone to accidents or are perhaps heavy droolers, and is far more hygienic, as memory foam is incredibly difficult to clean once something gets in it.
The bolster uses recycled filler which is a big plus, and according to multiple customer reviews, it is generously filled to mimic couch arms and comes pre-loaded into the cover for easy assembly. However, some pet owners have commented that the bolster would benefit from being a bit taller for a little more support, especially with large dog breeds.
It has an effective non-skid bottom to prevent the bed from moving whilst your dog gets in and out of it, which is especially helpful on tiled or hardwood floor. Furthermore, they have designed the removable cover with two zips in order to make it easier to remove and re-assemble after washing.
Comfort (Support & Feel)
This is an orthopedic dog bed specifically designed to provide dogs with the best possible comfort whilst they rest. This is done through the use of a firm memory foam mattress, a stuffed support bolster, and easy side access. All these features combined make for the ideal sleeping arrangement to keep your dog comfortable at any time. However, though it may be a good bed for anything from puppies to older dogs, there are still a few points you need to consider before purchasing.
One of the few downsides to this design is that if you have a dog that tends to overheat easily, they may find the orthopedic memory foam quite warming, especially when coupled with the bolster. Cushy memory foam can act as an insulator, holding in heat and keeping the area warmer for longer, which is great for small or skinny breeds that may struggle to maintain their body heat. Though these smart features were carefully selected to create the ultimate dog's bed, they can also work against fluffy breeds if they're sensitive to temperatures.
For households with two dogs that like to share their sleeping area the 3-sided bolster is great, as it gives both dogs a space to rest their head. Though some dog owners have mentioned that though the bolster is well filled, it could do with having a bit more height. Particularly on the XL bed as opposed to the small bed, as the XL is designed for especially large breeds that like to rest their head higher up.
Fit and Sizing
The PetFusion Ultimate pet bed is available in four sizes; small, large, XL, XXL (jumbo). The fact that it goes up to such a large size is a good indicator that it would be a great bed for breeds such as the Great Dane, or Lemberger, unlike cheap pet beds which often stop at a large and are unsuitable for dogs larger than a German Shepherd.
However, this dog bed seems to cater more to the larger sizes as opposed to smaller dog breeds. Whilst they do offer small dog beds, there are no medium dog beds available. As a result, there are several customer reviews that mention that the PetFusion Ultimate dog bed is either a bit too small for their dog or too large if they purchase the next size up. Below are the measurements for each size available:
| Size | Measurements | Memory Foam Depth |
| --- | --- | --- |
| Small | 25 x 20 x 5.5 inches | 2.5 inches |
| Large | 36 x 28 x 9 inches | 4 inches |
| X-Large | 44 x 34 x 10 inches | 4 inches |
| XX-Large (Jumbo) | 50 x 40 x 13 inches | 6 inches |
Maintenance (Cleaning & Washing)
Fortunately, the PetFusion Ultimate dog bed has been designed to be as easy as possible to clean. That means making it with two zips in order to make the cover simple to remove ready for washing, as well as using materials that can be put in the washing machine. Furthermore, the addition of a completely waterproof cover over the orthopedic memory foam mattress removes the possibility of getting spilled liquid into the foam, which would be extremely difficult to remove and very unhygienic.
When washing the cover, be careful to use a warm wash as opposed to hot, and try to let it air dry as high temperature still run the risk of shrinking the cotton fibers. Which will make life a lot harder for you when it comes to re-assembling the bed once everything is dry. The water-resistant material prevents liquid from sinking too quickly as well, which means it can be wiped down easily enough if you can get to it quickly.
The PetFusion Ultimate bolster cushion can also be machine washed if needs be, but it must be on a hand wash setting and needs to air dry. If you put it into a fast hot wash and dry it in a machine the polyfill will clump together and the cushion will be ruined.
Other Considerations
So now that we have taken a look at the various aspects of the PetFusion Ultimate dog bed, you can start to look at the more general considerations you may need to make before moving forward with your purchase. Each dog is individual and so each one has its own requirements that need to be met for the perfect dog bed to be found.
How Big Is Your Dog and How Do They Sleep?
If you measure your dog from the top of their head to the base of their tail that should give you a good idea of the size of dog bed you will need to purchase. If your dog likes to sleep curled up into a ball then you may find that a smaller bed would suit them better. However, if they like to stretch out then you will need to make sure they have the room to do so. It's not just about knowing their size but knowing them.
Is Your Dog a Heavy Chewer or Scratcher?
If you have a dog that likes to scratch at their bed excessively then you will need to think about whether or not this is the bed for them. A bit of burrowing is fine and perfectly natural. However, some pups like to have a real good scratch on their sleeping area before they can settle. This can be combated by laying a blanket over the cushion and tucking it into the bolster to protect the bed cover.
Heavy chewers however are not particularly well suited to this bed. It is not made to withstand constant chewing and can be torn by dogs with this more destructive personality trait.
How Mobile Is Your Dog?
If your pooch struggles with climbing onto furniture this can better a better alternative, as it is a much lower surface for them to have to get onto. However, if their mobility is severely impacted for any reason, be it arthritis, hip dysplasia, or any other physical ailment, you may find that the step up onto the bed could still be slightly too high. As a result, the entrance to the bed can become a tripping hazard.
Have You Got Room For It?
Especially if you're going for the larger pet bed, you'll need to check that you actually have the space to fit it into your home. Be sure to check the measurements for the pet bed you're thinking of getting and measure it against the space you're wanting to keep it in. Treat it like a new piece of furniture. Look at the size and color options available to you and think about how best to fit it into your home.
More Options From PetFusion
PetFusion also offers several other dog bed designs to suit a range of dog owners. They have a dense foam crate dog bed which is both water-resistant and snag-resistant, meaning it can withstand some of the anxious behavior of a crate training puppy (however it is not completely puppy-proof). It is also designed to be used as a stand-alone bed if your dog prefers to have a landing pad to rest on as opposed to a full bed setup. The removable outer cover can be machine washed, and it is available in six sizes with the option of purchasing an extra cover.
Furthermore, they offer the BetterLounge dog lounge memory foam bed, with a bolster on two sides. The orthopedic memory foam bottom provides lots of support, however, it is not quite a plush as the Ultimate dog bed. But it can make the ideal comfort zone for dogs with a varied sleeping style, as they can cuddle up against the bolster in one corner, whilst still having the option to spread out.
PetFusion doesn't simply stop at dog beds, however. They also offer quilted car blankets, pet gloves, feeders, litters boxes, and toys! Seeing as PetFusions operates on the ethos that they will provide quality pet products for excellent value, it's well worth checking out everything else they have on offer.
Comparison Table
| Brand | Price | Solid Memory Foam | Bolster | Waterproof Liner | Tear Resistant | Removable Cover |
| --- | --- | --- | --- | --- | --- | --- |
| PetFusion Ultimate (Large) | $129.95 | Yes | Yes | Yes | Yes | Yes |
| Casper Dog Bed | $229 | Yes | Yes | No | Yes | Yes |
| BarksBar Dog Bed | $71.99 | No | Yes | No | No | Yes |
| Bedsure Dog Bed | $68.99 | No | Yes | Yes | Yes | Yes |
| Asvin Dog Bed | $39.99 | Yes | No | Yes | No | Yes |
The Competition
The dog bed market is saturated with every possible design of dog beds imaginable. So we've taken a look at a few of the top dog beds and compared them with the PetFusion Ultimate Dog Bed to give you an idea of what's out there.
The Casper dog bed is easily among the top-recommended dog beds on the market. It has made its way onto multiple "best dog bed" lists, and you can see why. It uses a high-quality memory foam mattress base which is fantastic. But the bolster is not very deep, and unfortunately does not have any easy access openings, making it a more difficult bed for a dog to climb into, with a large bed being 7 inches from the ground.
The BarksBar pet bed is definitely plush, however, it doesn't use solid memory foam, meaning it is more likely to compress over time, and love the comfort element. Furthermore, they don't use a waterproof liner, meaning any spilled liquids have a chance to soak into the shredded memory foam and Tempurpedic filler. Unfortunately for BarksBar, it is not the least expensive piece on our comparison list and lacks most of the essential comfort and care elements.
Bedsure makes affordable dog beds that can offer a good degree of comfort, including a large stuffed bolster. Additionally, a Bedsure pet bed is easy to care for owing to the fact that they use a waterproof liner and have a removable, tear-resistant liner that can be easily washed. The only downside to this bed is that they don't use a solid memory foam mattress, meaning it could compress over time, much like the BarksBar bed.
Asvin's memory foam pet bed is made using a high-quality, solid memory foam mattress, which is perfect for supporting dogs with joint problems. It also has a removable, waterproof lined cover that can be put into a washing machine. The only thing this particular pet bed is lacking is the supporting bolsters around the outside. Though this can be a plus for some owners, as it makes a great landing pad for dogs that don't care to snuggle up.
My Experience
Having bought the large PetFusion Ultimate pet bed for my own Malamute x Akita I can attest to the quality. It only took a few minutes for me set up and was very self-explanatory, however, it does come with instructions for anyone that is unsure. My dog likes to scratch her bed when she is settling down, but it hasn't shown any sign of wear as of yet, though fortunately, her claws are not too long or sharp. The memory foam mattress is of fantastic quality and is actually better than my own!
Furthermore, my dog needs somewhere to settle her head when she's resting in order to get fully comfortable. She ordinarily hops onto the sofa when I leave the room at night, but every morning since getting this bed I've found her curled up in it when I've come down in the morning.
The Malamute breed is also susceptible to hip dysplasia in old age, and she has been showing signs of stiffness in her back left leg. I'm happy to say I think this will be the perfect pet bed for her as she gets older, and I plan to buy the small version for my parent's pug, who is also struggling with mobility.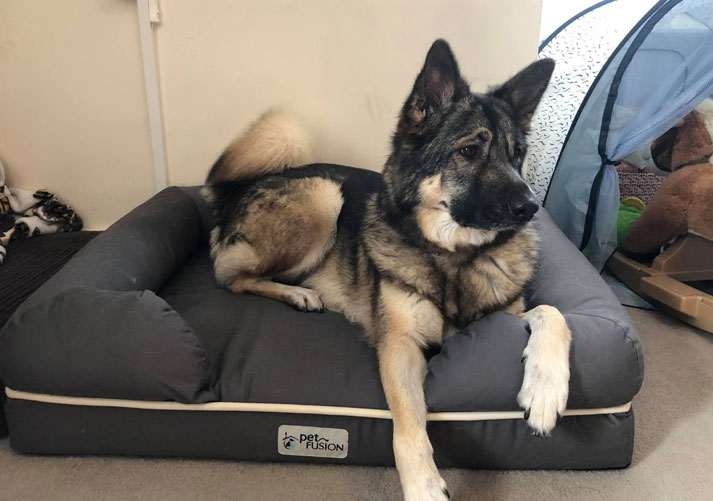 How Much Does PetFusion Ultimate Dog Bed Cost?
Depending on the size, the average price of a PetFusion Ultimate Dog Bed is between $74.95 – $249.95. The larger the dog, the larger the bed you will need, and so the price will reflect the size. Though whilst this may seem expensive when considering what the bed offers in terms of comfort, longevity, durability, and quality, it is actually highly affordable.
There are many other beds on the market today that offer similar features at a significantly higher price. Furthermore, the average customer ratings reflect a general agreement across the board that the price is worth it for the comfort their dog experiences. With an average rating value of a 5 out of 5-star majority (around 85%).
Where to Buy it
The PetFusion Ultimate Dog Lounge Bed is available in several places. You can purchase it directly from the PetFusion website. Or if you're wanting to look around for a deal, you could check out Amazon which has frequent deals across all of their listings. You may well find yourself a bargain in your keep your eyes peeled for any changes.
Warning: When buying online, always ensure that you are purchasing a legitimate product, as there are many companies that will sell imitation products that can be easily mistaken for the real thing.
Frequently Asked Questions:
If the bed has a manufacturer fault or arrives damaged inside the box, you can contact either the original retailer or PetFusion directly to discuss the 12-month warranty policy.
Good quality orthopedic memory foam is capable of relieving painful joints, improving mobility, and providing unmatched comfort for dogs that have a lot of aches and pains. It is often the preferred bedding material for dog owners that have senior dogs.
Yes, PetFusion ships to the UK, US, Canada, and 26 European countries. Further information regarding where PetFusion can ship can be found on their website.