Moggy cats are adorable, elegant, beautiful, and very smart indeed. As funny as their name may sound, it is not a name for a new pop band, neither is it the name of a recently discovered cat breed. The moggy cat has been with us for a very long time. It actually is the most common type of domesticated cat.
The term moggy (sometimes spelled moggie) is a British slang word given lovingly to non-pedigree cats. Although moggy cats have been with us for a very long time, their origin of mixed-breed has not yet been conclusively determined.
Moggy cats come in a variety of sizes, colors, and shapes. They also come in a myriad of temperaments – quiet, talkative, shy, friendly, timid, bold, aggressive. They also come in both short hair and long hair. There are moggy cats with blue eyes, others with yellow, green, gold, and even odd-looking eyes. But no matter what size or form they come in, moggy cats are generally very healthy cats compared to the other cat breeds. Their good health can be attributed mainly to their wide genetic pool. The same is also responsible for their wide variety of features and temperament.
Moggy cats are considered the easiest cats to obtain. They are also considered very cheap to buy compared to other cat breeds. They are relatively easy to take care of because most of them are low-maintenance cats since they usually have short hair. The fact that they are strong, smart, playful and come with better resistance to genetic diseases makes them very good house pets. Despite this fact, the number of moggy cats in homes is dwindling yearly. This can be attributed (ironically) to the fact that they are very common. Most cat owners are beginning to opt for more exotic cat breeds.
History Of Moggy Cats
Let us travel back into time for a few minutes to find out where moggy cats come from. Animal historians believe that all cats that are domesticated can trace their ancestry to Felis Silvestris Lybica, otherwise known as the African wildcat. When human age moved from solely hunting and gathering to mostly farming, humans began to tame cats and domesticate them. It is widely believed that the relationship between domesticated cats and humans started about ten thousand years ago around the Fertile Crescent (the region covers some parts of the Middle East and Egypt). Over the centuries, mankind has adopted and perfected the science of breeding and cross-breeding cats (as well as other animals).
Cats have changed over the years in appearance because of genetic mutations. They have also adapted to new surroundings just as well as their humans have. It is believed that at some point in history, the moggy cat was 'created' as a result of a mix-breeding. This, however, is pure speculation. As mentioned earlier, the exact origin of the moggy cat remains inconclusive. What is known though, is the fact that moggy cats have been used in some breeding programs to create a specific cat trait or to increase a particular genetic pool. They have also been used to create new breeds by crossing them with other cat breeds. Some out-crosses that have been allowed over the years include the La Perm, American Curl, and Munchkin.
You may also like our detailed article on: What Breed Is My Cat?
Temperament
We have established that the moggy cat is of inconclusive origin. When it comes to its temperament, the conclusion is that there is so single temperament attributable to the moggy cat. Some breeds are predisposed to specific personality traits. However, the same cannot be said about the moggy cat. Because they breed randomly, they do not take on a specific temperament that cuts across, neither do they have a definite appearance. Just as they come in a variety of colors and coats, they also come with individual and independent personalities. They have no blueprint. Perhaps one could say that their blueprint is the fact that they have no general temperament.
As indicated earlier, they come in a variety of colors, sizes, coats, and personalities. Therefore, one moggy cat could be friendly while another is shy, one could be timid while another could be aggressive, one could have a thick coat while another could have short hair, one could be a couch-potato while another could be very playful and active. Also, temperaments of the parent cats are not automatically transferred to the kitten. Thus, a kitten could have a very aggressive temperament even though its mother is gentle.  One thing we can agree on concerning moggy cats is that they are smart, unique, and make ideal pets for families.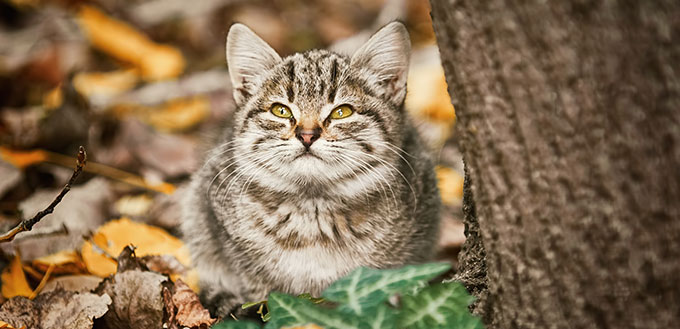 Moggy Cat Lifespan
The most popular phrase about cats is, "cats have nine lives." But we all know by now that we were deceived. Cats do not have nine lives, and that includes moggy cats. So what is the lifespan of moggy cats? That depends on several factors like health, diet, and, well, luck. Again, an exact number cannot be given for how long a moggy cat would live. However, some may live from fifteen years to even twenty years. This is longer than most breeds of cat. This means they can also outlive most of our dog buddies.
As moggy cats are neutered cats, they are expected to live longer than other cat breeds. The reason is that, the neutering prevents the transfer of reproductive diseases. This makes moggy cats comparatively healthier cats and therefore expected to live longer. But then again, other factors can affect the length of their days. Thus, if a moggy cat is living in a healthy environment, is being fed well with a healthy diet, does not roam, and (this is a debatable addition) has good luck, it can be expected to live from fifteen years to twenty years. And, no, when it dies it does not return again for eight other lives.
Moggy Care and Health
There is a popular saying that goes like this, 'dogs have owners and moggies have staff.' Moggy cats are generally healthier, stronger, and more robust than other cat breeds. Is believed by some cat experts that nature has its own way of ensuring that only the fittest of moggy kittens are born. Plus, they are not plagued by the several genetic diseases that pure-breeds usually have. The variation in the genetics of moggy cats means that they are healthier, more intelligent, and stronger than their cousins the pedigree cats. This does not mean that they are absolutely free from diseases. It means, however, that the chances of diseases in a moggy cat are reduced. That said, just like any other pet, a moggy cat's good health is dependent on proper care by its owner. Proper care here involves having a balanced diet, living in in a clean and dry environment, good exercise, good grooming, lack of injuries, and regular visits to the vet for general examinations.
Another important contributing factor to a moggy cat's good health is quality playtime. As mentioned a number of times already, moggy cats are stronger and more active than pure-breeds or pedigree cats. This means that they can be more playful depending on a temperament a particular cat might have. Playtime helps to stimulate a cat's mind and promote good health. However, moggy cats are also susceptible to obesity through overfeeding. It is, therefore very important to make sure that they are fed the right diet, the right quantity, and at the right time.
Feeding a Moggy Cat and Grooming
Just like other felines moggy cats are carnivores that require a lot of protein in their diet. It recommended that about eighty percent of their diet should consist of protein. It should have the right balance of calcium, carbohydrates, and vitamins that a cat needs. Because they obligate carnivores, their diet should reflect it. It should mainly consist of meat-based protein. Carbohydrates should only form a small percentage of their diet. It should not exceed ten percent. This is because carbohydrates can easily get them overweight and obese. Once a while, small amounts of fruits and grains can be added to their diet as treats. But you have to first check with your cat. Some will completely reject them.
Related Posts: Best Cat Food for Weight Loss and Best Wet Cat Food
Most moggy cat owners love the fact that their felines are low-maintenance. Moggy cats, just like their purebred cousins, spend time grooming themselves. Most of the moggy cats found in homes are short-hair breed. This makes grooming much easier for their owners. However, there will be times when you will have to brush the cat down to prevent the formation of hairballs. Also, bathing your short-haired cat once a week is allowed. When brushing your moggy cat, it is important to use soft-end brushes. Follow the direction of the hair as you brush. To help remove parasite bugs or dirt could be trapped beneath the hair, you should brush in downward strokes. This will remove all unwanted inhabitants hiding in the hair. The downward direction will ensure that they fall to the ground instead of moving to other parts of the moggy cat's body.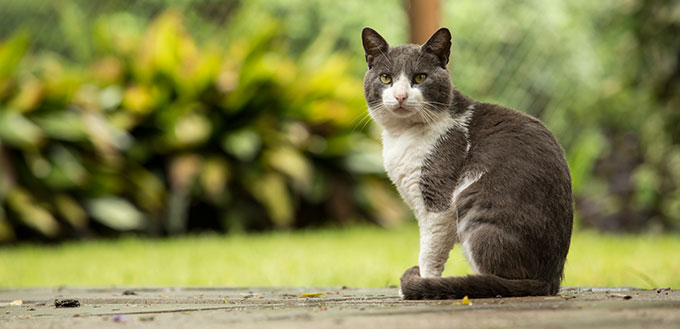 Types of Moggy Cats
Moggy cats come in different types, color, sizes, and coat type. It is easier to distinguish the types by certain characteristics they share in common like coat type and coat color. In terms of coat, there are short, long, and hairless types. Each type of coat comes with its own unique color patterns.
Short-haired moggy cats are considered as low maintenance cats because they do not require much grooming. A short hair moggy cat's coat usually does not exceed one and a half meters long (1.5 meters). Breeds that fall under this type include the Savannah, the British Short Hair, the Bengal, the Burmese, and the Manx.
Long-haired moggy cats require a lot of extra grooming. Especially the when the cat reaches older years and struggles to groom itself. The coat of the long hair moggy cat usually grows up to five inches (5 inches) long. Aside from extra grooming, long hair moggy cats also shed a lot more than the short hair cats. This means extra cleaning. Some breeds that fall under the long hair type include the Persian, the Norwegian Forest Cat, the Ragdoll, and the Maine Coon.
The hairless moggy cats are, well, hairless. That is, their hair coats are non-existent. What they have instead, are coats that have the appearance of suede with some fine hair on close inspection. Because of their lack of hair, the hairless moggy cats cannot soak up oil produced by the skin. This means that they require regular baths. This further means that they are vulnerable to weather conditions that are extreme. They can easily get cold in cold weather conditions, and they can easily get sunburned under the scorching sun. Thus, they require constant monitoring when outside during these extreme weather conditions. Some examples of breeds that fall under the hairless type include the Peterbald, the Sphynx, and the Bambino.
Moggy Cats: Coat Colors and Patterns
Moggy cats come in a wide variety of coat colors and color patterns. However, some colors are more common than the rest. These are the common coat colors that moggy cats come in: black, white, red, blue, brown, ginger, cream, gray, fawn, and cinnamon. These are the common color patterns that moggy cats come in: solid color, bi-color, tabby, tri-color, color point, calico, and tortoiseshell.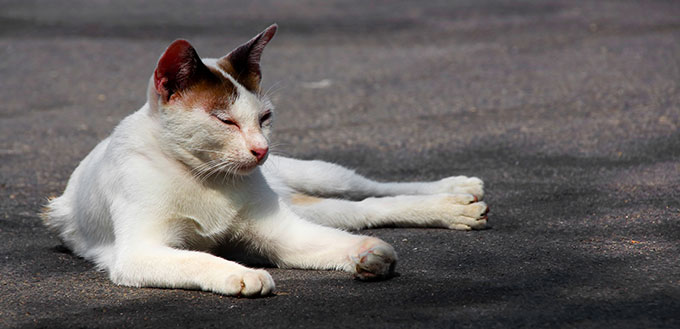 To Summarize
In conclusion, moggy cats are domestic cats that have no conclusively identifiable origin. Their random breeding has given them a variety of types distinguished by their sizes, color, and coats. They provide no blueprint when it comes to identifying particular traits or temperaments about them.
Each moggy cat comes with its own temperament which makes them very unique and very exciting at the same time. They come in a variety of colors to choose from and are considered low maintenance cats because most of the moggy cats found in most homes have short hair coats. This means they require very little grooming. Moggy cats are smart and stronger than their purebred cousins and they are not prone to the many diseases other cat breeds are susceptible to. They make ideal house pets due to a combination of their good health, intelligence, low maintenance, and wide variety they come in.
You may also like our ultimate breed guides on the Snowshoe Cat and Lykoi Cat.
Source: