After one too many trips around the neighborhood trying to find the original owner of yet another belonging that her cat had bought home, Kate Felmet decided to do something about it. She created a humorous display in her front yard, outing her cat's thieving behavior. The display has also proven to be a great way to get the lost belongings back to their owners without Felmet having to take yet another door-to-door tour of the neighborhood.
Felmet's cat Esme started making her rounds in the summer of 2019 when she was first allowed to roam free. To begin with, Esme had been dragging home dead birds and pieces of trash to bestow upon her somewhat-repulsed cat-mom. But as time went on, the klepto-kitty upped her game.
Being a big fan of birds, and an avid birdwatcher, Felmet had been "quite distressed" to discover her beloved cat was killing local birds to bring home as gifts. Speaking with Insider, Felmet said she decided the best way to avoid Esme bringing further deceased poultry home would be to "praise Esme for anything she brought [her] that wasn't a bird".
Felmet knew when Esme has returned with a gift due to the way that she would yowl at the back door "in a very distinctive and harsh way," Felmet told Insider. Apparently, Esme would continue doing this until she was rewarded for her hard work.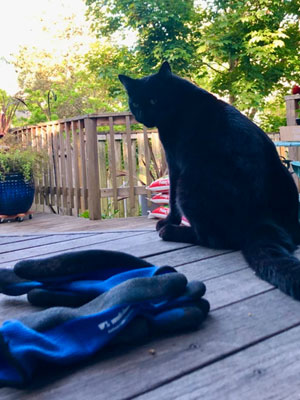 When the Coronavirus pandemic caused a global lockdown, Esme decided it was time to up her game. Her new gift of choice was not something to celebrate, however, as, during a time when a high transmittable disease was spreading the planet, Esme decided facemasks would be the best item to bring home. She would not only return with one mask but several a day – topping at 11 within a 24 hour period.
Fortunately, the face mask trend didn't stick, and Esme moved on to a new favorite – gardening gloves. Whether it was because of their texture, smell, or some other mysterious reason, this clearly was the way to go in Esme's eyes. With everyone out in their gardens prepping new plants for the spring season, gardening gloves because easy picking.
In true Esme fashion, she couldn't return to her favorite human with just one gift a day. So Esme took it upon herself to bring back as many as she could find. Felmet explained that one week in April her cat had been bringing home two pairs of gardening gloves a day. Once she had 14 pairs of gloves stacked up in her house Felmet felt she should start to find a solution to her klepto-cat's behavior.
She started by knocking on the neighbors' doors to see if she could locate the original owners of the stolen items Esme had bought home but quickly learned that it was a longwinded and inefficient method of returning everything. So she decided to make a sign.
Felmet put together a clothesline in her front yard, with every item Esme had stolen hung from pegs. This included face masks, gardening gloves, knee pads, and a running belt. But here's the fun part – accompanying the clothesline is a large sign with the words "MY CAT IS A THIEF – Please take these items if they are yours". Alongside these words is a humorous and very well-drawn image of Esme (a black cat), carrying a green gardening glove.
Felmet has estimated that she has been able to reunite around 10 items with their owners since erecting the sign and clothesline. And whilst most of her neighbors seem to be quite amused by Esme's comical kleptomaniac ways, Felmet has admitted that things are getting a little bit awkward with one particular family from whom Esme has stolen their knee pads out of the garage – three times.