It is quite disheartening when your fish tank is covered by a hazy fog. And sometimes, you may wonder why is my fish tank cloudy in the first place. To start with, fish tanks, especially new ones, are not supposed to change for no reason. So, you might be the one unknowingly doing something wrong. But with our help, you can learn from your mistake and adopt a better tank management strategy. This way, you won't have to worry about fixing cloudy water in a fish tank.
In this article, you will get to know the reason why your tank is cloudy, as well as learn five vital tips on how to correct the problem. Let's begin with the main reasons why your new fish tank may get cloudy after a few days.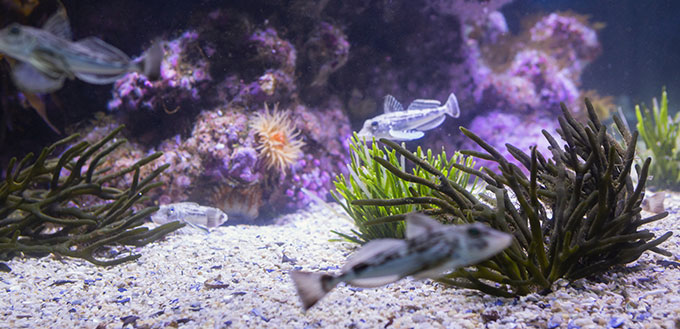 Why Your New Fish Tank Water May Get Cloudy?
If you are one of those who are puzzled as to why a fish tank you have barely used is cloudy, then the first thing you must know is that you are part of the problem. That may sound brutal, but it's still the truth. A newly installed fish tank does not have any form of life in it, so a lot of microscopic organisms are attempting to settle in their new home. Nitrifying bacteria that normally distill the water to create a hospitable environment for aquatic lives have not started functioning yet. Hence, free-floating bacteria and a host of other microorganisms seize the opportunity to colonize the environment and multiply drastically. This is what causes the cloudiness you experience after a few days of setting up an aquarium.
Sometimes, you may unknowingly aggravate the situation by putting an excess amount of feeds and fish in the tank. When you do this, microbes not only multiply but also grow rapidly, thereby reducing the quantity and quality of the feed your fish get to eat.
Five Tips on How to Fix a Cloudy Fish Tank
Now that you have known what causes a cloudy aquarium water, the big question on your mind is: how to fix a cloudy fish tank? Well, here are a number of things you can do:
Allow Nature Take its Course
As humans, when we notice a problem, it is natural for us to think of a solution to the problem. But sometimes, it is best to do nothing and just allow nature to take its course. Or if you can, prevent the problem from happening in the first place. Because as they say, prevention is better than cure.
It may sound crazy, but doing nothing way you can fix a cloudy fish tank. Because if you attempt to clean the filter, you may wipe out the few bacteria that help to balance the ecosystem of the water. While other microbes thrive at the expense of your fish. In fact, changing the water will only be effective for a day or two before the cloudiness reappears again. That's because the fresh water will help the microorganisms to bounce back to life and populate the water more than before. But if you leave the water, the bacteria will consume every nutrient and starve to death eventually. This is a cycle, so anything you do to interfere with the process will be counterproductive.
Related Post: Canister Filter For Aquarium
Add Plants and Beneficial Bacteria
Another way to clear up a cloudy fish tank is by adding beneficial bacteria like denitrifying bacteria. These bacteria will help to balance the ecosystem of the fish tank. They compete with the microbes that cause the cloudiness for nutrients and eventually starve them out.
Furthermore, plants circulate oxygen which helps to break down the uneaten feeds, waste, and bacteria that causes cloudy waters. As if that's not enough, denitrifying bacteria consume ammonia, which is part of substance that causes build-up of microbes in the water.
Do Not Change Filters
If you have been adding or changing filters in your fish tank, then that's most likely the reason why you have a cloudy fish tank water. As a rule of thumb, do not mess with the filter of your fish tank because no good can come out of such an act.
Most times, the urge to clean a new filter can be overwhelming. But then, you will be wiping out the beneficial bacteria in the process. If you see that the filter pad needs cleaning within the first month of use, then it's an indication that you are overstocking the fish tank and overfeeding the fishes. So, instead of cleaning it, cut down on the population and rate of feeding.
Related Post: Automatic Fish Feeders
Seed the Fish Tank
Another great way of fixing a cloudy fish tank is by seeding it with gravels. If you can locate any healthy and serene fish tank, you can collect a good number of gravels from it and add to your own. The beneficial bacteria in those gravels will help clear up the cloudiness in your fish tank.
Also, some aquatic stores put filter pads, cartridges and bio-sponges in overstocked aquariums to increase the amount of beneficial bacteria. This method is equally effective as adding gravels from a healthy fish tank.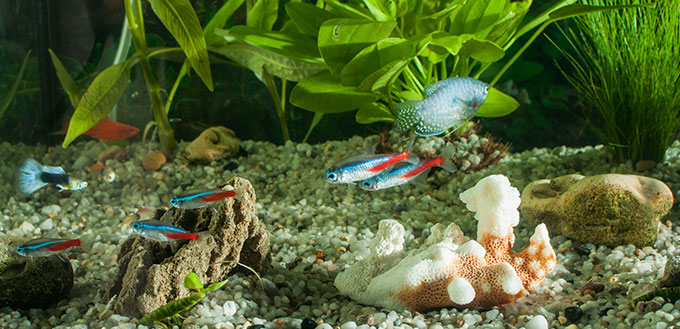 Test the Fish Tank Water
Before you clear the cloudy water in your fish tank, it's important that you test for the presence and amount of nitrite and ammonia. This is because, if these nutrients are present in sufficient amount in the first place, then the water is not supposed to be cloudy. But if these ingredients are not present at all, then you have to look for ways to include them in the water. And one way you can do that is by adding denitrifying bacteria and plants rich in ammonia to the water.
Related Post: Aquarium Water Test Kits
In conclusion, it is natural to be alarmed by the cloudiness of a new fish tank. But do not rush to change the water, as you may be doing yourself and your fish more harm than good. Instead, allow nature to run its course or add nutrients such as ammonia and denitrifying bacteria.
Sources:
Patrick J. Kiger, 10 Innovations in Water Purification, HowStuffWorks
How to Clean Your Fish Tank, WebMD