Pet owners who are new to the world of pet birds may be wondering why we've grouped the pigeon and dove species in the same guide. Both of these birds belong to the same family: the Columbidae. This is a bird family solely consisting of pigeons and doves and has existed as a known family since 1820. The entire family of these two types of birds contains 344 different species. Thirteen of the species are extinct.
In this guide to rearing pigeons and doves as pets, we'll be dividing each branch of the family up so that you can read about their different care needs separately. There'll also be a section about the major differences between the two birds so that our readers can better understand which of them would work better as a pet for their household.
Why Own a Pigeons or Doves as Pets
Doves and pigeons have been domesticated for thousands of years, and many breeds of both types of bird may account for great pets. Though some of our feathered friends aren't suitable to be placed in a domestic setting, many breeds are, and you'll find that it's quite common to keep a dove or a pigeon as a pet in certain communities.
Owning a dove or pigeon is seen as more exotic than owning a bird like a parrot because so many bird owners choose parrots as their pet bird of choice. They're cheap, easy to find, and fairly easy to look after.
Though some of these birds are kept in captivity to be used for their meat and feathers eventually, people who own doves and pigeons as pets are aware of their value and friendly nature. Most common pet pigeons and doves are calm, docile, and friendly. They can be kept in a house in cages, live with other animals, and make excellent pets.
Types of Doves
Several common doves are kept as pets, each with its own unique personality and history. Of the following doves, the top pet dove is the Ringneck or Ring-Necked dove. This dove is a widespread species known for being gentle and easy-going.
Diamond Dove
A small blue and gray bird, Diamond doves, are native to Australia. When people keep Diamond doves as pets or in captivity, they can live up to 10 years. They can be found in the deserts of the north and central parts of the country and are often identified by their coloring and the white spots on their wings. Diamond doves need more room to walk around because these doves spend a lot of time on the ground in nature. Though this is a gentle breed, they aren't likely to enjoy a hands-on approach unless you rear them from chicks or spend time handling them.
Eurasian Collared-Dove
Eurasian Collared doves typically have a light gray head and neck, which turns to darker gray across their wings and body. In addition, they have a small black patch on the back of their neck that is considered their defining feature. These doves are one of the great colonizers of the bird world, so it's not uncommon to see multiple doves of this breed at once. This bird was originally found in warmer areas between southeastern Europe and Japan. Today, its main habits are in the Gulf Coast in North America and several other major parts (Florida, California, Alaska, and more).
Java Dove
The white mutation of the Ringneck dove, the Java dove, is a pure white dove that makes an excellent pet for novice bird owners. Most doves of this type are extremely friendly, and they have a delightful laughing sound that many love. They're thought to be a bit of a comical bird because they can have some strange, almost hen-like habits. These doves eat off of the ground on occasion, searching for crumbs, and will constantly require freshwater because they sometimes leave their droppings in it.
Ringneck Dove
Ringneck doves and Eurasian Collared doves are so similar in appearance that they can easily be confused for each other and other birds that share their traits. The main way to tell the two breeds apart is to look at their coloring. The Ringneck dove is usually a fawn color rather than gray, though they also have that distinct black ring at the back of their neck. Ringneck doves are found in the states, though they originated in Africa. Many doves kept as pets are of this breed because they are low-maintenance pets.
Dove Care
Do you love doves and want to own one as a pet? There are a few important things to know. These include how to set up your dove's home and what kind of food they eat. Start by looking at large cages online or in your local pet stores to find one that meets your needs. Be aware that doves are monogamous and will usually mate for life with their partner. That means that you might need a fairly big birdcage if you're buying mated pairs rather than a single dove.
It would also be best to find an avian veterinarian in your area because regular veterinarian clinics may not have the training or equipment to deal with bird care or emergencies.
Your dove will need at least two perches in its cage, and even a single bird needs a cage that is still sizable. Make sure that any climbing equipment you install in their cage varies in size and thickness – variation will help keep your bird's feet healthy. Do not install perches over any food or water bowls.
Dove Personality
Though each type of dove may have a slightly different personality, most doves are docile and affectionate. Of all of the types of doves we've mentioned in this guide, there is not one that is known to be particularly aggressive or restless.
The dove is seen as the symbol of peace. There are plenty of reasons for this, including the gentleness of the creature itself. In addition, when doves are handled and hand-fed, they are more open to touch and will bond better with their owners. This is great for anyone wanting to keep doves as pets instead of raising doves for breeding.
Raising Dove Species
After bringing home your pet dove, do not handle them for the first 3 or 4 days. This will give them time to adjust to their new surroundings and explore their cage. Have everything set up before your dove comes home so that they aren't stressed by things being moved around them. Doves are good-natured and friendly, so they'll adjust quickly and be ready to start getting to know you.
Doves should not be allowed outdoors for free flights. They aren't homing pigeons and will not return. They are more likely to get lost, and, unlike cats, they will stray pretty far. If the cage door is open, you should not open windows in your home.
If you're looking to raise white doves or any other dove type, you'll need an aviary rather than a standard cage. Raising doves is different from owning them as a pet. Instead, bird owners raise doves to breed, sell, train, and more. White doves, in particular, are popular for use as birds that can be released at weddings and other special occasions.
Every pair of doves will need their pair of nesting boxes. The number of birds you want to raise will determine the size of the aviary. For example, five pairs of doves need a 6x6x6 foot space to breed comfortably. Hay, straw, and clean water should be provided and be fresh. Clean the aviary often and ensure your birds get direct sunlight in parts of the structure.
Paired doves will nest and lay eggs, so be sure to check for eggs at least once a week. Females tend to exhaust themselves, laying more eggs than they need to if their eggs go missing, so be sure to replace any eggs you take with fake ones.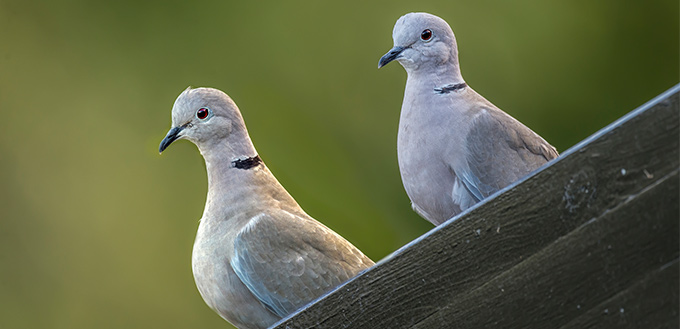 Types of Pigeons
In this section, you'll find a list of the kind of pet pigeons you can come across. These pigeons are the most popular types to be kept as pets, for various reasons that we'll discuss when we introduce each one:
Archangel Pigeon
Seen as one of the most beautiful pigeons in the world, this bird has unusual coloring and a metallic sheen to its feathers. They're very desirable in the bird-keeping community and are kept as more ornamental birds or used in breeding. They are a type of "fancy pigeon" and aren't likely to be found flying around in nature. The Archangel pigeon is more of a show pigeon.
Fantail Pigeon
Considered to be one of the more beautiful breeds of the pigeon, the Fantail pigeon has a large, fan-shaped tail. Unfortunately, there's no information about where the bird originates from, but many believe it may have been somewhere in Asia. They come in a variety of colors, including pure white. Their amazing tail has four times the number of feathers of a regular pigeon. There's even a variation of the bird that has feathered feet!
Homer Pigeon
Also known as Carrier or Homing pigeons, these birds have a fascinating history. They've been used to carry important missives during the war and are often showcased as letter carriers in period pieces. White homing pigeons are rarer but extremely sought-after as a species. Carrier pigeons can fly a long or short distance, with their special group of neurons helping them understand direction better than other birds.
King Pigeon
These large pigeons originated in the United States and can weigh up to 900 grams. A more common pigeon, such as the Rock dove, is only 240 to 380 grams. Therefore, King pigeons weigh approximately three times the weight of the average pigeon. They are usually white, black, light gray, or brown and are considered cute pigeons because of their coloration and size. They aren't aggressive and are largely domestic birds, often kept on farms.
Tumbler Pigeon
Like many other pigeons, Tumbler pigeons are descended from the Rock dove (the common pigeon). This variety is known for its ability to roll or "tumble," which is where its name comes from. Tumbler pigeons perform these tumbles innately – it's a genetic trait passed on from their ancestors, who were thought to tumble to avoid birds of prey.
Pigeon Care
Like owning a dove, you'll need an avian veterinarian if you're considering owning a variety of pigeons. Pigeons and doves are closely related, and you'll need someone qualified in bird care to ensure that your pigeon is getting the correct treatment. At the same time, the dove is monogamous; the pigeon mates for life.
They need an adequate amount of food to be healthy and breed properly. Without enough food, pigeons won't lay as much, though they can have young up to 8 times in a year. You'll need a perch or two for your pigeons, and you should always house mated pairs together and give them enough space to fly.
Do not let them free fly outside if you don't own a homing pigeon or a pigeon that is a descendent of that variety. Lie doves, they won't come home. Instead, be sure to tag your pet birds with a leg band and let any local wildlife organizations know that you own them in case they do get out. You have a much better chance of recovering them that way.
Pigeon Personality
Pigeons are very social creatures. In the wild, they are often seen together in flocks and frequent spaces where humans live because they have adapted to our presence. A pet pigeon will be extremely friendly after they've had time to settle into their new home,
Most pigeons of the domestic type are gentle. Compared to other pets like dogs, the pigeon is a great pet to own and care for. Of the pigeon variations that we've listed here, none are aggressive. The only thing you might want to consider is the larger size of the King pigeon or the expense of a fancy pigeon like the Archangel pigeon.
Raising Pigeons
Pigeons are one of the most popular birds to own and raise. They are a common pet, even when kept as a mated pair. If you want to raise or breed pigeons, you'll need an appropriate place to do so, with enough space for mated pairs to have their perches and nest.
When raising any birds, consider the amount of cleaning you'll need to do and what products you need to keep their housing area sanitary. Bird droppings have the potential to carry diseases, so it's not enough to clean them up.
Thankfully, pigeons are easy to manage even when you're breeding them. Depending on how many pigeons you want to raise, you may not need a full-sized aviary, though it's suggested that birds do have their place and that you don't try to raise them in a small nook of your existing home or farm buildings.
Raising pigeons commercially can be profitable for experienced owners. But, as with any hobby, interest, or job, there's a bit of a learning curve. Be aware that the average pigeon can live between 12 and 15 years.
Differences Between Owning Doves and Pigeons as Pets
Appearance-wise, doves are smaller and more streamlined, while pigeons are usually larger with more rounded tails. Both bird types are friendly, though pigeons have more experience around humans and are more likely to settle into their new home faster.
Pigeons are more cost-effective than doves. The common Rock dove pigeon is extremely affordable, even for the novice breeder.
You will need an aviary or similar building if you decide to raise these birds rather than just keeping one or two as pets in cages. Doves usually need more space.
Female doves will exhaust themselves to lay eggs if they feel they need to, while pigeons lie based on how much food is available.
Most doves and pigeons should not be allowed to free fly, except the Homing pigeon, who has the correct instincts to return home once properly trained.
Feeding Your Birds
Do not feed bread to your birds. It's common to see people feeding ducks and pigeons bread in public, but it can be very harmful to their health. Street pigeons – the ones you see in city centers and the like – have adapted to eat whatever food they find, but that doesn't mean it's good for them to eat leftover pastries and garbage.
Dove Diet
You should give doves a diet between 15-25% pellets and 50-60% birdseed.
The remainder of their diet should consist of dark, leafy greens and vegetables that they can be given every couple of days and a weekly treat of fruit.
Fruit such as berries, melon, and kiwi are acceptable treats.
A honey stick once a month will provide an extra special treat for your bird.
Your dove should always have access to fresh, clean water.
Pigeon Diet
50% of your pigeon's diet should consist of a high-quality seed mix or pellet that's formulated for pigeons.
Pellets are better for pigeons than seed mix because they're specifically formulated to meet the bird's needs.
The other half of their diet should be fruits and vegetables, such as carrots, dandelion greens, apples, and pears.
Pigeons can also eat some insects, but they don't have to be included in their diet if they're getting enough protein from their pellets.
Your pigeon should always have access to fresh, clean water.
Using Bird Feeders
While some bird owners like to feed their pets from a bowl, there's no harm in using bird feeders instead. They'll certainly make feeding your pet more effortless, though bird feeders are usually only suitable for seeds or pellets. Be sure to buy a feeder that works for your bird and the type of home they have. For example, a window bird feeder wouldn't work for pet birds but is perfect for feeding wildlife.
Squirrel-proof bird feeders are great for the outdoors, too. If you have an aviary, you might consider this type of bird feeder if any rodents find a way inside without you noticing.
If you want a bird feeder for your bird's cage or inside their aviary, the simple tube-shaped hanging feeders will work well enough. They're great for seeds, and the larger ones usually work for pellets.
Housing Pet Birds
If you decide that you want a couple of pet birds instead of going to the trouble of raising birds, you'll need a decent birdcage. Thankfully, doves can't climb bird cage bars, but they do like to fly around a little in their home. So if you manage to find a big enough bird cage for your doves or pigeons, they may even be able to do a little free flight (or you can just shut your windows and open their cage so they can fly around in your home).
If you let your birds free flight in your home, make sure that you shut the doors to any rooms you don't want them to get into. Most bird owners will house their birds in a simpler room without any precious or expensive items around and keep that door shut during free flight time.
The recommended minimum cage size is as follows:
For one or two pigeons: 42″ wide, 30″ high, and 27″ deep.
For one or two doves: 32″ wide, 32″ high, and 21″ deep.
As for aviaries, here's what's recommended:
7′ long, 4′ wide, and 6′ high for two to four pigeons (or eight doves).
Sources:
FAQs:
Do doves make good pets for beginners? Well, doves are fine pets for beginners, but a Rock dove pigeon would definitely be the easiest of all the birds we've mentioned in this guide. If you're set on a dove, choose a Ringneck dove as a pet because they are the most social and friendly. The Ringneck is the most common pet dove and they aren't as expensive as other variations. Beginners may also prefer a single dove over a mated pair.
Doves can be tamed as well as any other domesticated wild animal. They aren't a dog or a cat, and are naturally wilder with their habits, but they can be socialized and trained in some ways.
Birds, in general, can be messy pets to keep. This is because they don't have a concept of a "bathroom", so they'll pretty much go wherever. In their own cage, they may designate a spot for use as a make-shift toilet, but the clean-up is still something that new bird owners forget to expect. Otherwise, they're fairly clean pets and won't make much mess outside of their cages.
After they've had time to settle and get used to you, your dove won't mind being held as long as you understand how to hold them properly. To hold a dove, cup them in your hand with gentle fingers. You can also hold them around their neck and belly, but only if they trust you enough.
Yes. Doves don't have homing instincts like the Carrier pigeon. It's not that they want to get away from you, it's that they see the open area around them as a space to fly and explore. The downside is that it's extremely hard to find lost pet birds.
Research into birds has shown proof that they do have some facial-recognition skills. If you're around a dove enough and they get familiar with you, they will recognize you from previous interactions. Pet doves will bond with their owners.
Doves can't talk like some types of parrot can, but you can teach them to respond to the sound you make. Overtime, your dove will begin to recognize your whistle and will respond to that noise with one of their own. You can also teach your dove to come to you using sound or gestures.
Doves aren't the kind of bird you think of when connecting birds and disease, but there is one that they're known for carrying. Trichomoniasis is a disease commonly found in doves and pigeons caused by the Trichomonas parasite. However, this disease cannot be passed from doves to humans.
You can bathe a dove, but its easier to let a dove bathe themselves. Just give your pet dove around an inch of water in a dish and they'll clean themselves off without any fuss. There are even bath salts made specifically for birds that you can consider buying and adding to their bathing water.