Having spent more time than ever with our pooches, this year, it'll come as no surprise that taking part in dog sports this summer is one of the best things you can do with your new-found friendship. There's been no better time to head out and about with your dog, using any free time you have, alongside open and quiet natural areas, to enjoy dog sports and get a little exercise with man's best friend.
So, if you're wondering where to start and what your dog is best suited to, then look no further. We go into detail about the best dog sports you can take part in with your pooch, and how to get started in your latest hobby.
Agility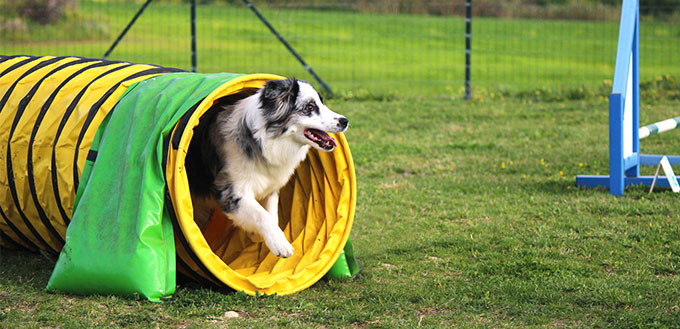 Best For
Border collies, Papillon, Australian Shepherd and Jack Russell Terriers, although any dog which excels in obedience can do well, here.
Before You Begin
Agility is a great way to get exercise, while also using up your dogs' mental energy, too. They're designed to get both human and dog working together and obedience is a major component in a successful run. This sport can put a lot of strain on the joints, so a strong and naturally agile breed with few joint problems will fare better in agility.
You may also like are guide to the best dog agility tunnels.
Getting Started
As mentioned, you'll need to begin by working on your basic commands. However, agility is about getting your dog to feel fully in control of themselves, too. Most dogs tend to work with "where the front paws are, the rest of the body will follow", so working on getting their awareness of their full body is important.
Similarly, you'll want to work on their natural fears. While some dogs will have no problem going over a teeter-totter or through a tunnel, many will struggle with the dark or changing surfaces. Start small, and remember that plenty of encouragement and praise can help your dog to become more confident, over time.
Lure Coursing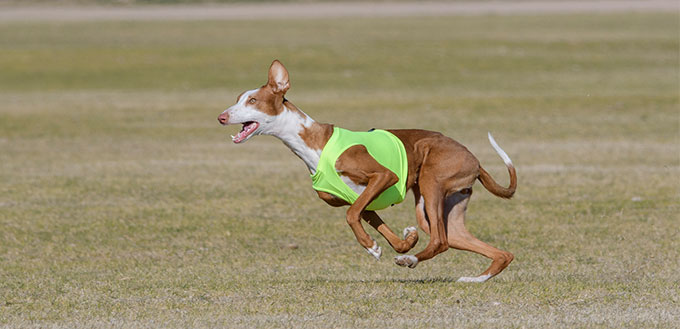 Best For
Lure coursing is a great choice for dogs who have the chasing instinct bred into them, such as whippets, greyhounds and saluki dog. That said, most clubs now offer lure coursing for any breed.
Before You Begin
You should also be aware that this sport can put a lot of pressure on the joints, so a clean bill of health is required before beginning. The thinner and fitter your dog is, the more likely they are to excel.
Getting Started
There are plenty of options to get started, even if you don't have a local lure sporting school or a dog training school that offers lure coursing as a class. Instead, you can simply attach a dog toy to a fishing line and encourage your dog to chase this using keep away, to begin. After a while, it can be worth getting the help of a friend or partner to stand further away and bring in the lure as fast as possible, or to run with the lure, encouraging your dog to chase the toy. Once you're confident in your – and your dog's – abilities, take them to a coursing track and let them have a few tries!
Dock Jumping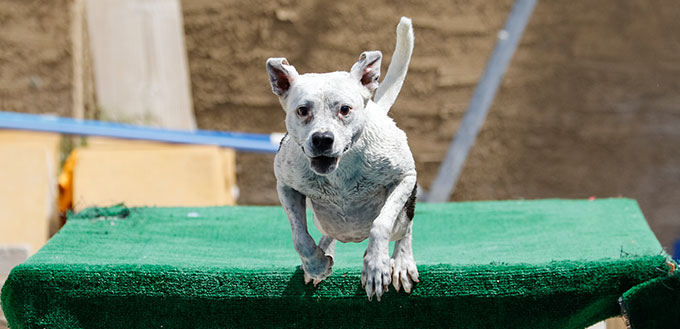 Best For
Dock jumping – also known as dock diving – is a great choice for retrieving and hunting breeds are ideal for this, such as the golden retriever, Labrador retriever and the German shorthair pointer are all great choice for this sport.
Before You Begin
Dock jumping is the dog sport of jumping from a pier into a body of water, with the farthest distance winning. It's measured from the end of the tail hitting the water, back to the pier or jumping-off point use in the sport. There are no rules regarding which dogs can take part in this sport, although it is better suited to those who have a natural desire to fetch and jump, and have no fear of water.
Getting Started
To get started, you'll need to begin by playing the favorite game of fetch! Once your dog has mastered the fetch and has an excellent recall ability, you can start working with water. Simply throw the toy into the water and encourage your dog to go after it. If you're happy with their recall and fetching abilities here, then you can introduce some height and work on your dog's jump into the water, before finally working on distance.
Flyball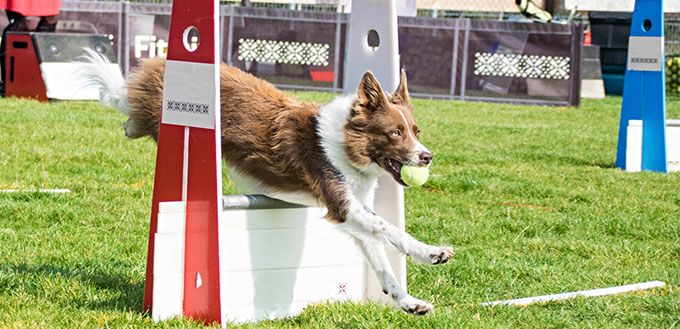 Best For
Combining both agility with speed, flyball is best suited to dogs with a high level of obedience. These dog sports do best with breeds such as the border collie, golden retriever, whippet and Australian Shepherd.
Before You Begin
This is one of the most popular dog sports, due to the accessibility of the sport. All you'll need is to learn basic fetch training and recall commands, and you'll be well on your way to competing in one of the most successful canine sports.
Getting Started
Naturally, you should concentrate on your jumps, as a key part of this dog sport is to encourage leaping over small hurdles, on the way to picking up a ball. Once they've mastered this sports training for dogs, you'll need to add in a few extra hurdles, so they can become accustomed to handling many jumps at once. You should also consider your dog obedience, as they'll need to fetch the ball directly back to you, holding the ball while leaping over the hurdles. This is especially important during dog competitions, when you could be running with plenty of other dogs in the sport, too.
Herding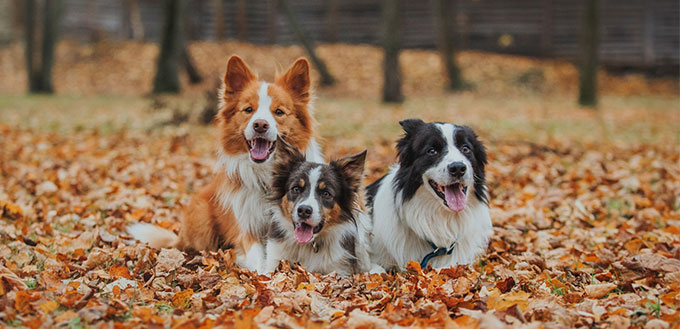 Best For
Border collies are easily the master of these sports for dogs, as you'll need a whip-smart dog to help you excel in the herding sports.
Before You Begin
You'll need to work on your obedience, as trials for these sports are tough, with plenty of competition and plenty of distractions for your dog. Known best from films such as Babe, these dog sports need quick reactions and a great bond between you and your dog, before you even begin to enter trials, where you can really show off the dog performance of a lifetime. Any canines that show aggression are unlikely to be offered a place in these sports, so it can be worth using a muzzle, until your dog is highly trained in any sports involving other animals or people.
Getting Started
Begin these sports by working on your beginner commands, such as sit, wait, down and recall. If you've mastered these already, then it's time to consider the direction you want to use for "left" and "right", so your dog always knows where to herd the sheep. You don't actually need sheep to begin training for herding trails, as most dogs are perfectly happy to jump straight into trails with any animals – or something that moves!
Sources:
Stephanie Gibeault, MSc, Five Increasingly Popular Dog Sports That Anyone & Any Breed Can Try – The American Kennel Club
 Heidi Kluess, Ph.D, Human-Dog Bond with Sports and Exercise – Auburn University College of Education